Every year brings new nail paint shades into the spotlight. Last year we have seen mint green shade, different hues of orange shades etc. This year, many new colors are being introduced or reintroduced. Let us see which colors are going to rule the roost in 2013.
1. Emerald green:
Pantone announced this Emerald green as color of 2013. This year you will be seeing it in many hues and many nail polish companies has already started introducing emerald green or similar hues shades. This color seems to be omnipresent, be it in nail polish, eye makeup and I have heard some companies are in the process of introducing emerald green lipstick too. For this shade, my picks would be Revlon top speed emerald, OPI jade is new black.
2. Burgundy shade/oxblood:
This shade was always in, but this year it has upped the ante. It's a very deep hue of maroon and looks gorgeous on almost all skin tones. Essie has many shades similar to this colour and you can find this shade in almost every brand. Inglot 652 is a gorgeous oxblood shade that you may try.
3. Gold:
This year, gold shade is very much in. Not the light shades, but the yellow gold ones. You can try one from Tip n Toes. Also top coats having real gold flakes are also in but they can be very expensive, instead you can try gold glitter nail polishes. Wearing simple gold manicure is a fashion statement in itself this year. Or if you don't like full gold manicures, you can paint one of your fingers with gold shade for an accent.
4. Metallics:
Metallic shades are not only restricted to gold and silver, you can wear metallic reds, blues, purples etc. These all are in nail trends this year.
5. Neon and glitters:
Neon and glitter shades are in this year. Funky neon manicure or glitter manicure or a mixture of both of them is a must try. You can choice your neon shades from colorbar neon's range or from China glaze.
6. Navy blue:
Navy blue nails are in this year. Instead of black, you can choose navy blue shade which looks almost black. You can pick your shade from Avon range. They look very glamorous and pretty.
7. Grey:
Grey is the new black this year. This shade has been seen many times on ramp last year and the trend should continue this year too. NYX saloon formula cloudy is good pick for this shade.
8. Pale nails:
Pale nails are very much in this year. Many celebrities were seen with pale nails this year during various award functions.
9. Textured nails:
Textured nails are very much in this year like caviar nails, liquid sale or leather effect nails etc.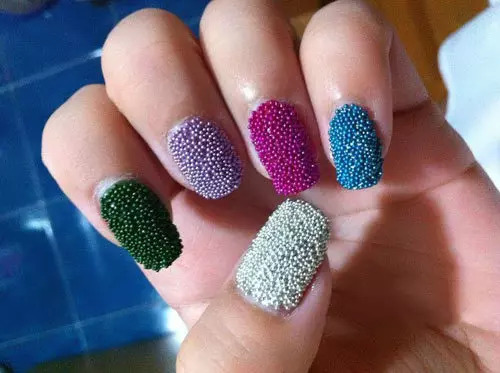 As you have seen this year, there is something for everyone. Let us know which one are you keen on trying because these latest nail paint shades are worth experimenting. You can also download the android app for more glequins nail art ideas and many more nail designs you would love to try.
The following two tabs change content below.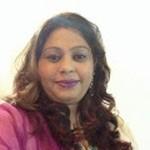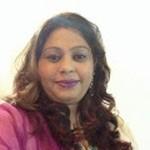 Latest posts by puja malhotra (see all)