10 Trendy Short Hairstyles With Bangs 
What can make any hairstyle classy and edgy at the same time? Yes, it's the bangs! Be it bold, long and deep side-swept, or short and blunt, the hairstyle can always help you make an instant style statement.
We've listed the top ten short hairstyles with bangs for every texture and face shape.
1. Messy Bob Bangs:
Katie Holmes' hairstyle is no easy task, but we're impressed with the way the actress experiments with her looks. The actress sports a layered bob and adds an instant oomph to her short undone hair with thick bangs that stop right above her eyebrows. Thus, creating a strong contrast with her refined makeup, she draws attention to her facial features.
To achieve this sexy and effortlessly stylish look, ask your stylist to begin with crowning outward in pie-shape sections. This low-maintenance hairdo looks great on those with heart-shaped faces, as it covers a lot of the length of the face to balance it out.
2. Ultimate Bob:
Actress Mena Suvari is bang on trend with her ultimate bob and easy side swept bangs that draw attention to her beautiful green eyes.
To duplicate the look, first section out the side bangs and use a soft brush to pull bangs away from the face while blow-drying. Then, use volumizing mousse and a thick curling tong to give the long bangs a gorg tweak. Next, set your round curls in the end with some maximum-strength hairspray to keep them from unraveling on a night out. Since this look accentuates the eyes, play them up with subtle and flawless eye-makeup.
[ Read: Very Short Hairstyles ]
3. Boyish Pixie With A Side Fringe:
Sexy fringe alert! Actress Ginnifer Goodwin's boyish pixie, along with a super-short fringe swept to the side, is the easiest way to update your growing out haircut this season. Though boyish, this hairstyle can also be exceptionally chic and very flattering for round-shaped faces. Also, the short hairstyle is equally versatile, so feel free to experiment with different cuts, textures, and lengths on top.
For example, slick your fringe up for a spunkier look, or go for pompadour Mohawk for a bit of edginess. Whatever it is, Ginni proves there's nothing like a small set of fringe paired with short hairstyle that can completely transform your look.
4. Tousled Pixie:
If you're growing your bangs out, make like actress Elsa Pataky and go for a soft, side-parted style, which looks great with a tousled pixie cut. The Fast Five actress looks fabulous here with radiating skin and minimal makeup. These tousled pixies with sleek bangs are flattering for every kind of face shape.
A sexy and unstructured hairstyle, to recreate this look, ask your hairdresser to cut the bangs at an angle, so they blend in with the angular pixie.
Bonus: This glam variation of short haircut with bangs is well suited to thin, straight or wavy hair, and works on all face shapes, textures, and lengths. It also is easy-peasy to perfect with a hair straightener and some texturizing gel.
5. Blunt Short Bob:
Let model Coco Rocha's short bob and blunt bangs be your guide to a super-chic and edgy hairdo. For a major punk-y look, trim the blunt to the eyelashes and keep the bob slightly below at the cheekbones. The model added mystery as the focus of the entire hairstyle went to the extra volume at her cheek level, which further accentuated her cheekbones, making her face look less narrow.
Ask your hairdresser to cut your blunt bangs while they are dry, so you'll be aware how they'll frame your face. Blow-dry them with a soft brush and mist some hair-shine serum for the perfect texture.
6. Bowl Cut:
Singer Estelle Swaray's bangs are quirky and fun —short, blunt, prim and proper. This solid bowl cut is feminine and edgy and leaves lot of room for styling. It's one of the most stylish short haircuts with bangs for girls who want an incredibly short 'do but still want to rock short locks. Take a note from Estelle and add some colour to your hair. The hairstyle is more of a fun-and-punky look that really turns heads around. So, move out of your comfort level and go for some crazy colours. And it's easy to style! What else do we want?
[ Read: Bangs Hairstyles For Medium Length Hair ]
7. Razor-Cut Pixie:
Songbird Solange sports a short pixie cut with messy, piece-y bangs covering her forehead. Here the singer simply oozes chic and glamour with her refined and polished razor-cut hairstyle. A lovely combination of glossy, big, textured locks and short, blunt bangs, this 'do is fresh and vibrant.
Tip: If you want to avoid your bangs cut too short, ask your hairdresser to cut them longer at first and then trim them gradually.
8. Spike-y Pixie Do:
And she does it again! Recording artist Kellie Pickler proves that side bangs don't need to be styled perfectly to look adorable and sassy. She sports a spikey pixie that suits her bold and edgy personality, and also frames her face perfectly.
To copy Kellie Pickler's signature style, ask for spikey side bangs that you can easily toss to the side. The look works best on those who already have natural texture to their locks. Add a dime of pomade and create a similar effect if you've wavy locks.
9. Curly Side-Fringe:
Ah! We can never get bored looking at starlet Audrey Tautou and her curly side-swept fringe. Much like recording artist Kellie Pickler, charming actress Audrey Tautou has a set of whimsical all natural wavy locks that any woman would die for. Here we see her jet black pixie cut styled up with natural looking waves throughout, giving her a feminine and laidback style that can easily be worn to the brunch or night outs.
To really get the waves working, try applying texturizing gel after washing your hair and tussle it a bit to produce natural looking waves. Finish it off by misting some hair-shine serum for the perfect shine. Call us crazy, but we'd steal for Audrey's full set of statement curls and fringe and would never give it back.
[ Read: Cool Hairstyles for Short Hair ]
10. Super-Short Pixie:
Who said super-short, boyish pixie cuts don't suit oval-shaped faces? Model Tais Araujo shows us how it's done with her classy and sophisticated red pixie cut. Keeping it natural and funky, the model chose boyish 'do with side fringe and complemented it with refined make-up, which resulted in a wonderful contrast to her face, and accentuated her facial features. We love Tais's wispy hairstyle: definitely fringe-worthy and sexy in appeal!
Bring out your inner edginess and try these short hairstyles with bangs for yourself. Let us know your favourite hairdo in the the comments box below!
Recommended Articles:

The following two tabs change content below.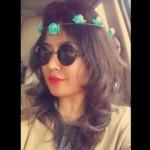 Latest posts by Anisha Pradhan (see all)