For an intense, dramatic Halloween look, you need more than just an awesome costume. Like a good makeup! And what better way to turn heads than creating a Black Swan look. Believe it or not, we're actually a huge fan of this awe-inspiring makeup. Though a bit extreme, but it can easily be created at home. With that said, we get you the tutorial to get the look in no time.
Read on to find out more about the Black Swan makeup.
1. For A Face That Stays:
Let's get this straight: The Black Swan a.k.a ballerina makeup is a classic. Not for the faint hearted, the look got us instantly hooked when we saw Natalie Portman in the movie Black Swan. To recreate the artistic face, remember to focus on the face. Just add some pale foundation, a touch of dark lipstick, a unique graphic shape and voila, you are set for the day.
Foundation:

To duplicate the look, apply an oil-free pale ivory foundation, like Makeup For Ever Hd Invisible Cover Foundation, with a white cream highlight (try MAC Strobe Cream,) all over your face.
Conceal Your Face:
Then, conceal the area using Clinique Airbrush Concealer only to mask any blemish you may have. To check on your concealer, mix products on the back of your hand and apply it to brighten your blemished areas.
Blush On Your Cheeks:

Finally, add some coral-pink heaven for your face to play up your complexion. We prefer Benefit Coralista, which has just the right amount of shimmer to make you blush all day.
[ Read: 12 Steps To Do Your Makeup Flawlessly ]
2. Black Blocking:
Bold, dramatic and visually striking – Black Swan eye makeup is all about the perfect execution.

Conceal:
To duplicate the intense look, start your eye makeup by dabbing a bit of a concealer to prevent your eye shadow from falling. Once done, create a smoky effect with the white eye shadow all over the lid. We recommend NYX Cosmetics Eye Shadow Base In White which will help you create a dimension.
Draw Fine Lines:

Now use a black gel liner and create a symmetrical fine line from the inner bridge of the nose towards the curve of your eyebrow. Our favorite is thick, Benefit They're Real! Push-Up Liner. Trust us, this one will really stay put all day.
Cat-Eye:

Once done, take the same gel liner and create a thick almond-shaped cat-eye that's angled towards the brown bone. Further extend this angular line to create an outline for the wing shape.
One For The Feather:

Next create the feathers with a fine brush to the black wing shape.Just use MAC Silver Pigment Mixed With Black Eyeliner and stroke lines evenly.

Roller Lash:

Finish off the look by curling and wiggling on heavy coats of mascara on your top and bottom lashes. We are a big fan of patent-leather shiny and ultra black Giorgio Armani Eyes To Kill Excess, which instantly frames your face.
Tip: While your mascara is wet, bend the eyelashes with your fingers and blow dry them. This gives you a slight bend instead of an aggressive curl.
3. Pucker Lips:
The joy of black swan makeup is that it allows you to get creative. Better to complement the strong eyes with vampy lips.
To recreate the look, begin with moisturizing your lips by applying C.O. Bigelow Rose Salve lip balm. Now take the tissue, put it between the lips, and blot the extra moisture. Next, outline the lips with a Revlon Colorstay Liner, Wine 670, and fill it with dark eggplant or wine-colored gloss or lipstick. We recommend Rouge Dior in Fantastic Plum. For an extra hold of the lipstick, pat concealer around your lips and blot it with a tissue.
So, this Halloween you are all set to put your best face forward with these steps. Do let us know if you have any suggestions in the comment box below. We value your feedback.
The following two tabs change content below.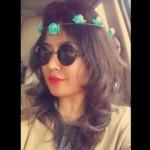 Latest posts by Anisha Pradhan (see all)