If you conduct a poll about which facial feature should be highlighted the most, you can expect to see a tie between those who vote for the pout and those who vote for the peepers. In fact, the pout will possibly win. Why? That's because there are very few women who leave the house without swiping on some lipstick, or lip gloss or at least some lip balm with a hint of colour.
I am, however, voting for the eyes. If you want a reason (apart from the fact that eye-makeup is my favourite kind of make-up) it is something that can add as much or as little drama to your day or night. And you don't even need to re-apply it!
So, what is the first thing that pops up in your mind when you think of dramatic eye make-up? You're absolutely right. Bold, bright and beautiful colours, and of course, glitter.
Glitter eye makeup is the best way to add some magic to your day. If you're apprehensive about using glitter, or are using it for the first time, it's best to start off with a powdered glitter eye shadow. But if you want to make an impact, pair glitter particles with a cream based eye shadow for a striking look.
Now, finding a glitter shadow is pretty easy. You walk into the store, choose the brand, choose the colour, choose the type and finally head home with a big smile. But, can you carry it off? Will it look good? How do you wear it so that you don't end up looking like a clown? Whether you're the foxy vixen or the demure girl next door, here are 5 wearable glitter eye make-up looks that will answer your questions and put all your doubts to rest.
1. Smokey Gold Glitter Eye Makeup:
Choose this look if you're a fan of glitter, the colour gold and the smoky look. All it needs is black and grey eye shadow, golden glitter, and black eyeliner. Since this combination screams drama, let your other features sport the no-makeup look and don't wear jewellery that competes for attention. If you want to add another gold accent, carry a golden purse, or wear golden shoes.
2. Smokey Silver Glitter Eye Make Up:
If you're too cool for gold, opt for the smoky silver glitter look. An excellent choice for a girls' night out or a semi-formal dinner, you'll need only three products – silver eye shadow, black eye shadow and black mascara. Stick to diamond studs for jewellery and opt for accessories that are black in colour with just a hint of silver present.
[ Read:  How To Remove Eye Makeup Naturally ]
3. Adventurous Blue Glitter Eye Make-Up:
This look is not for the weak at heart. I'm not going to sugar coat it. You need oodles of confidence and charisma to rock this look. Blue eye shadow scares off many a seasoned user and when you add glitter to the mix, very few women would even dare to try it. Blue glitter eye shadow and dark blue liner are the two simple products that you'll need. This is the boldest of glitter for eye makeup.
[ Read:  Eyes Appear Younger ]
4. Purple Glitter Shadow Eye Make-Up:
If you don't like the metallic shades and neither is blue your cup of tea, choose a purple glitter eye shadow. What you'll need to replicate this look is a lavender cream eye shadow, a purple glitter shadow, black eyeliner and black mascara. You can choose to wear any dress from the eggplant colour family, but stay away from anything but black accessories.
[ Read: Tamilnadu Bridal Makeup ]
5. Black Glitter Eyeliner:
If you're still not sold on the idea of glitter eye make-up, try this look and you'll never say 'no' to glitter again. Glitter eye liner in black is the perfect way to start off. This look is also a great option for the make-up shy and for those who like their accessories to do all the talking. Make the line as thin or as bold as you want – this simple combo of subtle and sexy can even be worn during the day.
So what do you think of these looks? Are you going to head the store this instant or are you still a little intimidated? Do you have other glitter ideas you'd like to share? And don't forget to try these out and let us know. Glitter away!
Image Source: 1, 2 , 3 , 4 , 5
The following two tabs change content below.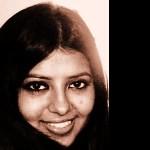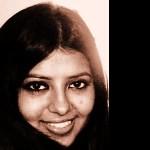 Latest posts by Sreepurna Ray (see all)