If you're anything like us – a fan of nail art, then you must have surely heard of water spotted. A rage among all nail art lovers, water spotted uses a bit of water marbling effect, which by the way is a simple nail technique where you add small drops of different polishes to a bowl of water, mix them together with a straw or a toothpick, dip your fingers in, and voilà — instant nail art. Yes, that easy, provided that you do it carefully!
We love how the designs are part glam and part edgy. With jet black overcoat and a splash of neon colours, the bespoke nails are just the thing our beauty game has been missing. So if you are one of those nail art junkie waiting to merge their souls with water lovers, read ahead and glam up your tips.
Things You Will Need:
I am using the following material to create this design:
Black nail polish. I am using Maybelline Colorama black
2-3 neon nail polishes. Checkout Colorbar for their neon colours
White nail polish. OPI Alpine Snow
Tweezers
Orange Stick Cuticle Pusher
Few pieces of sponge
A cup of water
Sally Hansen's top coat and base coat.
A bottle of perfume or deodorant or body mist – make sure it contains alcohol.
Stepwise Tutorial:
Step 1:
Start your nail art by preparing, cleaning and shaping your nails.
Step 2:
Once your nails are prepped, apply a good base coat. Now paint yours nail with OPI Alpine Snow and let the polish dry for a few minutes. Make sure you start applying it from the cuticle and towards the edge of your nail.
Step 3:
Once done drying, take a small piece of sponge (you can also hold it with a pair of tweezers) and apply your first neon colour nail paint on it.
Step 4:
Dab this sponge on your nails wherever you want and repeat these steps with different colours on all your nails – it will provide you multicoloured neon nails. You can use any colour for this step, but make sure they are not from the same family.
Step 5:
Now take the cup of water and drop 5-6 drops of black nail polish from a low height, similar to the way you drop for water marbling. Before this, don't forget to cover your finger with a cello tape or Vaseline around your nails for easy clean up later. I have applied a good amount of Vaseline.
Step 6:
Once done, spray some perfume in it. Remember, the size of the spots depends on the distance between your spray and your cup. If you will spray from far, you will get small spots and if you spray it from very low height, you will get big spots.
Step 7:
Dip your nails in the water and pull away the excess by wrapping it around your orange stick, the same way as you do it for water marbling.
Step 8:
Quickly remove your finger from the water and lightly blow away any excess from the nails. Repeat all the steps on your other nails until you get the result as shown in the image below:
Step 9:
Use a cotton swab dipped in acetone to clean the colour off your fingers. Let dry, finish with top coat and you are done.
Are you loving this water spotted nail art as much as we are? Do share your views on it on our comments section below. Also, if you try this share your pictures with us here on the community.
Here's a huge collection of the community shared nail art ideas app for your android mobile.
The following two tabs change content below.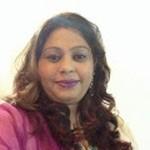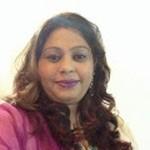 Latest posts by puja malhotra (see all)