Water spots technique is becoming a rage among all nail art lovers. This is an easy technique where you use a bit of water marbling technique to get the desired result. You can do this nail art with water of any colors you like.
Things You Will Need:
I am using following things to create this design:
Black nail polish (Mayebelline Colorama black)
2-3 neon nail polish(I am using neon polishes from colorbar)
White nail polish (OPI alpine snow)
Tweezers
Orange stick
Few pieces of sponge
A glass of water
Top coat and base coat.
A bottle of perfume/ deodrant / body mist: make sure it has alcohol in it.
Stepwise Tutorial:
Step 1:
Paint your nails white after applying a good base coat.
Step 2:
Now take sponge and hold it with your tweezers and apply your first neon color nail paint on it.
Step 3:
Dab this sponge on your nails wherever you want and re [peat these steps with all your nails. So that you will get multicolored neon nails.
Step 4:
Now take the glass of water and drop 5-6 drops of black nail paint similar to the way you drop for water marbling. (Don't forget to apply either cello tape or Vaseline around your nails for easy clean up….. I am using vaseline).
Step 5:
Now spray some perfume over it. If you spray from far you, will get small spots and if you spray it from very near you will get big spots . I prefer spraying perfume from not so far or not so near position to get medium spots.
Step 6:
Dip your nail in it and remove the excess using orange stick the same way as you do it for water marbling.
Step 7:
Repeat all the steps for all fingers and you will get result like the following picture:
Step 8:
Clean your cuticles using q-tips dipped in acetone.
Step 9:
Apply topcoat and you are done.
How you like this technique? Do share your views on it.
If you try this share your pictures with us here on community.
Love Nail Art?
(Subscribe to get Beautiful Nail Art Ideas daily)
The following two tabs change content below.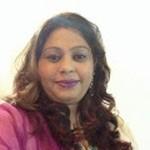 Latest posts by puja malhotra (see all)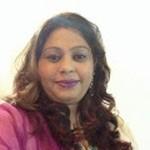 I am a trained nail artist and mother of 5 year and half year old girls...... I own my own nail art studio and do nail art professionally and teach nail art. I am nail polish addict.:) My nail polish obsession started since my childhood. I wont mind painting my nails every day. I love keeping myself updated with new nail art trends and I hope you enjoy reading it as much as I enjoy working on it.