Are you worried about your addiction to junk food and still can't get over your love for them? If yes, then you should try these tips below to convert your junk food into healthier options.
Here Are 13 Ways To Make Your Junk Food Healthy:
1. Butter:
You can use just a small amount of butter in the sandwich. Try to avoid butter if you have already added mayonnaise. Butter can be used on only one side of the toast or sandwich.
2. Wholemeal / Wholegrain:
Wholemeal and whole grain breads are the best alternative for white bread. This is also a healthy option for good digestion.
3. Grilling:
You can grill the burgers instead of frying them. Make it a point to cut the extra fat from the raw meat before you grill them. Select baked, broiled or grilled meats or poultry and avoid fried or breaded items.
4. Take Different Juices Everyday:
You can make different fresh fruit juices everyday that can be taken with breakfast or meals. For example, tamarind juice increases the appetite and helps in proper digestion. Consuming fresh juices will also keep you away from fizzy soft drinks. Consuming soft drinks increases the risk of bone and other health issues.
5. Cut Thicker Chips:
We all love chips and french fries. But, you can have them in a very small quantity or once in a while. Cutting them into thicker slices also helps to absorb less oil as compared to the thin ones.
6. Oils for Cooking Fast Food:
Ensure that you or the vendor use olive oil, flaxseed oil or canola oil for preparing junk foods. These oils are safe and make a very nutritive and tasty meal.
7. Make Pizzas At Home:
You can make pizzas at home and enjoy with your family. Add fresh vegetables for toppings, low fat cheese and grilled chicken for making pizzas at home.
8. Limit The Use Of Cheese:
Use cheese as less as possible. You can substitute cheese toppings with tofu for as healthy food option.
9. Skip The Toppings:
Adding toppings like pecans, bacon, extra cheese or croutons to your pizza or salad can contain sugar, salt, fat and extra calories. You can skip them and make it a habit to enjoy your salad or pizza without any extra calories and fats.
10. Don't Choose Creamy Dressing:
Eating salad doesn't remain a healthy option when you include creamy dressing. Since, this contains loads of calories and fat. Instead, you can opt for vinaigrette salad dressing to cut off the extra calories from the junk creamy dressing.
11. Make Deep Fried Foods At Home:
Fried food can increase the chances of coronary heart disease. Most of the restaurants reuse the oil again and again. This increases the trans-fat formation to harden the arteries and decrease blood pumping to the heart. Deep fried foods like chips, french fries and pakoras tend to absorb fat in the cooking process and retain more calories. Hence, you can make them at home to get healthy calories in your diet.
12. Train Yourself To Think Small:
Always take a single scoop of ice cream and not the whole bow. This will prepare you mentally to cut some calories.
13. Choose Natural Sweeteners:
Opt for unrefined sugar over refined sugars. Natural sweeteners can be easily obtained from fruits and vegetables that also contain essential vitamins, minerals and other nutrients for energy in your body.
Do leave us your valuable comments below and let us know your ways to covert junk food into a healthier food!

The following two tabs change content below.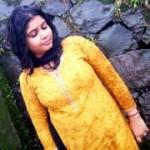 Latest posts by Jayshree Bhagat (see all)