Don't we all wish we could change certain features just a bit??? Like have supermodel-like high cheekbones or a slimmer nose or fuller lips??? If only wishes could come true without a trip to the cosmetic surgeon….. Rectifying or emphasizing any particular feature is no longer impossible without resorting to such harsh measures. Makeup today has opened up such a wide range of possibilities that anything can be achieved with its proper use. The answer lies in face contouring. Face contouring uses makeup to highlight a strong feature and underplay a weak one. It is a very powerful tool that creates a sense of balance and adds definition to your makeup.
Face contouring is mainly a makeup artist's skill, but not impossible for a layman to grasp, provided you pay attention to a few basic rules. Light colors (highlights) tend to come forward by making the feature prominent while dark colors (shadows) recede, creating an illusion of a shadow. Highlights are mainly used on the bridge of the nose, forehead, chin, cheekbones, under the eyes and arch of the eyebrows. Shadows, on the other hand, are used on the jawline, hairline, temples and hollows below the cheekbones. Contouring face always needs to be done using some shade of brown that is closer to your skin tone. Pinks and plums are a complete no-no.
How to contour your face:
Now that we have understood what face contouring is all about and its basic rules, lets put it use:
1. Cheekbones: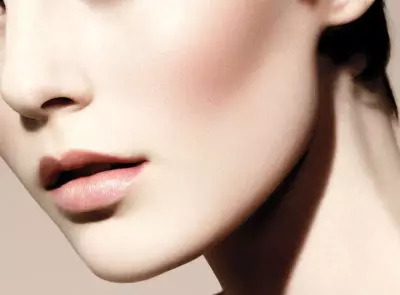 Aren't high cheekbones a part of our fantasies??? Well, high sculpted cheekbones are not too difficult to achieve. Suck in your cheeks and apply a dark shade to the hollows. Add a highlighter to the top of the cheekbones and finish off with blush as usual. Be careful not to go overboard !!!
2. Chin:
If you have a heavy chin that you want to slim down, apply the highlighter to the center of the chin directly below the center of the lower lip.
3. Double Chin:
Trying to contour your jawline and hide a double chin ??? Apply a bronzer under your jawline to make the area appear to recede.
4. Forehead:
If you have a wide forehead troubling you, apply a light bronzer to each temple and blend well. This trick helps to give the head a rounded look by creating a shadow.
5. Nose: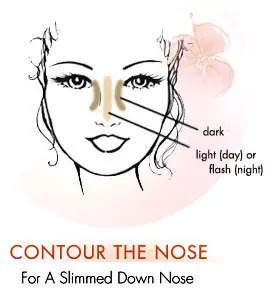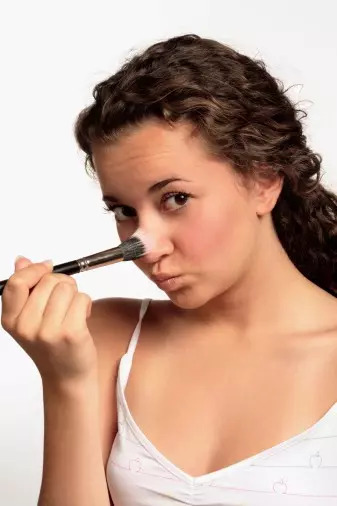 The shape of our nose is often an issue with us. No more. You can easily slim down your nose by applying a dark color to the outside of the bridge and a lighter one in the center. Alternately, leave the front of the bridge bare and apply bronzer along the sides of your nose.
6. Eyes: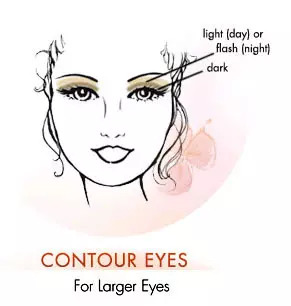 Small eyes, big eyes, close-set eyes and wide-set eyes, all of these are different eye shapes and sizes and at one point of time or other we start feeling that it is not at par with the rest of our face. Give definition to your eyes and brighten them up by contouring your eyes. Make small eyes appear larger and big round eyes look smaller.
After priming your eyes, apply an eyeshadow colour that matches your skin tone to even out starting from your lash line higher up your brows. Next give a wash of a lighter colour shimmery eyeshadow over your entire lid. Finally, to make your eyes pop, define your crease with a darker eyeshadow shade and blend inward and down to your lash line.
7. Lips:
If you want to tone down full lips, apply a deep shade of lipcolor to the entire lip. If its a full pout you're lusting after, apply a light lipcolor with a gloss. Follow it up with a highlighter between the peaks of the upper lip and below the center of the lower lip.
Now that you've learnt all the basics, face contouring will no longer sound Greek to you. Use the right technique in the right manner and skillfully use makeup to your advantage. So what are you waiting for, go grab your makeup palette and get the looks you always desired!!!
Page 3 celeb Kim Kardashian is crazy about contouring. If we take a look at her sans makeup face and her full makeup face, we can easily find out the difference. That's the magic of contouring!
The following two tabs change content below.