Rihanna, Jennifer lopez, Jennifer aniston, Halle berry – Yes they have all sported this look. It in one of the most happening hairstyles this year. This cute, trendy wispy medium length hairstyles simply looks chic and is a fantastic solution for people with thin, sparse hair. The best thing about this style is that almost this hairstyles for any face shape – oval, square, heart and oblong can rock this look.
Wispy medium hairstyles:
How To Style?:
Look 1:
This universally flattering hairstyle can be sported any way you like it. Just grow out a chic bob, give it a twist by razor cutting the ends. This will give that soft wispy jaggered look. One can also opt for just wispy bangs which are a great hairstyles for large foreheads people. The wispy bangs offer advantage of giving that soft look if worn onto the side and also a playful look if worn straight forward over the forehead.
Medium hairstyles look flattering on almost everyone. They are hassle free, practical and stylish. They can be sported any way you like it without burning a hole in your pocket. The key to sporting this wispy medium hairstyle is confidence. Wispy medium haircuts accentuates your bangs and locks and helps to bring out the best feature in you. This textured look is chic and happening for a night out, you may need to polish the rough look and set your everyday medium length hairstyles for office look.
The asymmetry of this look can perk up the playful factor. Since wispy hair look offers many options, you can simply vamp up your normal hair to reform it into a wispy look. People who like to stick to a more classic look can opt to go for medium length hairstyles coupled with wispy and messy bangs.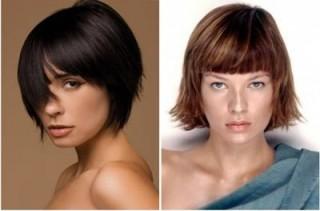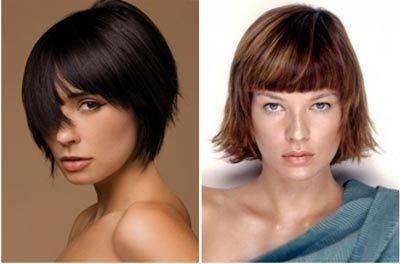 Look 2:
Alternately this can used as one of the
hairstyles for medium length hair
. One can gather and spread the uneven layers onto one side and create a more rocker/edgy look. People who lack the confidence to sport such a drastic look can opt for a tapered cut look instead of wispy blunt cut ends. If you have medium length hair with thick volume – just opt for a feathered cut at the ends and leave it a bit messy to give it oomph. Alternately, waves can also be added to medium sized bob to give it a wispy look. A tapered bob with a few highlights can also work wonders for people with almost any face shape. Wispy cut hair can also add a sleek look if styled in a particular manner.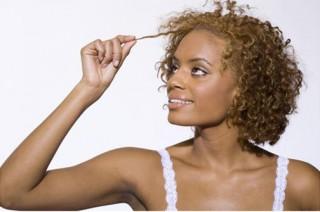 Advantages:
Long hair lengths can be daunting and require good hair care and nourishment. Also to set long hair means spending hours. Wispy haircuts are low maintenance and also offer to serve your with great many options – if you want a drastic or subtle look. People with thin and sparse hair volume can opt for back combing to attain volume boost. You can iron your locks for a sleek look. Use hair serum if you wish to give your hair a shine. Always finish up with a good setting hairspray.
If You Enjoyed This Post, Sign Up For Newsletter
(And get your daily dose of Beauty & Wellness tips straight to your inbox)
The following two tabs change content below.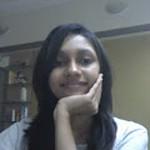 Latest posts by Riddhi Jholapara (see all)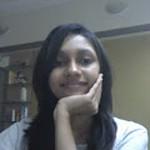 hi everyone I am Rids from mumbai .. A girl who is pursuing PhD in biological sciences. This blog is my passion and I love writing. I am passionate about many other things - books, music, movies and makeup. This blog is an attempt to write about everything that I really love.