21 Best Juices For Healthy And Glowing Skin
Stop complaining about your skin problems because it's time to juice them away. We have listed some of the best fruit and vegetable juices here that will help eliminate your skin issues in no time.
And, it's no hard task either. Pick a fruit or vegetable, blend it in a food processor, and you are good to go. But you must know which one to pick and what it does to your skin to attain the best results.
And we are here to tell you precisely that. Below, we have listed some juices that make your skin glow. Bonus! There are some really cool recipes as well. Check them out!
It's Juice Time! Best Juices To Attain Healthy And Glowing Skin
1. Beetroot Juice
Do you loathe beetroot as much as I do? Do not do that anymore because it can give you absolutely fantastic skin.
Fresh beetroot juice has anti-inflammatory properties and is a rich source of iron and potassium, which help purify the blood.
The vegetable juice also contains vitamins A, C, K, copper, magnesium, folic acid, and zinc.
Dilute beetroot with another ingredient and drink the juice every day to fight skin problems such as blemishes, acne marks, and inflammations.
2. Carrot Juice
We have been told time and again that carrots are great for the eyes. What you do not know is that they are great for the skin too.
Carrots contain vitamin A, which fights acne, wrinkles, pigmentation, and uneven skin tone. The juice is rich in fiber, which eases bowel movement and excretion, thereby clearing out your stomach. This enhances your skin.
Carrots also contain vitamin C and potassium, which improve skin elasticity and help in the regeneration of new cells.
Make sure you have some carrot juice every day in the morning for a great start to the day, and for glowing skin.
3. Orange Juice
What can be better than a glass of fresh orange juice to lift your spirits? Along with boosting your mood, it also elevates your skin's health.
Oranges are rich sources of citric acid that aid collagen and elastin formation in the skin. Hence, they dry acne, enhance your complexion, improve your skin texture, and make your skin firm. Oranges also hydrate the skin and treat sunburns.
They contain antioxidants that fight free radicals that prevent wrinkle formation and skin sagging, thereby controlling premature skin aging.
4. Apple Juice
We have heard enough of 'an apple a day keeps the doctor away.' It is time to say, 'an apple a day keeps skin problems away.'
Apples contain a significant amount of collagen, which makes your skin elastic and glowy.
They also contain antioxidants that prevent your skin from premature aging, wrinkles, and skin tissue damage.
Drinking apple juice every day provides your body with retinoids, which makes your skin firm and supple.
5. Cucumber Juice
Cucumbers are light on the stomach, and perfect for quenching thirst and staying hydrated.
In fact, cucumber's high water content is excellent for the skin as it keeps it hydrated and well-nourished. It is also rich in silica, which enhances your natural complexion and adds a glow to it.
Cucumber contains potassium, magnesium, biotin, and vitamins A, B1, and C, and therefore helps to improve your skin condition. Make sure you have cucumber juice regularly.
6. Spinach Juice
Time and again we have been told that spinach is great for the skin – have you ever wondered why?
It is rich in vitamin K and iron, making it essential for achieving and maintaining good skin. It also contains nutrients like vitamins C, E, and manganese, which are antioxidants protecting your skin from damage-causing free radicals.
Although spinach juice might not be high on taste, do have it often. To add taste to it, you can include some other flavor inducing ingredients like lemon, dates, etc.
7. Tomato Juice
Tomatoes are the perfect food for the skin and work like magic.
Consume tomato juice to reduce pimples, lightens blemishes, and prevent premature aging. It also cools your skin effectively. This juice contains an antioxidant called lycopene, which is a natural sunscreen protecting your skin from within.
Tomato juice is rich in vitamin C – have it regularly to keep your skin safe from cancer and other issues.
8. Ginger Juice
Ginger is a potent ingredient that can enhance the taste of any dish or beverage. And the best part? It can give you perfect skin. It has a strong smell and flavor that many are very fond of.
Ginger works perfectly on skin problems because it contains 40 antioxidant compounds that defend the skin from premature aging, dullness, loose skin, and acne scars.
It reduces toxins in your skin cells, improves circulation, and helps deliver more nutrients to your skin, thereby enhancing your skin's health. Sip ginger juice whenever possible.
9. Broccoli Juice
Broccoli is a fibrous vegetable, rich in vitamin C and great for the skin. It also helps enhance the skin as it is low in cholesterol. Broccoli contains a substance called glucoraphanin, which repairs skin.
So, blend broccoli in a food processor and have it often to combat skin problems.
10. Kale Juice
It is a given that green leafy vegetables are good for the skin. Kale is one such power-packed leafy vegetable that works wonders for your skin.
It is anti-inflammatory in nature, and contains vitamins A, C, K, E, B1, B2, and B3, and calcium, which maintains skin health, repairs the skin, and protects it from damage.
It is excellent for flushing out all the toxins from the body. Make sure you have it every day in the morning.
11. Parsley Juice
Herbs are known to heal, and that is what parsley does – it heals your skin. With its minty smell and flavor, you are sure to love it.
Parsley contains vitamins A and C, which helps clear blemishes and evens the skin tone. It also contains vitamin K, which heals wounds and cuts quickly.
Drink parsley juice regularly because it boosts the production of collagen that aids cell renewal and repair, thereby encouraging smooth skin.
12. Sweet Lime Juice
Sweet lime juice is super refreshing. It provides a tang of fresh flavor in your mouth and invigorates you in no time. It is excellent for the skin too.
Sweet lime is rich in antioxidants and vitamin C, which are excellent for good skin. It also has antibacterial properties that heal and protect the skin from infections.
So, have sweet lime juice regularly because it cleanses your blood, thereby clearing your skin problems – and also because it tastes great!
13. Lemon Juice
Lemon is a multitasker and solves many problems in one shot, and your skin benefits the most from it.
Lemons are a rich source of vitamin C and cleanse your skin from within, flushing out all the debris and toxins from your body.
So, whip up some lemon juice and drink it up first thing in the morning to purify your blood, cleanse your kidneys, and in turn, enhance your skin.
14. Mint Juice
The smell of mint is invigorating; it wakes up your senses and refreshes you. It not only tastes good but also repairs your skin.
It has active antibacterial properties and contains salicylic acid, which prevents the occurrence of acne. It also contains vitamin A, which controls oil production in the skin.
Drink mint juice because it hydrates the skin and calms dry and itchy skin.
15. Pomegranate Juice
Pomegranate and its juicy seeds make a great snack and have numerous benefits for the skin.
Pomegranate juice contains punicic acid and omega 3 fatty acids, which seal the moisture in the skin and hydrate it.
Drink pomegranate juice often to renew your skin cells, tighten your skin, and prevent it from aging prematurely.
16. Grape Juice
Tangy and sour grape juice makes for an exquisite delicacy. It is rich in flavor and texture, and is a perfect way to end a meal.
It is rich in antioxidants and helps in keeping your skin firm and youthful.
So, juice a bunch of grapes and drink it up whenever you can for smooth, soft, and healthy skin.
17. Grapefruit Juice
Grapefruit is tangy, crunchy, and juicy. It is a perfect blend of all things good and makes for an excellent snack.
Grapefruit contains beta-carotene and vitamin A, which are good skin building nutrients. They protect your skin from free radicals and slow down the skin's aging process.
Drink grapefruit juice to protect yourself from inflammations and sun damage. Have it regularly, and you will see excellent results.
18. Papaya Juice
The good old papaya always comes to the rescue when needed. Papayas are smooth and tender, and melt quickly in the mouth.
Its juice contains an enzyme called papain that clears skin impurities and reveals clear and bright skin.
Drink up papaya juice regularly for soft, healthy, and glowing skin because it is a brilliant cleanser, cleaning out your skin from the inside.
19. Aloe Vera Juice
We can rightly call aloe vera a multitasker. It performs various tasks and has numerous benefits.
Aloe vera juice, in particular, is rich in vitamins and minerals, and helps maintain the natural glow of the skin. It contains hormones called auxin and gibberellins, which are skin healing and anti-inflammatory.
Drink up aloe vera juice every day in the morning and be ready to see a drastic change in your skin.
20. Banana Juice
The soft and pulpy banana is ever dependable and comes to your rescue whenever needed. It is also easily available and economical.
Banana juice/smoothie contains potassium and vitamins E and C, and they all promote skin health. They repair dull and damaged skin and keep it hydrated. Bananas are also good sleep inducers, which is a perfect remedy for good skin.
Smash a couple of bananas, make some thick juice, and enjoy the smoothie – because it's worth it.
21. Pineapple Juice
The sweet and sour taste of pineapple juice is sure to make your taste buds tingle after a long day at work.
Pineapple juice is excellent for sensitive and inflamed skin because it contains vitamin C, which is soothing and healing. So, drink up this refreshing juice.
Now, let's take a look at some delicious juice recipes.
Juice Recipes For Great Skin
1. Carrot And Beetroot Juice
What You Need
1 carrot
Half a beetroot
3 dates, without the seeds
What You Need To Do
Slice the carrot and beetroot into chunks and add them along with the dates to a food processor.
Add 2-3 tablespoons of water to it and blend well till you get a liquid-like consistency.
How Often?
You can drink this juice every day in the morning.
2. Pineapple, Cucumber, And Apple Juice
What You Need
4 medium-sized pineapple slices
1 medium sized cucumber
Half an apple
What You Need To Do
Cut the apple and cucumber into chunks and add them to a food processor along with the pineapple slices.
Blend till it forms a smooth liquid-like consistency.
How Often?
You can have the juice 3-4 times a week.
3. Carrot And Cucumber Juice
What You Need
1 carrot
1 cucumber
Half cup raisins
What You Need To Do
Cut the carrot and cucumber into chunks and add them to a food processor with the raisins.
Blend well till the mixture turns into a thick liquid.
How Often?
You can have this juice every day.
4. Tomato And Carrot Juice
What You Need
2 tomatoes
1 carrot
1 tablespoon flaxseeds
What You Need To Do
Cut the tomato and carrot into chunks and add them to a food processor with the flaxseeds.
Blend well to form a liquid consistency.
How Often?
You can have this juice every day.
5. Pineapple And Cucumber Juice
What You Need
5 medium sized pineapple slices
Half a cucumber
What You Need To Do
Cut the cucumber into chunks and add it to a food processor with the pineapple slices.
Blend the mixture well till it turns into a thick liquid.
How Often?
You can have this juice 3-4 times a week.
Juice is great. Regular consumption of juices can make your skin beautiful. Now that you know all that you needed to know about juices, it's time you make some fresh juice and drink it up. Have one for us!
Expert's Answers For Readers' Questions
Will a juice diet better my skin?
Yes, it betters your skin. You can start with a 3-day juice cleanse and even try the 7-day one if you are up to it.
Is it better to have a single ingredient juice or do a mix?
That depends on your preference because both are highly nutritional and provide their own benefits.

The following two tabs change content below.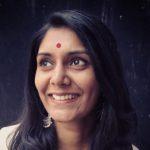 Latest posts by Ramya Achanta (see all)