Get Your Royal Indulgence Lodhradi Trial Pack FREE!
As A Part of A Huge Royal Indulgence Lodhradi Promotion!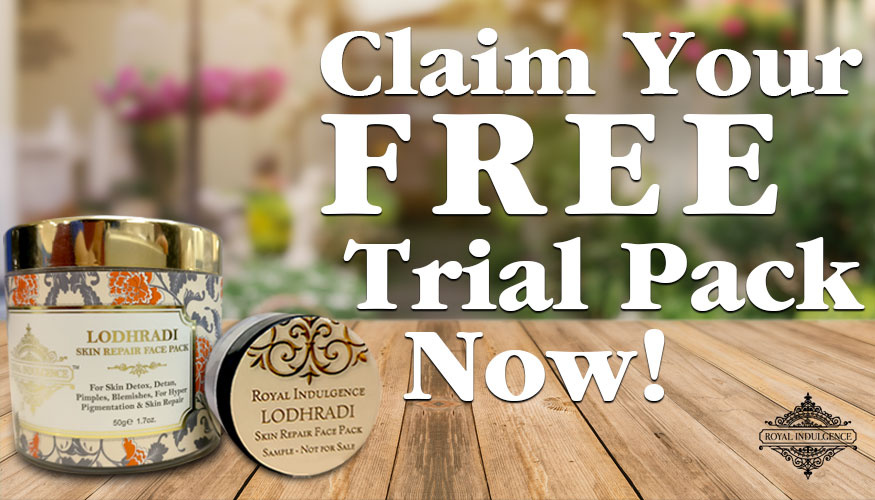 WARNING: A Small Number Of Trial Packs Remain...claim yours now!
Dear Reader,
I'd like to introduce you to...the one and only beauty solution you'll ever need.
First things first, let's talk about-
Why You Need It:
Royal Indulgence Lodhradi Skin Repair Face Pack has a very specific purpose and a very important one- to get rid of a deep rooted skin issue that is the origin of many of the skin problems you may be facing already.
Take a look at the skin issues listed below:
Stubborn tan and severe and uneven skin darkening
Dull complexion that reacts quickly to sun exposure
A sebum imbalance- either too oily or too dry
Premature loss Of Skin Elasticity
Premature Wrinkles
Textured, bumpy or rough skin
Pigmentation
Dark Spots
Fine Lines
Recurring Acne
Recurring Whiteheads or Blackheads
If you're trying to treat any of the listed problems independently and have failed to see results, you may be treating the wrong issue. While these symptoms may subside at first, they most definitely make a grand comeback clearly proving that there's a bigger issue at hand. That issue is Free Radical Damage.
Free Radical Damage is a complicated chemical reaction that is caused due to pollution, artificially enhanced food and and sun damage and 97% of women around the world are experiencing some effect of it.
The ONLY way to counter this is with an additional supply of antioxidants to the skin.
And this is where Royal Indulgence Lodhradi comes into play
It has a unique, antioxidant abundant skincare formulation that combines the healing properties of three powerful Ayurvedic herbs that penetrate your skin and counteract damage, helping your skin repair and rebuild its structure to achieve a glowing complexion.
This is what you get absolutely for free!
*shipping charges of Rs.150 apply.
What To Expect From Your FREE Trial Pack!
Our original product has a quantity of 50 gms that lasts users 15 -18 applications. The full benefit of this skin repair pack can only be experienced if used, every alternate day for a period of 30 days or more.
This trial pack is for you to experience a short glimpse of the potential skin repair that you can achieve with the 30 day application process.
The Free trial pack will have 8 grams of product that will last you two applications.
Right from the first use, you will experience a mild tingling sensation, indicating that the ingredients have begun their detoxifying action.
Depending on the severity of your skin issues you will notice a fresh, plump and healthy glow on your face post the first application on Day 1.
If you have a recent tan, you will notice it lighten by one shade right from the first use.
The ingredients in the pack are potent so avoid using it right the next day. After a one day gap, use the pack again on Day 3.
This time you will notice that the tingling sensation reduces. Your tan will further lighten and the texture of your skin will feel smoother.
IMPORTANT: The medium that you use to mix the pack is as important as the composition of herbs itself. Use the required medium according to your skin concern as listed below:
For maximum benefit in tan removal use the pack mixed with any ONE of the following:
- Whey from curd ( the water that separates from curd after it is fully set)
- Milk and honey
- Aloe Vera juice
- Rose water
You Need To Know This Before You Get Your Free Trial!
That's right the Free trial for Lodhradi comes at no cost at all but the only thing you'll be paying for is shipping and handling charges which comes at a minimal charge of Rs.150/-
Now we NEVER charge for shipping, our original product that costs Rs.1500 is shipped across India for NO CHARGE at all!
However, with this Free Trial Pack we only have 500 samples and we only wanted those who are truly interested to experience this beauty revolution to be a part of it!
WARNING: We only have 500 Free Trial packs and we want it to reach women who are experiencing recurring skin issues and want to try a revolutionary Ayurvedic product that can fix it once and for all!
So If you're someone who is in dire need of beauty solution that can help you achieve the clear and glowing skin you want, then click on the button below right away!
*shipping charges of Rs.150 apply.
Here Is Our "Incredibly Awesome" Guarantee!
We 100% guarantee that you'll love Royal Indulgence Lodhradi!
Or we assure you, we'll return your Rs.150 shipping and let you keep the pack anyway. That's right.
You don't even have to send anything back. Just mail us at support@royalindulgence.in or call us at 040-39561410 and we'll wire your money back, NO QUESTIONS ASKED!
That's it! What are you waiting for?!
*shipping charges of Rs.150 apply.
6 Reasons Why This Is The Best Skincare Choice Ever!
Loved and Approved By Over 30000 Indian Women!
This Ayurvedic beauty solution was 2016's most popular bestseller with an overwhelming 99% positive response!
Save Time, Save Money, Save Effort!
Three Herbs - Lodhra, Dhanyaka And Vacha Replace Your Entire Skincare Collection, One Skin Solution Is All You Need For Problem Free Skin!
Burn Your Worries Away!
Doubt is Out! KNOW That The Pack Is Repairing Your Skin With The Beauty Burn- A Moderate To Strong Tingling Sensation That Indicates Deep Cleansing Of Pores and Breakdown Of Toxins!
Give Yourself 30 Days Sincerely, You Will Be Amazed!
Exactly 15 Applications Required To See Visible Change- Watch Your Skin Issues Reduce Considerably!
Superb Value For Money!
C'mon, Don't Let This One Slip Away - Limited Period Offer - Buy 2 Get 1 Free + Buy 3 Get 2 Free!
The Most Confident Purchase You'll Ever Make!
30 Days Money Back Guarantee- Get Your Money Back If You're Not Impressed!
*shipping charges of Rs.150 apply.
So why are we doing this again? So women like you get to experience this powerful Ayurvedic remedy firsthand, and nothing hold you back from trying this amazing Ayurvedic experience which could be the best beauty experience you've ever had!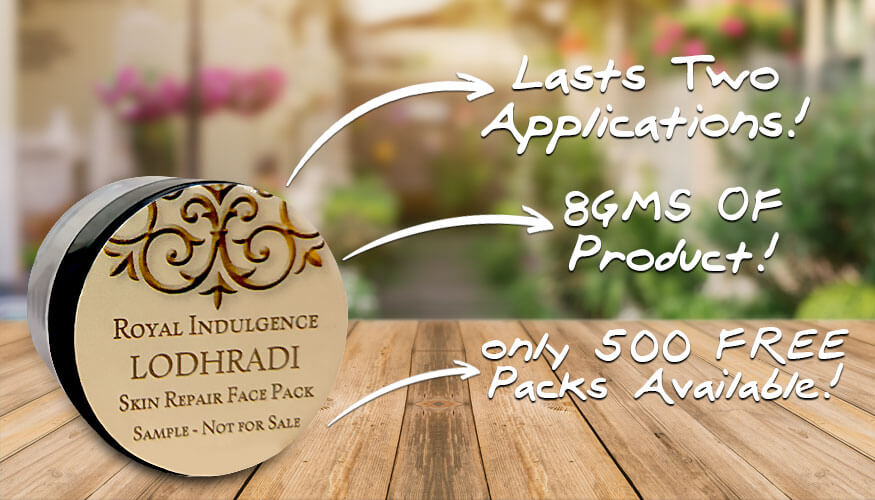 WARNING: A Small Number Of Trial Packs Remain...claim yours now!
Our Happy Customers Share Their Stories..:)
QUICK TAKE: very simple, impressive

"I originally bought this from online after reading all the positive reviews. i was extremely excited to use this. After only a couple of days my skin became better, when i say better i mean, the texture improved and the uneven skin tones and darkness cleared. My skin was looking glowy and healthy! "

Akhila Reddy Location: Hyderabad
Skin type: Combination
QUICK TAKE: great for oil control and scar lightening

"I originally bought this from online after reading all the positive reviews. i was extremely excited to use this. After only a couple of days my skin became better, when i say better i mean, the texture improved and the uneven skin tones and darkness cleared. My skin was looking glowy and healthy! "

Jyotsna Location: Delhi
Skin type: Oily
QUICK TAKE: stopped using other products

"This did wonders to my sensitive skin and I actually stopped using a lot of other products for my skin. It took a while, up to 4 weeks and I noticed my pigmentation / mild acne scars fading.. literally fading.. My skin is very sensitive and so this does tingle for about a second or two when I put it on.. but other than that nothing but great results! Recommend this to everyone for pigmentation and to get rid of deep tan. "

Dyuthi Chand Location: Kerala
Skin type: Combination