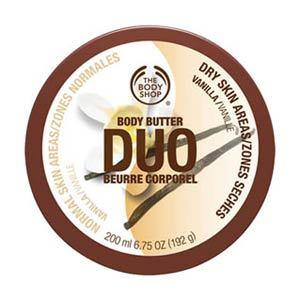 Buy The Body Shop Beurre Corporel Vanilla Body Butter online from:
Description
Vanilla Body Butter Duo provides moisturization for up to 24-hours. Moisturize your skin with this twin pot that contains two types of moisture: a light cream and a rich cream.
Pros
Attractive Design

(1)

Convenient Container

(1)

Easy To Use

(1)

Fragrant

(2)

Good Value

(1)

Great Smell

(1)

Hydrating Enough

(1)

Light Texutre

(1)

Long Lasting

(2)

Moisturizes Well

(2)

Non-greasy

(1)

Soft And Creamy Texture

(2)
Cons
Doesn't Absorb Well

(1)

Expensive

(2)
Pros
Convenient Container
Easy To Use
Fragrant
Light Texutre
Moisturizes Well
Non-greasy
Soft And Creamy Texture
Cons
Doesn't Absorb Well
Expensive
The lighter lotion has a really nice silky feel and still provides a really good level of moisturisation despite its thinner consistency and I use it after a shower in the morning. It feels slightly oily when I apply but after a couple of minutes it gets absorbed and makes my skin smooth and supple.I do not like to use the heavier one in the morning as I am always in a rush to get ready and it takes some time to get absorbed and it also takes some effort to rub it in. At night I go for the heavier moisturizer. The scent generally lasts for about 2-3 hours before it fades, however in this hot and humid climate I generally skip the body butter as it is far too greasy for day use and the vanilla scent can be overpowering. Even the light moisturizer is slightly thicker than the ones from other brands and so a little goes a long way. I will definitely use up this in winter and maybe will try some other body butter from this brand.


Read More
Pros
Attractive Design
Fragrant
Good Value
Great Smell
Hydrating Enough
Long Lasting
Moisturizes Well
Soft And Creamy Texture
Why you'll like it:
1)It smells heavenly.
2)The quantity is enough to last 1 or maybe 2 winters.
3)Both the parts are very very very moisturizing.
4)The skin feels amazingly soft on continuous use.
Why you'll dislike it:
1)It is expensive (INR880/-) but for the quantity and quality I feel the price is justified.
2)The fragrance is quite strong and everyone might not like it.
3)The lotion/lighter part of the duo would get used up sooner than the butter/thicker part.
4)Tub packaging is not so hygienic.
To buy or not to buy?
Buying atleast one body butter is a must, I feel, if your skin needs hydration. But do smell this particular fragrance at the store before buying.
I will definitely buy TBS body butters all my life.

Pros
Convenient Container
Easy To Use
Fragrant
Light Texutre
Moisturizes Well
Non-greasy
Soft And Creamy Texture
Cons
Doesn't Absorb Well
Expensive
The lighter lotion has a really nice silky feel and still provides a really good level of moisturisation despite its thinner consistency and I use it after a shower in the morning. It feels slightly oily when I apply but after a couple of minutes it gets absorbed and makes my skin smooth and supple.I do not like to use the heavier one in the morning as I am always in a rush to get ready and it takes some time to get absorbed and it also takes some effort to rub it in. At night I go for the heavier moisturizer. The scent generally lasts for about 2-3 hours before it fades, however in this hot and humid climate I generally skip the body butter as it is far too greasy for day use and the vanilla scent can be overpowering. Even the light moisturizer is slightly thicker than the ones from other brands and so a little goes a long way. I will definitely use up this in winter and maybe will try some other body butter from this brand.


Read More