And this week it is……..Zinnia!! Yay for her! Here is another awesome member who has managed to throw a brand new light on the way things can be done?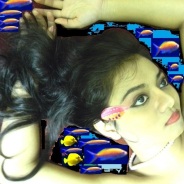 Cheetah prints! Now that is something you see on a dress and even shoes….people have even done it on their eyes but who would've have guessed that it would look so awesome on your nails too!! Such a perfect look for a theme party especially for those of you who have been going gaga over the supernatural trend! Isn't the idea of a half human and half animal just too yummy in the head…..ok well I have a thing for it for sure :p
Here are a few more of her posts. if you have missed them just click on the tittle and enter her world :)
They are champu , champi and champak, the middle one is champi, and both champu and champak are in love with champi……..create nail arts which tells ur invented stories!!!!!!!! go crazy with nails !!!!! :))))))
Aroma Magic Glossy pack, my most loved pack, A Review
Aroma magic glossy pack by blossom kochhar
content : Big pack 50gm
price : 240 around
contents : extracts of garlic , clove , nutmeg , manjishtha ,lodhra bark, indian pennyworth, black berry leaves,jojoba oil, cocoa butter ,,pure essential oils of lemon verbana,neroli, sandalwood, basil and geranium.
Aroma Magic Lavender Oil and it's Great Usages :D a lil bottle of wonder !!!!
Am feeling great to introduce the great benefits that i practically experienced when i put this little bottle of wonder to use :D
its a 15ml bottle , the price i really dont rem now cuz its been quite sometime but am still using it , its soo pure that it really doesnt get emptied very fast .
And if your looking for more of her amazing blogs and helpful discussion's follow the links below:
kudos to you Zinnia! You have most definitely given us a quite a bit of info to chew on. Love ya :D
The following two tabs change content below.