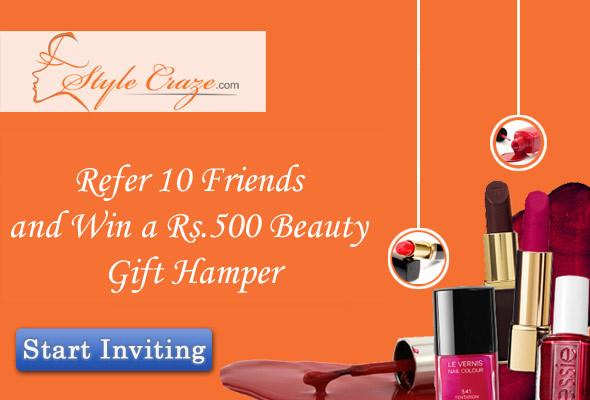 StyleCraze is more fun when you experience it with your Friends.
Just use this
link
to Invite your friends from Facebook, Gmail or Twitter to join StyleCraze and you can win a Beauty Gift Hamper worth Rs.500 for every 10 successful referrals. You can win multiple Gift Hampers too and also earn 25 points for each referral. You can check your Referrals
here
and also in your Rewards section.
You need to be a registered member in to Invite your friends. If you have not registered, use this link to Sign up:

Terms and Conditions:
The Referral count will start from today, i.e 8th Jan 12 AM
The products for the Gift Hampers will be selected by StyleCraze. This choice of products is final and will not change.
Referrals should be Women only. Men will not be counted. Once you have crossed 10 referrals, just mail your name and profile id to chetana@stylecraze.com to avail the Gift Hamper.
We do not accept multiple IDs from the same IP. All the Member IDs pertaining to this IP will be banned instantly