10 Simple And Effective Ayurvedic Treatments For Pimples and Acne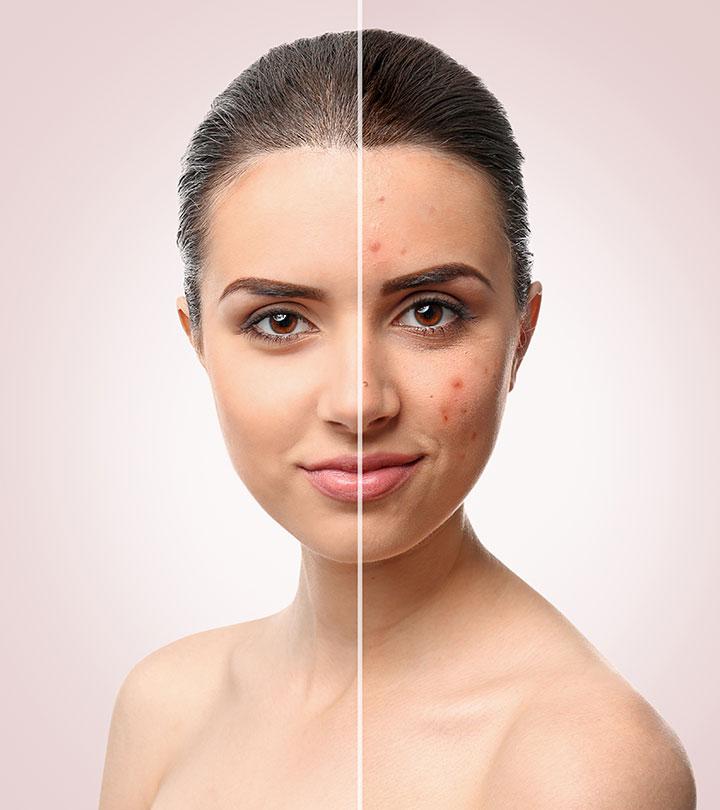 Pimples and acne are among the most common skin problems we experience. While medication may help, natural home remedies are becoming more popular. If you are keen to explore traditional healing methods, Ayurveda could be the way.
Ayurveda is an ancient natural healing practice that has a different approach to treat pimples and acne. In this article, we will shed more light on this approach and the different Ayurvedic recipes that can help treat your skin condition.
Pimples And Acne: What Causes Them, According To Ayurveda
In Ayurveda, pimples or acne are referred to as Yauvan Pidika. This term was first mentioned in Charaka Samhita, and the condition is described as eruptions, similar to the Salmali (a type of cotton tree) thorns that occur on the face during early adulthood (1).
Acharya Sushruta, an ancient Indian surgeon from the 6th century, first classified Yauvan Pidika as Kshudra Roga (a minor skin disease). According to Ayurveda, pimples or acne are caused by the imbalance in the vata and kapha doshas, accompanied by an imbalance in rakta dhatu (red blood cells) (2). These imbalances produce certain toxins in your body, and the toxins can get further aggravated with an erratic lifestyle and excess consumption of processed foods.
Pimples or acne caused by vata imbalance are characterized by dry skin. This is a result of poor digestion and the accumulation of toxins in the body. On the other hand, pimples and acne caused by kapha dosha are characterized by oily skin. These occur due to a kapha imbalance, where your skin produces excess sebum that accumulates in the skin pores.
Ayurveda prescribes specialized natural and herbal combinations (for topical application and consumption) that may help flush toxins out of your system and help treat pimples and acne.
10 Best Ayurvedic Treatments For Pimples And Acne
1. Basil And Turmeric
Basil helps improve blood glucose levels and reduce stress (which is thought to aggravate acne). Applying basil (3% cream) can also improve acne (3). Turmeric has therapeutic effects on your skin (4). This Ayurvedic remedy can help minimize pimples and acne.
You Will Need
20 basil leaves
2 teaspoons of turmeric
What You Need To Do
Grind the basil leaves and turmeric in a food processor.
Store the mixture in a jar.
Consume half a teaspoon of the mixture after mixing it with water, 15-20 minutes before a meal.
Alternatively, you may apply the mixture to the affected area and wash it after it dries. Follow this twice a day.
How Often?
3 times daily – before breakfast, lunch, and dinner.
2. Neem Leaves And Rosewater
Neem has antibacterial effects and is a potent Ayurvedic remedy (5). It may help minimize the bacteria that causes acne. It also is believed to restore the healthy pH balance of the skin. Rosewater has an anti-inflammatory effect on your skin (6).
You Will Need
5 stems of neem leaves
2 teaspoons of rose water
What You Need To Do
Boil the neem leaves in plain water for 2-3 minutes. Grind the leaves in a food processor until you get a thick paste.
Add the rose water to the paste and apply the mixture to your face. Leave the mask on until it dries.
Rinse with water.
How Often?
3-4 times a week.
3. Lemon And Water
Lemon contains vitamin C. Topical vitamin C is a potent anti-inflammatory ingredient and is helpful in healing inflammatory conditions, such as acne (7). However, avoid using lemon if you have sensitive skin because it may cause further irritation. If you happen to use lemon on sensitive skin, ensure you apply sunscreen while going out. This can prevent your skin from becoming photosensitive.
You Will Need
2 lemons
Distilled water
Cotton pads
What You Need To Do
Squeeze the juice of lemons into a cup and dilute it with two teaspoons of distilled water.
Apply the tonic to your face with cotton pads.
Leave it on overnight and rinse the next day.
How Often?
Every day before going to bed.
4. Honey
Honey is widely used in Ayurvedic remedies for treating various skin and health ailments. It has antibacterial properties and is found to inhibit at least 60 different strains of bacteria (8).
You Will Need
A teaspoon of raw honey (or Manuka honey)
What You Need To Do
Dip a Q-tip into the honey.
Apply it to the affected area as a spot treatment.
Let it stay for at least 30 minutes.
Rinse.
How Often?
1-2 times a day.
5. Coriander And Cinnamon
Certain small -scale studies have proven that coriander has antimicrobial properties that may be effective against S. aureus bacteria (9). Cinnamon has anti-inflammatory properties and was found to heal acne lesions (10).
You Will Need
A stack of coriander leaves
½ teaspoon of cinnamon powder
What You Need To Do
Juice the coriander leaves and add the cinnamon powder to it.
Store the mixture in a jar.
Apply the mixture to the affected area as a spot treatment.
Leave it on for a few minutes and then rinse.
How Often?
2 times daily.
6. Triphala
Triphala is a potent Ayurvedic remedy that has antimicrobial properties. It can inhibit S. aureus bacteria. It is appropriate for those dealing with imbalances of Vata, Pitta, and Kapha (11).
You Will Need
1 teaspoon of Triphala paste
A glass of warm water
What You Need To Do
Mix the Triphala paste in warm water.
Drink it up.
How Often?
Once every day.
7. Papaya And Sandalwood
In Ayurveda, red sandalwood is widely used for healing inflammation and wounds (12). Though papaya doesn't have any significant effect in reducing acne, it is popular for its use as a base for a face pack in DIY remedies.
You Will Need
1/2 papaya
1 tablespoon of sandalwood powder (or red sandalwood)
What You Need To Do
Mash the papaya and add the sandalwood powder to it. Add a few drops of water to form a fine paste.
Apply the mask to your face and leave it on for 15-30 minutes.
Rinse and pat dry with a clean towel.
How Often?
2-3 times a week.
8. Potato And Raisins
Anecdotal evidence states that the potato and raisin face mask may fight the pimple-causing bacteria. The mixture may also add a natural glow to the skin. However, there is no scientific evidence to establish these effects.
You Will Need
1 medium-sized potato
1 tablespoon of raisins
What You Need To Do
Cut the potato into slices. Add them to a food processor along with the raisins and blend until you get a smooth mixture.
Apply the paste to your face and let it dry.
Rinse the mask and pat dry with a clean towel.
How Often?
3-4 times a week.
9. Indian Gooseberry (Amla) And Fennel
The Indian gooseberry has anti-inflammatory and wound healing effects (13). Fennel contains anethole, a bioactive compound. Both animal and test-tube studies have found that it has anti-inflammatory effects (14). It may help treat the inflammation associated with acne.
You Will Need
3-4 Indian gooseberries
1 teaspoon of fennel seeds
What You Need To Do
Slice the gooseberries into small pieces. Blend them along with the fennel seeds in a food processor until you get a powder-like consistency. Store the powder in a jar.
Mix a teaspoon of the powder in water and drink it up.
How Often?
2 times daily – once in the morning and once in the evening.
10. Guava And Mango Leaves
Guava leaves exert antimicrobial effects against P. acnes bacteria. The leaves also have antifungal properties (15). Mango leaves may help with wound healing, but there is no scientific study to prove this effect.
You Will Need
2-3 guava leaves
2-3 mango leaves
What You Need To Do
Blend the guava and mango leaves in a food processor until you get a paste-like consistency.
Apply the paste to your face and leave it on for 30 minutes.
Rinse the mask and pat dry.
How Often?
2-3 times a week.
Ayurveda is about taking a holistic approach to treating various skin conditions. However, the remedies alone may not help if you do not take care of your lifestyle and diet as well.
Additional Tips To Reduce Risk Of Pimples And Acne
Avoid processed foods.
Increase intake of fresh vegetables, whole grains, seafood, and lean meat. Ensure you have balanced meals.
Stay hydrated. Drink plenty of water and other healthy fluids. This keeps your skin from looking dull and dry.
Avoid excess use of cosmetics. Try using non-comedogenic products that do not contain harmful chemicals.
Avoid poking or squeezing your acne lesions.
Get 7-8 hours of sleep every night. Your skin needs time to heal itself.
Beauty comes from within, and this is true for Ayurvedic remedies as well. Once you have managed the imbalances in your body with a healthy diet, a proper skincare routine, and a healthy lifestyle, you will start seeing results. While mild to moderate pimples and acne might heal with these remedies, more severe cases need medical intervention.
Frequently Asked Questions
Do the Ayurvedic treatments for pimples take a lot of time to show results?
Yes, natural remedies take time to show results. Be patient and use the remedies diligently.
Do I need to be extra-cautious if I have sensitive skin?
Yes. Before using any ingredient, do a patch test to confirm if your skin reacts to it.
15 sources
Stylecraze has strict sourcing guidelines and relies on peer-reviewed studies, academic research institutions, and medical associations. We avoid using tertiary references. You can learn more about how we ensure our content is accurate and current by reading our
editorial policy
.
Recommended Articles:
The following two tabs change content below.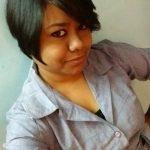 Latest posts by Ramona Sinha (see all)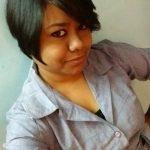 Ramona Sinha
Ramona is a journalist-turned-content writer. She holds a Master's degree in English Literature and has been writing for the digital world for over five years. She specializes in writing for Skin Care. She has done a certificate course titled 'Dermatology: Trip To The Skin', offered by Novosibirsk State University. She believes that beauty begins with a good skin care regimen and is on a mission to eliminate all toxins from her routine. She helps and guides readers in selecting products and ingredients specific to their skin type/issue. When Ramona is not working, her books and passion for music, good food, and traveling keep her busy.