19 Best Body Lotions Of 2019 In India – You Don't Need Anything Else
Body lotions top the list of our everyday essentials and something we cannot do without. These lotions keep your skin protected, smooth, hydrated and nourished. You'd realize if you go without applying any cream on your body for two days, your skin will start feeling itchy, flaky and irritable. While some of them are great, some of them can be deceptive. To avoid that, we decided to put together a list of 19 Best Body Lotions available in India for all skin types. So, your search for a good lotion ends here. Read on to find out more!
19 Best Body Lotions Available In India For All Skin Types
1. Himalaya's Cocoa Butter Intensive Body Lotion
Himalaya Cocoa Butter Intensive Body Lotion is the best body lotion for dry skin. Its concentrated and organic formula helps soothe and treat skin that is dry and scaly by restoring moisture and making it smooth. The body lotion's texture feels somewhere between light and heavy. It spreads and penetrates into your skin with ease which makes it an ideal everyday lotion. It is enriched with the goodness of cocoa butter and wheat germ oil that leaves your skin healthy and glowing.

2. The Body Shop Cocoa Butter Hand & Body Lotion
Just in case you were living under the rock, Cocoa butter is everywhere and everything our skin and hair needs. It's extremely hydrating and helps seal the moisture into your skin, soften and improve the texture too. Plus, this hand and body lotion from The Body Shop is a nourishing blend of sunflower seed oil which makes it twice as good. If you have dehydrated skin, you should consider using this which is one of the best out there.

3. Palmer's Cocoa Butter Formula With Vitamin E
Palmer's version of Cocoa Butter Formula comes with a combination of Vitamin E. It's more than just a body lotion; it works on your dark spots, rough/dry patches of skin and smoothens it down for you. You will see that your skin starts to lighten in a few weeks. Apply it twice a day if your skin tends to get dry by the end of the day.

4. Kama Ayurveda Himalayan Deodar Body Moisturisers
Kama Ayurveda is one of the few brands that makes everything from natural products free of sulfate, paraben, and petrochemical. The key ingredient in this lotion Deodar, which means "wood of the God' – is known to heal a lot of skin disorders because it is antiseptic. There are other ingredients like Aloe Vera which is anti-inflammatory, lemon and beetroot extracts that brighten your skin naturally and essential oils make your skin supple and healthy. Overall, an excellent choice for a body lotion.

5. The Body Shop – Shea Whip Body Lotion
The Body Shop is known to make products that are inspired by nature. Though pricey, the brand offers value for money. The Body Shop Shea Whip Body Lotion is a light, fluffy moisturizer that gives you soft, supple, and smooth skin. It leaves behind a fresh, yet classic scent, and is excellent for dry skinned beauties. Shea butter not only moisturizes your skin but also makes it soft. The Body Shop Shea Whip Body lotion includes antioxidant vitamins A and E, which protect and nourish the skin.
The Body Shop is one of the best international body lotion brands. Its products are not tested on animals.

6. Lotus Herbals Almond Nourish Body Nourishing Body Lotion SPF 20
Your search for a sunscreen cum moisturizer ends here. Lotus Herbals Almond Nourish Daily Nourishing Body Lotion is made from active organic, and natural ingredients that also help you battle skin issues that come with aging skin. It is loaded with the goodness of almonds that nourish your skin while the SPF (20) doubles up as a sunscreen and protects you from harmful UV rays.

7. VLCC Almond Body Lotion
Almonds are known to give your skin nutrition and protect it from all the damage that happens every day which goes unnoticed. The VLCC Almond Body Lotion is a great body lotion and a sun protectant too since it contains SPF 15. A combination we need, considering our extreme summers.

8. VLCC Almond Honey Deep Nourishing & Skin Brightening Body Lotion
If you swear by VLCC products, I bet you know about this one from the brand. It's a great body lotion that hydrates, brightens and smoothens, plus also helps with skin tightening. Most women over 30 use skin tightening and anti-aging creams for just the face and the neck, but using it for the entire body is something you should consider too.

9. Lush Moisturizing Body Lotion – Sympathy For The Skin
'Lush' is known for their handmade cosmetic products that are refreshing and smell great too. The 'Sympathy For The Skin' is one of their best body lotions packed with organic bananas, cocoa, almond oil and vanilla bean that relieves you from the stingy and itchy feelings caused by dry skin. It is thick, creamy and permeable. There is a hint of sandalwood that is anti-inflammatory and acts as a coolant. If you live in dry or cold weather, or just have dehydrated skin or otherwise, give this a shot. Some might argue that this is expensive, but aren't all good things expensive?

10. Nivea Whitening Cell Repair & UV Protect Body Lotion
Nivea moisturizers are a staple in the body lotion category. It is dense, absorbing and lasts you the entire day. It lightens your skin tone and the Vitamin C in it gives you protection from Sun and UV rays. It is perfect for healing pigmented, dark, and uneven skin.

11. Biotique Bio Winter Cherry Lightening & Rejuvenating Body Nourisher
Not many creams suffice the roughness of the skin in winters, and so you need something that is specifically meant for harsh winters, and this one from Biotique fits the bill. It contains winter cherry, sunflower, safflower, musk root and almond oil that stimulate better elasticity, suppleness and moisture balance.

12. Ives Naturally Indulgent Coconut Milk And Orchid Body Lotion
There's nothing more hydrating and healthy for our skin than coconut oil or milk, and it's been used to moisturize hair and the body for years now. Luckily, some brands still make them with pure coconut milk extracts just like old times. That, with a refreshing combination of aroma from orchids, this body lotion from St.Ives is everything your body needs any given day. It is non-greasy, absorbing yet long-lasting. Go, bask in its tropical glory.

13. D'VENCÉ Body Moisturiser Winter Edition For Very Dry Skin
St.D'Vence launched this body lotion to combat the driest of skins. It works by deeply penetrating into your skin and working from deep within. They use the purest form of ingredients from pure Australian tea tree Oil to shea butter, olive oil from Italy, almond oil, aloe vera, vitamin E, jojoba everything they use is of the highest quality, and that's why it works the way it does. It spreads easily and takes care of the stinginess from sun burns and dry skin, plus it smells heavenly too. You'd also love the glow it gives you!

14. Aroma Magic Honey And Shea Butter Body Lotion
A hot favorite from Aroma Magic and this one is a unique combination of honey and shea butter with soy extracts. It deeply conditions your skin and protects it from the Sun with SPF 25. It's free of paraben, chemicals, artificial coloring and fragrance. But, it has a mild and natural fragrance from the essential oils ylang ylang, and patchouli.

15. Juicy Chemistry Choco Mint Butter
Juicy Chemistry Choco Mint Butter is all good things in one. And, what is even better is that it's natural, organic and free from any chemical whatsoever. They are made from natural nut butter that hydrate, soften and nourish your skin without being greasy or sticky, making it perfect for summer use too. It smells great too from the sweetness of chocolate, zing from mint and other moisturizing essential oils; it glides like butter on your skin, quite literally!
16. The Body Shop Japanese Cherry Blossom Body Lotion
A bestseller from The Body Shop, and something you must try if you have not already. Borrowing a sweet and sensuous smell from Japanese Cherry, this lotion virtually transports you to Japanese gardens while thoroughly hydrating your skin. Almost all of them from The Body Shop are good, and some are great!

17. Avon Little Black Dress Body Lotion
Pamper yourself with this Avon Little Black Dress Body Lotion and feel great every day. Because just perfumes and body mists won't cut it in summers. Combining a scent with a great smelling body lotion makes it irresistible, try it for yourself.

18. Forest Essentials Indian Rose Absolute Velvet Silk Body Cream
Forest Essentials is an authentic and natural skin care brand that makes products based on Ayurveda. They are natural, organic and chemical free. This body lotion is a beautiful blend of rose petals, kokum, avocado and shea butter, almond oil and vitamin E – all of which leave your skin hydrated and nourished.

19. PureSense Deep Nourishing Body Butter
PureSense is yet another great brand in the natural and organic category. Their products are sulfate, paraben, and petrochemical free. The PureSense Deep Nourishing Body Butter is made from freshly pressed macadamia nuts from Australia and other essential fatty acids that are required to keep your skin hydrated and nourished. You will see your skin visibly healthy and radiant.

*Subject to Availability
We've covered the best of the lot, from the mid-range to handmade and expensive, just so that you all find what you are looking for. Which one is your go-to product? Did we miss anything? Let us know by dropping in a text in the comment section below.
Expert's Answers For Readers' Questions
Is a body lotion the same as a moisturizer?
Moisturizers are creamier and hydrate your skin from deep within, while lotions are thin, runny and work on the surface. Traditionally moisturizers were known to be carriers of essential oils and help penetrate deep within, while the lotions make them linger longer on your skin. However, things are changing. So with every brand, they swing both ways.
What is the difference between hand and body lotion?
As the name goes, hand lotions are meant just for your hands, and body lotions for the body. We wash our hands a lot more during the day, and our hands tend to lose moisture and become dry, that's when hand creams/lotions come handy.
Is it okay to use body lotion on your face?
If the cream specifically says that it's meant for both, you can. However, it's always good to use a good moisturizer specifically meant for your face type, because your face is much more sensitive.
What is the difference between body lotion and body butter?
The body butter is intense, thick and more hydrating because they are usually extracted from shea, cocoa, avocado butter, etc., while body lotions are a mixed bag. It's brand specific really.
Recommended Articles

The following two tabs change content below.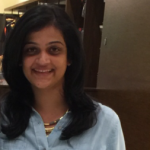 Latest posts by Pratima Ati (see all)