10 Best Inspiring Makeup Tips From Mickey Contractor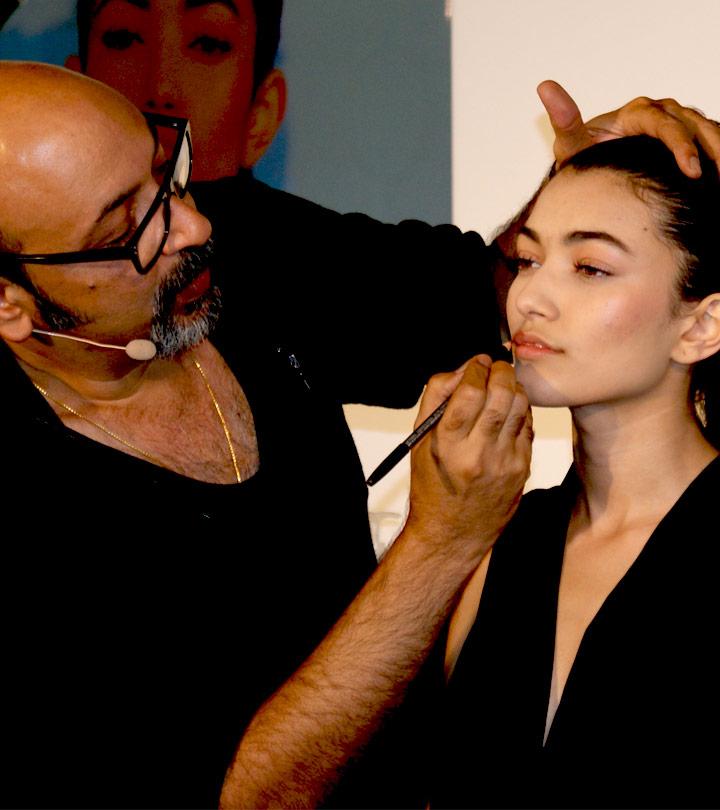 Want to know how to apply makeup correctly? Then read on to find out 10 tips from Bollywood's favorite makeup artist- Mickey Contractor.
Mickey Contractor Makeup Tips:
1. Moisturizing the skin should be the first thing to do before applying makeup. Moisturizing the skin helps in smooth application of foundation and concealer, according to Mickey Contractor.
He advises that a foundation, which matches one's natural skin tone, should be used. For a dewy look, the makeup application should be reversed and foundation should be applied at last.
2. If you have small eyes, you need to make them appear more open by applying highlighter in the middle and blend it. He says that people, who do not blend in the highlighter and just leave a dot in the center of their eyes, look awful.
3. His Favorite M.A.C products are – MAC fluidline, Studio Fix Fluid Foundation and Viva Glam lip gloss.
4. He recommends girls, who are not shy of color, to wear a hot pink lipstick, which would look striking with a nude face!
Mickey was quoted saying that the rosie brown hued Blush in Sur is ideal for contouring, while the white gold Blush In Gana works brilliantly as a highlighter on cheekbones to give the complexion a beam of radiance.
5. Bollywood makeup artist Mickey Contractor suggests further that men also should use skin care products on a regular basis and applying bronzer may be a good idea! Mickey further added that men also should try using concealer on their under-eye area so as to make their eyes look well rested.
[ Read: Top 5 Revlon Make Up Kits For Your Use ]
Mickey Contractor was also quoted by Huffington post, for his views on strongest makeup trends in Bollywood. Mickey says that 'eyes' has always been the center point for attention as they speak volumes. He added "Bollywood is all about eyes, I think India is all about eyes, because we draw a lot from our tradition, we draw a lot from our culture — for generations it's always been about eyes."
Mickey went ahead saying that most Indians don't really wear makeup, and if they do, its all about kohl and bindi as they add color to their faces. "Kohl is so important to every Indian woman, it's also our highest selling product at MAC. It will always be eyes," added Mickey.
7. Mickey advices women to stick to their natural skin color, adding that in India every woman wants to look fair for some odd reason. But a woman should respect her own skin color and should not wear foundations which are 2 shades lighter and all, but should apply a foundation which is closest to one's natural skin color.
8. A blush in a shade of peach or pink is recommended by Mickey Contractor bridal makeup.  A blush should be applied on the apple of the cheeks and one should work upwards and outwards.
9. Lips should be lined using a lip liner, and then should be blended along with a pale shade of lipstick leaving no sharp lines.
10. Finally, MAC brow finisher is the product he recommends to get natural looking eyebrows. He says that eyebrows form the frame of the face, and thus, one should concentrate on the brows to make them look right.
Rainy Day Makeup Tips:
On rainy days, for women who cannot avoid foundation, use M.A.C. Face and Body foundation, which is water-proof and provides long-lasting, natural coverage for face and/or body. Waterproof eye makeup like M.A.C. Powerpoint eye pencils and MAC Splashproff Lash mascara are a good investment. MAC tinted lipglosses are your safest bet for rainy days.
I hope you liked the article on makeup tips by Mickey Contractor girls! The next time you head for a party, just follow these Mickey Contractor Makeup tips for a picture perfect looks. Take care and stay beautiful.
Reference: Huffington post, Peachesandblush
The following two tabs change content below.