10 Causes Of And Simple Remedies For Pimples On Forehead
A pimple, no matter where it decides to appear on your face, is not welcome! The forehead is an area where pimples develop often and for a lot of people. This strategic location can make them the first thing that people notice on your face. Nobody wants 'that' kind of attention on their forehead. Fret not, we can help! Give this informative article a read to know about the different causes of and also the varied home remedies for forehead pimples.
What Causes Forehead Pimples?
The basic principle behind the formation of a pimple is a clogged skin pore. This clogging can result from dead skin cells, excess oil, dirt, grime, and other impurities. All of these together make a wonderful concoction in the pore and provide a suitable environment for bacteria to grow, giving rise to a pimple. (Alas!)
Pimples on the forehead can be triggered due to these causes –
1. Clogged Pores
The main and universal cause of acne! As the forehead lies in the T-zone, which is known for its excess oil production quality, the pores tend to get clogged, leading to acne.
2. Dandruff In The Hair
Dandruff can trigger acne on the forehead as it is basically a skin infection. It is caused by fungi that can also irritate the skin on your forehead and cause pimples.
3. Oily Scalp
If you have an oily scalp, the oil can run down and result in clogged pores and acne on your forehead.
4. Certain Medications
Medications like birth control pills tend to trigger forehead acne in certain people. Consult/question your doctor about the medication he has prescribed if this happens.
5. Digestive Problems
Digestive problems are probably the main cause of forehead acne if you do not have the issues mentioned above. Even according to Chinese medicine, pimples on forehead are related to digestive issues.
6. Excess Stress
Stress is one factor that contributes to most of our illnesses in some way or the other. It can disrupt the hormonal balance and also the regular oil production of the skin, causing pimples.
7. Certain Hair Products
Hair styling products like hair spray, heat protectant, serum, etc., tend to trigger acne when they come into contact with your forehead.
8. Over Exfoliating
Though exfoliation helps in removing the dead cells and keeping the skin fresh, overdoing it could result in skin irritation and acne. Anything done excessively can do more harm than good to the skin.
9. Wearing Helmets And Caps
If you are someone who drives two-wheelers, then a helmet is a must. However, the inside of the helmet is not easy to clean and very often nobody even pays attention to the fact that it needs to be cleaned. The sweat from your skin can make the helmet a breeding ground for bacteria. These, when they come in contact with your forehead, can cause pimples.
[ Read: How To Get Rid Of Bumps On Face ]
10. Hormonal Causes And Other Genetic Factors
The final and most difficult causes to deal with are the hormonal and genetic factors. Your skin may simply be prone to getting acne. Or, the changes in the hormones seen due to the menstrual cycle or pregnancy can disrupt the normal functioning of the skin. Either way, acne can be caused easily.
If you are a woman with bangs, then hiding that pimple on your forehead is easy-peasy. But even then, you would be at more peace if the pimple was not there at all, right? Here are a few tested remedies that will help reduce the acne on the forehead.
How To Get Rid Of Pimples On Forehead
Best Remedies To Reduce Pimples On The Forehead
1. Clay Mask With Tea Tree/Lavender Oil
You Will Need
1 teaspoon cosmetic clay powder
1-2 drops tea tree oil OR lavender oil
Rose water
What You Have To Do
Add the essential oil to the clay powder and also some rose water.
Mix everything to get a smooth paste.
Apply this as a thin layer on the forehead and let it dry for 10-15 minutes.
Rinse it off with water.
How Often You Should Do This
Repeat this once every day until the pimple goes away.
Why This Works
This simple mask can combat the most beastly pimples in just a day, and leave behind fresh and supple skin that will win you compliments. The clay powder absorbs all the excess oils as it is a natural astringent (1). The essential oils, both tea tree and lavender, have antimicrobial properties that will kill the acne-causing bacteria (2, 3).
2. Apple Cider Vinegar For Forehead Pimples
You Will Need
Apple cider vinegar
Cotton swab or Q-tip
What You Have To Do
Cleanse the forehead skin and pat it dry.
Dip the cotton swab in ACV and apply this only on the pimple.
Leave it on to dry.
You can rinse it off after 20-30 minutes with some water if you like. There is no harm in leaving it on as well, as it has only been applied to the pimple.
How Often You Should Do This
Do this twice a day.
Why This Works
ACV contains mild acids that give it astringent properties. It helps rebalance the skin's pH levels for all skin types, be it oily skin or dry skin. Once this pH comes back to normal, the excess oil production seen in acne-prone skin goes down. These acids also have bactericidal properties and can eliminate the microorganisms from the pimple site (4).
Note
Use a fresh cotton swab every time.
3. Lemon Juice For Forehead Pimples
You Will Need
What You Have To Do
Clean the affected skin and dab a few drops of lemon on it.
Leave this on overnight.
How Often You Should Do This
Apply every night before going to bed. Re-apply once again during the day and leave it on for as long as possible.
Why This Works
One of the most commonly tried and tested pimple cures is the good old lemon. Its acidic nature takes care of the bacteria clogging your pores and causing the pimple. It is also an astringent that can regularize the sebum production (5).
Caution
Avoid stepping out in the sun when you use lemon during the day. Lemon juice makes your skin photosensitive and can cause many more blemishes and/or sun damage.
4. Mustard Powder With Honey For Forehead Pimples
You Will Need
1/4 teaspoon mustard powder
Honey
What You Have To Do
Add a drop or two of honey to the mustard powder to get a paste.
Slather this on the zit and leave it on for 15 minutes.
Wash it off with plain water.
How Often You Should Do This
Do this once a day.
Why This Works
Mustard is rich in vitamin C, A, and E, and omega-3 and omega-6 fatty acids that will surely leave your skin clean and glowing (6). Honey acts as a humectant and a healing agent (7). While you can use bottled mustard, it is best to make your own mustard pack by grinding together mustard and honey.
5. Tomato Mask For Forehead Acne
You Will Need
What You Have To Do
Cut a piece of the tomato and rub the pulp side on the forehead.
Let the tomato juice dry for 15-20 minutes.
Rinse it off.
How Often You Should Do This
Repeat this twice a day.
Why This Works
You will be delighted to know that tomato masks can combat acne as well as acne scars. Its natural acids dry out the pimple and kill the bacteria. Rich in antioxidants, the tomato juice will also miraculously heal acne scars and skin rashes (8, 9).
Caution
Bear in mind that excessive use of this remedy can cause dryness, so dilute the juice if you wish to use it more than twice a day.
6. Essential Oils For Forehead Acne
You Will Need
Tea tree oil OR lavender oil OR clary sage oil OR juniper berry oil
Q-tip
What You Have To Do
Take a drop or two of the oil on the Q-tip and apply on the pimple on your forehead.
Leave it on overnight.
If you have sensitive skin, dilute one drop of the essential oil with a drop of carrier oil like olive oil or coconut oil.
How Often You Should Do This
Repeat this every night.
Why This Works
Essential oils such as lavender oil can address acne issues while leaving your skin fresh and rejuvenated. They de-stress the body and mind while exerting antimicrobial effects on the pimple-causing bacteria (10). The other recommended essential oils are also excellent antimicrobial and antiseptic agents and give similar results (11, 12).
[ Read: Dermaroller For Acne Scars ]
7. Eggs For Forehead Acne
You Will Need
What You Have To Do
Empty the egg contents from the shell (probably for a delicious omelette).
Swipe a clean finger inside the egg shell and pick up the remnants of the egg white present there.
Dab this on your forehead, on the pimple, and the skin around it.
Let this dry for 10 minutes and then rinse it off.
How Often You Should Do This
Do this once or twice a day.
Why This Works
Egg white contains certain enzymes that can dry out the pimple and get rid of it easily. It also helps in speeding up the healing process as it promotes rebuilding of skin cells (13).
8. Aloe Vera For Forehead Pimples
You Will Need
What You Have To Do
Extract some fresh aloe gel from an aloe leaf. If you do not have an aloe plant at home, buy an organic version of the gel from the market.
Dab some of this on the pimple and let it sit for as long as possible.
Leave it on overnight preferably.
Rinse your face as usual in the morning.
How Often You Should Do This
Do this every night, and if you plan to stay indoors, reapply the gel during the day as well.
Why This Works
Aloe vera's antimicrobial and skin healing properties can treat the pimple on your forehead. This gel can also tighten the skin pores, thus acting as a prevention for future acne as well (14).
9. Green Tea Extract For Forehead Acne
You Will Need
What You Have To Do
Apply a drop or two of the extract on the forehead acne and around it.
Leave it on.
How Often You Should Do This
Repeat twice a day.
Why This Works
The benefits of green tea are achieved not just when taken internally, but when applied topically as well. Its anti-inflammatory and antimicrobial compounds treat the acne by reducing the swelling and bacterial infection in the skin's pore. It is also rich in antioxidants that aid the skin healing process and prevent acne scars (15, 16).
[ Read: Green Tea Helps To Reduce Acne ]
10. Glycolic Acid For Forehead Pimples
You Will Need
Glycolic acid gel or toner
What You Have To Do
Use the product as recommended by the manufacturer.
How Often You Should Do This
Usually, glycolic acid treatment needs to be repeated twice a day.
Why This Works
Glycolic acid is a type of alpha hydroxy acid that is often used to exfoliate the skin. It gets rid of the dead skin cells and other impurities that can clog your pores (17).
The remedies given above can be used not just for the treatment of forehead pimples but also for any other pimple, especially on the face. Use them as recommended and do not let that annoying zit cause you any more embarrassment.
Here are some pimple treatment and prevention-related questions answered for you.
FAQs
How Long Does It Take To Get Rid Of A Pimple?
It can take from just a single day to 3-4 days for the pimple to go away.
Tips To Prevent Forehead Acne
Follow the CTM routine religiously. Cleanse your skin to remove any dirt and grime buildup. After this, use a toner to balance the skin's pH levels and follow it up with a hydrating moisturizer. Use products that are suited for your skin type.
Apart from the CTM routine, exfoliate to remove the dead skin cells and prevent the pores from getting blocked. Exfoliation should not be done more than twice a week.
Drink lots of water and include green leafy vegetables and fruits in your diet. Avoid fried foods and artificial tasters and almost anything that disrupts your tummy's happiness.
Exercising regularly helps you relieve stress and improves the body's circulatory process. This ensures that fluctuation in hormones due to stress does not cause pimples and that enough nutrients reach the skin's surface.
If you have dandruff, then use an anti-dandruff shampoo to keep the flakes away from your beautiful face.
Wash your hair regularly! An oily scalp can result in acne very easily.
De-stress yourself with yoga and meditation. No time for yoga? Go for a relaxing spa for instant stress release. However hard you work, taking some "me" time is a must.
If you wear a helmet, cover your head and forehead with a scarf before putting the helmet on. This will keep the dirt, accumulated sweat, and bacteria away from your skin.
If you have cystic acne, consult a specialist so that you can use the right skin care products and take the right medications to keep it under control.
Now that you know how to get rid of pimples on forehead, what are you waiting for? All these remedies and tips should not be substituted for professional medical advice. Many times, a prescribed skin care product is required to get your acne under control. For a random pimple here and there, use these remedies liberally and see it vanish in no time.
Hope you found the article useful. Do share your feedback with us in the comments section below.
Recommended Articles

The following two tabs change content below.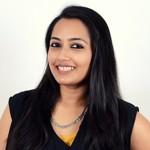 Latest posts by Kushneet Kukreja (see all)