50 Chic Curly Bob Hairstyles
"Bobbed Hair's The Thing – It's The "Why" Of Business Success. It's Perfect Beauty, Too"
In a time when women with short hair were frowned upon, this was a headline in the Arizona Republican way back in 1920. Ever since then, the bob has made heads turn and men swoon. But a straight haired bob can look quite flat. Solution? Curl your tresses to give it a voluminous twist! It also helps in framing your face and looks ah-mah-zing.
Before we head to the hairstyles, let's first look at how you can curl your straight hair and add definition to your natural curls. Here is how you can style your bob to curly goodness.
How To Style Your Bob In Perfect Curls
There's a style to curls, whether it's messy curls or pretty ringlets. We all want perfect curls but rarely manage to get them. Here are two methods of curling your hair that work every single time.
For Straight Hair
Begin by washing your hair and drying it halfway through. You want your hair damp and not dripping wet, so use a towel or air dry your hair.
Spritz on some volumizing spray and heat protectant.
Wrap a 2-inch section of hair around the barrel of the curling iron. Hold it for about 5-7 seconds and then release the clip without touching your hair. Let your hair cool down before you touch it. Repeat the same on the rest of your hair.
Spritz on some hairspray to secure the curls.
When it comes to your bangs, it depends on your preference. If you want your bangs curled, you can repeat the same procedure. Otherwise, you can leave them be.
Shake out your curls gently with your hands. Don't brush or comb as it will ruin the curls.
For Curly Hair
Wash your hair and deep condition it before you go to sleep.
Air dry your hair until it is partially dry.
Apply curl defining cream from the roots to the tips of your hair. Scrunch your hair while applying it.
Tie your hair in a pineapple ponytail and then wrap a silk scarf or a cotton t-shirt around it. Take it off in the morning and shake out your curls.
Apply some smoothening serum to add shine to your hair.
To help you choose a curly bob that matches your personality, we've curated a list of 50 debonair curly bob hairstyles. Enjoy!
50 Chic Curly Bob Hairstyles
1. Natural Curly Bob
If you have type 3 curls, go natural. Bleach and coloring agents can have harmful effects on your hair, causing breakage and dryness. Cut your hair short to get rid of damaged hair and let your curls do their magic.
2. Shaggy Bob
If your naturally curly hair isn't as curly as you'd like, this is one way to spice it up. This periwinkle shade is soft and beautifully feminine. The deep purple lowlights really show off the periwinkle color. The mild curls add some gorgeous volume to the entire look.
3. Brown And Blonde Highlights Bob
Playing around with colors within your natural hair tone is a great way to add flavor to your curly bob. The light brown and blonde highlights in this look accentuate her natural deep brown hair. Not to mention, this blend adds shine and dimension to the curls.
4. The Inverted Bob
The inverted bob makes for an excellent summer haircut. You can feel the warmth emanating from this look. It just makes me think of the beach and campfires. This is a two-layered inverted bob that is also known as a graduated bob.
5. Long Chocolate Bob
Chocolate is a gift from God. It's the one thing women from all over the world and of all ages can connect on. If you don't like chocolate, I will not trust you. Bring that heavenly gift to your long curly bob hair, and you'll be singing 'I Feel Good' all the time.
6. Partially Highlighted Bob
If full curls are not your thing, this is a great alternative. Slight curls with some bright partial highlights can add life to your hair. This bob really showcases the darker roots that contrast the other colors well.
7. Choppy Bob
Choppy bobs are super cool, and adding some color can really spruce up the look. Caramel highlights are a great way to showcase your natural espresso hair.
8. Designer Bob
A huge trend right now is shaving patterns on the underside of a bob. The rest of your bob falls over the pattern and covers it. But once you tie your curly bob into a ponytail, the pattern is displayed. It looks brilliant with curly locks.
9. Messy Short Bob
Nothing is cuter than a short curly bob. It looks stylish and youthful. The short bob can frame your face and add definition to specific facial features. The sweep of bangs is a nice touch to finish the look.
10. Deep Wine Curly Bob
Deep wine and caramel highlights can add shine and vibrance to your curly bob. If you have naturally straight hair, consider curling it. I love how all the layers merge into the curls and make her hair look smooth.
11. Classic Bob
This classic curly bob is the perfect mix of playful and feminine. With this short bob, you don't need to brush your hair every time you step out. It also makes styling your hair so much simpler. No more staring at the mirror for hours, trying to figure out what hairstyle works. Another bonus is that this bob accentuates your cheekbones and jawline.
12. Wood Colored Bob
I love this shoulder-length bob. It is the perfect blend of woody textures and looks amazing. The blunt cut bangs add a youthful element to this look. The light-dark contrast and the layers near the chin draw focus to the facial features.
13. Silky Bob
Who said beach hair means rough hair? Add a beachy vibe to your locks with this bronde bob. The wispy ends add a certain wonder to this look. The different shades of blonde blend well to make this haircut look like a silky dream.
14. Textured Bob
You know what this deep brown bob made me think of? Irish Coffee. I bet Joe Sheridan (head chef at Foynes Air Base) didn't know what he started when he poured some whiskey in coffee to help keep people warm. The layers at the back are well-defined and stylish while the curly hair in the front makes this hairstyle look edgy.
15. Chin Length Bob
If you don't want curled hair but want the volume it offers, consider styling your hair in mild waves. The dark brown highlights flaunt the natural black locks while making dark brown and black eyes pop.
16. Inverted Shingle Bob
I'm sure all of us have been to the beach. Have you noticed how sun rays look when they fall on beach sand? This hair look is inspired by that phenomenon. I can almost feel the warmth radiating from these blonde curls. The dark roots add some height to your face.
17. Modern Classic Bob
This blend of deep and light purple shades has me dreaming about a galaxy far, far away. The layered bob is uber edgy and wild. Though it bleeds sophistication, it still lets out your inner child.
18. The Hollywood Bob
This is the hairstyle you'll see at most Hollywood events. The full curls at the bottom soften a sharp jawline while adding focus to the cheekbones. This look reminds me of Peggy Carter and is the perfect pin-up do.
19. Big Curls Bob
If you have really dull and damaged hair, this is one way to save it. The big curls add volume to your hair while the highlights make it look smooth and silky.
20. Perfect Curly Bob
This dark curly bob is a godsend. Wash your hair and wrap your curls in a satin scarf, leaving it on overnight. In the morning, you'll have a perfect, luscious curly bob that is sure to be a head turner.
21. The Triangular Curly Bob
This girl reminds me of a younger Nicole Kidman from Days Of Thunder on account of her fiery red hair. A friend of mine says that whenever she cuts her curly locks, her hair looks straight at the roots and curly at the ends. I must say, it looks super pretty!
22. The Black Bob
Black is the color of sophistication, and it will never go out of style. This layered bob with black hair and wispy ends looks brilliant when styled in curls. It adds bounce to your hair and makes it look hardcore. I love it!
23. Curled-Out Ends Bob
I love my long, straight hair, but there are times when it looks flat. When I was in my teens, I decided that I had had enough of long hair and went to get my hair cut into a graduated bob. The hairstylist cut it into a blunt bob that looked horrible on me. The only thing that saved it was curled-out ends. I wish I had colored my hair this metallic purple as well to change my entire look.
24. The Beach Lob
I think I found it! The perfect summer beach look. Imagine chilling at Copacabana beach with this long bob. The dark blonde color with black roots adds a pop to the slight curls. Keep your hair in the curling iron for just 5 seconds to get these slight curls. You won't be sorry.
25. Layered A-line Bob
Do you know that feeling when your feet sink in fine, soft beach sand? It feels so good, right? Kinda makes me want to go to the beach right now! This hair look is inspired by that feeling. It is a sandy hairstyle that is called a deep A-line bob. The layers add texture and dimension to her hair and face.
26. Shaved-On-The-Side Bob
Leather jackets, piercings, tattoos, boots – these are all signs of savage women who we sometimes wish we could be. With this bob, you can feel bold like them. After all, they do say start small. It really showcases your curls.
27. Crimped Curled Bob
When JLaw raised her hand and made the Mockingjay sign, it tugged on every woman's heart. And when we women want to make a change, we change our appearance as well. What better way to get the ball rolling than this long curled bob?
28. Messy Curly Bob
I've always loved kinky locks. Those curls look super voluminous and gorgeous. A layered bob is a great way to flaunt your kinky curls. And keeping your hair a natural color is the best way to keep it healthy, especially if you're trying to rejuvenate it from prior hair damage.
29. Curl Defined Bob
Perfect curls! All women want curls that stay perfect for a long time. After washing your hair, apply some curl defining cream. Wrap your hair in a scarf and leave it on overnight. In the morning, when you release your locks, this will be the outcome.
30. Layered Bob
If you have kinky locks, try getting a bob that is layered at the bottom. It will accentuate your jawline. Going for a complete hair color makeover can add vibrance and volume to your curls.
31. Ginger Lob
A lob is a long bob – ideally, neck to shoulder length. This ensemble reminds me of fall. It's so warm and perfect for those cold days. And the ginger locks really bring out her gray eyes. I love how the curls start small and end big. It adds so much dimension to the hair and face.
32. Mid-Way Curls
Age is just a number. If you have the right attitude, you can pull off any hairstyle. Take a look at this mid-way curled bob. It looks voluminous, and the black adds sophistication to the whole hairstyle.
33. Waves Bob
This bob reminds me of the waves in an ocean during a storm, or at least how artists paint it. The entire back is cut short, leaving a few strands in front to be feathered and left longer. The best part about black hair is that with the right makeup, you can make any eye color pop.
34. Long Bangs Bob
Bangs are anything but simple. They can make or break your entire look. A hairstyle that makes your face look round can slim it down with bangs. Take a look at this long bangs bob – it's the bangs and that deep red color that add flavor to it.
35. Thin Curls Bob
The best part about kinky curls is their volume. Women with kinky curls don't even need makeup to look incredible. Consider a layered bob with curled bangs if you want to flaunt your coils. You will not be disappointed.
36. Classic Curled Bob
If you have natural curls, you know that combing too many times can ruin your luscious locks.
To maintain the definition of your curls, run your fingers through your hair instead of brushing or combing it.
37. Long Curled Bob
Dark maroon twists can be the answer to your flat hair problems. This color is vibrant and playful. The curls add volume and make your face look slim. If you don't want to curl your locks completely, curl only the ends.
38. Up-turned Bob
Take a cue from blonde beauty Charlize Theron. Using a round brush, brush your curls backwards and spritz on some hairspray. You can add in some dark highlights to infuse some texture to the hairdo.
39. Tousled Curly Bob
Messy hair has never looked better. I love this combination of light brown and dark brown that looks like a blend of chocolate and coffee (which are the best things in the world, apart from bread). If you have gray, green, or blue eyes and love brown hair, this is the bob is for you.
40. Big Curls
Chrissy Teigen is awesome. Her style is enviously effortless and chic. Look at this incredible bob – the curls add so much volume, and the colors are perfect for summer.
41. The Lob
The lob is one of the raddest hairstyles of all time. It is perfect for people who are scared of cutting their hair too short. It is neither too short nor too long. It's just perfect!
42. Baby Bangs And The Bob
Baby bangs are tricky. They are very difficult to pair with any hairstyle. If you pair them wrong, you'll regret it for the rest of your life (or until they grow back out). This style though seems to work well with oval and diamond faces. If you have a large forehead and want to take some focus off it, try this look.
43. Driftwood Bob
Have you ever found a log of wood on a beach? These logs have a washed out look, but when you chip away at the bark, you will find a darker color on the inside. That is exactly what this hair color reminds me of – driftwood.
44. Side-Swept Bob
A side-swept bob suits all face shapes. It looks good on everyone! It's the safest bet if you're unsure about chopping off your locks. The deep pink shade here adds some spice to this hairdo. If you want to go bold, try coloring only one side of your hair.
45. Voluminous Curly Bob
The embers and ash that are left behind by a bonfire always remind me of the good times I've had with my friends over the years. They fill me up with happiness. I love how this messy bob reminds me of that and how laid back it is.
46. Stretched Out Bob
Long straight hair looks alright. But cut it short, and you've got gold. When you don't have time to wash your hair, and it looks stretched out, you won't have to panic anymore. Think about it!
47. Phoenix Bob
The phoenix is a sign of rebirth and victory, and this bob is clearly a winner. The warm colors blend together so well that it almost looks like a canvas. The layers add texture and volume to her hair.
48. Colored Tips Bob
Coloring the tips of your hair can help in many ways. It adds dimension to your face and makes your eyes pop. It also accentuates your natural hair color. The key is to pick a shade that is in the same color family as your base color.
49. Fluffy Bob
Curly bangs look incredible. They draw attention to your eyes, nose, and mouth. A curly bob accentuates your jawline. If you have an oval face or a large forehead, this is the bob for you. It's perfect for the wild child in you.
50. Long Curled Bob
Yes, you can get this glamorous Taylor Swift look with the help of a curling iron! Taylor Swift always makes heads turn with her style. So, when she cut her hair short, the whole world was captivated. And I have to say, those curls are pretty perfect.
Don't be afraid to chop off those locks, ladies! It's a new season, and it's time for a new look. Pick out your favorite curly bob and set up an appointment with your hairdresser. And don't forget to tell us how it goes in the comments section below!
Recommended Articles:
The following two tabs change content below.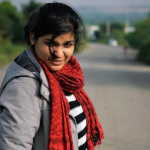 Latest posts by Anjali Sayee (see all)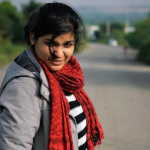 Anjali Sayee
Anjali Sayee is a writer and an introvert. From studying Aeronautical Engineering and wanting to design her own airplane to writing articles on hairstyles, she has been on quite a journey. She believes that hair is one of the key factors that define a woman's personality. To quote her, "What's the first thing they do in the movies to show a personality change? Change the hair – because it has a life of its own." She's here to help you find the hairstyle you need. This bookworm is a self-professed Wholocker, a talented drummer, and an amateur photographer.