38 Funky Hairstyles For Short Hair
You know what you need to pull off a quirky and edgy style? It's hair, right? Getting a short haircut is perhaps one of the boldest changes you can make with your hair. And if you end up detesting the look, all you can do is put on a head accessory and wait few months for your locks to grow back. Ah, well. Not when we are around!
We list out 50 such short funky hairstyles which you can look up. Happy reading!
1. Dual Toned Hair
Who can forget Cruella? Go ahead and do her hairstyle this Halloween.
2. Light Pink, Wavy Spike
Blond and a tinge pink, the combo is great and yes curl the thick hair in the front into a blunt, not sharp spike. The spike tends to be wavy.
[ Read: Style Your Short Curls In 50 Ways ]
3. Black WITH Aquamarine Tips
The tips are great in purple and so is the style. The sharp flattered edges, with one side shaved give such a punk effect.
4. Dual Toned Buns
Equal shades, the dual tone with a hint of gray, and two rolled up buns like two short ponies. This is one of the most popular funky short hairstyles for women and is similar to that of the circus joker with an innocent shade.
5. Blue Medium Waves
The blue medium waves are a definitive statement here. Trim your hair to the medium length bob, have even edges and color it blue in the medium tone. This is neither to dark nor to light.
6. Shaved And Puffed
The sides here are shaved with a middle part raised in a medium puff. The rest of the hair is tied up in a high bun on the crown. The shade here is gray with a purple tinge and yes dark lips.
7. Multi Hued Sleek Bob
The sleek and straight style in bluish white hues with a darker tone of color near the roots is simply amazing! The makeup is in soft tones, in pink and the ensemble in black.
8. Multi Hue Short Bob
The bob is so cute in the muti-coloured tone. The red tone on the mouth goes very well with the high flowing hair. Looks like a sunny rainbow.
9. Purple Bob
Purple Bob is one the most common funky short hairstyles to try. Black attired with blue hued hair, and pink shadowed eyes. Nails in black with yellow jewels! Set right for the function.
10. Curled in Pink Tinged Bob
Get the bob cut and curl in the hair, color the tips pink. Gold and pink is the hue here. Glam it up with bright lips!
11. Perry Braided Blue
The blunt bob appears to exude a braided effect in blue hue. The braid effect is so symmetrical and perfect. In sync with the golden gown and pink lips color.
12. Flow Streaks in Dark Blue
The sea blue is amazing with the golden hued wavy locks. The curls are just so perfect and the streaks in blue go so much a team together. The deep set black kohl rimmed eyes and red lips just set the stage for this style.
13. Side Swept Hued Bounces
Gather all the hair on one side, wave them and curl them, here on one side, they all appear very voluminous. The hair is colored half length till the tips. The roots and crown is all black the natural color. Green and blue go so well with jet black hair. Pair it with black eyes and soft pink lips.
14. Katy Perry Blue Tinged Bob
The blue tinged bob is trimmed evenly. But one side is curled out while the other is rolled in. The curls are opposite to each other on either side. Blue eye shadows, nude pink lips do the trick here. The sequenced transparent white net dress compliments the style and the makeup.
15. Shaded Blue
Shaded blue hairstyle or a wig we don't know. But it is cute and stylish. Yellow flicks in the eyes and blue curls on the hair! Colorful and attractive!
16. Pink Blunt
Do a side part in the blunt bob, with the edges curled in, color in pink undertone. Go with a nude pink make up.
[ Read: Hairstyles For Short Hair ]
17. Hued Edges
The style involves medium length hair just above the chest. Wavy edges in Pink do a French braid at the front and on one side, secure it with pins. Leave the rest of the hair open.
18. Hued Fringes and Edges
The edges are of the same tonne as the rim of the fringes. This gives a very symmetrical linear appeal.
19. Pink Punk
This style is punk and hep. With a hues pixie and upper lip piercing, flicked eyes, the look is right for a rock star.
Get free hair care advice from Doctors at Lybrate. Ask Now.
20. Fountain Head
The hair comes down like a fountain! Back combed with all the curls falling in front, the pose is that of a 'As if I am the Fountain Lady'! The hues of soft pink and gold blend in perfectly with the dress.
21. Pink Mohawk
This is a very bold style, only for the strong girls. Want to carry this look, put in the entire attitude you have got and then go ahead. Shave the hair from both side and get the pink flame Mohawk.
22. Red Bob
Get a bob cut with long bangs in the front and color them bright red.
23. Trimmed Pixies
Very short pixie cut, with crisp trimmed spikes.
[ Read: Popular Funky Hairstyles For Girls ]
24. Burgundy Falls
Burgundy colored crop, the style is windy and wavy. The bangs are smaller in the front and bigger away from the face.
25. Spikes
The spikes resemble a Hydra, if you studied biology! But at the same time fun and unconventional. Red lips are just so stunning!
26. Mickey Pink Buns
Style your hair with these cute two buns in pink hue at the back. Do a side or a zigzag part for a funkier affair.
27. Wave Cut
The gel effect is giving a distinct character to this style. Gelled and wavy, the hair seems to stick to each other.
28. Platinum Sharp
The sharp and pointed platinum spikes are vivacious as the smile. Do have fun when wearing this style. The front long bangs helps to make the style grounded.
29. Tousled Wob
Actress Jennifer left her long wavy hair behind and opted for a playful, tousled wob – a wavy bob. An impressive hairstyle for thick hair, this baby bob is pleasant and flirty, with wavy layers and loads of texture.
Recreate this low maintenance hairstyle by applying a texture spray first. Now, wrap the hair loosely around a big barrel curling wand, which is at least 1.2 inches in diameter, and leave the ends out so that they do not curl. Set the glamorous and chic hairdo with spritzing a light-touch hairspray.
30. Side Shaved Quiff
12 Years a Slaveactress Lupita Nyong'o delighted us with her quirky side shaved updo. If you're looking to make a bold statement, take inspiration from Lupita and wear your hair in a sexy quiff, sans the shaven sides.
To duplicate her look, gather hair from the sides and gel it back so that only the top section of hair remains. With the help of a brush, tease hair at the crown, and make use of plenty of hairspray to keep it edgy and bouncy.
[ Read: Funky Hairstyles for Medium Length Hair ]
31. Purple Spiked Hair
If you are looking to update your boring hair color to something totally different and bold, then Kelly Osbourne is your inspiration to follow. Here we see the beloved singer and presenter sporting a spiked purple hair. A perfect style to balance out a round face, the hairstyle needs a firm hold hairspray to keep it in place all day or night. Make sure you try some wacky colors like the fiery red, platinum blond, bright blue, or even the newest hottest trend – pastel ombre!
32. Slicked-Back
Demure, gorgeous and unpredictable – adjectives you might use to describe Emma Watson and her slicked-back hairstyle. The Harry Potter actress paired her hairstyle with a dramatic smoky eye nestled with flecks of gold in the corners of her eyes.
With a side parting, this perky hairstyle is contemporary and easy to style. Start working with a strong-hold gel into hair from the crown sideways, teasing hair for a tad bit extra volume. Keep your hairstyle in place with a mousse, and you're good to go!
33. Edgy Pixie
This is one of Rihanna's best looks when it comes to funky short hairstyles if you ask us. Short, quirky and supremely hot. A flattering look for people with a heart-shaped face, we love how the warm, black shade brings out Rihanna's natural glow. However, what really draws our attention to Rihanna's style is how short her hair is cropped – bringing that extra dimension and accentuating her stunning facial features.
[ Read: Top 50 Hairstyles For Short Hair ]
Get free hair care advice from Doctors at Lybrate. Ask Now.
34. Classic Bob
Lost Actress Evangeline Lilly updates her long curly hair (remember fugitive Kate Austen?) with this fabulous classic, rounded bob with side-swept bangs. Cut to just the right length, Lilly's simple, classic bob neatly frames her small, delicate features perfectly and makes the most of her stunning jawline. What further draws our attention are her side swept bangs that are equally flattering for her face shape, as they hide Lill's upper corner forehead. The actress paired her natural locks with minimal eye-makeup and peachy lips for a romantic final touch. All in all, Lilly has chosen the most stylish and funky hairstyles for short hair for her elegant features.
35. Playful Pixie
We absolutely love this look on Charlize Theron. The actress rocks her signature pixie crop with perky and dynamic curls. An ideal short hairdo for oval-shaped faces, the style balances out a heavy jawline with some extra volume on top.
To get Charl's playful and romantic hairstyle, start by preparing your hair for styling with volume boosting gel and styling mousse; make sure the hair gel is applied with your fingertips. Now, blow-dry throughout your hair with a small round brush, teasing it at the crown. Once you've styled it, mist it with some light, non-greasy hairspray.
36. Coiffed Updo
Actress Rachel Wood looks smoking hot with her pixie cut styled in a short updo. The Thirteen actress sports sexy, dynamic waves at the top of her head, and her blond hair is pinned back at the sides for a polished finish.
For Rachel's edgy-yet-gamine hairstyle, work volumizing mousse into your short tresses with your fingers, giving them depth and natural texture. Use some strong-hold hairspray to keep them in place all night long. Rachel further gives her look extra glam with nude makeup and pink lips. Perfecto!
[ Read: Funky Hairstyles For Girls ]
37. Shaggy Updo With A Headband
Beautiful actress Kimberly Wyatt sports a shaggy pixie cut with longish bangs covering most of her forehead. This dynamic and unstructured hairdo creates a strong contrast with her refined makeup that further accentuates her sharp facial features well.
What adds glam to her low maintenance, effortlessly cool look is her delicate silver headband. Although it's not technically an updo, this pixie cut is one of the greatest funky short haircuts for adding some glamor. For extra impact, use a volume boosting gel and style the look. Next work some texturizing mousse into your bangs with your fingers for a soft and romantic touch.
38. Bob With Side-Swept Bangs:
Songstress Solange looks très chic with her short bob and blunt bangs. This glamorous modern bob is well suited to thin, straight hair, and it's easy to perfect with a flat iron and some high-shine serum. Match this super-easy look with sultry, subtle eye makeup, flawless makeup, and matte finish nude lips for extra impact.
And there you have it – amazing short, celebrity looks for short funky hairstyles! If you have any suggestions, feel free to write to us by commenting in the box below.
Recommended Articles:

The following two tabs change content below.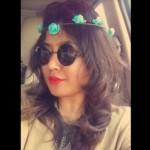 Latest posts by Anisha Pradhan (see all)