72 Creative Updo Hairstyles For Short Hair To Try In 2023
Get ready to be astounded by how beautifully these short hair updo hairstyles turn out. You have to attend an elegant formal event, and you think your flowy gown will pair nicely with a delicate updo. However, there is one problem: you have short hair. Fret not! We are pleased to tell you that styling an updo for short hair is not that difficult. Long gone are the days when having short hair meant only leaving your hair loose or styling it in a haphazard half-ponytail. Now, you can style your short hair in amazingly intricate updos with curls and messy top knots. Keep reading to discover some chic updo styles to try out on your beautiful short hair. Scroll down to dive right in!

Before You Get Started
Your hair length must be longer than your chin-length for a neat and manageable updo.
Bobby pins, clips, and styling products are a must to keep updos in place with short hair.
If you have fine, short hair, half-dos or loose updos are better. You can play with texturizing cuts and volumizing products to enhance your hairstyle.
In case you use hair extensions, opt for a professional stylist to discuss your requirements and achieve the look you desire.
1. A Relaxed French Twist
This relaxed French twist is a versatile hairstyle for all girls with natural hair. Put pins at the back of your hair to hold it in place. Then, twist your hair up and secure it with bobby pins to complete this chic look.
2. Messy Top Knot Bun
This is undoubtedly one of the easiest, elegant, and incredibly simple hairstyles you can try. All you have to do is gather your hair into a twisted top knot and leave them loose. Tease your hair a little to give volume to the messy bun. This quick, adorable, and straightforward hairdo is perfect for parties and meets your comfort demands on lazy days.
3. Pouf With Low Bun
If you have chin-length or slightly longer hair, try this hairstyle. Tease the hair at the top by backcombing it. Use bobby pins to secure the pouf. Gather the rest of your hair at the back and wrap it in a bun.
4. Contemporary Updo
Dianna Agron looks stunning in this contemporary updo. The back of her hair is styled in a super messy French twist. Her side hair is made to stand on ends at the back with the help of mousse and hairspray. This chic hairstyle is finished off with a thin black velvet string tied like a headband.


Quick Tip
Instead of a ready headband, you can also make your own braided headband by making a braid out of the section of hair that runs from your side parting to the other side.
5. Twisted Gibson Roll
This is a twisted take on the Gibson roll. Instead of using a hairband for the roll, simply twist some of your hair inward and fold it in a bun at the back. Use bobby pins to secure it in place and spritz on some hairspray.
6. Artistic Curly Updo
If you have curly hair, this is a great way to style it. Your short curls will be showcased beautifully with this updo. If you don't have curly hair, curl it with a chopstick curling iron before doing this hairdo.
7. The Bridesmaid Updo
This is the perfect updo for a bridesmaid with short hair! Leaving out some hair on the sides to frame your face, gather the rest and tease it at the crown. Weave it in a Dutch crown braid around the circumference of your head and pin it in place.
8. Slick Small Bun
Take a cue from Carey Mulligan and style your short hair in an elegant updo. Comb your hair down with mousse. Then, part it deeply on one side. Comb your hair back neatly and tie it in a small bun.
9. Twisted Bun
This twisted updo is perfect for the workplace. Twist your hair in small sections and pin it at the back to form a twisted bun. Make sure the twists are tight. If you have a wide face, add some lift to your hair by pushing the twists up before you pin them in place.
10. Side Updo With A Braid
This is a lovely romantic updo. Pick up some hair from one side and pin it away to keep it separate. Gather the rest of your hair and tease it with a comb. Tie it in a loose side bun. Weave the separated section in a loose braid and pin it over the side bun. Pancake the braid to add volume to the updo.
11. Braided Crown Updo
If you have really short hair that is longer in the front, here is a great updo style you can try. Weave a Dutch braid across the front of your hair and secure it in place with bobby pins and hairspray.
12. Twisted Tri-knot Updo
Divide your hair horizontally into three sections. Gather each section of hair and twist it at the center. Roll the sections and pin them together to form a bun down the center of your head that looks like a mohawk.
13. Rolled-In Bun
Gather your hair as if you were tying a low ponytail. Pass an elastic band over the ponytail. Twist the elastic band and pass it over again, but this time, don't pull your ponytail out completely to create this rolled-in bun.
14. Folded-In Updo
You can use a thin headband to create this hairstyle. Tease your hair at the crown to create a pouf. Take some hair from the sides and weave them into two thin braids or twists. Put on a thin headband and tuck the rest of your hair into it to create a Gibson roll. Pin the braids over the Gibson roll to finish off the look.
Licensed hair stylist, Megan Senner shares a pro tip, "Backcombing will be the secret sauce to achieving this style, and you need to use a proper teasing brush. Always use a teasing brush made from a mix of boar and nylon bristles with a rat tail end. The end helps you with precision parting and styling."
15. French Twist
The French twist is one of the classiest hairstyles of all time. It is also an easy hairstyle to achieve. Create a bouffant by backcombing the hair at the crown. Gather the rest of your hair and hold it vertically flat on one side. Roll the hair in toward the center and pin it in place.
16. Artistically Disheveled Updo
This hairstyle is a stunner! It is a mix of twists and knots. It is perfect for the artist in you to get creative and wild. I love that it is messy and intricate but so tucked securely in place.
17. Twisted And Pinned Updo
If your bob has grown out into a lob, this updo is for you. Twist your hair in sections and roll them to form a bun. Use bobby pins to secure the twists in place. This is a versatile hairstyle that you can sport to work, a date, or a wedding.
18. Pin-Up Curls
Pin-up curls are the best! You can achieve this look with the help of a curling iron. Pin all the curls at the top with bobby pins that match the color of your hair. Use a ribbon or a barrette to jazz up this updo.
19. Twisted And Curled Updo
Style your hair in a pouf at the crown. Section off the rest of your hair and twist it. Pin all the twists at the back to form a bun but leave out the ends. If your workplace has a formal dress code, this is the perfect everyday hairstyle for you.
20. Curly Ends
This updo consists of curly hair and a lifted French fishtail braid. After curling and braiding the top section of your hair, gather it at the back and wrap it in a bun, letting the curly ends stick out. Sport this hairstyle to a wedding or prom.
21. Curly Half Updo
This is more of a faux updo. Tease your hair at the crown and pin it in place to create a pouf. Pick a little hair from each side and twist it. Pin it over the pouf at the back. Curl the rest of your hair and pin the curls in place to create a faux bun look.
22. Bohemian Updo
Who doesn't love a good boho updo? This one is perfect for formal events, like a prom or a wedding. You can try out this look for work without the flowers. It is a combination of big and small curls.
23. Low Small Twisted Bun On Beige Blonde Hair
This is the simplest way to make an updo with your short beige blonde hair and give yourself an elegant makeover. Just pull all your hair at the back, twist it up and form a small bun near the base of the neck.
Senner further adds, "If you want the bun to be extra secure, you can pull your hair down into a low ponytail and secure it with a small elastic band. Then warp the hair from that ponytail into a twist to create the bun and secure it with additional elastics."
24. Rolled Updo With Puffy Crown And Side Bang:
A fluffy rolled updo can alter the appearance of your short hair completely and give you a chic modish look. A volumized crown, a short side bang, and a little tangled finish will add zing to this sophisticated hairstyle.
25. Textured Chignon With Twisted Side Sweep:
Be it a theme party or a romantic date, this semi-retro chignon updo for short hair is just perfect for all sensational events. Texturize your wavy locks intensely, twist up the long layered side sweep dramatically and then, come up with a low pretty chignon. Awesome!
26. Low Polished Twisted Updo With Highlights:
Center-part your hair up to the crown and slick it back smoothly. Now, twist up all the hair together and form a simple updo at the nape of the neck. Also, make sure that the highlights are visible at different turns in your bun.
27. Beautiful Bouffant With Long Wide Fringe:
Bouffant is one of the most common short updo hairstyles, which is extremely easy to make and highly admired by women. Section your long wide front fringes off rest of your hair and create a graceful bouffant bun by teasing the locks perfectly.
28. Messy Twisted Spiral Updo with Highlights
This spiral updo hairstyle for short hair is made by texturizing the highlighted dark brown hair all over and twisting it into a semi-high bun. However, the end portion of the hair should not be twisted itself, but wrapped around the twisted bun.
29. Side Angular Loop Bun With Hair Bows:
Back brush your hair neatly and secure it with an elastic band a little side at the back. Then, fold it carefully to create an angular loop bun at one side of the head. Adding smart accessories like a hair bow will perk up the whole look.
30. Blonde Beehive Updo With Heavy Fringes:
This is a comparatively shorter beehive updo made on light natural blonde hair. Section off the heavy fringes from ear to ear, and balance off the height of the smooth precise bun with it. Needless to say, it is a perfect 'do for a formal event.
31. Relaxed Low Folded And Pinned Updo:
Apply mousse to your highlighted wavy locks and secure them into a droopy ponytail by using an elastic band at the nape of the neck. Now, take small sections of the pony, fold them individually and secure them with bobby pins around its base. That's all!
32. Low Side Updo With Long Wavy Side Sweep:
A loose relaxed chignon resting at one side of the nape of the neck can make you look gorgeous. Do not brush the top hair neatly and let a long wavy side sweep swing over your eye.
33. Glossy Twisted Updo With Polished Top:
Give your hair a smooth and flat look by applying hair wax liberally. Now, twist up the rest of the hair, fold it in different ways in order to turn it into a huge flat bun and secure it with bobby pins. A true gorgeous look for you!
34. High Updo with Random Twists and Turns
Here is a very simple and easy hair updo for short hair that can keep your hair from falling over your eyes or neck and make you look chic at the same time. Just twist your hair up and turn it randomly and pin it at different places at the back of the head to create a nice shape.
35. Casual High Folded Updo With Crystal Pins:
Pull all your hair up to the crown and make a high bun by folding it casually. Make sure that it is not too tight and adorn it with some nice crystal pins. A few loose strands here and there will enhance the beauty of the updo even more.
36. Sexy French Twist With Volumized Crown:
What to say about the highly elegant as well as utterly fashionable French twist? It is one of the sexiest hairstyles that can be tried out even on short hair. Here, the style is perked up with a huge volumized crown.
37. Messy Huge Bun With Long Divided Fringes:
A solid and huge bun updo is something that can give you a sensational look irrespective of your outfit. However, if you want to add a touch of cuteness to your hairstyle, simply add long divided fringes to it and keep the hair near the nape of the neck a bit fluffy.
38. Auburn Blonde Bouffant With Striking Side Sweep:
A huge bouffant updo embracing the entire back of the head is undoubtedly eye-catching and the rich auburn blonde color has made it even more impressive. If you want to give your fashion quotient a significant boost, just add a long wavy side sweep to it.
39. Low Folded Updo On Golden Blonde Hair:
In this super easy hairstyle, the golden blonde locks with light brown highlights are secured at the base of the neck with an elastic band. All you need to do is take them collectively, fold in the shape of a bun and secure with pins to create a low updo.
40. Messy Casual Bun With Folds And Twists:
'Messy' is the next 'gorgeous' and this short updo hairstyle is a great proof of it. Twist your hair in small sections and create a casual bun with it. Keep the end of the bun free so that you can twist, fold and wrap it around itself to get a messy yet innovative look.
41. Smart Twisted Updo With Volumized Top:
Add volume to your top hair and pin it at the crown. Divide the rest of your hair into two sections, twist them up separately and secure the twists at the back with bobby pins. Make sure that you fold them so that they look like a single gorgeous updo.
42. Low Flowery Updo With Textured Waves And Brooch:
Add intense texture to your short wavy locks with subtle highlights. Now, turn them into an angular flowery updo at the nape of the neck by keeping the hair a bit loose at the back. Add a touch of glamor to the entire look by using a couple of hair brooches.
43. Neat Braided Updo With Puff And Side Braids:
Divide your highlighted hair into three sections. Puff up the middle section up to the crown and braid it up afterwards. Make tight braids along the side hairline with other two sections. Now, take all three braids together and turn them into a neat tight bun at the base of the neck.
44. Side-Swept Low Bun With Messy Waves And Bang:
Smoothen up your soft black hair with dark brown highlights and part it to one side. Sweep the larger section to that side over the forehead and create a low feathery bun with the tangled waves. A thin precise bang at the other side will enhance the look significantly.
45. Low Solid Highlighted Updo With Twisted Strands:
This dark brown wavy hair with light brown highlights is just perfect to wear a gorgeous bun updo. Leave two sections of hair at both sides and create a solid round bun at the nape of the neck. Now, make four twisted strands out of the side hair and secure them at the back with bobby pins.
46. Folded High Updo With Heavy Fringes And Bangs:
Pull all your hair at your crown, fold it and secure it at places with bobby pins. The lower back section of the head should be smoothened up and given a polished look, while the front section should be covered with heavy fringes and long side bangs.
47. Twisted And Textured Wavy Updo With Headband:
Tease the hair at your crown to generate considerable volume. Now, twist rest of your wavy textured hair in small sections and secure them with bobby pins around that puffy crown. A metal or crystal headband will give definition to the updo.
48. Exclusive Grand And Polished High Updo:
This huge hollow updo placed at the top of the head is not only pleasing to the eyes, but it is also quite efficient in giving you a stunning look and making you stand out of the crowd. Just make a top-high ponytail on your smooth black hair and fold it neatly to come up with a hollow bun.
49. Messy Low Bun With Brown Waves And Crystal Clip:
This slightly tangled low bun with a beautiful crystal clip can jazz up your appearance instantly. Create a relaxed messy bun at the nape of your neck by taking all your brown waves together and leaving a few hair strands loose here and there. Here you go!
50. Wonderful Multi-Braided Bun Updo
Nowadays, braided buns are all the rage. Check out this 'oh-so-gorgeous' bun hairstyle in which the entire hair is divided into multiple sections and braided up neatly to come up with a semi-high multi-braided updo. Time-consuming but still worth it!
51. Twisted Low Updo With Textured Waves:
Give your hair a retro makeover by opting for this nice textured wavy updo. Create rippling waves on your light brown hair, add texture to it, and turn it into a small low messy bun. A wavy side bang will increase the beauty of the hairstyle much more.
52. Messy Updo With Multiple Swept Strands:
Create a small basic bun by taking a certain section of hair. Now, take the rest of the hair in small segments, sweep them around that bun one by one, and secure them with bobby pins. Give the top hair a little messy finish to keep the look completely natural.
53. Low Side Bun With Twisted Hair At The Back:
Part your beige blonde hair with golden blonde highlights to one side. Roll the larger section back, twist it up at the nape of the neck, and create a small bun at the side where the part is made. Secure the bun with pins and maintain the casual look by keeping the remaining hair relaxed.
54. Smooth Low Semi-Circular Bun Updo With Puffy Top:
Apply serum to give your highlighted ash-brown hair a sleek look, add considerable volume to the crown, and make a simple ponytail out of it by using an elastic band. Now, widen as well as fold the pony inward in such a manner that it turns into a perfect semi-circular bun. Awesome!
55. Low Wavy Elongated Updo With Waves And Bangs:
Add volume to the roots of your highlighted wavy locks by applying mousse and part them to one side casually. Make a low flat bun and give it an elongated shape by pulling both upwards and downwards together. Let the long side bangs hug your face and keep the entire hairstyle messy for added elegance.
56. Huge Highlighted Updo With Pouf And Accessory:
Do we really need to say anything about this dazzling updo hairstyle? The huge hollow bun with smooth texture and purple highlights is enough to raise your oomph factor. The small cute pouf and the golden lacy wraparound have made it even more attention-grabbing.
57. High Fluffy Side Updo With Multiple Folds:
Do give this unique side updo a try and look every inch fashionista. Make your hair smoother by applying mousse, pull it back tightly to any one side of the crown, and create a high pony. Now, divide the pony into four sections, fold them one by one, and secure them with bobby pins separately.
58. Huge Flowery Updo With Feathery Clips:
Texturize your black wavy locks, twist and fold them as you like and finally, secure them at different places with bobby pins. It should create a large flowery updo at the back of your head and you may bedeck it with some exclusive hair clips looking just like real feathers. Amazing, no?
59. Perfectly Organized Bun With Subtle Twists:
Smoothen and texture your hair perfectly in order to avoid flyaways and get a highly organized look. Make a semi-high ponytail out of it by securing the hair with an elastic band. Now, twist up the pony lightly and wrap it around its base to form a neat bun. Simple!
60. High Flowery Updo With Puffy Top And Textured Front:
Add volume to your top hair and create a beautiful flowery updo by twisting and folding it at your crown. The front hair should be texturized and swept to the side nicely and secured into the updo with bobby pins. Spice up the look by leaving a few hair strands here and there along the hairline.
61. High Top Knot Updo With Textured Hair Wrap:
This is a modified version of your regular topknot bun. Pull all your hair at the top and make a tight topknot bun by twisting it severely. Now, wrap its last section around its own base and give the edges a straight angular shape by adding extreme texture.


Quick Tip
You can also make a half-up topknot and add some thick fringes at the front which will look super hip.
62. Distinct Twisted Bun With Puffy Crown And Wavy Bangs:
Tease up your crown to create a puffy effect and let a wavy side bang embrace your face lovingly. Now, divide your blonde hair into numerous small sections, twist them up with each other, and secure them at the base of the neck to create a large flowery bun hairdo.
63. Messy Blonde Hair With Double-Braided Wraparound:
Create two thick braids along your hairline and wrap them around your head one by one. Ensure that the directions of the braids are opposite and they are meeting near the nape of your neck. Finally, secure their ends with bobby pins and give the rest of your hair a messy finish.
64. Rolled Up Hairdo With Textured Waves:
Start with adding texture to your ash-brown wavy hair with golden blonde highlights. Part as well as roll it back to one side after adding a little volume at the top. Now, roll the hair up in an inward direction from the bottom and secure it with bobby pins once you reach the base of the neck. You are done!
65. Simple Twisted Hairdo With Volumized Top:
Neither a tight bun nor a chignon, it is just another super easy hairdo in which the short hair is twisted as well as secured with bobby pins randomly. Keep the Top-front hair volumized in order to give the hairstyle a different look.
66. Highlighted Angular Bun With Puff And Texture:
In this cool and edgy hairstyle, the soft black hair with golden brown highlights is twisted and folded so that a perfect angular bun is formed at the back of the head. Add a little puff to the top hair and texturize it slightly. If your cute pixie cut hair reaches your shoulders, this is the updo for you.
67. Simple Ballet Bun With Thin Hair Wrap:
Here is something totally simple and natural for you. Just pull all your hair at your crown, turn it into a nice ballet bun and wrap it with a thin section of hair. There is no need for any expensive styling tool or chemical-loaded styling product.
68. Huge Low Bun With Messy Textured Waves:
Make a solid huge bun at the nape of your neck and give it a good hold by securing it with bobby pins. Now, wave up and texturize the upper hair extensively and let them cover your bun as well as the rest of the head for a messy yet gorgeous look.
69. High Folded Ponytail With Highlights And Hair Wrap:
Apply mousse to your black hair with light brown highlights and make a high ponytail by pulling it back at your crown. Now, fold the pony inwards and wrap its ends around its base. To keep it in its place, make use of a couple of bobby pins.
70. Messy High Side Bun With Stray Hair:
Well, this is almost like a high bun made at the top of the head. But, you need to create it at one side and give it a casual or relaxed look. A tangled flair and some stray hair will do the work for you.
71. Low Side Bun With Layered Side-Swept Fringes:
Part your light natural blonde hair to one side and let the layered side-swept front fringes swing over your forehead gracefully. Now, pull all your hair at the other side of the part, secure it behind the ear and turn it into a low side flowery bun. A fresh flower will certainly add a zing to the look.
Senner advises, "To make this style look ultra glam and put together, brush your bangs forward with a round brush and then finish with a good texturizing spray."
72. Magnificent Braided Updo With Messy Low Bun:
Last but not the least; here is a magnificent updo in which the highlighted hair is braided up starting right from the top and secured at places in a zigzag way up to the neck. At last, the end of the braid is twisted into a small bun and pinned carefully.
Beth, a vlogger, shared a simple yet chic updo suitable for shorter hair post-chop. She left out some front strands for a face-framing effect and showed how to create the illusion of length in her video. She said, "I'm just going to kind of lift this hair up a little bit just to give it that softness (i)."
Infographic: How To Care For Short Hair
You can create many gorgeous hairstyles with short hair. However, nothing will look good if your hair is lifeless and weak. Check out the infographic below to know various vital points to ensure your mane is healthy and ready for different styles. Keep scrolling!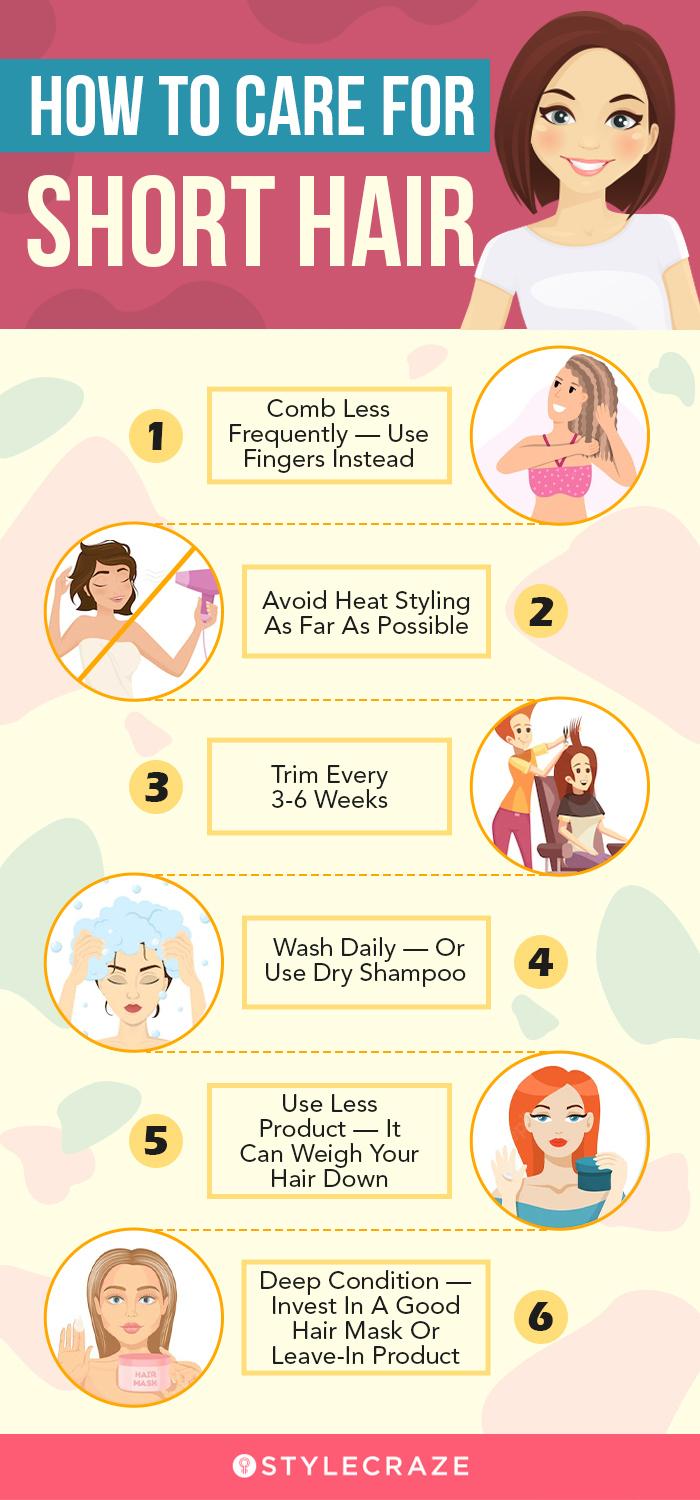 Having short hair does not mean that you can not create stylish updos. You can try some amazing hairstyles with your short hair. But what you all need to get is some inspiration. Some gorgeous updo hairstyles for short hair include pouf with a low bun, trendy updo, twisted Gibson roll, artistic curly updo, and the bridesmaid updo. These updos for short hair are suitable for all occasions. So get some inspiration from these elegant hairstyles and experiment with simple, funny, and cute short updos.
Frequently Asked Questions
How can I make an updo for short hair look more glamorous?
You can add glamor to your hairstyle by accessorizing it with hair clips, pins, or bands. Hair padding and backcombing increase the volume at the crown and provide a more sophisticated look.
What tools do I need to create an updo for short hair?
You will need a good quantity of bobby pins for short hair updo hairstyles to hold the short hair in place. The other necessary tools are hair elastics, teasing and brush comb, hairspray, and accessories.
What accessories can I use to dress up an updo for short hair?
You can use small flowers, feathers, headbands, hair bows, designer bobby pins, crystal pins, and rhinestones to add drama to your short hair updo.
How can I make an updo for short hair look more modern?
Asymmetric cuts and styles are the newest trendsetters. You can add texture to your short hair by crimping, slicking it back with pomade, or braiding. Add tanginess to your hair with creative hair color techniques.
What mistakes should I avoid when styling an updo for short hair?
Bobby pins and hair elastics are essential while styling short hair. Choose accessories that do not tug at your hair. Short hairstyles look good with volume but refrain from over-teasing the hair shaft.
Learn how to create a stylish look with short hair in minutes! Check out this easy updo tutorial with simple easy-to-follow steps for a playful look.
Personal Experience: Source
i. Super Easy Up-do For Short Hair!
https://www.youtube.com/watch?v=-tVBVmOvj6w
The following two tabs change content below.