The 20 Best Hair Accessories To Enhance Your Look In 2022
Light up your hairdo and style it with something fancy and trending to stand apart.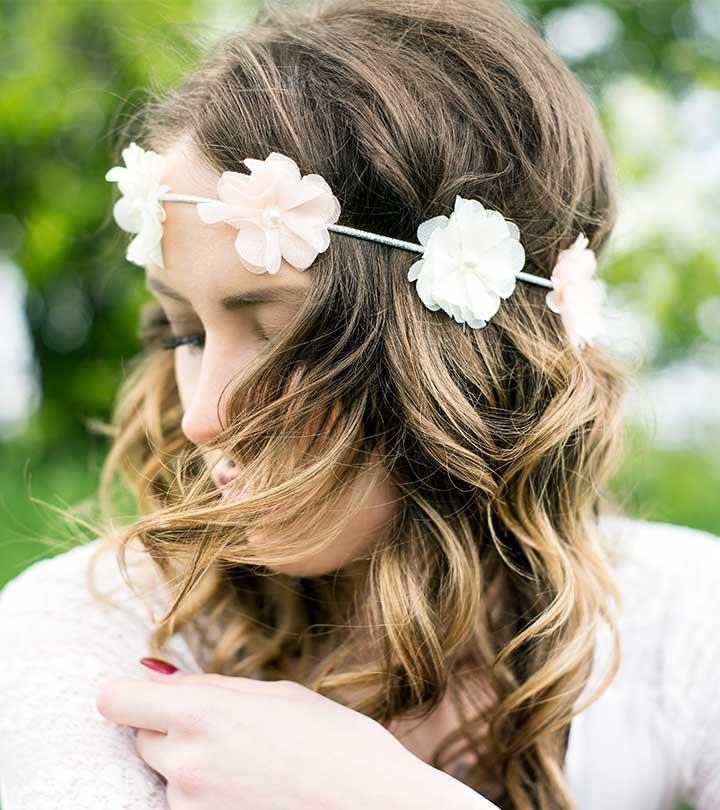 You deserve to feel like the queen that you are, and hair accessories are here for just that! No, we are not just talking about tiaras. Nowadays, the market is flooded with a vast expanse of pretty hair accessories for you to choose from, no matter what the event is! These accessories are an excellent way to enhance your look and add some saveur. If you think accessories for the hair are only for kids, our list below will change your mind! Scroll down and see which one will look the best on you!
The 20 Best Hair Accessories To Try In 2022
If your face shape is oval, consider it a blessing! All hair accessories look good on this face shape.
If you have a round face, then you need to make sure the hair accessory you pick will not make your face appear rounder. The key is to add length to your face. Also, allow a few strands of hair to fall on your face as it will help in face framing.
If you have a heart-shaped face, then try hair comb pins or simple hairpins on one side of your head. This accessory will frame your face nicely as one side of your hair will be left loose. When using hairbands, add height to your hair at the top or leave a few strands loose rather than pushing your hair back entirely.
Having a long face is not bad. With the right accessories, you can focus on specific facial features. Take the headband for example. A headband will make your forehead seem smaller while diverting attention to your eyes.
With a square face, make sure that whatever the hair accessory, your hair should be pulled back tightly.
The bow has been a hair accessory way before Minnie Mouse even came into the picture. You can get ribbons to tie a bow on your hair. You also get bows with soft velcro on them, so you can just attach it to your hair, and go!
Pros
Available in various colors
Soft fabric
Suitable for all ages
Giftable set
Affordable
Cons
These hair scrunchies are available in different colors, and you can wear them by matching the color of your outfit. They are made with a soft, velvet material that does not hurt or tear your hair.

Pros
Made of premium-quality material
Soft fabric
Good stretch
Color does not fade
Bleed-proof material
Available in multiple colors
Cons
Not be suitable for thick hair
Hair clips are the first accessories I think of when I need to add just a bit of sass to my hairdo. There is a huge variety of hair accessories to choose from like barrettes, flat clips, banana clips, duckbill clips, and many more.

Pros
Suitable for thick and long hair
Secure hold without slipping
Sturdy
Affordable
Cons
The teeth may break easily
It's a huge misconception that hairbands are only for children. Why, these days even men are sporting them! With a wide variety of different styles to choose from, I guarantee you will find what you're looking for.
Pros
Available in multiple colors
Does not cause headaches
Durable
Soft fabric
Affordable
Cons
Elastic bands are an essential item for me. You never know when you need to tie your hair! Now you can find some really beautifully decorated elastic bands.
Pros
Non-slip
Soft fabric
Stretchable
Comfortable to wear
Giftable set
Cons
May be too loose for some
Headbands weren't only used by hippies back in the day – they have been mentioned in European and Mesopotamian history books! And now, they are here to stay.
Pros
Good elasticity
Stretchable
Comfortable to wear
Stylish
Versatile
Cons
Pearls are fast becoming one of the most classy hair accessories of all time. Remember that pearl necklace you bought but the hooks came off? Well, now you can use that as an accessory to make your bun look even more dashing!
Pros
Suitable for all ages
Ideal for parties
Easy to use
Travel-friendly
Value for money
Cons
8. Flowers
Nothing makes a woman feel prettier than flowers. Whether it's a real flower, artificial flower or a rhinestone flower, it's sure to spruce up your look.
Pros
Fresh fragrance
Elegant
Multiple color choices
Versatile
Cons
While pins are efficient, they also look great. It's amazing how one small, simple pin can spice up your entire hairstyle. You can also find detached hair pins now and they look incredible.
Pros
Available in various sizes
Sturdy
Durable
Lightweight
Versatile
Comfortable to wear
Easy to wear and remove
Cons
None
Big hair clips are essential. You have designer big length hair clips that many bridal hair stylists and fashion hairstylists use to give a hairdo some beauté.
Pros
Non-slip
Secure hold
String grip
Does not snag the hair
Suitable for long, thick hair
Suitable for curly hair
Comfortable to wear
Durable
Cons
Hats are not just for when you have a bad hair day or have to meet the British royals. Remember Carrie Bradshaw's hat for Stan's wedding? Hats can be used to add some mystery to your overall ensemble. Try a veil hat if you are looking for something simple yet enigmatic.
Pros
Wide brim
Skin-friendly fabric
Breathable
UPF 50+
Double-sided
Perfect for summers
Cons
May not fit all head sizes
12. Scarfs
What can't scarves do? They protect your face from the heat, add oomph to your outfit, and now they are here to rock your hair!
Pros
Stylish
Versatile
Perfect for summers and springs
Keeps away dust and dirt from the scalp
Cons
None
C'mon, don't lie now. You know you feel like a complete princess while wearing that crown. You can find a range of sophisticated tiaras to wear. Whether it's for your wedding day or a party, I guarantee you can find an elegant tiara that is not OTT and childish, but will bring out the queen in you.
Pros
Elegant accessory
Durable
Comfortable to wear
Secure hold
Easy to use
Suitable for proms and parties
Cons
Yes! There's jewellery for your hair now! Indians have always loved to wear the hair jewellery called Jhapta. These bijouteries give you a certain French la vie en rose look.
Pros
Elegant design
Fits most head sizes
Multipurpose
Suitable for nighttime wear
Cons
Changes color
Not durable
Hair rings are the newest trend in the hair accessories market. They look stunning. Whether you're the girl next door or the rebel, these hair rings will look super cool on you.
Pros
Easy to use
Durable
Suitable for braiding hair
Budget-friendly
Cons
May break with repeated size adjustments
Beanies aren't just for winter. TayTay used to wear beanies back when she started sporting long hair with bangs. The beanie can be used to help frame your face.
Pros
Stretchable
Fits most head sizes
Lightweight
Easy to clean
Itch-free fabric
Affordable
Cons
Women have been using feathers forever now. No no, I'm not talking about big Mardigras feathers (unless you want to try them). Feathers can be used to add some drama to your look.
Pros
Secure hold
Non-slip
Sturdy
Affordable
Cons
Fragile
Stones may fall out
Ribbons can make your hair look playful. You can give yourself a retro makeover or tie a simple ponytail with a ribbon.
Pros
Soft fabric
Multipurpose use
Suitable for all seasons
Budget-friendly
Cons
Hair coils are perfect for thin braids and twists. You can find a huge variety of designs for hair coils from plain beads to coils with crosses, leaves, stars, and what not!
Pros
Stylish
Sturdy material
Value for money
Cons
Copper wire needs maintenance and polishing
20. Wreaths
Why Trust StyleCraze?
The author, Oyendrila Kanjilal, is a hair care enthusiast and loves to create informative articles for the convenience of her readers. She went through various product specifications and hundreds of user reviews on trusted platforms to provide you with this list of the best hair accessories. These accessories are an excellent way to enhance your look. Her list covers many products, including hairbands, pearls, flowers, pins, and more.
Frequently Asked Questions
What are hair ornaments?
Hair ornaments are pretty accessories that are wrapped, tied, fixed, inserted, or attached to your hair to make it look attractive.
What are the names of different hair accessories?
The names of different hair accessories are barrettes, headbands, clips, scarves, combs, tiaras, ribbons, and hair jewelry.
What is considered a hair accessory?
Hair accessories are functional or ornamental objects that are used to style or beautify your hairstyle.
What is a French clip?
It is a type of earring backing that is used to hold the hair in place.
What are butterfly clips called?
Butterfly clips are also called small claw clips. They are used to secure strands of hair in place.
What is a hair necklace called?
A hair necklace is generally referred to as a maang tikka or matha patti.
Recommended Articles: