Top 20 Hair Accessories To Try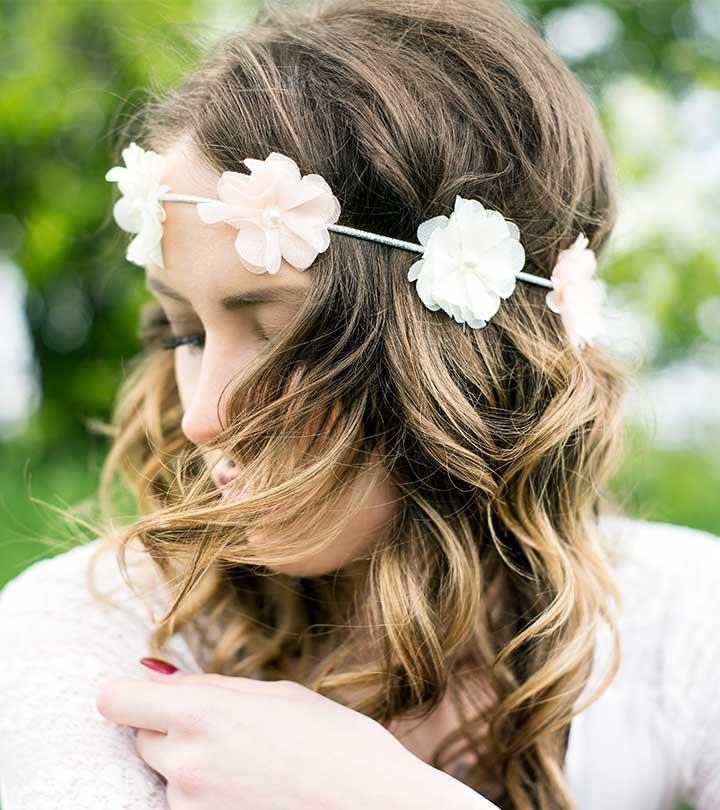 Every woman deserves to feel like the queen she is. And hair accessories are here to help you feel just that! I'm not just talking about tiaras. There is a vast range of hair accessories for you to choose from no matter what the occasion! Hair accessories are a great way to add some saveur to your hairstyle. Long gone are the days when hair accessories were only for kids.
Confused about what hair accessory will look the best on you? Here are a few tips to help.
If your face shape is oval, consider it a blessing! All hair accessories look good on this face shape.
If you have a round face, then you need to make sure the hair accessory you pick will not make your face appear rounder. The key is to add length to your face. Also, allow a few strands of hair to fall on your face as it will help in face framing.
If you have a heart-shaped face, then try hair comb pins or simple hairpins on one side of your head. This accessory will frame your face nicely as one side of your hair will be left loose. When using hairbands, add height to your hair at the top or leave a few strands loose rather than pushing your hair back entirely.
Having a long face is not bad. With the right accessories, you can focus on specific facial features. Take the headband for example. A headband will make your forehead seem smaller while diverting attention to your eyes.
With a square face, make sure that whatever the hair accessory, your hair should be pulled back tightly.
The bow has been a hair accessory way before Minnie Mouse even came into the picture. You can get ribbons to tie a bow on your hair. You also get bows with soft velcro on them, so you can just attach it to your hair, and go!

Similar Products
These hair scrunchies are available in different colors, and you can wear them by matching the color of your outfit. They are made with a soft, velvet material that does not hurt or tear your hair.

Similar Products
Hair clips are the first accessories I think of when I need to add just a bit of sass to my hairdo. There is a huge variety of hair accessories to choose from like barrettes, flat clips, banana clips, duckbill clips, and many more.


Similar Products
It's a huge misconception that hairbands are only for children. Why, these days even men are sporting them! With a wide variety of different styles to choose from, I guarantee you will find what you're looking for.

Similar Products

Elastic bands are an essential item for me. You never know when you need to tie your hair! Now you can find some really beautifully decorated elastic bands.

Similar Products
Headbands weren't only used by hippies back in the day – they have been mentioned in European and Mesopotamian history books! And now, they are here to stay.

Pearls are fast becoming one of the most classy hair accessories of all time. Remember that pearl necklace you bought but the hooks came off? Well, now you can use that as an accessory to make your bun look even more dashing!

8. Flowers
Nothing makes a woman feel prettier than flowers. Whether it's a real flower, artificial flower or a rhinestone flower, it's sure to spruce up your look.
While pins are efficient, they also look great. It's amazing how one small, simple pin can spice up your entire hairstyle. You can also find detached hair pins now and they look incredible.

Big hair clips are essential. You have designer big length hair clips that many bridal hair stylists and fashion hairstylists use to give a hairdo some beauté.

Hats are not just for when you have a bad hair day or have to meet the British royals. Remember Carrie Bradshaw's hat for Stan's wedding? Hats can be used to add some mystery to your overall ensemble. Try a veil hat if you are looking for something simple yet enigmatic.

12. Scarfs
What can't scarves do? They protect your face from the heat, add oomph to your outfit, and now they are here to rock your hair!
C'mon, don't lie now. You know you feel like a complete princess while wearing that crown. You can find a range of sophisticated tiaras to wear. Whether it's for your wedding day or a party, I guarantee you can find an elegant tiara that is not OTT and childish, but will bring out the queen in you.

Yes! There's jewellery for your hair now! Indians have always loved to wear the hair jewellery called Jhapta. These bijouteries give you a certain French la vie en rose look.

Hair rings are the newest trend in the hair accessories market. They look stunning. Whether you're the girl next door or the rebel, these hair rings will look super cool on you.

Beanies aren't just for winter. TayTay used to wear beanies back when she started sporting long hair with bangs. The beanie can be used to help frame your face.

Women have been using feathers forever now. No no, I'm not talking about big Mardigras feathers (unless you want to try them). Feathers can be used to add some drama to your look.

Ribbons can make your hair look playful. You can give yourself a retro makeover or tie a simple ponytail with a ribbon.

Hair coils are perfect for thin braids and twists. You can find a huge variety of designs for hair coils from plain beads to coils with crosses, leaves, stars, and what not!

20. Wreaths
Flowers just make women happy! Try flower wreaths or simple leaf wreaths to make your hair look voluminous and gorgeous.
So, there you have it! For every cute hairstyle, there is an accessory to make it cuter. You can find all of these accessories at a flea market or even on amazon.com. Try them out and let me know which one worked best for which occasion!
Recommended Articles: