10 Surprising Side Effects Of Corn
This cereal grain may be delicious to eat, but the aftermath may not always be favorable.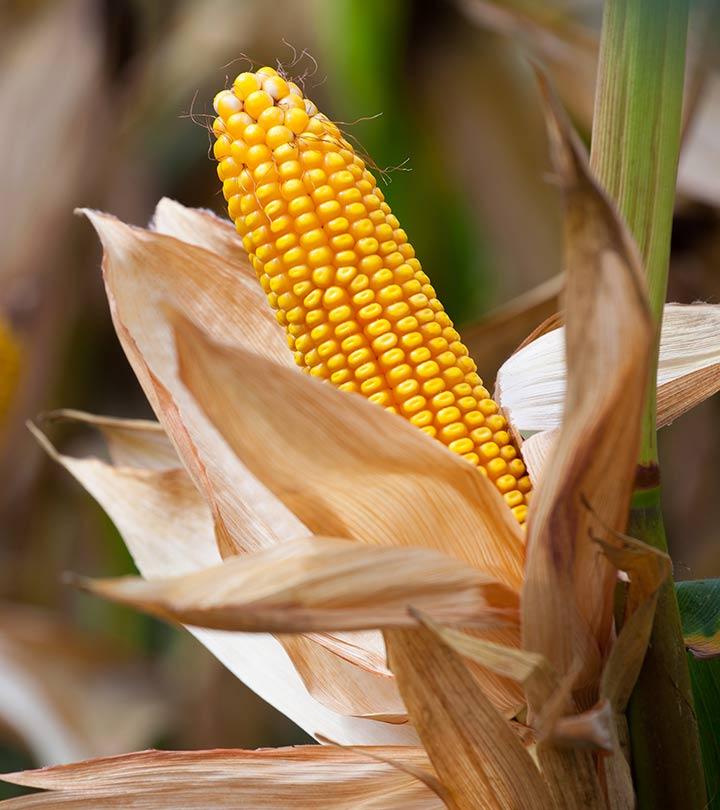 tryptophani  XAn essential amino acid used to biosynthesize proteins. Since the body does not naturally produce it, it must be consumed through diet. anaphylaxisi  XA life-threatening allergic reaction triggered by exposure to an allergens. The symptoms include rashes, nausea, and shock. What can go wrong with corn? They are tasty, they have versatile usages, they are nutritious—what else is there to know? Do you want to know about the potential side effects of consuming excess amount of corn?
Not only shall we detail out the consequences of having too much corn but also let you know how corn is not a vegetable! Yes, you got that right! Corn is not a vegetable, but it is a food grain. Originally grown in Central America and Mexico, corn is now widely available worldwide.
Whether you have it as roasted corn on the cob or its kernels boiled, buttered, salted, or pureed into soups and gravies, corn is one versatile ingredient that can make for a good healthy food option anytime. Other than the commonly available yellow corn, the other varieties could be brown, purple, or blue. Other than these, can there be any other darker shade to corn? Is there any possible risk associated with eating too much corn?
To answer all that and more, we have done some detailed research and summed it all up for you in one place in this article. While you may enjoy the subtle sweet taste of corn, it is wise to be aware of the possible health concerns associated with its consumption. Read on to know further.
Top 10 Side Effects Of Corn
Eva De Angelis, Dietitian Nutritionist, says, "While the carbs in corn are more nutritious than those in white bread or processed foods, eating too many carbs, regardless of the type, will result in weight gain. Besides that, because corn is high in fiber, some people may experience diarrhea or gas if they overeat corn."
Here are some of the major corn side effects that you should be aware of:
1. Allergic Reactions
Consuming corn can lead to allergies and symptoms like rashes on the skin, swelling of the mucous membrane, vomiting, etc. Many people also suffer from asthma attacks and anaphylaxis after eating corn (1). The main reason behind the allergies is the ingestible protein present in the corn.
2. Risk Of Pellagra
Corn is a staple food of many people. If you consume corn in high amounts, then you are at the risk of pellagra (2). Pellagra is nothing but a deficiency of vitamins, especially niacin in the body. Corn is deficient in amino acids (lysinei  XAn essential amino acids that helps in growth and tissue repair. It assists in the absorption of calcium by the body. and tryptophan) and niacin, which help to protect the body from pellagra. If corn forms the major chunk of your diet, then make sure that you supplement your diet with vitamin-rich foods to prevent pellagra.
3. Not Good For Diabetics
Corn adversely affects people suffering from diabetes as it increases the blood sugar level in the body. Corn has a high carbohydrate content, which leads to the increase in blood sugar levels (3). So people suffering from diabetes should not consume corn in large quantities.
4. Causes Bloating And Flatulence
Corn contains a high percentage of starch. When you consume corn, it breaks down in the large intestine and produces a lot of gas. So if someone consumes corn in large quantities, then it can cause bloating and flatulencei  XMedical term used to refer to the expulsion of gas or "passing wind" from the digestive system via the anal passage. It may arise as a by-product of partial digestion of certain foods. .
5. Causes Indigestion And Stomach Upset
According to Eva, "Some people may have difficulty digesting the type of fiber found in corn, and this could lead to bloating."
Corn is a good source of fiber and other vital nutrients, which helps in flushing out bad toxins from the body. But an overdose of these fibers can be bad for your stomach. Even if you eat large portions of cereals, then it can lead to indigestion and stomach cramps (4)! So, keep a watch on how much corn you are consuming, in any of its forms.
Trivia
The first documented domestication of corn was nearly 10000 years ago by native Mexicans, who then taught European colonists how to grow them.
6. Causes Intestinal Irritation And Diarrhea
Corn should not be consumed raw as it can result in diarrhea (5). Corn also leads to many intestinal disorders (6). You must consult your doctor if you find symptoms that warrant some checking out.
7. May Cause Tooth Decay
Corn contains a good amount of sugar, so it can lead to tooth decay in some people. This is relatively one of the rare side effects of corn, but not one that should be taken lightly! Make sure you follow good oral hygiene and brush your teeth after eating corn (7).
8. May Cause Osteoporosis
People who depend on corn diet can suffer from osteoporosis as corn contains very less amount of calcium. But this is relevant only if corn is not supplemented with appropriate calcium-rich food.
9. Increases Weight
As mentioned before, corn contains a heavy dose of sugar and carbohydrate. Overzealous eating of corn can surely lead to weight gain (8). People on a diet should avoid consumption of corn.
10. Leads To Lethargy
Corn contains an ample amount of starch. Starch can cause drowsiness and lead to lethargy (9).
These are the side effects of eating excess corn. Most of these so-called negative effects of corn can actually be countered with a balanced meal. For the rest, well, just watch your portion size!
Quick Tip
There are different types of corn depending on kernel texture. Flint corn, dent corn, flour corn, and sweet corn are a few examples.
Infographic: Tips To Deal With Indigestion After Eating Corn
Corn is one of the healthiest foods and is preferred by many for its slightly sweet taste. It is a part of many cuisines and is also known for the array of benefits it offers. However, a few may experience indigestion after eating corn.
The following infographic provides a few tips to deal with indigestion after eating corn. Check it out!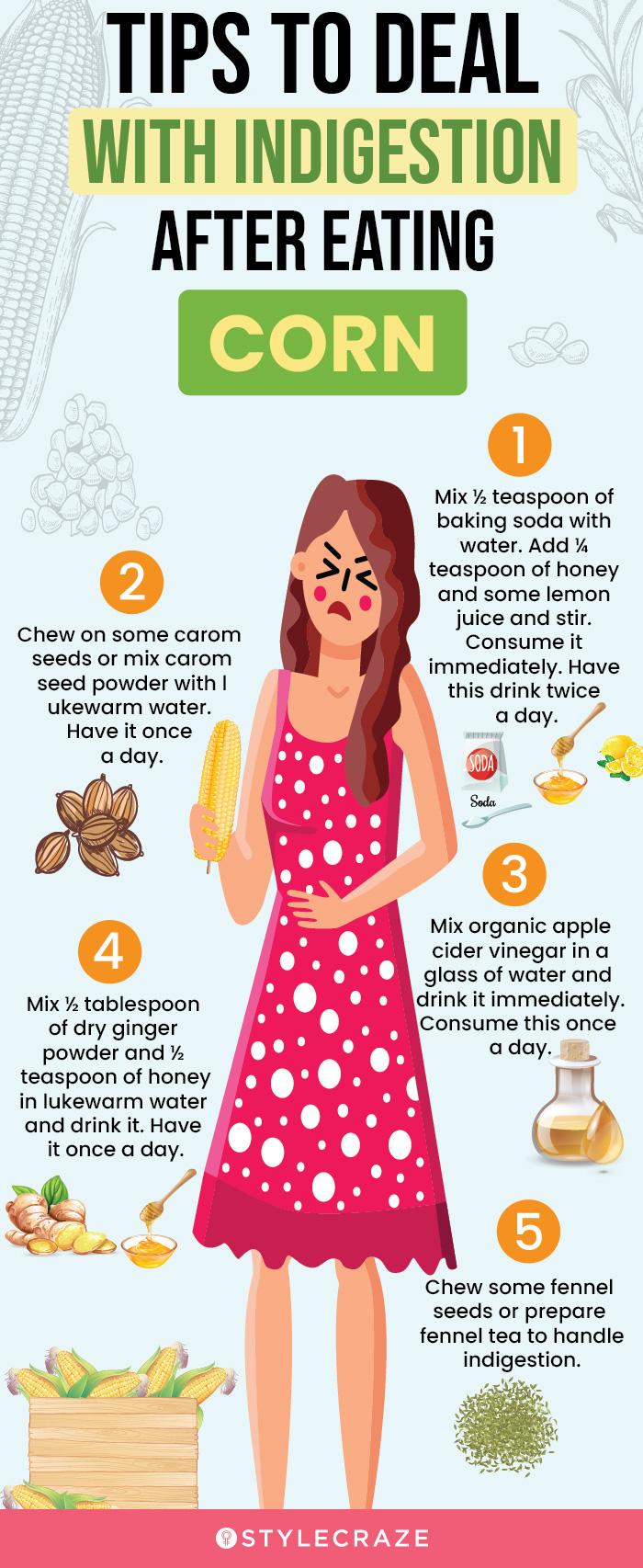 Corn is loaded with nutrients that promote overall health. However, one must also note the side effects of corn associated with overconsumption. Corn may aggravate pellagra, bloating, flatulence, and cause stomach upset. It may also cause tooth decay and increase the risk of osteoporosis and weight gain. The excess starch in corn may also cause lethargy. It is also not suitable for people with diabetes. Hence, moderate consumption is advised.
Frequently Asked Questions
What happens if we eat corn daily?
Eva De Angelis says, "Corn is a whole grain, and as such, it is a nourishing food. Eating corn every day may be beneficial. Yet, keep in mind that portion size is essential. The fiber content of corn keeps you fuller for longer between meals. It also feeds the good bacteria in your gut, which has myriad health benefits, including the prevention of colon cancer and obesity. Corn is rich in inked whole grain consumption to a lower risk of heart disease and type 2 diabetes"
Does corn increase blood pressure?
"No. In fact, corn is high in potassium, a mineral that helps regulate blood pressure. Eating potassium-rich foods can help lower your blood pressure. The more potassium you eat, the more sodium you pass in your urine. This is a critical balance for managing blood pressure. Similarly, potassium relaxes blood vessel walls, which aids in blood pressure management." says Eva.
Is corn healthier than rice?
According to Eva, "Rice and corn are both good options for a nutritious diet. Corn, for example, is a better choice for people with diabetes because it has a lower glycemic index. This is because the fiber and fat of corn slow carbohydrate absorption. Rice, on the other hand, is better suited to low-fat diets than corn. Also, corn contains more B-complex vitamins, minerals, and antioxidants than rice, which may help to lower the risk of heart disease and type 2 diabetes."
Is corn good for the lungs?
Yes, consuming corn in moderate amounts is beneficial to the lungs.
Is boiled corn acidic?
Yes, boiled corn is acidic. If mixed with butter, it may further aggravate the symptoms of acidity and cause heartburn.
What is the best time to eat corn?
Corn can be a healthy addition to any meal of the day. However, many prefer it as an evening snack.
Key Takeaways
Though tasty and a staple food for many communities, excess consumption of corn could have potential side effects.
High doses of starch and fiber in corn could lead to bloating, gas, diarrhea, stomach ache, and indigestion.
An indigestible protein in corn could cause allergic reactions, like skin rash, asthma attacks, swelling of the mucous membranes, and vomiting.
High levels of carbohydrates in corn increase blood sugar levels which possess the risk of diabetes and weight gain.
Corn is deficient in niacin and amino acids that could lead to pellagra.
Hope you liked our post on side effects of corn. Do you like corn? How do you like to eat your corn-roasted, boiled or as a topping? Share with us.
Sources
Articles on StyleCraze are backed by verified information from peer-reviewed and academic research papers, reputed organizations, research institutions, and medical associations to ensure accuracy and relevance. Read our editorial policy to learn more.