10 Trendy Medium Layered Hairstyles That You Can Flaunt
Medium layered hairstyles are one of those easy to carry hairstyles that look good on almost any kind of hair, whether straight, wavy or that with loose curls.
Some of our favorite celebrities have been seen sporting these hairstyles on different occasions. And now it's quite easy to get it done on your hair too…
To opt for medium layers, one has to determine the texture of the hair. This will help infer as to how exactly the hairstyle would be when she has to look her best. A popular medium layered hairstyle for example is the jagged cut. This cut is for those whose hair texture is thin, as it helps create an impression of volume.
Similarly there are different kinds of layers including choppy layers, pixie cut, wavy style and spring layered amongst others. Medium layered hairstyles flaunting side bangs are capable of creating a good frame for almost all types of face shapes. Keeping the bangs in shape is easy through usage of different styling products such as hair sprays or hair gels. Fringes too can be a flattering addition to your regular hairstyle.
Whether you want a prom look, a classy look or an ultra-glamorous look, there is a pick for all of us. Let us take a look at 10 trendy layered hairstyles for medium length hair that one can try out.
Layered haircut for medium hair:
1. Heavy Layered Hairstyle :
Long faces look even prettier with these simple, sleek long layers which are of slightly differing lengths, creating a gorgeous heavy layered hairstyle. This layer cut for medium length hair is simple yet stunning!
2. Glamorous Layered Hair:
The beautiful and charming Kate Winslet carries her glamorous layered waves with great poise and elegance.
3. Inch off Layers:
Here the dark wavy hair has been done in soft curls; the layers with front bangs fall well below the eyebrows, creating a truly unique look.
4. Layering for Top Fullness effect:
A combination of long and medium layers lends a stylish look together with the soft side-swept bang across the forehead for a top fullness effect.
5. Round Face Hairstyle:
The gorgeous soft fringes on the forehead which fall beyond the eyes coupled with symmetric layers create an absolutely chic and classy look. This a simply fabulous hairstyle for medium hair to try!
6. Messy Layered Hair:
A messy layered hairstyle with a razor cut coupled with jagged layers ranging from medium to short that helps flaunt crisp edges. This looks great with casual outfits.
7. Feathery Layered Hairstyle:
Jagged layers, flowing and long, look really trendy on her blonde streaked hair. A pretty hair clip adds to the feathery layered hairstyle which complements her white dress.
8. Ready for Prom Hairstyle:
Stylish and fashionable swirly waves, a layered style on the back and the sides help her achieve an attractive 'ready for prom' look.
9. Jamie-Lynn Sigler Layered Cut:
The award-winning American actress and singer shows off her layered cut. Her stylish golden-streaked, naturally thick and straightened hair that has been cut in layers creates an impression of volume and enhances her looks.
10. Bold colored layered look:
Wavy long-layered hair has been colored a bold red and a heavy side-swept bang adds to the vibrant and loud style statement.
Would you like to try this look?
The following two tabs change content below.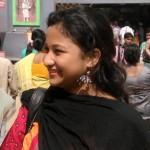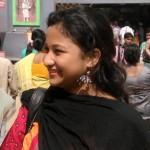 Oindrila
I am a fun-loving and vibrant person. Having a passion for writing, I choose to provide the best insights into health and beauty. I am talkative, lively, caring and an independent thinker. I am extremely compassionate about animals. I am a movie freak too!