44 Best 10-Year Marriage Annniversary Gift Ideas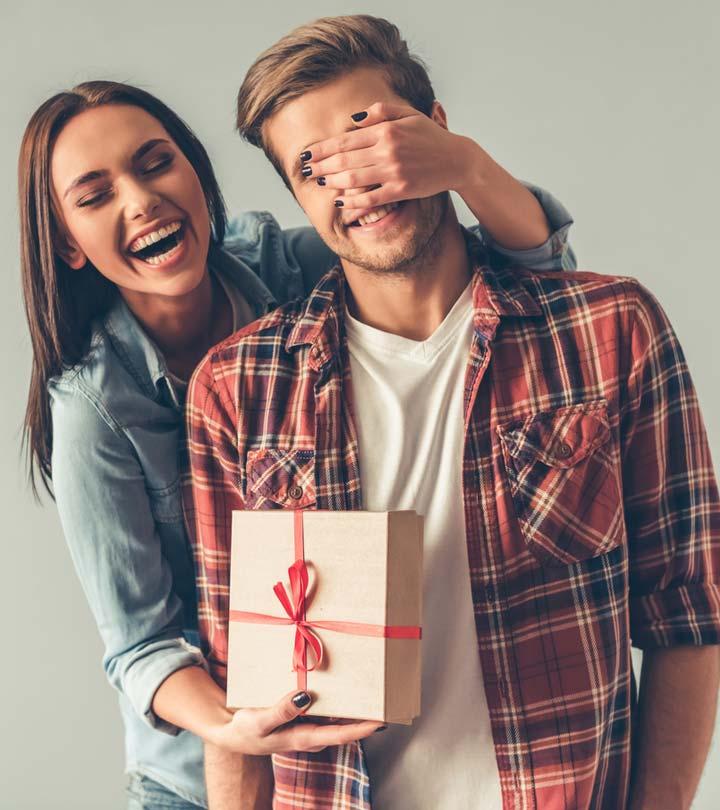 In today's world, completing milestones together can be expressed in many ways. Such milestones in every couple's life make their bond stronger. One such special moment is the 10th anniversary. On this occasion, your partner sure deserves a special gesture from your side.
In this article, we have compiled some of the top gifts you can pick to celebrate this wonderful occasion. Whether you want to go for a traditional gift, something modern, or something totally out of the box, we have got you covered.
10-Year Marriage Anniversary Gift Ideas For Her

There is no better way of celebrating your ten-year anniversary than telling your spouse how beautiful they make your life. This gold plated rose is made of real rose that is coated in resin. The resin is non-toxic, and moisture- and air-resistant. The stem of the rose is covered with 24K gold.
Key Features
Made up of 100% real rose
Freshness retained by resin
Stem dipped in 24 k gold
Unique gift for all special occasions
The plaque is made of high-quality natural real wood. It has curved edges for safety. The slot in the back makes wall mounting easier. The plaque is specially handcrafted by artisans from California. The message on the plaque mentions the time span the couple has spent together, categorizing it in days, weeks, months, and years.
Key Features
Plaque measures 7″x9″x3/4″
Top-quality natural real wood
Edges are curved
A routed slot in the back for wall mounting
Comes with a gift box
This couple's puzzle keychain set comes wrapped in small velvet jewelry pouches. It is hand engraved with a distinctive design. The keychains are made of stainless steel that will not tarnish or change color. It suits well for those with skin sensitivities.
Key Features
Designs are engraved with hand
Made of stainless steel
Ideal with stainless sensitivities
The board is made of walnuts/maple wood. Its surface is coated with a food-safe oil that preserves its quality and toughens it. While you can slice your veggies on one side, the other side can have the engraving of your loved one.
Key Features
Made of walnuts/maple wood
Coated with oil for durability
Two-sided cutting board
Available in different sizes
If your spouse is into cooking and likes to host parties, this bamboo cheeseboard/serving platter could be the ideal gift. It is made of bamboo that is grown without the use of any pesticides. It is 100% organic, safe, and biodegradable. The board has a continuous grove around its edges to hold crackers. It also has a double-drawer design that keeps the cheese knives accessible. The set comes with eight cheese knives.
Key Features
100% organic
Safe and biodegradable
Comes with 8 cheese knives
Unique double-drawer design
For couples who prioritize family over everything else, this could be the perfect gift. This handcrafted sculpture represents a family of 4. It is made of bronze and is lined with velveteen to protect the furniture from any damage. The sculpture is 7 inches high, 3 inches long, and 2.5 inches wide.
Key Features
Made of bronze
Velveteen lining for additional protection
Creating by the sand casting method
This wooden artwork has an engraving of the amount of time the couple has spent together. It is made of solid beech wood. Thanks to its durability, it also can be kept as a memoir of the marriage anniversary.
Key Features
Developed with a unique process
Made with superior quality solid beech wood
Is 11 inches long and 8.5 inches wide
If your wife likes jewelry, this could be the perfect gift for her. This jewelry box is made of durable zinc alloy. It can be used for storing rings, earrings, and other pieces of jewelry. The heart-shaped box has a soft black velvet interior.
Key Features
Heart-shaped
Small size; fits easily in any wardrobe
Soft black velvet interior
Made of durable zinc alloy
This gift consists of two gold plated hearts with special Matashi crystals suspended from within. Beneath the hearts is a banner with the engraving "Happy Anniversary." The figurine has a stable base that you can use to spruce up your desk to as a table top décor item. This product comes secure in a velvet pouch nestled within a luxury gift box.
Key Features
Has precision cut Matashi crystals
Can be used as a décor item
Luxury packaging
10-Year Marriage Anniversary Gift Ideas For Him
Did you marry a whiskey connoisseur? Then, this could be the perfect gift for him. This set features the decanter in the shape of a globe that contains an antique ship. The set comes with a decanter, and four matching whiskey glasses. All of these are fitted onto a mahogany tray. While the decanter's capacity is 850 ml, each of the glasses can hold 300 ml of the drink.
Key Features
Comes with 4 whiskey glasses
Decanter capacity is 850 ml and each whiskey glass is 300 ml
Gold stopper adds a touch of elegance
Add a royal touch to your 10-year marriage anniversary by gifting your husband this set. It contains two gorgeous crystal glasses, coasters made of real slate stone, and drinking stones made of 100% natural granite. The stones are non-porous, tasteless, odorless, and FDA-approved. The entire set comes in a royal wooden box that adds an elegant look to one's bar area.
Key Features
8 whiskey stones, 2 glasses, and 2 coasters
Stones are non-porous, tasteless, and odorless
FDA-approved stones, 10% granite make
Stones do not scratch the glasses .
Coasters made of real slate tone.
These cufflinks come in the shape of a US 2010 coin. They are 12 mm high and 4 mm wide. The cufflinks are presented in an attractive box. These are the perfect gift option for history lovers as well as for husbands who often wear formals to different occasions.
Key Features
12 mm high and 4 mm wide
Come in a cufflinks box
100% satisfaction guaranteed
This BBQ Smoker Box Set would appeal to the foodie and culinary expert in your husband. It comes with six pieces and many barbecue accessories for you to cook to your heart's content.  It contains a stainless steel grill smoker box, a grilling thermometer, three flavors of wood chips, an instruction manual, and a pack of hickory-smoked sea salt. The grill smoker box is made of stainless steel, and is durable.
Key Features
6 piece box set
Stainless steel grill smoker box
Hickory-smoked sea salt
Keeps ash particles off the grilled food
Accompanied by an accurate grilling thermometer
If your husband is an avid traveler and is constantly facing issues with packaging his essentials, this leather toiletry bag may just be his perfect companion. It is a lovely handcrafted brown pouch that is 50% thicker than usual. It is highly durable. The bag is made of 100% genuine, hard-wearing water buffalo leather. The compartments have protective water resistant linings.
Key Features
Made of 100% genuine water buffalo leather
Durable
Water-resistant linings
Multiple compartments
Here is something rustic to add to your home interiors. This ornament is made of 100% natural wood. The text on the bark is digitally printed. It can be a special decorative anniversary ornament.
Key Features
Customization of names and dates
100% natural wood
Durable
This gift is perfect for couples who love to travel the world together. Gift your husband this map and ask him to mark all his favorite travel escapades. You can use a coin to scratch off the gold coating and reveal the countries you have been to. The map contains over 10,000 cities and other places to mark. It is made from high-quality laminated paper and can last for years.
Key Features
Lightweight map
Mentions over 10,000 places and cities
Made from high-quality laminated paper
Comes in a tube for easy wrapping
Aluminum And Tin 10-Year Marriage Anniversary Gifts
This set would make for a simple yet durable 10-year anniversary gift. The set contains two mugs. They contain double-walled steel insulation that works well both for hot as well as cold beverages. The mugs are shatterproof. They are easy to clean. They are made of 18/8 stainless steel that won't tarnish or rust. They are free of toxins, like BPA.
Key Features
14 oz capacity
Durable and shatterproof
Rust-free
Tarnish-free
BPA-free
Easy to clean
Made of 18/8 stainless steel
Dishwasher-safe
This tin rock is made of solid metal and weighs 200 grams. The 100% pure tin is polished to a shine. It has the words "You are my rock 10 years" engraved on it. The gift comes packaged in wood straw. The packaging also contains a little slip with a story of where the rock came from. The tin rock can also double up as a paperweight.
Key Features
Weighs 200 grams
Made of solid metal
100% pure and polished
Thoughtful engraving
Packaged in wood straw
The necklace is made of 100% tin. It is embossed with a subtle 10 to mark the ten years of togetherness. The necklace is appropriately hammered and polished for a rustic effect.
Key Features
Made of 100% tin
Embossed with a subtle numeric 10
The set comes with four aluminum tumblers of different colors. These metal cups have a capacity of 16 ounces each. They are ideal for drinking by the side of the pool or within your home. You can add a little color to your married life by picking these colorful tumblers.
Key Features
A set of 4 tumblers
Available in different colors
Won't shatter like glass
This tin bangle has an internal diameter of 67 mm. It is manufactured in the UK. You get a matching set of bangles that will remind you of your long journey. The bangles have the message "10 Years" engraved that serve as reminder of the time spent together.
Key Features
Matching set of tin bangles
Comes with an engraved message
Imported from the UK
This infinity sign is made of high quality aluminum and tin. It is hand-forged with a nice copper wire and a heart. The sign is 10 cm high and 20 cm wide. The sign is made of 100% aluminum and is lightweight.
Key Features
Made of 100% aluminium
Hand-forged design
This set is made of 100% tin. The purity of the tin can be confirmed with the tin purity stamp. The hammered effect gives the tin a much elegant appearance.
Key Features
Made of 100% tin
Hammered tin effect
Tin purity stamp
Weighs 1.6 ounces
This is a wooden engraved piece with an iron-and-metal finish. It has a small tin effigy of a couple along with a lovely message. It also has a tin tree with provisions for adding pictures of the couple. There is a clock to the side, and the entire showpiece can be used as a décor item.
Key Features
100% unique design
12 inches high and 17 inches wide
Handcrafted artwork
This beautiful pocket watch is just 4.5 cm in diameter. It comes with a chain that is 40 cm long. The pocket watch has an engraved message that reads "To my Husband: I loved you then, I love you still; Always have, Always will". The pocket watch is black.
Key Features
Made of metal alloy
Ideal size
Comes with an intricate engraving
Diamond 10-Year Anniversary Gifts
This is a 2 pound-pack of 25 carat acrylic diamonds. The diamonds are crystal clear and can be used for decorative purposes. Get these diamonds to add to your table centerpiece. This will make dinners a little more fancy and a lot more special. They will enhance the interior design of your house and are definitely worth the price.
Key Features
110 pieces
25 carat diamonds
Gift your wife this amazing piece of jewelry on your ten-year wedding anniversary.The shine and shimmer are flawless. The box clasp makes it durable and easy to wear. Additionally, the diamonds are tested through a thorough process so that you give your wife only the best of it all.
Key Features
This diamond comes with I3 clarity.
Available in different colors: white, silver, yellow, and pink
Easy and simple gift wrapping
These are a pair of solitaire earrings made of white gold. The 3.64 carat earrings are sold by Clara Pucci in the US. These are of the highest quality and have a VVS1 clarity. These solitaire earrings would be great anniversary gift for your wife.
Key Features
Highest quality earrings
Clarity of VVS1
3.64 carat earrings
These Diamond Leverback Drop Dangle Earrings by Clara Pucci have a VVS1 clarity. The side stones are all of the highest quality. They are made of real solid 14K white gold.
Key Features
Clarity of VVS1
Solid 14K gold designed earrings
Manufactured and designed by Clara Pucci
The ring is made of 100% genuine, conflict-free diamonds and gemstones. It has 15 gemstones arranged in a prong setting. This custom-made piece of jewelry is certified by GIA/IGI/DGLA. It comes gift wrapped in their signature red jewelry box. It is made of 14K white gold.
Key Features
100% genuine
Certified by GIA/IGI/DGLA
Complimentary 180-day warranty
These diamond stud earrings are IGI-certified. These lab-created diamonds are more eco-friendly and sustainable when compared to their earth-mined counterparts. The process results in fewer carbon emissions and less energy and water usage. The diamonds comply with the Kimberley Process to ensure they are conflict-free.
Key Features
Eco-friendly
IGI-certified
Conflict-free
This lab-created halo diamond ring is set in a 7-stone diamond cluster. It represents everlasting love. The ring is IGI-certified and made of 14K white gold. It comes in a one-piece jewelry gift box. It also has a microber cloth for easy cleaning.
Key Features
1.47 carat diamond ring
Lab created and eco-friendly
Superior quality
Other 10-Year Marriage Anniversary Gifts
These diamond-shaped large wine novelty glasses are as much as a treat to the eyes as they are to your pocket. These tall glasses are hand-blown through 26 intricate procedures. The glasses come packaged in a recyclable Kraft cardboard boxes. The craft masters make only 2,000 of these glasses in a year. Each glass of this set of 2 can hold 700 ml of wine.
Key Features
Set of 2 glasses
Come in recyclable packaging
Each glass holds 700 ml of wine
If you want something classical or traditional, you can go for the silver crystal bowl. It is made of select octagonal K9 crystal beads. It also can be used for storing candle lanterns. The bowl also comes with pretty rhinestones that are ideal as centerpieces.
Key Features
Available in 4 different sizes
Also can be used for candle lanterns
This watch is made in Japan and is considered one of the most reliable in the industry. It is handcrafted with 100% natural wood. No harmful colors or chemicals have been used. It is lightweight and can fit comfortably around one's wrist. The watch is personalized. The back has an engraved message that reads "I love you more every day".
Key Features
Made of 100% natural wood
No chemicals or harmful colors
Comes with an engraved message
This is a metal rose sculpture consisting of two roses that are intertwined with each other. The sculpture is 30 cm long. The sculpture can be put on the table, shelf, or the fireplace as a décor item.
Key Features
Durable and long-lasting
Is 30 cm long
Weighs 12 ounces
There is nothing like letting your husband or wife know that you respect their personality. Most perfect marriages are an ideal mix and match of both personalities. What better than getting a beer glass paired with a wine glass to keep the balance of fun and class that holds your marriage together. The set comes with a 16 oz beer glass and a 12.75 oz wine glass. The glassware is made using food-grade safe ingredients. The prints are made of organic ink.
Key Features
Food-grade safe
Prints are made of organic ink
Dishwasher-safe
This polished stone has an engraved, heartwarming message. It is about 2 to 2.8 inches in length. It is a natural stone that displays the love you have for your best half. The stone comes well packed in a velvet bag and a beautiful gift box.
Key Features
A durable rock
Affordable
Comes in an elegant packaging
This set of two high-quality, long-lasting ceramic mugs come with a unique design that doesn't wear off. Each mug has a 11-ounce capacity. The mugs are both microwave-  and dishwasher-safe. The smooth ceramic stoneware of the mugs resists scratches.
Key Features
Cadmium- and lead-free
Microwave-safe
Dishwasher-safe
Scratch-resistant
Couples that explore the world together stay really close. This book is written by Mike and Anne Howard, who happen to be the world's longest honeymooners. They bring together recommendations of several destinations and cultures across the globe in the book. A large map in the book shows all the locations covered.
Key Features
Paperback book
Affordably priced
Detailed
This hand-sculpted figure by Willow Tree is made of resin. It can be readily displayed on a shelf, table, or mantel. The figure is also painted by hand. It symbolizes closeness, healing, courage, and hope.
Key Features
Hand-sculpted and hand-painted
5 inches tall
Easy to clean and maintain
This cryptex allows you to tell your beloved a little secret by writing on a small note and putting it in a puzzle lock. The cryptex is 14 cm long. The default password is iloveyou, which can be changed as you please.
Key Features
Comes with a hidden compartment
Ideal for leaving secret messages
Is 14 cm long
The metal card is the size of a regular credit card. The card is made of stainless steel. It contains a permanently engraved message. You can keep it in your wallet and keep getting reminded of your loved one as you see it every day.
Key Features
Stainless steel card insert
Engraved with a heartwarming message
Fits in your wallet
We are sure that with such a large repository of ideas, you would find just the perfect gift for your better half! Pick any of the gifts listed and make your 10th wedding anniversary extremely special.