108 Surya Namaskar – What Is The Right Schedule To Follow?
Boost your flexibility while relaxing your soul to achieve a healthy body and mind.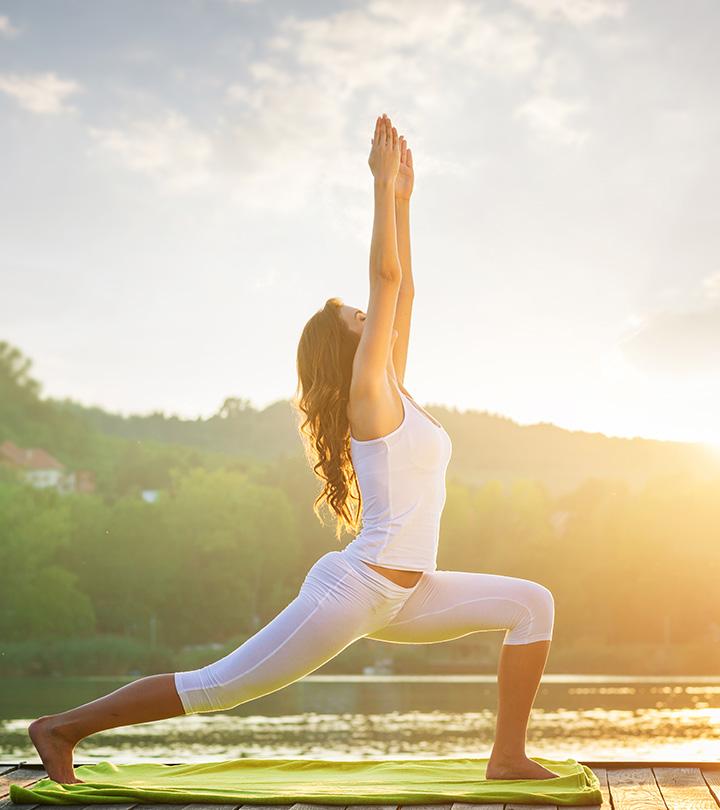 We often hear about the term Surya Namaskar (Sun Salutation), but many of us hardly make an effort to include it in our fitness regime. Leave alone 108 Surya Namaskara (108 sets), many even struggle to complete a few sets perfectly. Of course, it is difficult for beginners even to imagine themselves doing it 108 times. But, give yourself a few weeks, and you are almost there. But, many of us falter at one aspect — consistency, which can only be achieved through discipline. Renya Cohan, a yoga teacher, says, "Doing 108 Surya Namaskar a could take 90 minutes to 3 hours or more, it just depends on the practitioner. It is a physically challenging sequence, and doing 108 twice a day would be exhausting and honestly unnecessary. A person new to Yoga Asana could potentially do 108, just depending on their pre-existing fitness level, but it would be a challenge for most."
From increased flexibility to a stronger spine, the benefits of this 'yogathon' challenge are wide-ranging. But how do you get started with this humongous task? Well, we are here to help you. In this article, we have developed a schedule that will help you scale up your reps to 108 over a few weeks. Besides, we also explore its many benefits and who should consult a doctor before embarking on this 'yogathon' of Sun Salutations. Keep reading.
Benefits of 108 Surya Namaskar
So, why would anyone be crazy enough to do Surya Namaskar 108 times? Any yoga novice who has seen what it involves would balk at the idea. Yet, on April 7, 2012, millions took this same 'Yogathon' challenge and completed it successfully. Here are some benefits of doing 108 Surya namaskars:
Different muscle groups are stretched and contracted alternatively – no muscle strain
Increased flexibility and stamina
Cleansed chakras or nerve centers
Deep breathing cleanses the respiratory system
Flatter abs, stronger spine, firmer muscles – need I say more?
Makes you mentally calm and improves concentration
Barbara, a blogger, shared her experience of attending a 108 Sun Salutations (Surya Namaskars) class to welcome the winter solstice: "The repetitive movements were meditative. My thoughts settled into the movement and breath. I felt calm and clear (i)."
In addition to these benefits, it is claimed that performing 108 surya namaskars may aid weight loss. Although there is no direct evidence for this, it may indirectly promote healthy weight management. Scroll down to know more.
108 Surya Namaskar For Weight Loss
Helps Burn Calories: Surya Namaskar may help burn calories effectively, thus aiding weight loss.
Helps Boost Metabolism: This yoga sequence may rev up metabolism, making it easier to manage your weight.
Help Manage Stress: Practicing Surya Namaskar may also reduce stress. This is important because stress often leads to overeating, causing weight gain.
The potential benefits of performing this namaskar 108 times can be reaped when coupled with a well balanced diet.
A study published in BMC Complementary and Alternative Medicine noted the impact of quiet rest and yoga on anxiety levels perceived by individuals. Women were divided into two groups; one received a 30-minute yoga session and another was seated and rested. They were then exposed to a number of emotionally charged images. Their levels of anxiety were noted before intervention (baseline), after a session of yoga/rest (post-condition), and after the images were shown (post-exposure). As the graph indicates, both yoga and rest were found to considerably lessen anxiety levels, but those who practiced yoga responded less anxiously to the emotionally charged images.
State Anxiety Scores For Yoga And Rest Conditions
Source: The effects of yoga and quiet rest on subjective levels of anxiety and physiological correlates: a 2-way crossover randomized trial

Trivia
Surya Namaskar targets the Manipura chakra, which is responsible for higher self-esteem, confidence, vigor, and digestion.
How to Prepare Your Body and Mind for the Challenge?
The Surya Namaskar 108 challenge can be a daunting one for many. It is advised that novices, pregnant women, and patients of backache avoid this routine without consulting their doctors first. The expert brave hearts, however, may begin planning and preparing well in advance. Remember, it won't happen in a day. You need to first assess your physical condition and stamina. The schedule given below follows a pattern spread over a month; follow the schedule to avoid stress related injuries and dejection of failure. Further, don't push yourself too hard. It is not a competition to be won, but a health summit to be attained. Stay hydrated, eat well and don't forget to take timeouts for rest. Lastly, remember that this schedule is not engraved in stone. You know your body best, know your limits and be prepared for a delay of a couple of days before you reach your ultimate goal of 54 sets of Sun salutations.
Reaching the 108 pinnacle
The 108 sun salutation is hailed by many celebrities and yoga buffs as the elixir of a young body and mind. It is a combination of asana and pranayama and helps improve the overall wellness of the mind and body. mentioned that the body and mind require rest after each session as they increase in pace. Therefore, you must warm up your body before you start the Surya Namaskar series, and cool down the body in Shavasana, at the end of the series. Also, it is important to breathe mindfully while doing it.Tom Miller, a certified personal trainer, says, "Remember that the purpose of Surya Namaskar is to send fresh Praan to each and every body area. Without adequate breathing, the practice loses all of its value. Don't perform Surya Namaskar unless you have mastered when to inhale and exhale. Always practice mindfulness and focus on your breathing while performing each of the 12 positions. The transition of body movements from one position to another is facilitated by inhaling or exhaling. Remember to breathe ONLY via your nose. Inhaling through the nose (nasal breathing) induces calm, filters and warms the entering air, and decreases the breathing rate." In the end, you can also practice yoga nidra or savasana for relaxation. Remember not to skip any days on the suggested schedule.
| | Day 1 | Day 2 | Day 3 | Day 4 | Day 5 | Day 6 |  Day 7 |
| --- | --- | --- | --- | --- | --- | --- | --- |
| Week 1 | 4 sets | 8 | 12 | 16 | 20 | 24 | Rest |
| Week 2 | 24 | 24 | 24 | 24 | 24 | 24 | Rest |
| Week 3 | 36 | 36 | 36 | 36 | 36 | 36 | Rest |
| Week 4 | 48 | 48 | Rest | 54 | 54 | 54 | 54 |

Trivia
In yogic practices, the number 108 signifies spiritual completion. There are said to be 108 energy lines, or nadis, in our bodies that converge to form the heart chakra. Meditation and sun salutations together can help awaken spirituality.
The Art of Living
 foundation 
suggests a further regimen of two weeks after attaining the 108 Surya Namaskar challenge where one reverses the salutations, gradually falling back from 54 sets to 6 sets a day.
Infographic: Key Tips To Prepare Your Body For 108 Surya Namaskaras
Achieving a healthy body and mind is essential for a fulfilling life. Performing 108 surya namaskaras can be your goal to relax yourself. But the process of getting ready is not as simple as you think – as overdoing the routine may cause more harm than good. Check out the following infographic to learn about the key tips to prepare your body before you do 108 surya namaskaras.



The benefits of performing the 108 sun salutations, also known as Surya Namaskars, are numerous, ranging from enhanced flexibility to a stronger spine. This deep-breathing exercise cleanses the respiratory system while calming and balancing the mind. However, novices, pregnant women, people suffering from high blood pressure, hypertension, hypotension, heart problems, slipped disc, or any other back issues and backache patients should seek medical advice before trying out this schedule. In addition, the exercise mentioned above follows a monthly pattern, and you should stick to it to minimize stress-related ailments. Finally, keep in mind that the schedule is not set in stone. You know your body best. So, recognize your limits and be ready to achieve your ultimate objective of Surya Namaskars.
Frequently Asked Questions
How many calories do you burn in 108 Surya Namaskar?
Since one round of Surya Namaskar burns 13.90 calories, you may burn 1,501.2 calories in 108 Surya Namaskar.
Is Surya Namaskar better than walking?
Although walking may improve the function of your lungs and heart, Surya Namaskar is known to have more physiological benefits. It can boost circulation, and the respiratory system, and improve endurance (1).
Is Surya Namaskar enough exercise?
Yes, it offers a complete body workout. It strengthens the muscles, tones the body, and burns calories. It can also help solve breathing issues and increase mental peace as discussed in the article.
Is Surya Namaskar better than running?
Yes, it is better than running because it utilizes more muscles than when we run. As per anecdotal evidence, 30 minutes of Surya Namaskar can burn more calories than running for 30 minutes.
Has anyone lost weight by doing Surya Namaskar?
Anecdotal evidence suggests it has helped people lose weight. However, one should also follow a proper diet and be consistent with the practice to get results.
How many Surya Namaskar per day is good?
Though doing 108 Surya Namaskar per day is considered the best, it may not be possible for everyone to do so. Therefore, doing at least 12 sets per day can also help avail its benefits.
Key Takeaways
Practicing Surya Namaskar 108 times helps improve your physical strength, deeply cleanses the respiratory system, and instills a sense of calm.
Eat well, drink plenty of water, and rest enough to prepare your body for Surya Namaskar 108.
Avoid overdoing the Surya Namaskar 108 if you have back issues or are pregnant.
Cool your body down Shavasana to relax the body.
Lose weight and get fit with the 108 sun salutations given in the video below. Feel the power of Surya Namaskar and transform your body and mind.
Personal Experience: Source
i. 108 Sun Salutations and the Winter Solstice
https://yogawisdomforeveryday.wordpress.com/2010/12/20/108-sun-salutations-and-the-winter-solstice/
Sources
Articles on StyleCraze are backed by verified information from peer-reviewed and academic research papers, reputed organizations, research institutions, and medical associations to ensure accuracy and relevance. Read our editorial policy to learn more.
A comparative study of slow and fast suryanamaskar on physiological function
https://www.ncbi.nlm.nih.gov/pmc/articles/PMC3193657/
The following two tabs change content below.