11 Types Of Nail Stickers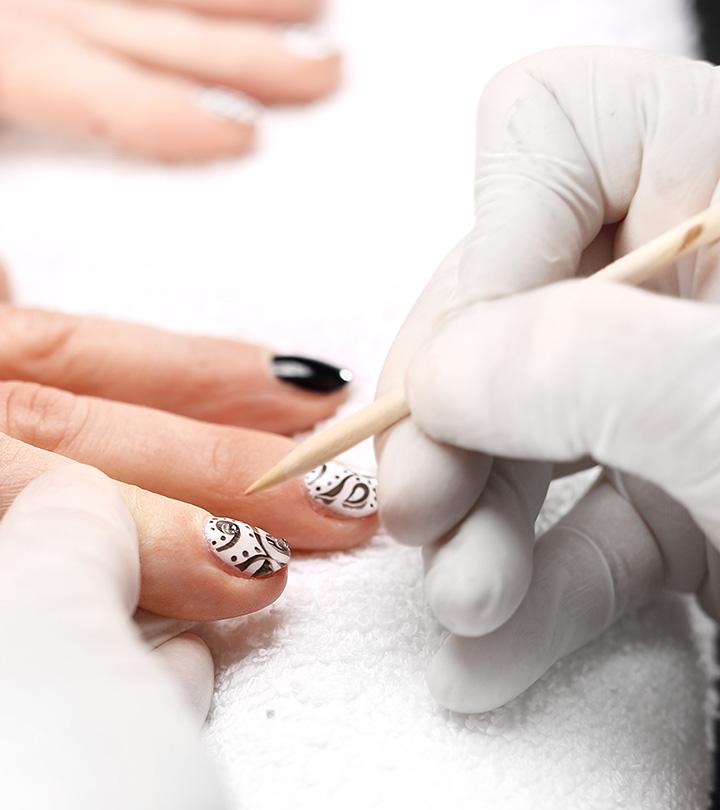 DIY manicures are a more affordable and hassle-free option than paying expensive visits to the nail salon now and then. There are different types of nail stickers available on the market that you can apply easily by following the right tips and tricks.
These pre-designed stickers look gorgeous, and you can get them in different designs. All the nail art lovers who can't create free-hand designs will love these stickers. The stickers are self-adhesive, and you get them in various colors and patterns. Scroll down to get the perfect DIY manicured nails from the comfort of your home!
Different Types Of Nail Art Stickers
Different types of sticker are elaborated on below. Try them for maximum results.
Type 1: Plain stickers with adhesive backing
These come in a variety of designs from flowers to cartoon nail art .They are very easy to apply, just peel and stick. You just have to be creative and there is no limit of beautiful manicures you can get. They are very pocket friendly.  I recently had used angry bird stickers to create this blue angry bird nail art.
Type 2: Lace nail art stickers
Lace nail art stickers are very similar to above nail art stickers but the only difference they come in stripes . You have to cut the lace sticker according to your requirement and then stick it on your nails. They also come in many designs and colors. I used  two different types of lace patterns to create this look. They really look gorgeous when you apply them.
Type 3: 3D nail stickers
They have 3d effect to them. They too have adhesive backing and they can applied by just peel and stick method.They come in many designs and look very beautiful! Especially the floral ones.
[Read:Nail Art Designs For Beginners with Tips]
Type 4: Fimo nail stickers
These stickers are made up of polymer clay and they come in so many cute designs. These are available in the form of sticks or pre-cut shapes. For sticks, first you have to cut them as thinly as you can, then stick them to your nails. You can stick them using good clear nail paint or using nail glue.
Precut fimo pieces are stored in wheels where can you see the variety of designs they come in. (this pic is of my personal fimo stash)
Fimo sticks
Type 5: Metal nail art stickers
As the name suggests they are made up of metal and they too come in many designs. They can be used for creating accent nails in your manicure. They are stuck using nail glue and are also known as metal decals.
These wheels contain many 3d nail stickers including metal, fimo and acrylic stickers.
I used hello kitty metal nail art sticker to create this look.
Type 6: Acrylic nail art stickers
Acrylic nail art stickers are same as metal ones, the only difference is they are made of acrylics. They look very chick and beautiful.
I used acrylic bow to create this nail design. It did not really consume much time. They are quite easy to do, once you get a knack of it.
I used acrylic flower to create this one.
[Read:Full Nail Water Decals]
Type 7: 3D silica gel stickers
They are made of silica gel and they are very soft and bendable. You need a good clear polish or nail glue to stick them on your nails.
Type 8: Full nail stickers
These stickers are for covering your whole nail and though they are easy to apply, you still need some practice to get them right.
Type 9: Gel full nail stickers
They have two layers and gel like material is filled between these two layers. I have not used them yet but I have one set of these stickers.
[Read:How to Apply Nail Extensions Perfectly?]
Type 10: French tip sticker and French tip guides
French tip sticker covers the nail tips and they are used to create very beautiful nail art patterns. They come in many designs.  French tips are also a form of stickers which serve as a guide to create French tips, they are removed after painting the tip.
French tip nail art stickers  are applied using peel and stick method and they cover only the tips of your nail you can adjust their size by filing the excess.
French tips guides in different shapes.
Type 11: Water slide nail stickers or water decals
You have to dip them in water first to remove their back sheet and transfer them to your nails. They come in many designs for full nails too.
Water decals small design and full nail ones. I created following nail arts try to using these nail art at home:
Here you can see I have used two types of stickers, hello kitty water slide stickers and fimo bow stickers. You can always use two or more types of stickers to create amazing nail arts.
You have to be creative and there is no limit to what you can create! Have fun and keep it stylish!!!
Nail stickers are a more hassle-free and affordable option than a visit to your salons. With the different types of nail stickers out there, you can easily do your own manicure at home. These stickers are self-adhesive and are convenient for all of us who are not pros at free-hand design. You can go for simple stickers with adhesive backing, lace nail art stickers, or stylish acrylic nail art stickers. What's more, you can mix and match different types of stickers to create the look of your choice!
The following two tabs change content below.