76 Stunning Celebrity Hairdos For Women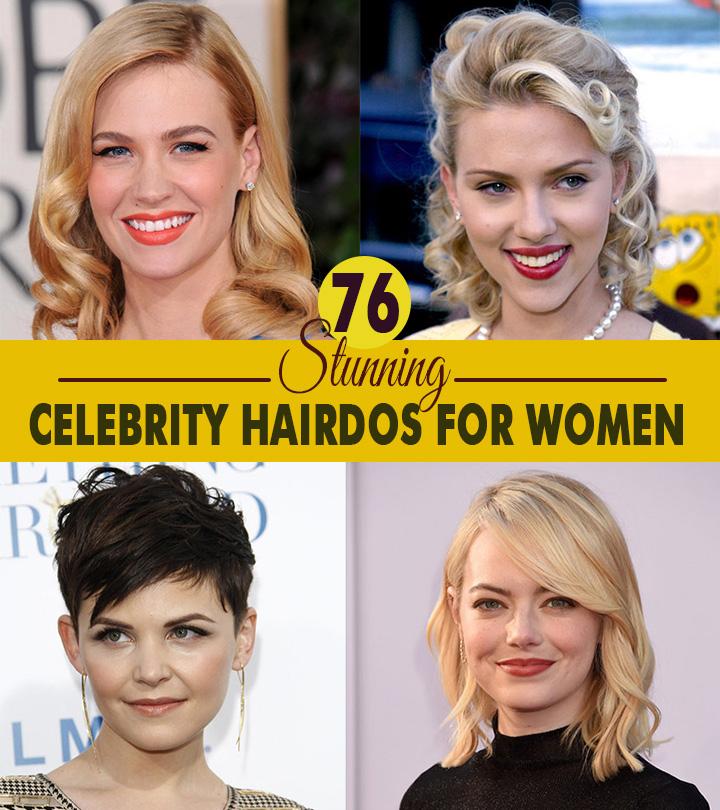 We've all been there, following a particular celebrity and copying their style. Let's make it official! Celebrities are trendsetters all over the world, whether it's with their clothes, makeup, or hair. They work with hairstylists who give them the best hairdos. So, let's take a look at some of their trendsetting hairstyles. Here are 76 stunning celebrity hairdos that you should check out this year!
76 Stunning Celebrity Hairdos For Women
1. Adele's Big Curls
Adele's voice is like an angel! So, it is only fair that she would pick a hairstyle that compliments her voice. You too can achieve this stunning look with some hair rollers, hairspray, and a blowdryer.
2. Alyssa Milano's Long Layers
Alyssa Milano is best known for her role as a witch in Charmed. Her beautiful long layers have bewitched us all! If you want to frame your face, opt for layers like hers. That lovely light brown hair color draws attention to her dark eyes.
3. Avril Lavigne's Tri-Color Hair
Avril Lavigne's regular blonde and pink combo will always be iconic, coming second only to this uber cool tri-color blend. The hues of pink and green match blend well with her natural blonde hair and skin tone to create an awesome punk-rock look.
4. Blake Lively's Classic Half Updo
The only thing that can elevate Blake's blonde waves are her phenomenal half updos. These half updos flaunt her face shape and hair texture flawlessly. They also go with almost every outfit!
5. Carmen Electra's Long Blonde Multi-Faceted Curls
Did you know that Carmen Electra's real name is Tara Leigh Patrick? And that she started out as a singer whose debut album was produced by Prince? These accomplishments of hers are as impressive as are her stunning curls. You can recreate these curls with a round brush and a blowdryer.
6. Demi Lovato's Long Vampire Red Curls
Demi Lovato has sported many sensational hairstyles, but none of them are as iconic as her red curls. For these curls, you will need a curling iron with a large barrel or big hair rollers. Apply mousse to your hair before you curl it. It will lock in the curls and give them a nice gloss.
7. Emma Watson's Waves
Emma Watson looks stunning in this wavy baby bangs hairdo. Her heart-shaped face looks more slender and long thanks to the baby bangs. The baby bangs start off thick but thin out and spread nicely. The waves are light and breezy and work surprisingly well with the gown.
8. Ginnifer Goodwin's Pixie Cut
Ginnifer Goodwin knows how to rock a pixie cut. If you have wide cheeks, take a cue from Ginnifer's hairstylist and opt for uneven bangs. Opt for a messy pixie cut paired with short and long uneven bangs. Sweep the bangs to one side to make your face look longer.
9. Gigi Hadid's Long Sculpted Spirals
Gigi Hadid has given us many stunning hairdos, but this one is my personal favorite. It is in the vein of the famous "Hollywood" curls look while still looking chill. Her dirty blonde curls and white attire accentuate her red lips and blue-green eyes.
10. Gwen Stefani's Hollywood Glamor
Gwen Stefani is known for her early pin-up punk hairdos. Although she now adds a bit more glam to her hairstyles, I think her pin-up hairdos were simply iconic. She blended retro and modern elements well with her hair and attire.
11. Heather Locklear's Shaggy Layers
Heather Locklear's shaggy layered cut is iconic! This layered cut is a straightened shag cut. The layers are slightly flicked out at the ends. It makes her face look slim and draws attention to her sharp jaw.
12. Hillary Duff's Side-Swept Long Locks
Hillary Duff has grown so much since her start as Lizzie McGuire. Her full fringe hairstyle in the show is a classic, but this side-swept hairstyle is too chic to ignore. To recreate this look, you'll need to weave your hair in a braid along with a thin strip of cloth.
13. Holland Roden's Wavy Red Hair
Did you know that Holland Roden majored in Molecular Biology and Women's Studies at UCLA? She wanted to become a real-life Cristina Yang before becoming an actor. I think her long red locks look the best when sculpted in flawless Hollywood waves. It flaunts her face shape and features brilliantly.
14. Janet Jackson Voluminous Layers
Janet Jackson has given us some killer hairdos over the years, but none were as perfect as her hair worn down. The key is volume! Her hair always looks voluminous, thick, and glossy with heavy layers.
15. Jennifer Lawrence's Half Up-Half Down Hairdo
Jennifer Lawrence sported this stunning Bardot-esque half updo look during the 2012 Hunger Games press tour. It looks vintage and cool. To perfectly recreate this look, you'll need to tease your hair at the crown to create the pouf. Then, tie your hair in a half ponytail. The slightly parted bangs bring out the classic look in this updo while framing your face.
16. Jessica Biel's Wavy Center-Parted Layers
If I ever meet Jessica Biel, I'm going to ask her the secret to her flawless light waves. You can see the wavy texture, but it's not very wavy at the same time. This hairstyle, paired with the bronde blend, is perfect for summer and autumn.
17. Julia Roberts' Auburn Waves
Vivian Woods is probably Julia Roberts' most famous roles. Although she's not a natural redhead, she could play Princess Merida just because of her hair color. I still believe her auburn waves suit her the best over her natural brown and blonde shades.
18. Karen Gillan's "Amy Pond" Look
Karen Gillan's most iconic hairstyle has to be her Amy Pond look. Though she's always flaunted her red locks with bangs, nothing beats the muted waves and messy center parting (sans bangs) look that she sported during her run on Doctor Who. The heavy layers help accentuate and streamline her jawline.
19. Kelly Clarkson's Asymmetrical Bob
This asymmetrical bob cut flaunted by Kelly Clarkson makes her look super chic. Her hairstylist paired an edgy bob cut with a frosted hair color blend to give us this killer hairdo.
20. Kelly Osbourne's Side Cut
Kelly Osbourne is one stylish woman. This shaved side cut hairdo really turned heads. It's beautifully paired with a glossy lilac shade. It's brilliant that she's used her penchant for style to broadcast a social message.
21. Kiera Knightly's Dark Brown Layers And Caramel Tips
Kiera Knightley's hair made news when she spoke about how she suffered hair loss from experimenting with it for her film roles. She started using wigs due to the heavy hair loss. Thankfully her hair is now back to its curly thickness.
22. Kristen Stewart's Messy Long Hair
Lately, Kristen Stewart has been rocking short hair. It looks incredible, but it's also what makes her messy long brunette hair even more classic. She rocks messy hair like no one else.
23. Lady Gaga's Platinum Hollywood Glamour Hair
Lady Gaga turned heads with this gown and hairstyle. Her platinum locks look sculpted in place. It's a great modern version of the classic Hollywood glam hairstyle. It contrasts with her black gowns but is classy and subtle.
24. Mila Kunis's Center-Parted Wavy Long Hair
Mila Kunis's hair is perfect. It looks even better when styled in waves. Her face shape is flaunted well thanks to the center parting. The layers and side bangs accentuate her jawline along with her facial features.
25. Minnie Driver's Below-The-Shoulders Curls
Minnie Driver's curls are stunning! She has paired her dark hair with some light highlights. They act as face-framing highlights, which draw attention to her eyes, nose, and mouth. Her sharp jawline looks more prominent thanks to the light layers and voluminous curls.
26. Nina Dobrev's Messy Updo
It's no secret that Nina Dobrev has silky smooth hair. She is also known for her on-point hairstyles. This one is no different. Her hair is textured with waves, and the front is styled in a loose pouf. The rest of her hair is tied in a messy low bun.
27. Sophie Ellis Bextor's Auburn Flip Cut
Sophie's dark hair creates a lovely contrast with her pale skin. It also brings out her eye color. The messy side parting brings her sharp face shape and nose in focus. Her hair is cut at the end in layers, which makes her neck look longer.
28. Jennifer Lopez's Voluminous Layers
Nobody does hair better than "Jenny from the block." She always flaunts her hair in stunning hairstyles. She has also sported weaves to give her tresses more volume. It looks beautiful!
29. Miley Cyrus' Crisp Waves And Center Bangs
Miley Cyrus showed up at the Avengers: Endgame premiere rocking crisp blonde waves, giving us major Hannah Montana vibes. She paired the waves with light center bangs parted at the center. Perfect!
30. Michelle Obama's Medium Layers
Michelle Obama is the personification of style, class, and sophistication. While her hair is naturally kinky, she flaunts relaxed hair so naturally. Her hair is lifted at the top to add volume. The ends are cut in smooth layers.
31. Rihanna's Long, Curly Balayage
Queen RiRi knows what looks great on her! She can pull off any hairdo. Her highlighted hair is styled in big curls here. It pairs phenomenally with her red dress and red lipstick. The curls show off her jawline.
32. Selena Gomez's Cherry Coke Layers
Selena Gomez always floors us with her stunning hairstyles. But, her long curly layered hairstyle has always been my favorite since her Wizards Of Waverly Place days. She took this hairstyle up a notch with the Cherry Coke auburn hair color.
33. Jennifer Aniston' "Rachel" Cut
Jennifer Aniston and Chris McMillan gave us all a hairstyle for the ages: The Rachel. The short and sharp layers took the whole world by storm, so much so that women everywhere were lining up at salons to get it. To this day, it's still a firm favorite.
34. Carrie Underwood's Side-Swept Bangs And Beachy Waves
Carrie Underwood is country music's blonde poster child. This artist has not only killer vocals but also incredible hair. She is sporting big curls here. These curls add texture to her hair and make her hair look thicker. They also make her face looks slimmer.
35. Kim Kardashian's Long Layers And Blunt Cut Bangs
Reality star Kim Kardashian always styles her hair wonderfully. This long layered hairstyle is no different. The layers are choppy and sharp and, paired with the front bangs, draw attention to her facial features.
36. Jessica Alba's Light Ombre Bob
Beautiful Jessica Alba surprised us all with this stunning bronde ombre bob. The shades of brown and blonde go well together and show off her skin tone well. Paired with the deep side parting, this cut looks amazing.
37. Beyonce's Rounded Curls
Queen Bey has always stunned with her hairstyles. But, I love this look from 2006! She rocks big waves that end in big round curls. The curls and waves are paired with layers that show off her face shape.
38. Halle Berry' Classic Pixie
No one pulls off a pixie cut like Halle Berry. She has always said she loves short hair, and it suits her perfectly. She has an oval face shape, which is why she can sport a short and sharp pixie cut flawlessly.
39. Taylor Swift's Basic Top Knot And Bangs
TayTay has given us a nice twist to the classic French twist hairstyle here. Instead of twisting her hair vertically, it's curled and pinned in place. Don't forget hairspray to keep the hairdo in place.
40. Lisa Rinna's Shag Cut
Lisa Rinna rocks a shag cut beautifully. The layers are cut sharp and outward. It makes her face look smaller and longer. The slightly parted front bangs draw attention to her facial features.
41. Vanessa Hudgens's Wavy Hair And Braided Crown
Vanessa Hudgens looks like she stepped out of a production of A Midsummer Night's Dream here. Her long hair has been styled in natural waves. Then a section of hair on the side has been braided and placed like a crown.
42. Eva Longoria's Voluminous Layers
There's a very obvious reason why Eva Longoria is with L'Oreal. It's her beautiful voluminous hair. The midway layers draw attention to her jawline, while the deep color shows off her skin tone and eye color.
43. Jessica Simpson's Golden Bob
This golden bob with copper highlights looks great. Take style inspiration from Jessica Simpson this year and opt for a face-framing, highlighted bob. The bob works gorgeously with Jessica's face shape.
44. Gina Rodriguez's Brown Ombre Bob
As much as I love her long wavy locks in Jane the Virgin, Gina Rodriguez's dark bob looks even more stunning. The light brown ombre not only flaunts her skin tone but also frames her face beautifully. It also adds depth to her hair, making it look thicker.
45. Hilary Duff's Tousled Waves
Looking for a summer hairdo? Look no further than 90s' teen icon Hilary Duff. Her layered waves are soft and lightly tousled. The dark roots add some height and depth to her hair and face.
46. Reese Witherspoon's Side-Swept Curls
Blonde poster child, Reese Witherspoon look gorgeous with this side-swept version of the evergreen Hollywood glam look. The deep blonde shade brings out her eye color. The curls are heavy at the bottom, accentuating her jawline and making up for the absence of a neckpiece.
47. January Jones' Sculpted Curls
Mad Men's January Jones stuns in this curly hairstyle. The curls have been sculpted with mousse, a round brush, and a blowdryer. It's another modern rendition of the classic glamorous Hollywood look.
48. Elisabeth Moss' Rolled Curls
Stunning Elisabeth Moss gives a modern twist to a retro bob style. The S-shaped bangs pairs well with the rolled curls at the sides. The dark roots and subtle highlights add depth to her hairstyle.
49. Viola Davis' Natural Afro
Viola Davis wears her kinky hair with pride! She looks absolutely beautiful. Her afro has been styled up to make her face look longer. This hairstyle also draws attention to her well-defined eyes.
50. Lisa Kudrow's Long Locks With Bangs
This one has some serious Phoebe Buffay vibes! The long locks with bangs work so well for Lisa Kudrow. Her hair has been cut blunt at the ends. The bangs bring out her stunning eyes.
51. Shailene Woodley Long Highlighted Hair
Shailene Woodley looks lovely with any hair length, but I love her long locks. The highlights add dimension and texture to her hair. The layers add style, and the ombre makes her hair look deeper and thicker.
52. Gabrielle Union's Messy Side Braid Hairstyle
Gabrielle Union sported this lovely messy side braid hairstyle way back in 2012. It's loose right near the face, drawing attention to her face shape. The rest of the braid is messy but not "falling apart" loose.
53. Mandy Moore's Blonde Bob
Mandy Moore's brown locks make her the perfect brunette poster child. But, her blonde hair also looks great. She tried this look way back in 2009 and hasn't gone back to blonde again. This honey golden blonde shade brings out her eyes, which normally blend with her dark locks.
54. Emilia Clarke Platinum Blonde Bob
I think the internet broke when Emilia Clarke took a page out of Daenerys' lookbook and went blonde. While it was not the same shade of blonde, the platinum shade really brings out her facial features. She looked uber cool with this look.
55. Jada Pinkett Smith's Short Bob
Jada Pinkett Smith was very vocal about her battle with alopecia, which paved the way for women of all races to talk about it as well. It is why she cut her hair short and still wears it that way. But she takes short hair to a whole new level with the way she styles it.
56. Kerry Washington's Naturally Kinky Locks
Kerry Washington is best known for her role as Olivia Pope in Scandal. Kerry, like Pope, is often seen sporting relaxed hair. But whenever she flaunts her natural kinky locks, it looks fierce. She looks stunning!
57. Jessica Chastain' Red Locks
Jessica Chastain is one of the few natural redheads in the industry. Her stunning red locks look amazing in slight waves. You too can achieve this look with a straightener. If you don't want to use heat, then weave your hair in a loose braid from halfway down at night. Open your braid in the morning to reveal your natural waves.
58. Mindy Kaling' Bronde Bob
Mindy Kaling surprised everyone with her short bob look on season two of The Mindy Project. But, it looks fantastic on her. The layers help frame her face while the bronde ends sharpen her jawline. She recently posted a picture of herself going blonde as an April Fool's joke, but I hope she goes blonde again because she rocked it!
59. Emma Stone's Bob
Emma Stone is a natural blonde! Her natural hair color is very similar to one she's sporting here. While she looks like a natural redhead, this bleached blonde bob looks great on her. It brings out her green eyes beautifully. The perfect curls draw attention to her jawline and make her hair look voluminous.
60. Julianne Hough's Sharp Pixie Cut
Julianne Hough's blonde hair always looks glossy, voluminous, and thick. This combed-down pixie cut is one of my favorite hairstyles of hers. It flaunts her face shape and facial features. It also showcases her thick hair. The subtle brown highlights add dimension to her locks.
61. Zooey Deschanel's Thick Bangs
I dare you to find an actress who flaunts bangs like Zooey Deschanel. She wears them well because she has an oval face. Her oval face and blue eyes, when paired with bangs and long hair, make her look like a quirky girl-next-door.
62. Kate Hudson's Dark-Rooted Blonde Curls
Kate Hudson is the blonde queen, but shocker: she is a natural brunette! You can see that here where she flaunts her dark roots with her blonde locks. Notice that the top of her hair is straight while the curls begin below her eyes. This accentuates her cheekbones and jawline while drawing attention to her gray eyes.
63. Candace Cameron Bure's Sharp Long Layers
Layers are a powerful hairstyling tool. They can make your face look leaner or longer. They can also accentuate specific facial features. Candace Cameron Bure shows us how to use layers to the fullest. Sharp layers below the jawline streamline it. They also flaunt her neck and make it look longer.
64. Chrissy Teigen's Straight-Ended Waves
Chrissy Teigen is a queen when it comes to style. While most women are looking for the perfect tousled waves look, I think heavy straight-ended waves are the best. They bring volume, texture, and thickness to your hair. The blonde highlights are used to frame your face while jazzing up the hairstyle.
65. Katy Perry's Purple Pin-Up Curls
Katy Perry's pin-up hairstyle is brilliant. It is stylish and aids in giving your hair a voluminous look. While she has experimented with many colors like blue, pink, and jet black, her dark purple curls look magical. They bring a touch of vibrance to a classic pin-up look.
66. Melissa McCarthy's Dark-To-Light Ombre
Melissa McCarthy slays with this brown-to-blonde ombre. The shades of brown and blonde match her skin tone while the wavy texture adds volume and slims down her face while covering her cheeks.
67. Salma Hayek's Natural Hair
In February this year, Salma Hayek posted a picture of herself flaunting her gray hair. She believes in embracing her age, which is a breath of fresh air in a world where everyone colors their hair. She has stopped dyeing her hair because she doesn't want to live the rest of her life pretending to be young. I raise a glass and bow my head to you, Salma Hayek!
68. Kellie Pickler's Curly Blonde Bob
Did you know that Kellie Pickler's song "Best Days Of Your Life" was co-written by Taylor Swift? This American country singer rocks the curly blonde bob like nobody else. The attention is completely on her hair since she's gone without jewelry and opted for minimal makeup.
69. Nicole Kidman's Red Curls
For me, Nicole Kidman's most iconic look was her fierce red curls. She slayed that look! If you don't know what I mean, watch Days of Thunder. While she looks stunning as a blonde, I hope she revisits her redhead look at least once more.
70. Scarlett Johansson Vintage Bob
Scarlett Johansson's blonde-to-red ombre in Avengers: Endgame had everyone going crazy. But, her blonde locks will always be on my list of iconic hairstyles. What makes her blonde locks even better are the well-placed curls that give them a vintage look.
71. Miranda Lambert's Straight Lob
Miranda Lambert's first solo debut album was platinum-certified! That's how brilliant this songstress is. This means she had to go to a lot of red carpet events where she always flaunted her blonde hair. While her long blonde locks look stunning, it's this short and slick lob cut that really stands out to me.
72. Marion Cotillard's Tucked Bob
Marion Cotillard steals our breath with this simple tucked-behind-the-ear bob. The sleek tuck is balanced well with a deep side sweep. This sleek bob is styled to draw attention to her face.
73. Kaley Cuoco's Layered Pixie
When Kaley Cuoco cut her hair in a pixie cut for the indie film Burning Bodhi, all of us were wondering what this would mean for Penny in The Big Bang Theory. Instead of going for extensions, we saw her sport the short cut on the show as well. This layered pixie cut is perfect for women with wide cheeks. The layers at the top give the hair a fuller look and add height, which balances the wide cheeks.
74. Megan Fox's Long Brown Waves
Megan Fox's long brown hair is a fashion statement. So much so that women have gone to their hairstylist asking for "Megan Fox" hair. It means they want thick brown locks that go wavy from midway down.
75. Constance Wu's Dark Blonde Hair
Constance Wu surprised everyone with this stunning blonde makeover. What's shocking is how well she wears the color! She truly is a chameleon when it comes to hair colors. The way she has styled this hair in pin-up curls is breathtaking.
76. Lucy Hale's Blunt-Cut Blonde Ombre
Lucy Hale is one stylish queen! This blonde ombre paired with a deep red lip color looks phenomenal. The ends are cut blunt and sharp-tipped. The blonde ends accentuate her jawline rather than soften it.
There is no dearth of style inspiration in Hollywood. All you need to do is find a celebrity whose style you resonate with the most. Which one of these celebrity hairstyles do you want to try out? Comment below to let us know!
Recommended Articles:
The following two tabs change content below.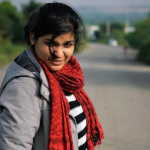 Latest posts by Anjali Sayee (see all)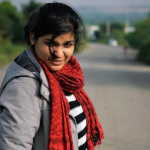 Anjali Sayee
Anjali Sayee is a writer and an introvert. From studying Aeronautical Engineering and wanting to design her own airplane to writing articles on hairstyles, she has been on quite a journey. She believes that hair is one of the key factors that define a woman's personality. To quote her, "What's the first thing they do in the movies to show a personality change? Change the hair – because it has a life of its own." She's here to help you find the hairstyle you need. This bookworm is a self-professed Wholocker, a talented drummer, and an amateur photographer.