12 Awesome Toe Nail Art Designs And Ideas For Women
From jewels to shimmery glitters, show off your nails with these trendiest & unique designs.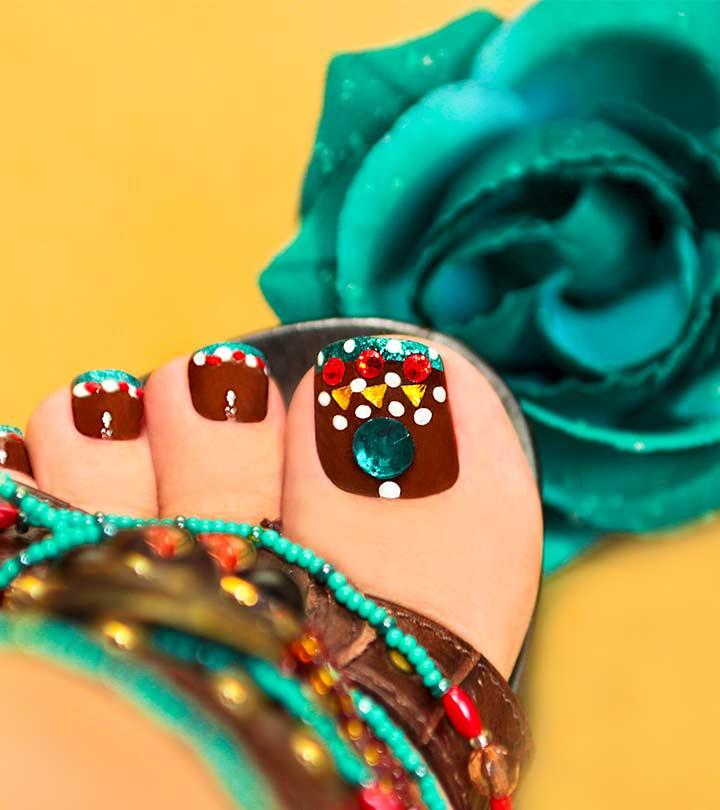 If you need some inspiration regarding nail art for toes, we have got you covered. Most of our Instagram feeds are flooded with beautiful nail art designs. While some of them are complicated, others are quite easy to achieve. There are various methods to perfect the look, and we are here to share them all.


Keep In Mind
Smooth Surface: Smooth Surface Use a nail buffer back and forth over each toenail to smooth its surface for toe nail art.
Cuticle Care: Smooth Surface Push back the cuticles with a cuticle pusher and oil to make more of the surface available for nail art.
Drying: Smooth Surface There are drying drops available to help the paint dry faster so that the nail art doesn't get smudged.
Aftercare: Smooth Surface Maintain your nails by avoiding exposure to water or any harsh chemicals that can cause the stickers to peel off.
From school girls to working adults, nail art is famous among every generation these days and for a good reason. It allows you to express your taste in art, literature, and other fields through colors and various aesthetic designs. This expression of creativity and aesthetics through a beauty trend is not as easy as it seems. The process requires patience and undivided attention while adding decorations and embellishments.
The designs available on various social media platforms can sometimes be overwhelming and look complicated. But trust us, if you know the process, you will ace the game. Our article will help you create unique designs for your toenails effortlessly. Swipe up!
Nail Art For Toes – Top 12 Ideas:
Nail art designs sync perfectly with any trend and from our collection you can draw inspiration for your next manicure and pedicure sessions. You can choose nail art patterns to match your personality or mood and add flair to your look.
Moreover if you love glitzy-glam nail art, then you will definitely try these below mentioned nail art designs for toes. These combine the power of glistening nail art accessories and glitter with the pretty powerful mood changing properties of high pigmented nail lacquers.


Fun Fact
The first record of nail art was from the Inca empire (1438-1533). The Incas decorated their nails by painting eagles on them.
Check out these 12 easy nail art ideas for toes which will make your foot look lovely…
1. Polka Dot Toe Nail Art:
Creating simple polka dots on toes look cool and very pretty. This gives vintage look. To create this look, you just need to paint your nails in any color and add contrasting dots using a dotting tool or tooth pick. When the design dries up, add a top coat.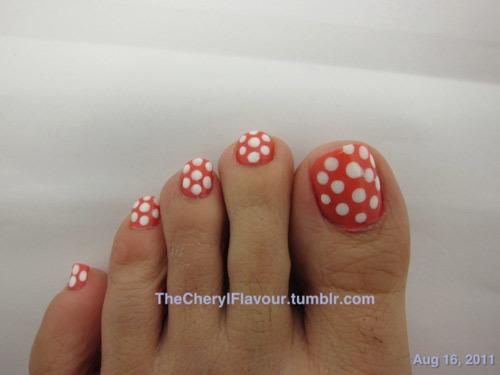 This simple Polka Dot design will surely grab eyes.
2. Half Moon Toe Nail Art:
Opt for a stylish ombre nail art style! Spice up the look of a monochrome nail polish with a contrasting glitter applied asymmetrically over the nails. You can also try stylish rhinestones that can easily be applied over wet nail polish.
Creating half moon on thumb of your feet and alternating the colors on other toe nails look very chic and quite easy to do. Your feet will not go unnoticed!


Trivia
You can further amp up the half-moon design by sticking rhinestones along the cuticles or gluing crystal studs toward the tip of the nails.
3. Stamping On Toe Nails:
One of the modern trends that are in peak is Nail Stamping Art. It is easy, quick and effective. You just need to apply or stamp the pre-designed images on your toes. Since other nails are very small to stamp, you can stamp on your thumb and use it as an accent nail.
This not only looks beautiful on your toes, but it gives gorgeous effect to it.
4. Floral Pattern On Toe Nails:
Floral toe nail art paint is the prettiest.You can paint the toe with a base color of your choice and then draw a flower on it.
If you are very good with free hand painting then it would be very easy to draw them on the toes, similar to one in the picture. Isn't this looking beautiful?
5. Multicolored Thumb:
You can paint multiple colors on your thumb and keep other toes simple. You can choose these colors that match your dress.
This nail art will look very elegant. This can also made funky by using glitters.
6. Five Dot Flowers On Toe Nails:
Creating five dot pattern flowers on the thumbs of your feet is very easy. You can also match your toenail art with the footwear and the dress you are wearing.
Look at the picture, isn't it looking spectacular? If yes, then why not give a try!

7. Lady Bug Toes:
Creating lady bug pattern on toes looks very cute and summerish! Lady Bug is also considered as good luck symbol.
You can then paint lady bug on your thumb using red and black colors. Red being the base color and on that you can draw black bug (dots) as shown in the image. Isn't this a versatile way to accentuate your feet!
8. Sticker On Toes:
Decorating your toes with sweet little stickers in fashion now a days. These stickers are easily available in the market. Choose whichever you like as per your mood or party theme!
Apply stickers or water decals on toes and give yourself a pretty look. It is easy and not time consuming at all.
9. Leopard Print On Toes:
Animal prints on feet look phenomenal! One such animal design is Leopard print. All you need is golden and black color nail paints. Color your toe nails with gold color and on that make black curves, as shown in the picture.
This is quite easy to do using nail art pens. You can also make it more interesting with pink hearts on it. You can also choose color of your choice to give it more innovative look.
10. Star Toe Nails:
Stars are easy to draw and adding these star patterns makes your toe look cute. You can also add glitter on nails and make it look very beautiful.
Apply some star shaped stickers to a glittery silver base to get the look just like this picture. Now you're all set for night parties!
11. Bindis Or Rhinestones Toe Nail Art:
If you are in a hurry and want to do nail art in few minutes, then you can create this look by sticking bindis on your toe nails. Apply a top coat and you are good to go!
A simple base color which matches your dress and on that the design which you like using bindis will look wow.
12. Stripes Toe Nail Art:
You can draw stripes on toe nail to make them look spectacular. You can choose the color according to the dress you wear and match it with footwear to make this look pretty. We have used here shades of blue, black and white.
A nice combination will make your toes look beautiful. They are very easy to do, Isn't it!
Infographic: Top 7 Creative Nail Art Ideas For Toes
Nail art is one of the best and most unique ways of self-expression. You can create your own looks to match your esthetics, personality, and tastes. You can create subtle or extravagant looks to uplift your mood or match them with your footwear or outfit. All you need are a simple dotting tool and nail brushes to create a myriad of designs. In the infographic below, we have listed 7 of the trendiest nail art designs for inspiration. Check them out!

The trend of nail art for toes is gaining popularity. This art has become a way to flaunt your style and is a value add to your makeover. Although this art may seem tough initially, you will get habituated with constant practice. It only requires patience and time to get perfect nail art. You can try any of the aforementioned nail arts for any occasion. Choose the colors, jewels, and glitters to recreate these nail arts. You can also experiment with colors of your choice to give a complete makeover to your nails.
Frequently Asked Questions
What are the best tools for creating toe nail art designs?
Supplies such as some nail art tape, a dotting tool, a thin tip brush, and a nail polish correcting pen are required to create beautifully intricate toe nail art designs.
How to care for and maintain toe nail art designs for long-lasting results?
Avoid using hot water for a few hours after a pedicure because it will fade the color and weaken the layers of polish. Applying cuticle oil and wrapping toes in plastic wraps before wearing shoes or socks are some ways to make the nail art last longer.
How to prevent smudging nail art design when applying a top coat?
To avoid smudging, wait at least two minutes for the nail paint to dry between each layer. After all the layers have been applied, you should wait as long as possible before applying the topcoat. You can try dipping your nails in cold water to speed up the drying process.
Is there a risk of developing an allergic reaction to toe nail art products?
Yes; studies have shown that the presence of methacrylate chemicals in nail art products can cause severe, itchy rashes on the skin.
Image source: 1 , 2 , 3 , 4 , 5
Get inspired with fresh foot nail art ideas for every season. From summer florals to winter snowflakes, this video has the perfect toenail designs for all tastes and preferences. Check it out!
The following two tabs change content below.