16 Home Remedies For Frizzy Hair
Say goodbye to frizzy and coarse hair with these easy-to-prepare DIY solutions.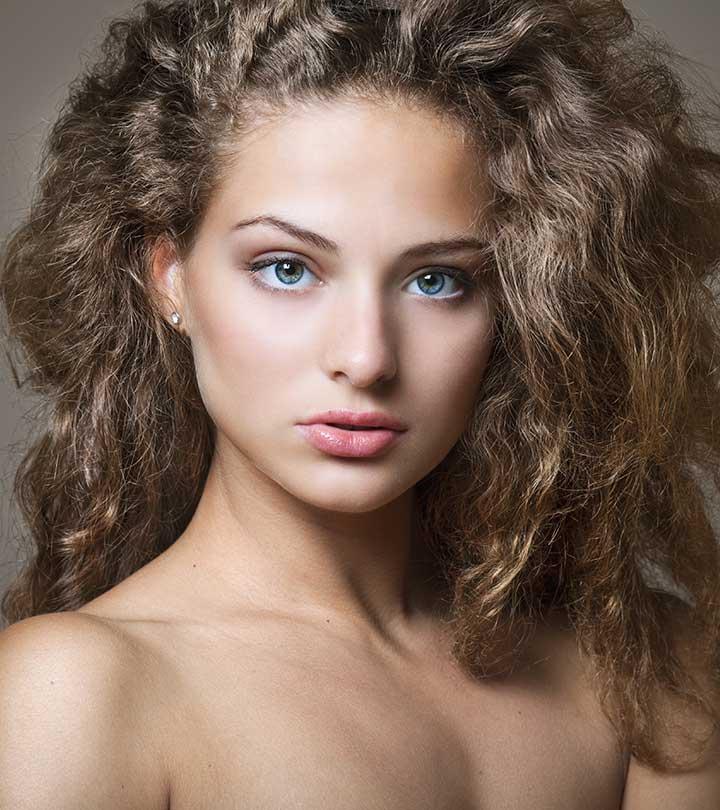 Frizzy hair is difficult to maintain, no matter how much effort you put in to make your hair look flawless. It becomes frizzy within minutes of you leaving home. Thankfully, there are some effective home remedies for frizzy hair that can help you maintain that perfect look.
Most of us dismiss frizzy hair as a result of natural texture, but this is not the case. Instead, frizz is caused by a lack of hair care. That is why all it takes is a little more attention to tackle the condition head-on. By following some preventive tips, you can get rid of frizzy hair. This does not mean you need to spend a lot of money on pricey products or salon treatments. You just need a little knowledge of the reason behind your frizzy hair and some household ingredients to solve the problem. In this article, we have discussed frizzy hair, what causes it, and home remedies for dry and frizzy hair. Keep reading to know more!
So What's Causing The Frizz?
In short – dryness and damage. Your hair is constantly thirsty and when its hydration requirements are not met, the cuticles (the outermost part of your hair shaft which is made up of dead cells that keep your hair healthy and protected) rise to let moisture in. The excess moisture from the atmosphere causes your hair to swell up and, you've got it right, frizz. Constant dehydration leads to damage, leaving your hair frizzy and lifeless.
Frizz is a cry for nourishment and moisture. There are many things you can do to tame it, starting off with ensuring that you are eating right and drinking enough water. Once you have those two things down, you need to treat your hair to some good old fashioned TLC with regular oiling and hair masks. Below I have put together a list of 14 natural remedies you can use to treat your frizz.
Home Remedies For Frizzy Hair
1. Almond Oil And Egg
You Will Need
1/4 cup almond oil
1 raw egg
Method
Combine the almond oil and egg until you get a smooth mixture. Optionally you can just whisk the egg and apply it to your hair.
Section your hair and start applying the mixture to your scalp and through the length of your hair.
Wait for 40 minutes and then rinse your hair as usual.
Use a good shampoo and conditioner, preferably one without sulfates.
How Often?
Apply this once a week.
Benefits
Almond oil acts as an emollient (1).The egg repairs damage in the hair shaft with its high protein content. This is considered to be one of the best remedies for frizz.
2. Avocado Mask
You Will Need
1 ripe avocado
1 cup yogurt
Method
Cut the avocado and remove the pit.
Mash the avocado and the yogurt to get a smooth, creamy paste.
Apply it to your hair and let it sit for 40-45 minutes.
 Wash thoroughly with shampoo and follow it up with your conditioner.
How Often?
Apply this mask once or twice every week.
Benefits
Using an avocado-based hair mask for frizzy hair is an inexpensive but effective remedy. It contains vitamins B and E which nourish the hair and repair damage (2), (3). Yogurt cleans and deep conditions your hair.
3. Coconut Oil And Vitamin E
You Will Need
1 part vitamin E oil
4 parts organic cold-pressed coconut oil
Method
Mix both the oils and pour it into an air-tight container to be stored.
Take 2-3 tablespoons of the oil depending on the length of your hair.
Apply it all on your scalp and through the length of your hair.
Wash your hair after about 40 minutes.
How Often?
Apply this oil once or twice a week.
Benefits
Vitamin E helps fight free radicals and prevents hair damage (4). Coconut oil has penetrative properties that deep condition your hair (5).
4. Mayonnaise
You Will Need
1/4 cup mayonnaise
1/3 cup pure almond oil
1-2 eggs (depending on the length of your hair)
Method
Mix the mayonnaise, almond oil, and eggs to form a smooth paste.
Generously coat your hair and scalp with the mixture and then cover it with a hot towel or a shower cap.
Shampoo thoroughly and follow up with conditioner.
How Often?
You can use this hair mask up to two times a week.
Benefits
The mask works amazingly well to provide shine, nourishment, and strength. It adds an extra layer of moisture, which helps in controlling frizzy hair effectively. In fact this is one of the best hair masks for dry and frizzy hair.
A blogger shares her experience of using a DIY mayonnaise hair conditioner thus: "I can say that my once-a-week mayo hair conditioning for four weeks helped improve and revive my dry, dull, & damaged hair. Now it looks healthier and a little shiny, not as frizzy and more manageable. I've mentioned that the shine slightly fades as you rinse and shampoo your hair but I noticed improvements to my hair as every week passed by (i)."
5. Banana
You Will Need
1 ripe banana
2 teaspoons honey
1/3 cup coconut oil/almond oil
Method
Mash the banana until there are no lumps and to it add the honey and oil to form a smooth paste.
Apply the mixture all over your scalp and hair, and leave it on for 20-25 minutes.
Rinse thoroughly with shampoo and conditioner.
How Often?
Use this mask once a week for hair that is extremely frizzy
Benefits
Bananas are great for hair conditioning, especially when it is combined with honey which is a well-known humectant (6). A banana mask for hair is just the kind of attention your hair deserves.
6. Beer
You Will Need
1 pint of beer
Method
Decarbonate your beer by pouring it into a bowl. Let it sit overnight until it goes flat.
Wash your hair with shampoo and then pour the beer through your hair while massaging your scalp.
Rinse the beer out with cold water.
How Often?
Repeat this once in two weeks.
Benefits
Beer restores moisture and nourishes your hair. It is also used as a cleansing rinse that removes build-up. This helps keep your cuticles healthy.
7. Lemon And Honey
You Will Need
2 tablespoons lemon juice
2 tablespoons honey
1 cup water
Method
Combine all the ingredients and pour it through freshly washed hair.
Massage your scalp for a couple of minutes and then let the mixture sit for an additional 10 minutes.
Rinse with lukewarm water and shampoo.
How Often?
Use this hair mask once every two weeks. Ensure that you use other conditioning hair masks during the rest of the week.
Benefits
The mask removes dirt and grime from the hair shaft which improves cuticle health, reducing frizz. The rich vitamin C content also helps boost hair growth (7). The bleaching agents can give you some natural and subtle highlights.
8. Honey
You Will Need
2 tablespoons honey
2 cups warm water
Method
Dilute the honey with water and pour it through your hair.
Once your hair is saturated with the mixture, let it sit for 30 minutes.
Shampoo and condition.
How Often?
While honey is an excellent conditioner, it also lightens your hair. If you do not want your hair to be lightened it would be wise not to use this mask more than once a week. If you want subtle highlights, use the mask twice a week.
Benefits
This is a simple solution that isn't too time-consuming. Like I mentioned before, honey is an excellent humectant which means that it does a great job at sealing moisture in your hair. It makes your hair stronger, smoother, and shinier.
9. Honey And Yogurt
You Will Need
2-3 tablespoons yogurt
1 tablespoon honey
What You Have To Do
Mix the honey and yogurt in a bowl.
Apply the mixture on your scalp and hair. Leave it on for 30 minutes.
Wash with cold water.
How Often?
Do this once a week to restore moisture and maintain your hair.
Benefits
Yogurt is an effective deep conditioner and honey helps in retaining moisture (8). It also acts as an emollient and makes hair smoother and shinier.
10. Apple Cider Vinegar
You Will Need
2 tablespoons apple cider vinegar
2 cups water
What You Have To Do
Mix the ACV in cool water and set it aside in a jug.
Wash your hair with shampoo and then rinse your hair with the diluted ACV.
Let it sit in your hair for a few minutes and then finish with conditioner.
When You Need To Do This
Repeat this treatment once every week.
Why This Works
Apple cider vinegar helps in balancing the pH level of your hair and closes any open cuticles, making your hair more adept at holding moisture. It also removes the build-up of dirt and grease, adding shine to your hair.
11. Aloe Vera
You Will Need
1/4 cup aloe vera gel
1/4 cup carrier oil
Method
Combine the Aloe gel with a carrier oil of your choice.
Apply the mixture to your scalp and through the length of your hair.
Leave it in for 20-30 minutes and then wash off with shampoo and condition.
How Often?
You can use this mask up to twice a week.
Benefits
Aloe vera is one of the best ingredients for moisturizing (8). In combination with a carrier oil, it forms a protective layer over your cuticle that minimizes moisture loss, giving you hair that is soft, smooth, and shiny.
12. Coconut Milk
You Will Need
2-3 tablespoons coconut milk (depending on the length of your hair)
A bowl for heating
Method
Heat the coconut milk until it is warm.
Apply it to your hair and let it sit for 30 minutes
Shampoo and condition.
How Often
You can use coconut milk for your hair up to twice a week.
Benefits
Coconut oil is a perfect light protein treatment to repair damaged hair. It moisturizes while nourishing your hair, making it smooth, strong, and shiny. It is one of the best treatments for frizzy hair.
13. Lemon Juice And Egg
You Will Need
1 egg
Juice of half a lemon
Method
Crack an egg and separate the yolk from the white.
Add the egg white and lemon juice in a bowl and whisk until smooth.
Apply the mixture to damp hair from the roots to the ends.
Tie your hair and cover it with a shower cap.
Leave the mask on for 30-45 minutes.
Shampoo your hair and follow up with a conditioner.
How Often
You can use the recipe once a week.
Benefits
Lemon juice has astringent properties. This DIY mask for frizzy hair can help clarify the hair and scalp and eliminate residue to keep your locks healthy and shiny.
14. Hibiscus-Infused Oil
You Will Need
A handful of dried hibiscus flowers
Carrier oil (almond or jojoba oil)
Method
Put the dried hibiscus flowers in a glass jar.
Cover them with your chosen oil (almond or jojoba).
Allow it to sit in a warm place for a few weeks.
Strain the oil and apply it an hour before shampooing your hair.
Benefits
Using hibiscus for frizzy hair is a game-changer. This hibiscus-infused oil will moisturize your scalp, tame frizz, and give your hair a healthy shine. It's an excellent pre-wash treatment and can be used as a leave-in conditioner to improve hair quality. Add this oil to your hair care routine for gorgeous, frizz-free locks.
15. Hot Oil Massage
Hot oil massages are one of the best ways to treat frizzy hair. Oils nourish and moisturize your hair, keeping it healthy and frizz-free. There are many different oils, each carrying their unique properties. You can choose what oils to use depending on what suits your hair best.
As per this study, among 340 people who participated, 327 people completed the survey. Among those who completed the survey tried standardized scalp massage. These participants reported that they massaged their scalp for 11 to 20 minutes every day, and they continued doing this for an average of 6 to 7 months. Nearly 69% of the participants reported that their hair loss either stopped or they experienced regrowth. On average, 7 out of 10 participants noticed hair loss stabilization or regrowth after approximately 36.3 hours of massaging effort.
Below is a list of oils and how they help control frizz.
1. Argan Oil For Frizzy Hair
Argan oil is rich in unsaturated fatty acids that help treat and repair damage (9). It also helps prevent splitting and makes your hair smooth and more manageable.
2. Coconut Oil For Frizzy Hair
Coconut oil is one of the most penetrative hair oils (5). It contains chains of fatty acids that nourish your hair from the inside, making it stronger and healthier.
3. Almond Oil For Frizzy Hair
Almond oil is rich in vitamin E which contains antioxidant properties. Antioxidants combat the free radicals which cause damage to your hair, keeping it healthy. It is also an emollient which helps keep moisture locked in your hair shaft.
4. Jojoba Oil For Frizzy Hair
Jojoba oil is perfect for those who have combination hair which is oily at the roots and dry at the tips. The oil mimics the natural oils produced by your scalp, reducing the amount of oil produced, while moisturizing and providing nourishment to the tips of your hair.
5. Olive Oil For Frizzy Hair
Olive oil is a natural smoothing conditioner that leaves your hair feeling silky and smooth (9). It is light and so does not weigh your hair down while keeping it moisturized. It also tackles issues like dandruff and improves scalp health. It is even safe to use after a silk protein or keratin treatment.
There are many different oils and blends you can use for your hair. You can also make your own blend of oils from the list above or other oils of your choice. Give yourself a relaxing hot oil massage by following the steps below.
You Will Need
2-3 tablespoons of a carrier oil/ oil blend
Method
Pour the oil into a bowl and heat it by placing it in a larger bowl filled with hot water.
Massage the warm oil into your scalp and through your hair. Massage your scalp for a good 10-15 minutes.
Dip a towel in hot water and wrap your hair with it. This will create a warm environment that will allow for maximum penetration.
Leave the oil on your hair for 30 minutes
Shampoo and condition.
How Often
Give yourself a hot oil massage twice a week for best results.
Benefits
Warm oil penetrates through the hair shafts and follicles, conditioning and nourishing them. It also forms a protective layer around your cuticles which locks moisture in. It restores luster to your hair and smoothes the cuticles, preventing frizz.
16. Vitamins For Frizzy Hair
Internal care is just as important as external care when it comes to hair health. Consuming the right amounts of protein, vitamins, and minerals are vital for healthy hair growth. Vitamins A, B-complex, C, and E are essential. Making sure that your hair grows out healthy is the only way to ensure its long-term health.


Quick Tip
Anecdotal evidence suggests that low water levels in the body may also cause frizzy and dry hair. Hence, hydrate yourself adequately to manage hair frizz.
Frizzy Hair Hacks
1. A Good Haircut
A good haircut is the best way to control frizzy hair. Get your curls trimmed every two months to get rid of split ends. Maintain a hairstyle that isn't too short because it's easier for humidity to get through shorter hair. Cutting off the damaged hair will make your hair look healthier and lustrous. You can also ask your hair stylist to thin your hair out, in case it is too thick.
2. Shampoo And Conditioner
Look for labels that say "moisturizing," or "hydrating." Use a gentle shampoo that is free of sulfates. Use a hydrating conditioner and apply it from the mid-lengths to the tips of your hair. Leave it in your hair for a few minutes before you rinse it out.
3. Anti-Frizz Products
Using a leave-in conditioner or hair serum can make a huge difference in how much your hair frizzes up as you go about your day. There are several frizz control products available in the market, specially designed for curly hair.


Quick Tip
Avoid hairstyles like shags, bobs, and blunt cuts if you have frizzy hair. Instead try a messy bun, braided bun, and simple braid that help cover the frizzy look.
What To Avoid?
Never wash your hair with hot water. Heat causes the cuticles to rise, making it frizz up. Always use water that is either cool or lukewarm.
Go easy with the heat styling tools. Heat causes damage, and if your hair is already frizzy, it is best avoided.
Cotton pillow cases are a big no-no. They soak up the moisture from your hair while you sleep. Counter this by investing in some satin pillow covers.
Do not shampoo more than thrice a week. Most shampoos contain sulfates that strip your hair of moisture. It would be a good idea to find a good sulfate-free shampoo and wash your hair thrice a week.
Do not towel dry your hair. The friction from it causes the cuticles to rise and makes your hair rough and prone to breakage.
Infographic: 3 Professional Treatments To Help You Tackle Frizzy Hair
Following home remedies can help reduce frizz. However, it may take time to see results. You may try professional treatments if you prefer quicker results or have significantly damaged hair. You may either visit a salon to get the treatments or get the kits and do it at home. Check out the infographic to learn about the most popular treatments for getting frizz-free hair.


Dryness and hair damage are the primary causes of frizz. Home remedies for frizzy hair generally focus on hydrating, nourishing, and moisturizing the hair strands to tame the frizz. Hair masks using natural ingredients like avocado oil, almond oil, eggs, coconut oil, bananas, honey, yogurt, and aloe vera in different combinations and proportions can help to nourish your hair shafts. Some other home remedies make use of apple cider vinegar, mayonnaise, and even beer to tame the frizz. Other ingredients you can add to these hair masks are chamomile, rosemary lavender oil, sage, sage, peppermint, tea tree oil, shea butter, and glycerin. They leave your hair hydrated, refreshed, and fragrant. In addition, you can get yourself a good haircut, use anti-frizz hair products and use moisturizing shampoos and conditioners to get rid of the frizz.
Frequently Asked Questions
How do I get rid of frizz in 5 minutes?
To get rid of frizz in 5 minutes, apply a heat protectant spray or hair serum after towel-drying. Next, detangle your hair with a wide-toothed comb and style it with a hairdryer. Finally, seal everything with a few drops of lightweight oil.
Is serum or oil better for frizzy hair?
Both are good for frizzy hair. Serum protects the hair from humidity, gives shine, and keeps your hair from frizz, while the oil helps nourish your hair and controls flyaways.
Is a hair mask or serum better for frizzy hair?
Both are good for frizz management. Hair serums protect your hair from the damage caused by heat styling, while a hair mask moisturizes the hair to keep it manageable.
Can I wear a hat or scarf for frizzy hair?
Wearing a scarf or hat may make your hair more frizzy. If you still want to wear one, it is advisable to go for a satin or silk scarf to prevent your hair from becoming dry and frizzy. There are also satin-lined hats and beanies available.
Why does hair get frizzy when you get older?
The natural oils secreted by the scalp decrease with age, resulting in dry and frizzy hair.
How do you tame frizzy hair in the humidity?
You can use a leave-in conditioner to keep your hair hydrated and nourished. Additionally, you can use hairspray to keep your hair in position and finish your look.
Does hot weather make hair frizzy?
Yes, the levels of heat and moisture in the air are greater than that in your hair. This causes your hair to soak up the moisture, leading to swollen hair cuticles and frizzy hair.
Key Takeaways
For the healthy nourishment of hair, two things are especially important: eating a balanced diet and drinking plenty of water.
For taming that frizz, look to ingredients like almond oil, eggs, coconut oil, vitamin E, bananas, lemons, and honey
Hot oil massages can help moisturize and nourish the hair.
Limit the use of heat styling tools as they cause damage and make the hair drier.
Use a sulfate-free shampoo that hydrates the hair.
Learn how to restore your hair's natural shine and softness with these 3 simple home remedies for dry, damaged, and frizzy hair. Check out the below video and get ready to say goodbye to bad hair days!
Personal Experience: Source
i. MAYO HAIR BE BROUGHT BACK TO LIFE! (MY MAYONNAISE HAIR CONDITIONING EXPERIENCE – THOUGHTS + BEFORE & AFTER PHOTOS)
https://elleinadsays.wordpress.com/2013/08/22/mayo-hair-be-brought-back-to-life-my-mayonnaise-hair-conditioning-experience-thoughts-before-after-photos/
Sources
Articles on StyleCraze are backed by verified information from peer-reviewed and academic research papers, reputed organizations, research institutions, and medical associations to ensure accuracy and relevance. Check out our
editorial policy
for further details.
The following two tabs change content below.