16 Tools That You Need In Your Nail Art Kit There are many nail art kit products available in the market. Here we discuss the basic things you will need to get started with nail art.
Must Haves Of The Nail Art Kits
Nail art stickers come with strong adhesive backing. You should apply them on dry nail polish and seal them with a fast dry topcoat. They come in a variety of designs from flowers to cartoons etc.
Dotting tools are a must in your nail art kit. They help in creating dots. They usually come in sets of five with different sizes of 10 heads. They also help in creating some easy nail designs.
Acrylic, crystal, or glitter, rhinestones have a charm of their own. Having different colors and sizes or shapes of rhinestones adds that extra bling and style to your nails. Use them to get uniquely designed nails of your desire.
These tapes are very thin and help in adding metallic lines in your manicure. These tapes also come in many textures and colors.
5. Bullion Beads/Sprinkle Beads/Cavier Beads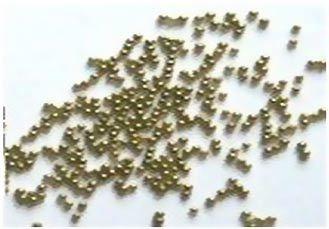 They are small metal beads or glass beads. These help in creating accent and gives 3D effect to your nails.  You can see the Caviar nail art in action.
Well, it is not mandatory to have glitter in your nail paint always. You can use loose nail art glitter powder on your nails in your desired quantity for a chic look. You can create flitter french tips by applying topcoat to your nails, then dipping them in glitter pots, removing the excess using a fan brush, and sealing it by applying another layer of topcoat. Also, you can change the look of your tacky nail polish by sprinkling some glitter on top of it using a fan brush.
You should have at least some good shades of nail enamels. Don't forget to add black and white shades as they are the most used ones. Also you can add some textured nail enamels or glitter ones. The most trending nail enamel nowadays is magnetic nail enamel.
A regular nail stamping kit includes a stamper, a scraper, and a stamping template, but a few can also include stainless steel image plates, clear jelly, and rolls of nail striping tape. The image plates have a plastic backing, making them safe for use, and protecting your nails from the sharp edges.
Topcoats and Basecoats are a must-have in your nail art kit. A good top coat not only extends the life of your manicure but also protects your nails and adds shine to them. On the other hand, a base coat protects your nail polish from chipping and yellowing. You can also opt for nail hardening, calcium-based base coats that strengthen your nails.
These are used to pick rhinestones and also help in creating dots. They are also very helpful in water marbling.
A nail grooming kit is a must-have in your vanity. It is a multipurpose kit that can be used for manicure, pedicure, facial grooming, etc. This set of 16 tools contains many essentials such as scissors, nail clippers, dead skin pliers, scraping knives, scraping cutters, etc that are useful in creating perfect nail art.
To remove nail polish, you can try nail polish remover wipes. Kara Nail Polish Remover Wipes are a good option. They are the one-stop solution for pretty nails. The wipes are easy to use and do not contain acetone, toluene, alcohol and paraben. They can easily remove dark shades of nail polishes. They contain natural olive oil and vitamin E. These wipes moisturize your skin as well as prevent peeling of cuticles and chipping of nails, making your nails healthy looking and shiny.
These are needed to clean and remove polish from your nails. Lint-free cotton swabs are important because ordinary cotton may leave cotton fibers on your nails thus ruining your manicure. Q-tip dipped in acetone free remover helps in removing extra polish from cuticles and your manicure looks neater.
14. Acrylic Colors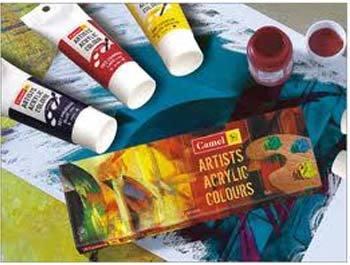 They help in creating beautiful nail art designs.
If you are an ardent nail art lover, having a set of nail art brushes is a must. These brushes help you design your nail art as you desire effortlessly. Each brush has its purpose and designs uniquely like no other. Grab one set and be amazed at its benefits.
*The prices provided in this article are based on the latest available information. However, they may vary due to changes in pricing by the seller and/or promotional offers.
16. Others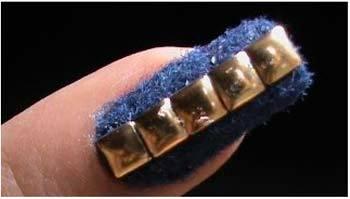 You can add studs, acrylic decals, flocking powder, artificial tips etc to your stash.
*Subject to Availability
So which of this nail art tool kit do you frequently use?
Let's look at some important points to consider before investing in a nail art kit. 
Things To Consider Before Buying A Nail Art Kit
Check the tools included in the nail art kit. It is necessary to have all the essential tools to do the best designs. An ideal nail art kit consists of an adhesive, stamping tools, a palette, and acrylics.
A good nail art kit is all about patterns and designs. Therefore, ensure your kit comes with all those exciting design stickers and stencils. Also, check the different tints, shades, and hues included in the design sheets.
The quality of the adhesive is essential as a low-quality glue can damage your nails and skin. Look for a tool kit that comes with a good-quality adhesive.
The overall quality of tools plays a vital role. Good-quality tools not only make your nail art experience amazing but also do not harm your skin. If you are unsure about the quality, explore the users' reviews and visit the official website.
The brand name cannot be missed when selecting a nail art kit. A well-known and reputed brand will always ensure good quality. Opt for a trusted brand that delivers satisfactory results.
Different brands offer nail art kits at different price ranges. The cost of a kit depends on the quality of the tools. The better the quality of the adhesive, patterns, and stickers, the higher the price.
Frequently Asked Questions
What are some tips for using a nail art kit effectively?
Start with clean and dry nails, follow the kit's instructions, use nail tape or stencils for precise designs, practice on paper before applying, and seal the design with a top coat.
Are there any nail art kits suitable for children?
Some nail art kits are designed for children, offering non-toxic and kid-friendly materials. Look for age-appropriate options that can be used with parental supervision.
Can I customize my own nail art kit?
Yes, you can create a personalized nail art kit by selecting individual nail polishes, nail art tools, stickers, rhinestones, and other decorative elements.
How long do nail art kits usually last?
The longevity of nail art kits varies based on the number of designs created and the amount of product used. Properly sealed nail designs can last for several days.
Are nail art kits suitable for both gel and regular nail polish?
Some nail art kits are compatible with both gel and regular nail polish, but it's essential to check the kit's specifications and ensure the products work together.
Recommended Articles: