16th Birthday Party Ideas That Are Fun And Awesome
Because 16th birthday is a special milestone and should be celebrated with a bang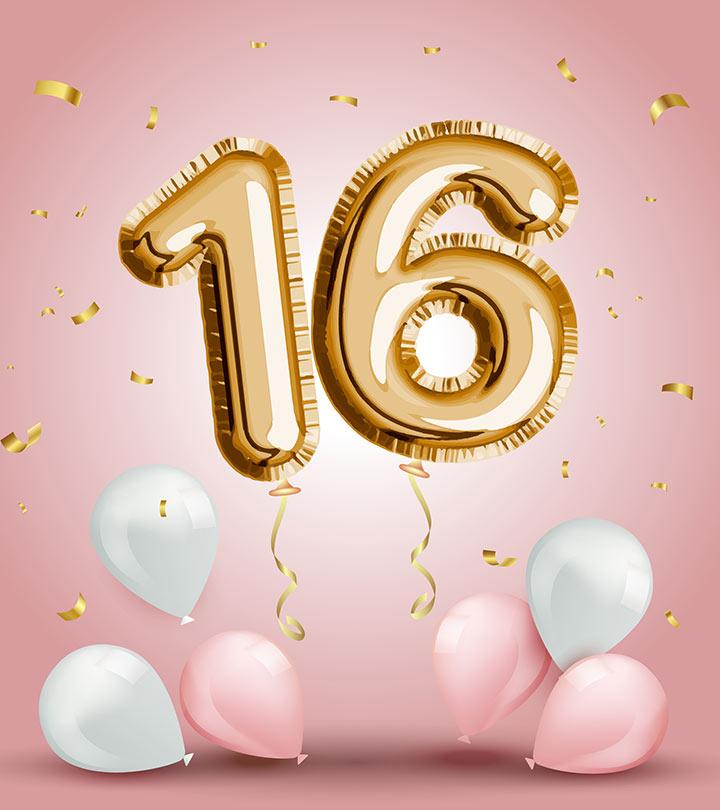 If you are planning to make your teenager's 16th birthday special, you have landed on the right page. Here, we have listed the best 16th birthday party ideas to help you make your child's birthday a memorable one. As the teen is about to enter adulthood, throwing a grand birthday celebration is the responsibility of every parent. It can be tricky to plan a birthday party for teenagers as they are no longer the same kids who enjoyed cakes and desserts, birthday poppers, and sparkles.
To plan a party for a teenager, you have to understand them first. Once you get familiar with their tastes, you can pick one of the 16th birthday ideas we have provided in this article and plan it based on that theme. Read on.
16th Birthday Party Ideas For Boys
Venue selection, guest list, invitations and RSVPs should be made in advance to manage the party planning better. Find out if your boy prefers an intimate, laid-back gathering or a grand celebration. Here are some options:
1. Plan A Beach Party
A great option will be an outdoor setting where the guests can indulge in fun teenage activities, such as spikeball or bucketball at a beach and surf the waves for a relaxing evening around the bonfire. Your teenager will appreciate the beach birthday bash and a day full of recreation and leisure.
2. Organize A Barbecue Night
A backyard barbecue party is also a great idea for a simple and cozy affair. Your guests will enjoy the grilled steaks and veggies and hang out and play guitar or games at the party. Boys who are into video games and movies would love the idea of a gaming night sleepover or a private show of their favorite movie.
3. Hire A Band
You can hire a local band of your kid's choice to play at the party for a fun entertainment option. If you want to go up a notch, plan a karaoke at a small indoor setting for the guests to engage in a musical night. If the guest list is not elaborate, you can arrange a diner or visit a restaurant and enjoy a big celebratory meal on the eve of your kid's birthday.
4. Go Camping
Host an enjoyable camping weekend for your teenage son and his friends. You can also invite an adult like an older sibling or a cousin to join. Pack simple meals, or pack ingredients that they can cook or make easily, and some card games. Choose a campsite with lots to do, such as water activities, fishing, or volleyball. Make a list of challenges to complete that might involve taking chilly dips, collecting firewood if the campsite is near the edge of a forest, doing 100 push-ups, or even having a hot dog-eating competition. You can either omit the cake if your son doesn't like it or go creative by packing a simple, probably icing-less cake for everyone to share and enjoy.
5. Have A Retro Game Party
If your son is into video games then host a hassle-free and enjoyable birthday party by gathering some classic board games. Invite his friends over and let them have a gala time. You can also join in and show your charisma. You won't need fancy decorations or party games; it's a simple plan. Stock up on soda, pizza, plenty of teenage-friendly snacks, and of course the birthday cake!
6. Build A Bonfire
A bonfire birthday is perfect all year round. Gather around the fire for a cozy and bonding experience. If you have a large backyard then it will be perfect! Bring guitars or play some relaxed music on your Bluetooth speakers. You can include some games like Would You Rather, Truth or Dare, or Two Truths and a Lie for extra fun. If it's summer and it's allowed, consider having the bonfire by the beach or lake. You can arrange a small cake-cutting ceremony at the end or during the bonfire party.
7. Organize A Superhero Themed Party
Make your teenage hero's day even more special by arranging a party that revolves around his favorite superhero. Choose the appropriate color scheme for the decor, and bake cookies and muffins that match the theme. You can give your kid's friends small figurines of that particular superhero to make it memorable for them as well!
8. Paintball
Most teenage boys enjoy playful activities such as paintball and laser tag. You can rent the necessary equipment and head to a nearby forested area or your backyard where there is less space to hide behind and they can run and hit their targets with ease. Make sure to have plenty of drinks and some food that's easy to eat on the go to keep everyone energized. At the end, you can have your birthday celebration, and don't forget to take pictures of them with their messy clothes and happy smiles.
9. Indoor Rock Climbing
Indoor rock climbing is a fantastic idea for a winter birthday party because it requires minimal party planning. The teenagers will have a great time racing each other up and over the climbing walls. Just make sure to have replenishing drinks for them to have. Later in the day, you can arrange a celebratory meal at his favorite diner or restaurant.
10. Parent-Son Getaway
One of the best ways to celebrate your son's birthday might be to take him on a relaxed weekend getaway, especially if you are busy with work all around the year. Take the opportunity to spend some quality one-on-one time with him, if he's willing. You can plan a road trip to the nearest national park. Enjoy activities like hiking, kayaking, or mountain biking.
Young girls transitioning into womanhood is the essence of a 16th birthday. This landmark event calls for a birthday party that goes above and beyond. Below are a few ideas to make your girl's day super special.
16th Birthday Party Ideas For Girls
1. Plan A Trip To The Amusement Park
An amusement park party will be a good idea if your teenager enjoys the outdoor carnival setting. The guests can get joy rides at the amusement park, pick props at the costume store, and click crazy fun pictures at the photo booth. A day full of giggles and cheers will make your girl's 16th birthday memorable.
2. Arrange A Cute Party At Home
If your teenage girl loves chic, you can go for a minimalist event decoration with a dessert station, floral installations, and specially curated party favors. You can also plan a camping-out look with string lights and lanterns for a trendy and elegant party setup. Enjoy the cozy atmosphere, soft music, and good food.
3. Plan A Day Out At The Beach
A day at the beach catching the bright sun is a great birthday idea for the girls. Also, a pool party would be just as rad. Send invitations with customized notes and decorations to make the guests anticipate a fun day of pool volleyball and mocktails.
4. Organize A Themed Birthday Party
Most young ladies will love a sophisticated party theme. Put up classic ivory balloons and complement the theme with blue or rose pink decor. Add a customized sash for the birthday girl and other cute signage and props to bring out the princess-y vibe. Serve a specially curated menu that boasts of a big celebration. A spa-themed party or dining at your teenager's favorite restaurant are amazing ways to make their day a blast.
5. Take Them To An Escape Room
Book an escape room for your teen and her friends to get together to tackle tricky puzzles and riddles as part of the birthday celebration. It's almost like stepping into a real-life puzzle game where they need to use their wits and teamwork to escape the room. If you are worried about their safety then you can send an adult along with them.
6. Arrange A Black Light Party
For an exciting and unique party, why not have a glow-in-the-dark or blacklight-themed celebration? Bring neon-colored thick balloons and furniture covers, neon-dotted garlands, and party hats. Decorate the room with them. You can also hang large, bright-colored birthday banners. Turn off the lights, and let the party begin!
7. Go Roller Skating
For a one-of-a-kind party idea, consider taking your celebration to a local skating rink, and embrace some retro fun. Reserve the roller rink exclusively for your teenager and her friends, providing them with an entire area to have a great time skating and celebrating. They will not only have fun, but some of your daughter's friends might also learn something new!
8. Arrange A Slumber Party
Sleepovers aren't just for little kids! They can be a fantastic idea for a 16th birthday party. You can invite your teen's friends to spend the night. Then, set up some fun activities for the slumber party, like truth or dare games and board games. You can prepare late-night snacks for them or you can also give them a leeway on just your teen's special day to order takeaway.
9. Solve A Murder Mystery
If your daughter loves Agatha Christie, and Nancy Drew or is simply a fan of detective shows and movies, then make your kid's 16th birthday extra special by throwing a murder mystery dinner party. Set the premise by telling them how someone was murdered, and then ask them a stipulated time to solve the case. You can either spread out the clues around the house or simply put forth the clues as case reports.
10. Organize A Tea Party
In this delightful celebration, you will serve tea and small, dainty snacks in a setting that feels like a cozy cottage. Create a charming and trendy cottage core atmosphere for the party. Use vintage, old-fashioned tableware to add to the nostalgic and rustic vibe. You can also have a dress code if the gathering is small.
11. Go On A Shopping Spree
If your kid likes to buy new things then splurging a little on her special day wouldn't be so bad. Take her out shopping in a mall or if she is a bookworm, take her to her favorite bookstore. Let her indulge on this day and then you can take her to her favorite ice cream parlor or diner. It can also prove a good bonding time for both of you and make her birthday even more special.
12. Take A Short Trip
You can plan a trip for your daughter with her close friends while you can be the omnipresent observer. Plan a getaway to a nearby town or a beach. Plan activities such as sightseeing if you choose to stay in the town or arrange something fun like beach volleyball if you are living near the sea Your daughter will not only have fun but also experience new things, and of course, make beautiful memories.
Apart from the theme and venue, the decoration plays an important role in enhancing the overall experience of the birthday baby and the guests. Here are a few ideas to get you started.
16th Birthday Party Decoration Ideas
The birthday decorations should match the vibe you want to create. So, choose the right color scheme to set the tone for the event. You can customize invitations and other printables to make the event stand out.
You can add whimsical banners, streamers, paper tassels, and other backdrop decorations to make the venue pop. Balloon decorations with banquet centerpieces and balloon arches are wonderful options for a teenage girl's sweet sixteen.
Use fairy lights and petals for glamming up the party. Badges and pins with cool typography will add a nice touch. Add a pinata with candies and goodies as a fun surprise activity. Also, it will be better to consider a laid-back color scheme that doesn't look over the top.


Quick Tip
Keep a statement wall the guests may use as backdrops for clicking pictures. To decorate the wall, you may use wall panels, fairy lights, balloons, and foil curtains.
The next sections will take you through the sweet sixteen birthday menu options and party theme ideas to nail down the event. Scroll down to know more about some spectacular themes and the right food and décor for your celebration.
16th Birthday Party Food Ideas
Food customized according to your theme is a surefire way to nail the event. You can set up a station of treats that pulls your guest's attention and adds to the ambiance. For example, a carnival-themed party can include candy, apples, popcorn, hot dogs, cotton candy, and Gumballs. For a masquerade party, a fondue station with treats in fancy cutlery will add to the decor.
Finger foods or appetizers, such as spring rolls, pizzas, sandwiches, pretzels, and chips are great options for the party.
Pack some on-the-go food and stash up on chips and soda for an outdoor party.
If you are planning a backyard do, party foods like pasta salad, corn on the cob, burgers, nachos, and cheese, and dinner rolls are great options than the big barbecue cookout.
Most importantly, you have to get the right cake and desserts for your teen's milestone marker event. Whether it is a decadent floral cake or a simple pound cake, make it a hit for your teen with gorgeous personalized messages or even a photo.
Consider your teen's choice while planning the menu for the event.
Setting a theme for the birthday party may feel like a task, but it is sure to ramp up the wow factor for your teen's birthday bash. Here are a few theme ideas that will make their 16th birthday a memorable one.
16th Birthday Party Theme Ideas
1. Movie Themed Party
Going for a movie-themed party can mean many things. It runs the gamut from dressing up as characters and mimicking the movie's setting in real life to booking a place for screening the film. You can plan a party with elements from their favorite movie put up as props and decoration and host your kid's favorite movie in your backyard.


Quick Tip
You can also include rounds of movie trivia or movie bingo.
2. Gaming Party
For a teenage gamer, this party is what dreams are made of. Stock up on gaming-inspired decorations and savory munchies like hotdogs, corndogs, and pizza rolls to set the tone right. You can rent games and have a LAN set up to let the teenagers run wild.
3. Vintage Themed Party
This part will evoke the charm of different eras that your teenager might be nostalgic for. A Victorian-themed party or a party with an old rustic Scandinavian charm will be a wonderful option to dress up for the day.
4. Masquerade Party
Planning a masquerade ball party requires some serious effort, but the final result is a grand affair that your teenager will remember for a lifetime. Elegant clothes, masks, and opulent decor with orchestral music will set the tone for this event. You can also turn it into a costume party where each guest can choose to dress like a character from a novel, movie, era, band, or culture.
5. Hollywood Red Carpet
Make your teenager feel as important as a Hollywood celebrity, and host a Hollywood red carpet-themed party. Begin by creating a grand entrance with a stylish red carpet. Then deck out the entire party space with decorations in classic Hollywood colors like black, red, and gold. This will give the entire area a luxurious and elegant look.
6. Around The World
For a fantastic Sweet 16 party, take your teen on a journey around the world, but from the comfort of your home. Decorate the party area with inspiration from various countries, making it look and feel like a global adventure. Serve delicious dishes and drinks from these countries to make it more authentic.
7. Casino Night
You can host a casino-themed party right at home. Transform your place into a mini-casino with games like poker, blackjack, and roulette. However, there's a twist, instead of using real money, everyone plays with pretend or play money. It's all about having a good time, and there's no actual cash involved. This way, everyone can experience the thrill and excitement of a casino without having to make a dent in their pockets.!
8. Disco Dance Party
Take your kid back to the 1970s with this disco-themed party. Transform your living room into a cool nightclub from that era. Encourage all the kids to wear their best disco outfits, like bell-bottom pants and shiny, sparkly clothing, and dance the night away to groovy music. It's all about reliving the fun and funky vibes of the disco era for a memorable celebration!
9. Dive-in Movie Night
Place a movie screen near your pool and play your teen's favorite movie on it. Let all your kid and their friends enjoy the film while they swim. You can even choose pool-themed movies for added entertainment. Keep food and drinks nearby so none of them have to go back inside and fetch them.
10. Tropical Theme Party
If your teenager's birthday falls in the summer, why not have a tropical celebration? You can have this fun party right in your backyard or by the pool. Use island-themed decorations and serve delicious tropical mocktails to the kids. And don't leave out the tasty Hawaiian Banana Bread for snacks. You can also add to the tropical feel by watching tropical-themed movies.
Now let's check out some surprise party ideas for an unforgettable celebration. Whatever you choose, it is easy to arrange and super fun to mark the occasion and create special memories. Scroll down.
16th Birthday Surprise Party Ideas
You can plan a little extra to make the day a fond memory for your teenager to look back with joy. A surprise will put a smile on their face and make the gesture even more meaningful.
Book a special event or concert they have been wanting for or attend an exclusive movie screening.
You can even book a stay at a scenic resort and drive them there without their knowledge.
Treasure hunts are also great ideas to keep your kid guessing. You can plant clues that will lead them to the big surprise at the end of the game. It will bring them to the surprise venue with the party setup and guests awaiting them.
You can also arrange gifts and time them to be received at fixed intervals throughout the day.
Plan the perfect birthday bash for your teenager with the ideas listed above. They will help you organize the day without hassle and make it big enough for them to always remember. Think about your kid's favorites – their hobbies, foods, colors, or even destination, and choose a theme that fits accordingly. Celebrate your child's growth and achievements in style while they approach adulthood with our fun party ideas.
Milly Rose, a YouTuber, shared her personal experience about how she celebrated her sweet sixteen birthday on her vlog. She shares all the details of how she organized the party and what theme she followed. She states, "Mum made the cake and all these flower things, we did it all by ourselves, which is so cute. I did these cupcakes (i)."
Infographic: Sweet 16 Birthday Cake Ideas
A 16th birthday is surely a big deal, and it deserves a grand celebration. However, this birthday kid is certainly no more a kid. So while you can't stop them from saying goodbye to childhood, you can certainly throw your 16-year-old an out-of-the-world party. And that is why you will need some mind-blowing cake ideas. Check out the infographic below and take inspiration for your child's birthday.



Your teen's transition into adulthood is a great occasion and should be celebrated. To arrange a party for a teenager, you must first understand them. Consider your child's preferences – their hobbies, meals, colors, or even destination – and select a corresponding theme and pick some of the 16th birthday ideas shared in this post. Do not forget to involve your child as they will assist you in organizing the day without difficulty, and it will get them involved and make them feel grown-up.
Frequently Asked Questions
What can I do for my sweet 16 instead of having a party?
Instead of hosting a party, you can treat your friends to a meal, watch a movie screening, or take a trip out of town. If you want something simple, you can just spend the day doing everything you like or volunteer.
What are sweet 16 traditions?
The sweet 16 party traditions include "Shoe And Crowning," "Father And Daughter Dance," and "Candle Ceremony."
Why is it called "Sweet 16"?
In many cultures, 16 is considered an age when a young person steps into adulthood. "Sweet" denotes innocence, and "16" refers to the age they are turning. Before sweet 16, a 16th birthday party was called the debutante party during the Victorian era, where young ladies were introduced to society, hoping to find suitable matches.
Who lights the candles during the candle ceremony at a sweet 16 party?
The birthday girl shares her feelings for the important people in her life and lights a candle for each of them.
Key Takeaways
It can be tricky to plan a birthday party for teenagers as with time their tastes, interests, and idea of enjoyment might have changed.
To plan a successful party for a teenager, it is important to understand them first and find out if they would prefer an intimate, laid-back gathering, or a grand celebration.
It is better to choose the venue and the guest list in advance and plan on the theme and decoration for enhancing the overall experience.
Get fresh ideas about hosting a memorable sweet 16 birthday party. From food to fun activities, this video will guide you regarding all these party essentials!
Personal Experience: Source
i. MY 16TH BIRTHDAY PARTY!!
https://youtu.be/qZPVZFY3e1Q?feature=shared