17th Birthday Ideas: Make Your Child's 17th Birthday A Blast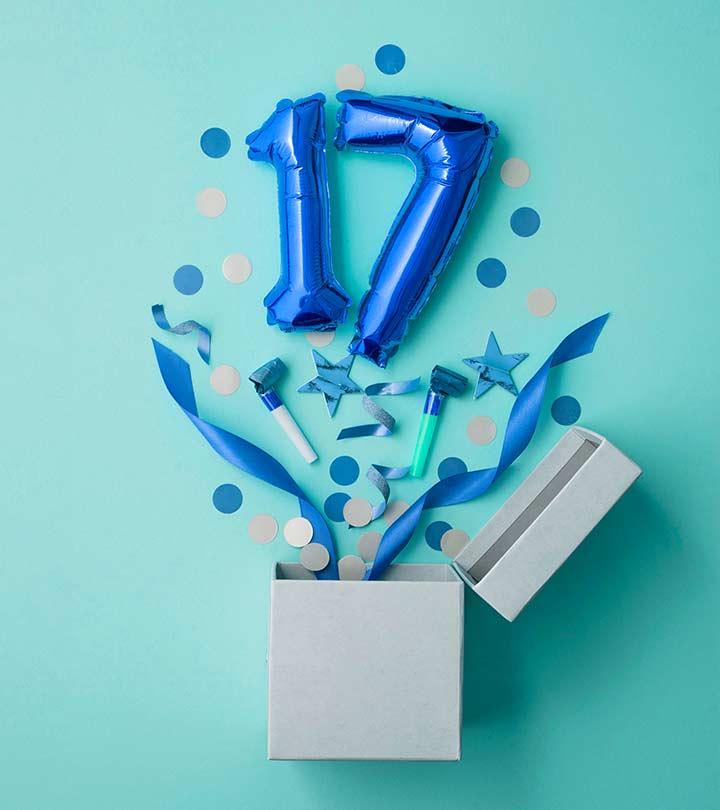 Unlike any other milestone birthday, 17th birthdays mostly tend to be overlooked. Besides employing creativity, you need to keep the choices and interests of your child in mind. Although this birthday falls between two important birthdays, don't let it go to waste. As your child is heading towards a maturing age, they would crave a celebration that looks quite mature yet exciting. A few might expect a birthday that is seemingly low key while the rest may favor something showy. Here is a list of creative 17th birthday ideas that can inspire you to arrange a cool and affordable birthday party. We have gathered a good number of 17th birthday celebration ideas and 17th birthday surprise ideas to assist you in making it a memorable one. From themes and decorations to surprises, we have the perfect categorized set of plans for your child.
25 17th Birthday Ideas
Are you lost and clueless about how to throw a fabulous party to suit your child's expectations? Try to initiate a party that would be enticing. An outing or a trip can be included in the plan as well. You will see us trying to shed light on almost every aspect you need to adhere to while preparing for a unique party besides getting to know about cool 17th birthday party ideas.
17th Birthday Party Ideas
A witty trick is to focus on showing your child's interests and ideas through the arrangement of the birthday bash.
Pool Party:If a birthday is in summer, pitch in this idea to your plan. Nothing can get more fun than chilling in pristine waters with some beach costumes, mocktails, delicious food, and good music.
Amusement Park:Book some tickets for your kids and let them shout your hearts out while enjoying the thrilling rides.
Camping And Trekking:Does not an outdoor activity sound exciting for an energetic and enthusiastic kid? Make the arrangements beforehand and surprise them with a trek in nature's trail.
A Concert:Treat your child and their friends by taking them to a musical concert. Just do some research and book tickets for an artist or band bearing their taste of genre in mind.
Party On A Yacht:You need to book a private yacht before inviting the guests and let the management know about your preferences and choices regarding the theme, decorations, food, and drinks, then it's all set to go.
17th Birthday Ideas for Boys
Well, in the case of boys, it is better to reflect on their youth and energy while buying any presents or setting up the party. Keep it cool, fun, and creative by taking inspiration from these 17th birthday party ideas for guys.
Video Games:Rent some video game consoles and invite his friends over to a gaming evening or night at the house.
Paintball Party:Let your boy visit a nearby paintball park with his friends or else set up an arrangement at home itself by preparing plastic guns and color-filled balls. You can offer them to splatter paint on a canvas, or else they can do that on each other.
Go-Kart Racing:A go-kart racing sport is a fun outdoor treat for your child if he loves cars as well as car racing. An adventure such as go-kart racing is a great outdoor activity to create memories.
17th Birthday Ideas for Girls
Looking for unique 17th birthday party ideas for girls? We've got you covered again! Check our 17th girl birthday ideas below and get inspired in making your girl child feel special and loved.
Surfing At Beach:Take your child and their friends to a beach and let the instructor guide them to surf cautiously. Get some food and drinks and let them party.
Shopping Party And Fashion Show:It can be a low-cost party if you take them to an affordable store. You can even hire a personal shopper to assist them in buying new outfits. This will surely be fun when you organize a fashion show later, inviting her friends to dress up the way they want to.
Sleepover At A Hotel:Since older teens enjoy something fancy and most of all, they could die for some independence. To provide this, just go ahead and book a hotel room for them and their friends where they could all go and enjoy dinner, pool party, movies and a sleepover, lastly.
Book Club Party:This is one of the most productive ideas if your girl is an ardent lover of books. Invite her bibliophile friends over and make them have their turns in reading chapters as well as from a book and letting them have their discussion about the plot.
17th Birthday Party Decoration Ideas
To decorate your birthday party in the best possible way, take note of the following items, which seem paramount for a basic birthday party, be it a sweet 16 or 17th birthday.
Banners:Birthday banners are the most crucial element to a birthday party. Choose from a set of colors and sizes which are available in the shops. To keep it unique, you can create your own DIY or customized banner using a myriad of colors as well as battery-operated string LED lights.
Balloons And Confetti:A lively teenager would definitely like rich-colored balloons filled with confetti. Prepare a wall full of confetti. However, the trendy and classy tip is to color coordinate.
Photographs:Start by placing the birthday child's photos and displaying them on the table. You can make it creative by hanging their childhood photographs on the wall.
Table Decor And Cutlery:Arrange your cutlery, table cloths, centerpieces, and other decor items according to the chosen theme. It would seem more sophisticated and alluring to the eyes of the guests.
17th Birthday Theme Ideas
We have picked the top themes for uniquely organizing a 17th birthday party.
Neon Party:It is one of the versatile parties, which is an excellent theme for both tweens and teens. Make use of neon-colored streamers and decor items. You can spray neon colors on some of the items which you would not find in neon colors.
Hippies Against Hipsters Party:Announce this theme to the guests before sending them party invitations. And enjoy how they come up dressed as hippies or hipsters. Keep your camera ready to take snaps of the guests.
Murder Mystery:Mystery games are always fun to enliven a party. Unleash the inner Nancy Drew and make it a blast by arranging a mystery kit and setting the crime scene (not a real one, of course). Offer the necessary costumes and outfits by assigning them the characters, and at the end of the night, the play murderer will be revealed.
Angels Against Devils Theme:Set up the decor, food, and theme to match the theme. You can offer masks and horns to the guests which they can wear at the party itself. Indeed, it would be pretty fun to see a gathering of angels and devils together, enjoying food, dancing, and chit-chatting with each other.
17th Birthday Ideas For Families
During the Covid pandemic reaching its peak, it is wiser enough to plan a safe birthday party, including just your family members. Here are some of the "17th birthday party ideas at home."
Dining Out In A Restaurant:Rent a table at your favorite restaurant for your family and go out to dine there. You can provide the management with necessary instructions and arrangements regarding food and setup.
Organize A Backyard Bonfire:At the comfort of your home, you can organize a bonfire in your backyard. Prepare some delicious food like hamburgers, steaks and hot dogs. Make it the best night by playing some music and dancing outdoors.
Plan A Family Slumber Party:Decorate the room and instruct all the family members to wear comfy clothes for the party. Play a family movie, have conversations, play fun games and serve dinner. Get hold of your blankets and pillows before assembling to sleep in the main hall. This is simple yet enjoyable.
Create And Watch A Memory Slideshow Together With Your Family:You will be filled with immense joy seeing your child enjoying their favorite childhood memories. Bring their favorite snacks and surprise them with a self-baked or customized birthday cake.
Host A BBQ Party:If you enjoy hosting parties outdoors, it seems a smarter option. A night out with your close ones while setting up a BBQ grill and preparing your favorite steak or pork chops is deemed efficacious in case of a family party. You can even invite your child's one or two closest friends to the party.
By now, you must have been relieved after getting to grasp an idea about planning a 17th birthday that would make your child's birthday party catchy and memorable. So go ahead and get started!
The following two tabs change content below.