Unique Ideas For 18th Birthday Party: Themes, Décor, And More
From a fun road trip to a luxe spa day – here are all the exciting ways you can ring in your 18th birthday!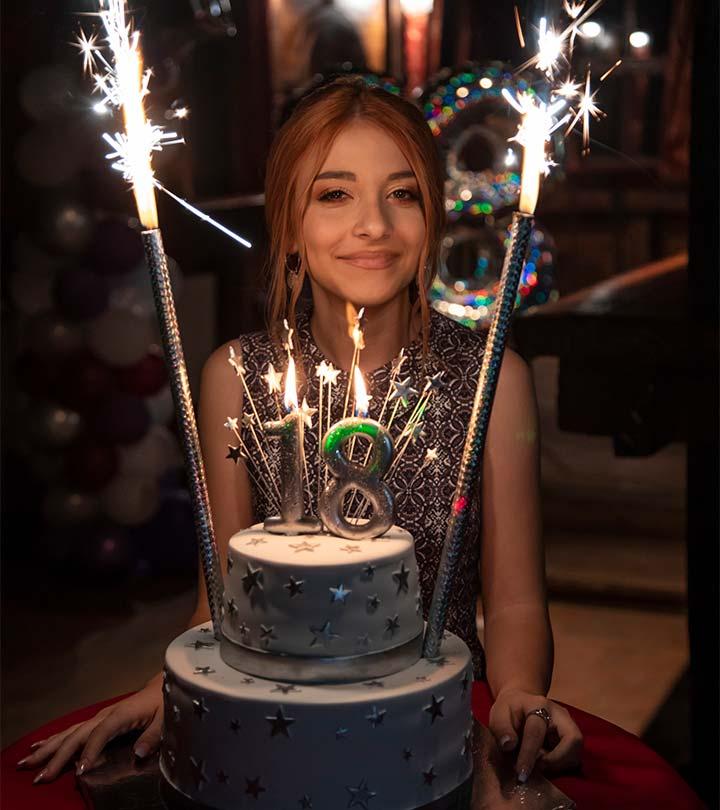 Birthdays are quite special for everyone. And they become even more special and exciting if they mark the entry into adulthood. This is exactly what the 18th birthday party ideas celebrate – a breakthrough year for shouldering adult responsibilities and focusing on career development. As you will be stepping into universities, the 18th birthday can also be a perfect occasion to treat your friends from school.
So, are you going to turn 18 soon and wondering how to go about the birthday party? Worry not! We are here to help you. In this article, we have compiled some of the best ideas for a birthday bash, touching upon various party themes, games, and surprises. So, let us get started!
Simple And Unique 18th Birthday Party Ideas
Many teenagers don't want an over-the-top celebration and prefer to spend their special day chilling out with family and close friends. And sure enough, there are a variety of ideas to celebrate your 18th birthday with a few near and dear ones without making it boring and monotonous. Below is a list of simple yet unique low-key 18th birthday party planning ideas:
Planning a trip with close friends on your birthday can be quite exciting. A sudden plan of setting up camps at a hilly place can be an altogether different approach to spending your birthday. You can spend some time amid natural beauty while playing fun outdoor games and lighting up a bonfire.
Hosting a cocktail party can never go wrong for the 18th birthday. Featuring a menu of delightful appetizers and boozy beverages, your cocktail party will be an instant hit. Couple it with some foot-tapping music and mood lighting, and you have the formula for the best-ever birthday party!


Quick Tip
This idea only works for citizens of countries where the minimum drinking age is 18. Some of these common countries include Australia, China, Hong Kong, Greece, Mexico, Netherlands, Romania, South Africa, and Vietnam.
What could be better than celebrating your special day with your closest friends the whole night? Sleeping in the same room, watching horror films, and eating junk food and having cool drinks can be the best way to celebrate your 18th birthday at your home. It will be just the right start to your adulthood.
This unique idea can be applied when you just want to spend your day with your family members. Cooking delicious and lip-smacking foods and eating your heart out can give you a royal feeling that you will cherish for a long time.


Quick Tip
Organize your guest list to include all of the birthday person's closest friends and family. Send out invitations three to five weeks in advance to allow everyone to arrange plans to attend.
The 18
th
 birthday party is a subject of great excitement, especially for girls. Many young ladies go far as chalking out their plans for the day much in advance. So, while you may already have a basic idea of how the celebrations will go, head to the next section to find how you can dazzle it up further.
18th Birthday Party Ideas For Girls
The special occasion will come and go in one day, but you should celebrate it in such a way that its memories last a lifetime. Below are a few innovative 18th birthday party event organizing ideas you can try for your little girl:
While celebrating the milestone, photo booths can be a great addition to the party. They will immortalize the memories in the form of photographs and also act as a good décor strategy. Some quirky and pop-colored props can be an interesting addition to the booth. Setting up frames, dressing up according to the theme, and proper lighting with the desired backdrop is all you need to have Insta-worthy clicks.
Going out to party with your friends on your birthday is too old-school. Why not try organizing your own mocktail party with girlfriends and create memories? Just toss in some favorite snacks, card games, and fun activities to make your 18th birthday celebration seamless.
Your 18th birthday is a once-in-a-lifetime occasion and, thus, its celebrations need to be equally unique and extraordinary. While most teenagers opt for a party to commemorate the day, you can spend it at a spa with your friends. Indulge in some pampering. Hot stone massages, manicures, pedicures, cucumber facials, and rejuvenating face packs — it can be so energizing and revitalizing for stepping into the new phase of adulthood.
Even if you choose to party to celebrate your 18th birthday, who says you can't make it unique in your signature style? You can enliven the evening with the help of a themed party. The next section has some suggestions to help you land a decision. Keep scrolling.
18th Birthday Party Theme Ideas
Celebrating your birthday with a specific theme can be an innovative way to signify your transition into adulthood. While you can choose any theme that resonates with you — your favorite TV shows, superheroes, some historical period, and such — listed below are a couple of options to choose from:
The boho theme is all about artistic expression and a carefree lifestyle. Flowy and go-with-the-vibe kind of clothes are a perfect fit for the theme. This theme can provide your party with an unconventional flair that might be missing in other run-of-the-mill dinner parties. You can integrate art, food, and fun into your celebration, which every invitee will remember for a long time.
If you feel the traditional birthday celebrations are outdated, you can organize a beach party. This theme can make your party sexy and happening. Ask your guests to deck up in beach costumes and make it fun by rolling in various water games. Additionally, you can make your debut in your best swimwear and be the highlight of the day!
Besides following a specific theme for your 18th birthday, focusing on decorations can enhance the venue's ambiance. Here are some decoration ideas suitable for your party. Read on.
18th Birthday Party Decoration Ideas
Decorations boost the vibe of the event and the party venue selection and set the mood for the celebrations. In addition, they will be etched in the memory of your guests. So, you should leave no stone unturned to give your best in decorating the venue. Below is a list of elements you can include in your party decorations:
This birthday of yours should be memorable. So, making your guests leave notes for you in the digital format can be an interesting idea. You can revisit these short and sweet blessings and messages in the upcoming years and recall the special day with a smile. This creative idea will surely make your birthday worth remembering!
Why not give your friends a sneak peek of your party decorations at the entrance itself? Neon glow theme and decorations are trending nowadays, and it will be super fun to use them as props for photoshoots, too. These cool props are easily available on the market and can take your decorations a notch up.
Do you want to come up with something unique for someone's 18th birthday celebrations? If yes, consider surprising them with something they have never received or experienced before. Just imagine the expression of total amazement on the birthday baby's face when they get your pleasant surprise!
Surprise 18th Birthday Party Ideas
Surprise birthday party ideas need to be well-planned, or else, the guests might spoil the fun by disclosing it beforehand. Below are a few things that can serve as a great surprise for someone's 18th birthday:
You can plan to surprise your near one with a ticket to a concert by their favorite singer. As it is the 18th birthday, experiencing something like this can be very unmatched and heartwarming. Do not forget to save some cash for merchandise as well.
Hitting the road, visiting tourist spots, and exploring new places with friends can be fun and adventurous. It will also serve as a good precedent for their upcoming new life where they will have to navigate many challenges on their own and make tough decisions. So, take your friend out on a surprise trip on their 18th birthday. Pack snacks, start the car, and ride off!
Like girls, boys also want their 18th birthday to be extra special, even if it is not like a fairy tale. Head to the next section for some amazing birthday party favors for guys.
18th Birthday Party Ideas For Guys
Many boys are adventurous and enjoy outdoor sports and gaming. Below are a couple of ideas for an 18th birthday party they will always cherish:
Make your birthday super adventurous by trying rock climbing. It can be an exciting outing as you will try something not-so-routine with your friends. Enjoying the view from the top can be so cherishing. It will give you a sense of accomplishment and fuel you up for the new phase in life. So, grab your squad and get going!
If you are someone who loves to play video games, what are you waiting for? Organize a day-long video-game tournament with your friends. You can also amp up the excitement with some prizes for the winners and it will become a great entertaining option for your friends. Catch up with your friends, lock the door, and dive into your favorite game like Kinect or Smash Bros.
Infographic: 18th Birthday Party Ideas That Scream Entertainment
While all birthdays are special, reaching the roaring 18 calls for some out-of-the-box celebration. If you are stuck and have rejected all the ideas coming your way, check out the infographic below for some fun party ideas guaranteed to have you convinced. Scroll down!

A special milestone like the 18th birthday calls for a big celebration. So it makes sense to move away from the done-to-death ideas like house parties or a visit to an amusement park. Instead, you can opt for camping and cocktail parties with interesting photo booths and decorations or indulge in a relaxing spa day with your friends. You can also make your 18th birthday party a hit by organizing it around a theme like Boho, beach, or your favorite fantasy shows. If you want to add an element of surprise, taking out the birthday person on a long road trip or to a concert can be a great idea. Finally, adventure seekers can head to the mountains for rock climbing or an exciting trek. However you choose to celebrate, don't forget to add some smiles and giggles!
Frequently Asked Questions
What are the best games for an 18th birthday party?
Some fun games to play on an 18th birthday party are scavenger hunt based on the 18-year-old's favorite shows, movies, video games, or books. You can also play card games like Cards Against Humanity. You can also enjoy obstacle course games or escape rooms.
What is special about the 18th birthday?
An 18th birthday is very special as it is the age at which you officially enter adulthood.
What is the color for an 18th birthday?
There is no one specific color that symbolizes the 18th birthday. The party theme color can be the favorite color of the birthday boy or girl.
What is an 18th birthday called?
In English, there are no special terms used to signify the 18th birthday. However, you can call it a landmark birthday. Many cultures in different countries celebrate the 18th birthday in their own way with a specific name for the event. For example, in the Philippines, a girl's 18th birthday is called the debut.
How can I celebrate my girlfriend's 18th birthday on a low budget?
First, fix your budgeting. Then, you can go for the following ideas:
• Plan to have the party at home as it cuts down the cost of booking a venue.
• Make your own snacks. Look up recipes and practice cooking the dishes ahead of the party so you know you can get it right and how long each dish takes to prepare.
• Look for stores that sell decorations at cost-effective prices or make your own decorations. You can also find good options on websites like Amazon.
• Instead of having a party with many people, opt for something low-key with her family and close friends.
You can also try something intimate with just the two of you, like dinner at her favorite restaurant. It is also one of the best gift ideas.
Key Takeaways
Your 18th birthday signifies your entry into adulthood. It may be the perfect opportunity to make new friends and treat your childhood friends from school.
If you are not into over-the-top celebrations, you may spend this casually hanging out with your close friends and family.
Create memories with your close ones by going on a camping trip, hosting a sleepover, or arranging a cocktail party to mark your 18th trip around the sun.

Celebrate your daughter's 18th birthday in style. Check out this video to get inspired by creative and fun party decor ideas!