17 Best 1950s Hairstyles For Women That Look Classy
The top retro-chic looks for the modern woman are a reflection of her—bold and beautiful.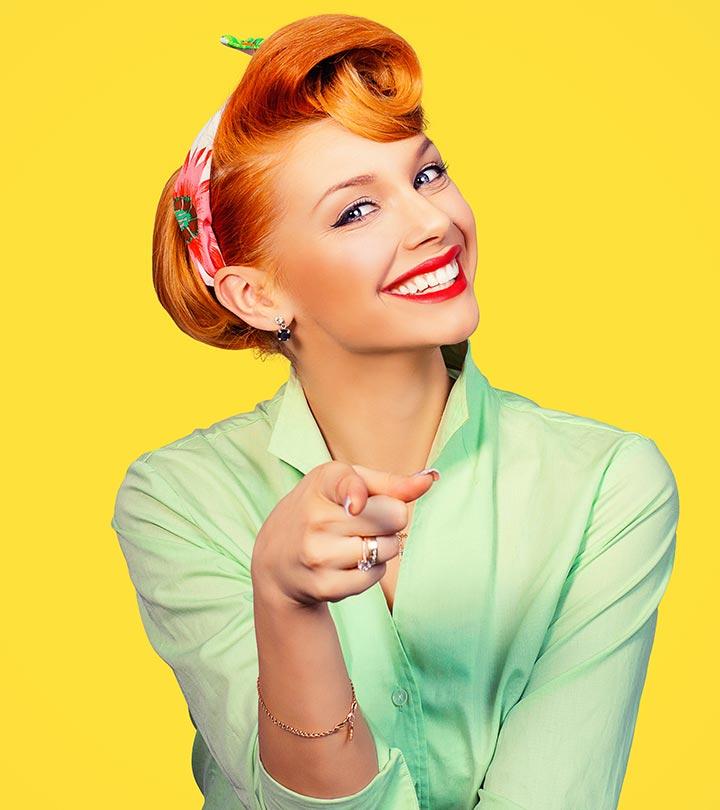 The 50s were truly the best decade hair-wise. Poodle hair, rollers, short bangs – the 1950s hairstyles started trends that are all the rage to this day.
Housewives opted to cut their hair short, young girls chose pretty medium-length cuts, and the Beat girls wanted longer hairstyles. Iconic hairstyles of the '50s, from Grace Kelly and Audrey Hepburn, still turn heads. The fear of the Second World War had passed, everyone was jiving to their favorite Sinatra or Elvis song, and hair would never be the same again!
Wondering what 50s hairstyles were like? Scroll down to check out some true classic hairstyles!
17 Best Memorable Hairstyles Of The 1950s
1. Big Victory Rolls
The '50s were all about short and big hair. Victory rolls were en vogue in the '50s, and big victory rolls like these were sported by many women. You can achieve this look with the help of some mousse, a round brush, and a blow dryer.
2. The Faux Bob
Like I've said before, the '50s were big on short hair. Styles like the faux bob were created, so women with long hair could temporarily jump onto the short hair bandwagon. Use a big round brush and a blow dryer to create the dramatic wave. Keep the wave big to really embody the '50s style. Fold and pin up the ends of your hair to form a faux bob.
3. The French Twist
The French twist was a sophisticated hairstyle of this time. It was the one hairstyle sported by women of all ages with fervor. Style your French twist with a slight bouffant and a sparkly barrette to encompass the '50s vibe.
4. Curly Bob
During the Second World War, while the men were away fighting, women started working men's jobs. Once the war stopped and the men came back home, women went back to their regular lives. However, short hairstyles like the curly bob continued to be sported proudly by women.
5. Bettie Bangs
Bettie Page was known as the Queen of Pin Ups. Men wanted her, and women wanted her hair. She had thick, luscious hair, but it was her bangs that made an iconic style statement. Bettie bangs are sported by women all over the world even today.
6. Bettie Page Waves
You may have noticed that most of the hairstyles listed here are short. This is one of the very few long hairstyles that were big in the '50s. Women who identified themselves as 'Beat girls' would copy Bettie Page's hairstyles – like this classic waves and mid-forehead bangs look.
7. Roller Hair
The '50s started the trend of sleeping with rollers to achieve those perfect curls. Young college girls would pair their curls with a beret to create a Parisian look.
8. Poodle Hair
Yes, there existed a hairstyle back in the '50 called the poodle hairstyle. It comprised of hand-rolled curls that would resemble a poodle's hair. This style was incredibly big in the '50s and worn at formal events.
9. Top Rolls
The '50s were a big time for pin up hairstyles. Top rolls were sported by teenage girls who wanted to emulate the pin up look. These curls were perfectly sculpted and pinned in place to create height at the top of the head.
10. The Beehive
Women with long hair often sported low buns paired with the beehive. This added oodles of volume to their hair. Simply backcomb your hair at the crown and use a chignon bun-maker to achieve the beehive look.
11. Heavy Poodle Curls
Yes, this may sound strange, but heavy poodle curls were a huge trend back then. The heavier the curls, the more fashionable you looked. The key is to find the right balance between the amount of curls and the height of the updo.
12. Curly Pixie
Audrey Hepburn popularized the curly pixie back in the '50s. She sported a pixie in Sabrina and Roman Holiday. So, it's no surprise that more and more women started opting for a pixie cut. It's a craze even today!
13. Thick Bangs
The 50s saw the rise of thick bangs. Not only did they help in framing your face but they also showcased the thickness of women's hair. Thick bangs were often paired with a bouffant and became a huge trend with many actresses sporting the look at major events.
14. The High Ponytail
The high ponytail is a classic. Betty Cooper from Riverdale sports a perfect '50s ponytail, curled ends and all. Instead of the curled end, you can also opt for a one wave ponytail.
15. The Scarf
The scarf is a timeless hair accessory that took the world by storm in the '50s. College girls would pair all their hairstyles with the scarf, and it looked fabulous! It's no wonder that it's a super stylish look even today.
16. The Hollywood Look
Side-swept waves perfectly sculpted in place – that is the perfect Hollywood look. Even today, you can see many actresses flaunting this look at major red carpet events. This hairstyle is the best blend of sophistication and style.
17. Pin-Up Curls
Pin-ups were a big craze in the '50s. Every woman wanted to sport a pin-up hairstyle. Big curls and nautical-themed outfits became quick favorites of young women across the USA.
Infographic: 1950s hairstyles
The '50s hairstyles were indeed beautiful. They were easy to create and style, and since most of them were short, carrying them was not a hassle. With advanced tools and techniques available today, those hairstyles can be infused with a hint of modernity and flaunted. So, if you choose to rock some of the 1950s hairstyles, wouldn't it be great to know more about them?
Check our infographic below to learn some interesting facts related to 1950s hairstyles.
We can all agree that vintage never goes out of style. It is a recurring trend and a crowd-favorite theme for parties and other social events. The '50s were a time when people were intensely creative and open-minded with their styles that have since become iconic statements in the world of fashion. In a way, they were even ahead of us. It is never too late to learn more and try these timeless hairstyles to rock the vintage vibe. So, go ahead and take your pick from this list of classic '50s hairstyles for your next outing.
Key Takeaways
The 1950s were truly the best decade hair-wise.
The '50s were big on short hair. Styles like the faux bob were created, so women with long hair could temporarily jump onto the short hair bandwagon.
Bettie bangs and poodle hairstyles are sported by women worldwide even today.
The following two tabs change content below.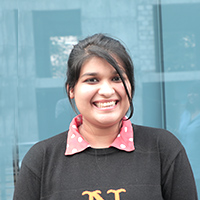 Anjali specializes in hairstyles and hair and skin care and has written over 200 articles in these domains. Her philosophy...
more