Type 1b Hair: Pros And Cons, How To Take Care, And Hairstyles
Learn how to manage your hair and what hairstyles suit you the best!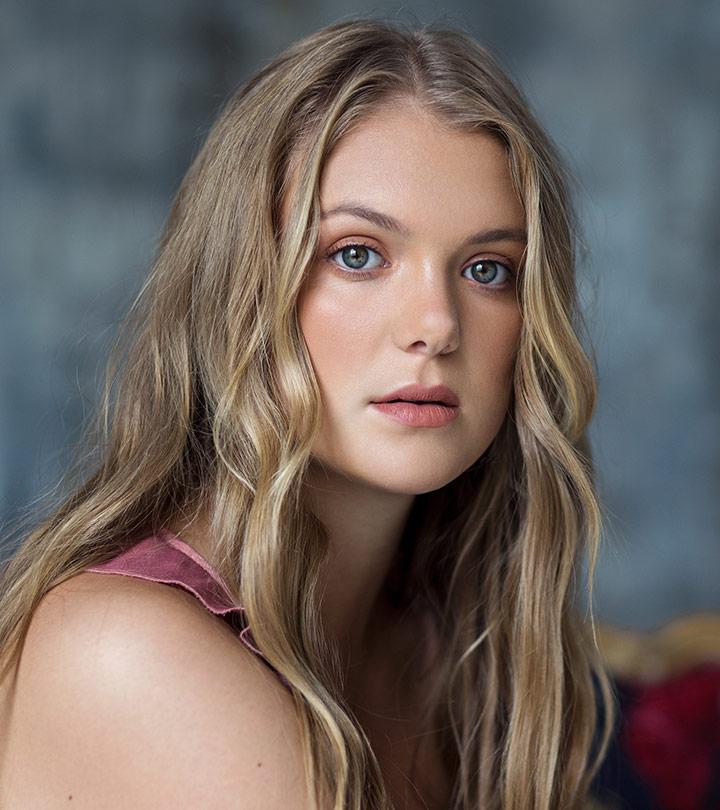 One's hair is considered Type 1b when it is straight from the crown of the head but becomes wavy as it goes down. While you usually don't have to try very hard to curl this hair type, it might get oily very quickly. But fret not – as we have covered in this article the different ways to manage this hair type, hair care tips and styling advice, the ideal hairstyles to go for, and more information that can help you make the best out of it. Continue reading.
What Is Type 1b Hair?
Okay, let's get this straight. You have straight hair with wavy bends at the ends, which can make figuring out your hair type a challenge. But you only need to look at the kind of waves your hair forms to make sure you have Type 1b hair. Is your hair very wavy, or does it have slight bends and hints of waves? If it's the latter, chances are you have Type 1b hair. The other option is to check your hair strands. Usually, 1b hair has fine strands with few coarse fibers. Its thickness ranges from normal to medium, and while the hair does not fall flat, it has volume and bounce.


Trivia
Type 1b hair is the most common hair type around the globe.
How Is Type 1b Different From Other Type 1 Hair Patterns?
There are three different kinds of Type 1 hair. First, there's 1a, with fine, straight strands. Type 1a hair is super-straight and doesn't have any waves or curls. Hence, giving waves and curls to Type 1a hair is quite difficult.
Type 1a tends to follow its natural suit and does not hold curls, whereas 1b (the second kind) has straight hair with wavy ends, and its hair texture is somewhere between fine and coarse. It has medium thickness and holds curls and waves better than type 1a.
The third kind is Type 1c, which is straight but thick and coarse and tends to frizz up. It has a naturally tousled appearance. Type 1c hair strands form S-shaped waves.
These three hairstyles are subsections of Type 1 with variations, and each has specific features that accentuate an individual's look.
Although Afro hair types like coily and kinky hair are known to be unmanageable and frizzy, type 1b hair also has its own set of pros and cons that you may want to know. Read on to know more about this 1b textured hair.
Pros And Cons Of Type 1b Hair
Pros
Doesn't quickly become frizzy as the natural scalp oils provide nourishment and give it a glossy appearance.
Can hold a curl because of its inherent nature to form bends, and is simpler to be curled into waves.
Gets air-dried effortlessly as it isn't particularly coarse.
Cons
Is oily at the roots and dries at the ends; and its fine texture causes it to appear greasy even with little amount of oil on the scalp.
May require you to use more heat often to make it look more polished and give it a shape since straight hair with untamed wavy strands can look unkempt.
Like any hair type, Type 1b hair has its share of pros and cons. But this doesn't have to mean that it will always stay messy or unhealthy. You can take the right steps to keep your hair healthy and strong. Learn more in the next section.
How To Keep Your Type 1b Hair Healthy?
Since Type 1b hair tends to get very oily, choose a clear, gentle cleaner that cleans it without removing its natural oils. Also, avoid products with essential oils to prevent excess grease on the scalp. Choose products with hydrating ingredients like glycerin and aloe vera to ensure proper scalp hydration and to keep your scalp from producing excess sebum. The antibacterial properties of aloe vera also help fight scalp dandruff (a common occurrence in those with oily scalp) (1).
Maintain A Regular Wash Schedule
You don't need to wash your hair every day just because it tends to become oily. Daily hair washing may deplete your scalp of its natural oils and increase sebum production. Instead, gradually train your hair by shampooing it every other day for the first few weeks before you go 2-3 days without shampooing. A scheduled hair wash is necessary for strong, smooth hair.
Don't Use Excess Conditioner
Your hair naturally produces oils, and Type 1b hair typically has greasier hair. Hence, excess use of hair conditioners can weigh your hair down and make it appear heavier and oilier. Instead, only use conditioner on rare occasions; and if you must use it frequently, a very small amount should do.
Always detangle your hair with a wide-tooth comb, starting at the ends and working your way up. But avoid those downward strokes while brushing your hair as they can break it and cause tangles.
Use Silk And Satin Pillowcases And Hairbands
While every hair type can benefit from this hair care advice, those with Type 1b hair should pay close attention. Sleeping on cotton pillowcases or those made from other fabrics can lead to split ends, knotting, frizz, tangles, and further hair damage because Type 1b hair is finer and thinner than any other hair type. But silk or satin pillowcases eliminate this typical abrasion. This smoothens your hair texture, keeps it from getting tangled, and reduces hair breakage.
Apart from these tips, using the right hair brushes can make a world of difference to your Type 1b hair. Check them out in the next section.
4 Essential Hair Brushes For Type 1b Hair
Wooden Paddle Brush For Straight Hair
Bigger brushes are better if your hair is fine and prone to breakage. The paddle brush is one of the softest tools you can use on straight hair. Its plastic bristles are distributed widely to detangle hair with less strain. As a result, brushing over the same area takes less time because the large surface area can handle large volumes of hair at once. Additionally, using a paddle brush on straight hair prevents scalp abrasion.
Wet hair should be brushed with a detangler brush. The thin, flexible bristles of the detangler brush minimize damage to knotted hair. The evenly-spaced bristles make brushing out knots painless and faster.
A fine-tooth comb is a must-have for straight hair, and more so for Type 1b hair that has slight waves. Such a comb can come in handy to perfectly straighten your hair after a hair wash. In addition, using this comb when your hair is wet decreases the chances of getting those wavy ends. It also evenly spreads the scalp's natural oils to nourish your hair and keep it frizz-free.
Boar bristles are used in the highest-quality hair brushes. These bristles are delicate and kind on the hair. They accentuate the hair's natural texture and give it more body. They also effectively transfer the natural oils from the scalp to the ends of hair strands.
Continue reading to learn more about styling your hair.
How To Style The 1b Hair Type?
Here comes the part we were all waiting for. Unlike curly hair, Styling your beautiful Type 1b hair into one gorgeous hairstyle can be effortless and simple to maintain. For instance, you don't need to worry whether your hair will hold curls thanks to its natural texture. Your hair's medium thickness also allows you to style your hair into various types of curls and waves.
You can also experiment with beachy waves, free curls, or even messy curls that suit your face shape. You have naturally straight hair, which also can be easily styled with a blowout. Your hair is slightly thicker than 1a hair, which gives you more styling options, including braids, updos, and other hairstyles.
However, these styles frequently necessitate the use of additional products to keep them in place. Excess hair product is bad as it can make your strands appear oilier. Hence, limit the frequency with which you try these styles to avoid giving your strands a reason to look greasy. Using a clarifying shampoo once a while can help.


Trivia
Those who naturally have Type 1b hair can forgo the additional shine serum because their hair is more likely to reflect light, be smoother, and appear shinier when it is straight.
Now that you know that Type 1b hair is super versatile, check out the fantastic hairstyle options below.
7 Best Hairstyles And Haircuts For 1b Hair
1. Beachy Waves
For a casual, carefree look, beachy waves are the way to go. If you have Type 1b hair, you can easily achieve a beachy wave hairstyle because you already have soft waves. With a little assistance from a curling iron, you can create the ideal beachy, fun hairstyle for your casual day out.
2. Pixie Cut
Do you want to go short? A pixie cut is a perfect choice for Type 1b hair. This cut takes little time to style. You can work a no-blow-dry cream into damp hair, tousle, and go. You can rake a firm hold gel or paste through your hair for a bold, graphic finish instantly. Getting a pixie cut can also add that needed texture to your hair. If you are looking for an edgy aesthetic, this short haircut is the best to choose from. But if you want to jazz things up further, a pixie with bangs looks extremely feminine and can make your face appear more girly and cute.
3. Curtain Bangs
Curtain bangs are simple to pull-off and give the impression of a soft, fuller face because they perfectly frame the face. These bangs look great on Type 1b hair because the fine texture gives them the wispiness they need to effortlessly frame the face.
4. Layers
Layers are fantastic for straight hair because they give it a lot of life and volume. Many of us still favor layers because they give the appearance of volume and texture to our hair. Long layers have a very elegant appearance, while short layers with multiple layers add a fun and fashionable touch. Light brown, extra-long layers are ideal for women with long hair who also want to lighten their hair.
5. Half Up, Half Down
Show off your beautiful hair while wearing it half up and half down. It is incredibly simple to look stylishly unassuming this way. Additionally, it keeps your hair in place all day so you don't have to constantly flick it back, but you still allow it to loosen up and display subtle waves at the ends. If your hair is exceptionally smooth and sleek, all you need are some good-quality bobby pins, hair elastics, and a good holding spray.
6. Loose Curls
Unlike Type 1a hair, your hair can truly hold curls; so why not catch this amazing opportunity to curl your hair the next time you head out? Loose curls will have a natural flow and can add softness to your style. All you have to do to achieve this look is alternate the directions you curl your hair in to give your curls a more organic appearance. Your curls will be looser if you use bigger, thicker hair strands to wrap around your curling iron.
7. Side Swept Bangs
Side-swept bangs will look absolutely stunning on you if you have Type 1b hair. Any style, be it an updo, a ponytail, or loose curls, can benefit from side-swept bangs. They are simple to wear and require little effort.
Infographic: 4 Best Hairstyles For Type 1b Hair
Are you unsure about the kind of hairstyles that suit Type 1B hair? While there are many options, deciding the best one can be a challenge. A shag, soft layers, or a lob look – which would look good? Well, we understand the pain and are here to help! In the following infographic, we have listed the 4 best hairstyles for type 1b hair. Check them out.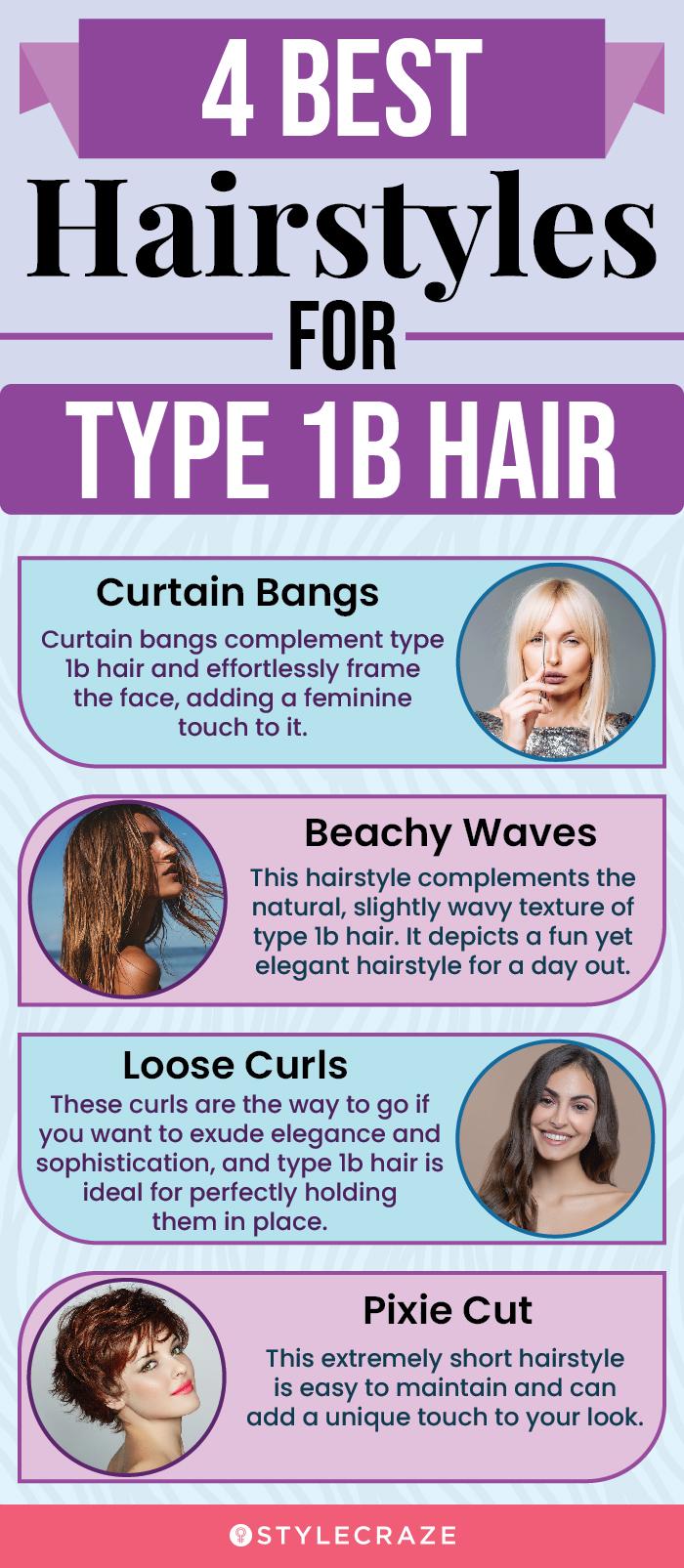 Final Words
Type 1b hair is incredibly simple to maintain, especially when your scalp and hair are taken care of. You can achieve a hairstyle that will brighten your day with hair that has a medium-thick texture. However, do not overdo heating tools even if they make styling your hair simple. Also, excess use of hair styling products like mousse or texture sprays can make your hair brittle and cause your already-greasy scalp to produce too much sebum. So, try different haircuts, such as the layered hairstyles and side-swept bangs, as they are simple to maintain and can instantly improve your appearance without the use of multiple products.
Frequently Asked Questions
What is the color of 1b hair?
Among all hair colors, 1b is the second darkest. The b in 1b stands for black, while 1 indicates that it is the first hue of natural black. 1b is a darker shade of black that appears more natural than jet-black strands. It's a softer shade that looks the most natural on people with naturally black hair.
How do you sleep when you have Type 1b hair?
Put your hair up in a braid or a loose bun and tie it loosely to ensure complete protection. Your hair will remain detangled and frizz-free if you do this.
What kind of shampoo is best for Type 1b hair?
Type 1b hair is easily weighed down by natural and product buildup, so using a clarifying shampoo once a week is essential for keeping hair voluminous and the scalp feeling fresh. It will also help reduce oil production. Use a dry shampoo to prevent oil and grease between washes.
Is my hair Type 1b or 1c?
Type 1b hair is usually straight, with a medium texture, and has a little bit more volume than Type 1a hair. On the other hand, Type 1c hair is extremely straight, but also is extremely thick and coarse.
Would layered hairstyles look good on 1b hair?
Getting a layered haircut is a good option for Type 1b hair. It enhances the texture of the hair and makes it more voluminous.
Is hair Type 1a rare?
Yes, the rarest hair type is 1a. It is most common among people of Asian descent.
Transform your 1B hair into sleek, straight locks with this easy-to-follow tutorial. Learn the tips and tricks to get the perfect straight hair look.
Sources
Articles on StyleCraze are backed by verified information from peer-reviewed and academic research papers, reputed organizations, research institutions, and medical associations to ensure accuracy and relevance. Read our editorial policy to learn more.
The Review on Properties of Aloe Vera in Healing of Cutaneous Wounds
https://www.ncbi.nlm.nih.gov/pmc/articles/PMC4452276/
The following two tabs change content below.