Fabulous 21st Birthday Wishes For A Memorable Day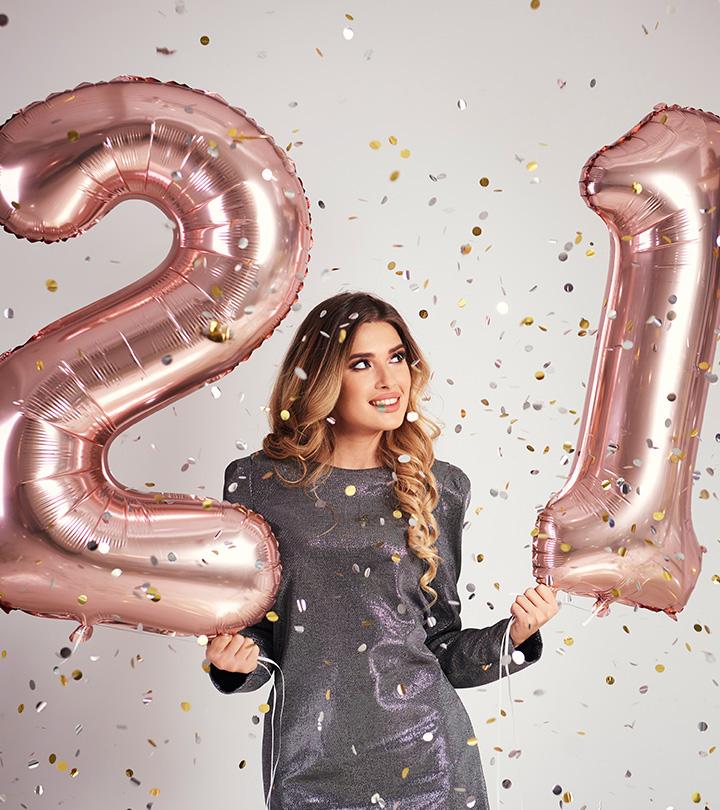 The twenties are the most dynamic years of a person's life as they chase their dreams, have fun, and explore the world. However, turning 21, especially, is a milestone at which one can experience the perks of being an adult. If you are looking to greet someone on their special day but running out of words, this article is for you. Here is a beautiful collection of birthday wishes that you can send to your son, daughter, best friend, siblings, and dear ones to make their 21st birthday brighter and happier.
Cheerful 21st Birthday Wishes For Your Best Friend
Your best friend will always stand by your side, help you follow your dreams, and play naughty pranks with you. If you want to wish your bestie differently, here are some interesting messages:
Happy birthday to my bestie, who never acted their age.
You are 10 with 11 years of experience. Happy birthday!
Thank you for doing all the silly stuff with me. Here's to many more — happy 21st birthday.
I searched all over the internet to send you a special gift for your 21st birthday. And guess what? Nothing beats my amazing presence in your life! Happy birthday, you lucky person!
You always give the best hugs, support me in everything I do, and answer the phone, no matter what the time is. Thank you for always being there for me. Happy 21st birthday to my rock!
Hello birthday king/queen! Here's to another year of fun, friendship, laughter, and pranks. Happy 21st birthday!
Your little princess has now turned into a queen, and if you are searching for a message to make her day special, take a look at the list below.
Delightful 21st Birthday Wishes For Your Daughter
Thank you for lighting up our world with your laughter. Happy 21st birthday to the best daughter in the universe!
You are such an adorable daughter, and you are my pride. I wish you a wonderful 21st birthday.
May your birthday shine like a million bright stars. Happy 21st birthday to my girl!
I love you for the little girl once you were, the amazing woman you have grown up to be, and the precious daughter you will always be. Happy 21st birthday, sweetheart!
Happy 21st birthday, honey! May sunshine follow your path and make your life brighter.
Watching you grow up into the person you have become has been a great joy. May you achieve great heights in everything you seek. Happy birthday, darling!
Happy 21st birthday, my lovely daughter! Love you to the moon and back. Enjoy your special day!
Your son is now turning into a young man. Encourage and bless him to achieve his dreams with the following beautiful 21st birthday wishes.
Joyful 21st Birthday Wishes For Your Son
Every year, you are turning into an awesome human being. Welcome to adulthood. Happy birthday, my son!
Happy birthday my young man who is smart and tall like his dad.
I am blessed to have such a responsible son. Love you, dear! Happy 21st birthday.
I feel happy to be part of the celebrations and witness the transformation of a cute little boy into a young prince. Happy 21st birthday.
You turn 21 only once. Hope this birthday is spectacular and wonderful. May all your dreams and wishes come true. Happy 21st birthday, my dear son!
My son, you had my heart from the very day you were born. It's been a pleasure watching you transform into this kind, compassionate, and intelligent adult. Happy 21st birthday! Love you!
Happy twenty-first birthday, sonny! Wishing you nothing but the best. May your life be filled with amazing adventures and exciting opportunities.
Hope your birthday is as amazing as you are. Wishing you love and joy always. Happy 21st birthday, sweetie!
Happy 21st birthday, my son! May you make precious memories and find awesome friends and happiness wherever life takes you along!
It's always joyful to have a brother or sister, and celebrating their birthday means creating memories. So, bless your dear ones with love, affection, and the following beautifully crafted messages to make their day beautiful.
Flattering 21st Birthday Wishes For Your Brother And Sister
Cheers to the marvelous years we spent together. Happy 21st birthday, my lovely sister!
I cannot believe that you have turned 21. Happy birthday to my little brother, who is not so little anymore.
Happy 21st birthday to my loving sister, my best friend, my secret keeper, and my partner in crime. May all your wishes be fulfilled!
On your 21st birthday, this is my wish for you. May all your wishes come true!
May you live a long, strong, and responsible life. Happy 21st birthday, my tall young man.
Happy 21st birthday, my girlfriend-less brother. May you get one soon.
To my beautiful sister, who is a good friend and guide, happy 21st birthday!
I treasure our fights, fun times, gossip sessions, and deep talks. Happy birthday, my dear sister.
No diamond can be more precious than you. Happy birthday, my loving sister.
Your innocence is priceless, and your kindness makes me proud. Happy birthday, my brother!
Proud to have a sister like you; intelligence and compassion wrapped together. Happy 21st birthday.
On your 21st birthday, here's wishing you loads of smiles, sprinkles of joy, and a lifetime of happiness!
Add humor to the normal birthday wishes to make them more interesting. Here are a few fun wishes that you can use for your siblings, friends, colleagues, and anyone with a sense of humor.
Funny 21st Birthday Wishes
Welcome to the 21 club! Now, it's time for you to buy me a drink. Happy birthday!
Happy birthday! Disappoint those who expect you to be dignified and sober.
A wise man once said, "Forget about the past, you cannot change it." I say, "Forget about the present – I didn't get you one!" Happy 21st birthday, buddy!
You can go ahead and light the candles on your birthday cake. I have already alerted the fire department. :P
The night is young, but you, my friend, aren't anymore! We can still party! Happy 21st birthday, goofball!
Roses are red, violets are blue, and monkeys like you, belong in the zoo! Happy 21st birthday!
Check out these special 21st birthday messages that you can send across to anyone in your contact list.
Thoughtful 21st Birthday Wishes For All
Happy birthday to the most spectacular human being I know! May your 21st year be magical and bring you lots of happiness and success!
Enjoy the freedom of turning 21. Embrace the new phase. Happy 21st birthday!
May you always remain surrounded by beautiful and inspiring human beings who shape you into an impressive young one — happy 21st birthday.
21 is a perfect age. Be energetic, optimistic, and do great things. Happy birthday!
The last twenty years passed quickly, and the upcoming twenty years will pass even faster. Just laugh as much as you can; don't worry about everything. Happy 21st birthday.
You are now in your twenties; enjoy it before knocking your thirties. Always remember, time flies. Happy 21st birthday!
Have a grand and cheerful birthday, my dear young man/woman. Enjoy to the fullest.
Stay happy! Stay healthy! Happy 21st birthday!
Turning 21 is the first step into adulthood, where many chase their dreams and have the time of their lives. We hope this article helps you become a part of this landmark day by sending over the best 21st birthday wishes.
Recommended Articles
The following two tabs change content below.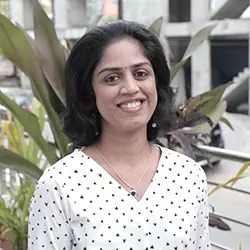 As Chief Editor, Harini sets the tone and editorial direction for StyleCraze to deliver engaging, interesting, and authentic content revolving around women's health, wellness, and beauty. She has over 14 years of experience in content writing and editing for online media. She specializes in the areas of Beauty, Lifestyle, and Health & Wellness and is proficient in Medical Sciences (Biology, Human Anatomy and Physiology, and Biochemistry). Her background in Biomedical Engineering helps her decode and interpret the finer nuances of scientific research for her team. Harini is a certified bibliophile and a closet poet. She also loves dancing and traveling to offbeat destinations.