13 Awesome 25th Birthday Party Ideas To Make Your Day Special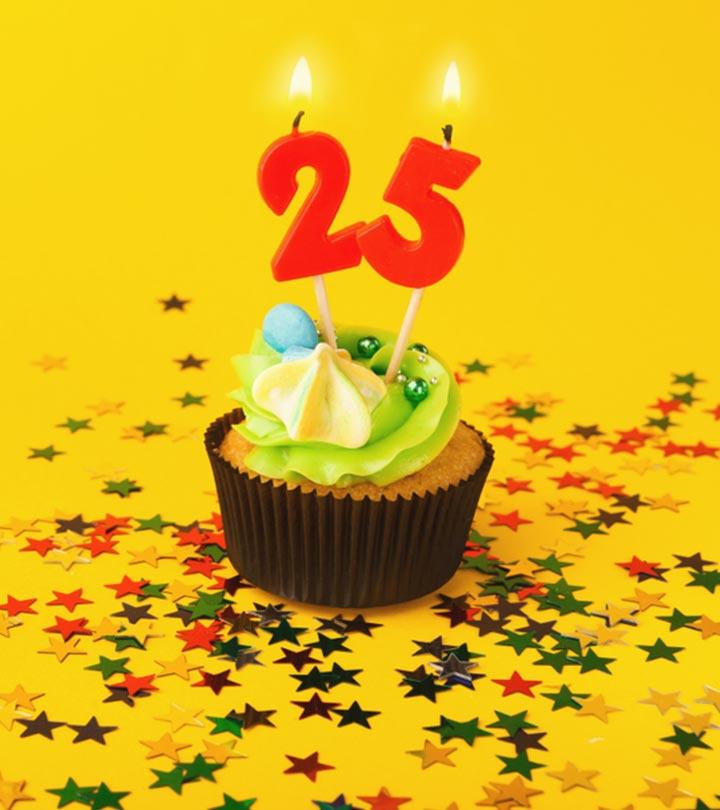 Is your loved one turning 25, and you are wondering how to make it memorable? Your search ends here! Find out creative 25th birthday ideas below.
Turning 25 is a milestone in everyone's life. It is official that you have hit the quarter mark to a century and are about to step into the 'grownups' world', which comes with additional responsibilities. So, a perfect celebration is necessary on this special occasion. We have gathered 13 unique and thrilling ideas to make your special day cherisable and unforgettable. Keep scrolling
13 Ideas To Celebrate Your 25th Birthday
1. Say Cheers To 25 Rocking Years
This theme revolves around your favorite alcoholic beverage, be it beer, wine, or a particular cocktail. Invite all your friends and arrange plenty of drinks, so you will not be running short of demand, and raise a toast to your 25th birthday. To make it memorable for the guests, send them home with personalized wine glasses as a perfect party favor so that they will remember your birthday for many years to come.
2. Organize A Beach Party
Everyone loves the beach, and it is the best place to recall your mischiefs (naughty and laughable ones, of course) with your partners in crime and share a laugh. On your 25th birthday, host a beach party for your closest friends and cherish your milestone to the fullest. You can arrange a bonfire, beach-themed food and drinks, and some nice music to add life to your special day.
3. Poker Party
Poker-themed parties are quite popular among youths as they set a different mood than the traditional ones. Arrange an ample number of poker chips and table arrangements so that your guests can sit, play, and enjoy. Don't forget to serve delicious food and beverages to all the guests right at the table as the buffet system doesn't go well here.
4. Backyard Barbecue
If you are an introvert and want to celebrate a cozy 25th birthday with a handful of friends, a backyard barbecue party might be the best idea for you. Decorate your backyard with lots of colorful banners, balloons, and streamers, and put on some music to set the party mood. You can also set up a drinks bar with a selection of beer and canned juices. How about cutting a s'mores cake? You can also dig into grilled pizza, slaws, grilled meat and seafood, and salads.
5. Picnic Theme
The 25th birthday brings lots of happiness and a feeling of achieving a milestone. However, it also comes with great responsibilities. Before getting busy with life, you may want to spend your special time with your family members and loved ones. Hosting a picnic-themed party is a good idea to enjoy a quiet and peaceful time with your near and dear ones.
This party will surely take you down the memory lane when you and your family used to enjoy picnics. You can set the table and eat homemade food or arrange for a picnic basket for everyone. Plan picnic games to get your family and friends involved in some fun activities.
6. Arrange A Sparty!
Need a relaxing break from the humdrum of life? Host a spa night with your girls on your 25th birthday and enjoy some time pampering yourself. You can arrange for a hot tub party at the nearest spa, enjoy relaxing hydrotherapy sessions while sipping some champagne, followed by a relaxing massage session, good food, and music.
7. A Vampire-Themed Birthday Party
Love The Vampire Diaries? Or The Twilight Saga or Van Helsing? Why not plan a vampire-themed fun and spooky party? Ask your guests to dress up as their favorite characters. Serve red cocktails or soft drinks, decorate the room with garlic bulbs, vintage books, cauldrons, and vampire-themed foods and dishes. Don't forget to plan some scary tricks during the party to keep the party mode alive.
8. Golf Theme Party
If you and your friends are golf lovers, look no further, and organize a golf-themed party for them. Set up indoor golf in your hall or backyard and challenge your friends to set consecutive putts (3, 6, 9, or 10). Make sure to arrange drinks and snacks and some music to make the party lively and interesting.
9. Take An International Trip
Not a party person but still want to celebrate your 25th birthday? Take a solo trip to a place you always wanted to visit.
Taking a solo trip is one of the life-changing experiences that build your confidence. And since you are turning 25 and entering a new phase of your life, you will enjoy this moment. If you want, you may go with your closest buddy and add a new and colorful chapter to your life.
10. Host A Hula Party
If you are in the mood for fun, you will enjoy a tropical-themed Hula party. Decorate the venue with fake or real palm trees, get colorful hula skirts for all your female friends, arrange coconut cups for serving drinks, and couple them up with the nice hula music from Barbados to enjoy a perfect and chilled 25th birthday party.
11. Karaoke-Themed Party
Rock your 25th birthday with a karaoke-themed party. Set a theme of your choice, like rock n' roll, blues, the 60s, or the 90s. Ask your guests to dress according to the theme, get the karaoke gear, and you are all set. Don't forget the funky décor, lighting, snacks to munch on, and drinks!
12. A Murder Mystery-Themed Party
Hosting a murder mystery-themed 25th birthday party is a wonderful way to create new memories. You can get the murder mystery party kit that includes a story and other instructions. Send out the invitations, and everyone has to play a role in the mystery. Make sure the "murderer" attends the party. Let all the guests play their character and figure out the murderer.
13. Masquerade Ball Party Theme
Well, this party theme is not something new, but it still has a loyal fanbase. Inform your guests to dress up in their beautiful ball gowns and tuxedos for the party. Pick a theme and a color scheme. You can also have a photo booth and get props, so you and your guests can click pictures. Arrange for finger foods for snacks and a theme-inspired menu for dinner.
Turning 25 calls for a memorable and perfect celebration. But a perfect event need not be hard to arrange or heavy on the pocket. You can pick your favorite theme, decorations, and menu from our list of creative ideas to organize your 25th birthday and create memories. From a beach party to a backyard barbecue, spend a gala time with your family and friends as you hit the mark of 'quarter century'. Of course, you can also customize these ideas according to your taste and preferences, so get as imaginative as possible.
Key Takeaways
Your 25th birthday deserves a grand celebration as it marks your entry into the world of ""grownups.""
From a backyard barbecue to a beach house party – there are numerous ways to have a memorable time with your friends and family on your 25th birthday.
You can also plan a masquerade ball if you want to throw a grand =birthday party and make some epic memories.
So the next time you are looking for 25th birthday ideas, you can simply pick any of the many options shared above. It doesn't always need to be indoors with the regular birthday party decor. You can plan a beach party, a camping trip, or even a backyard barbeque party. Fun, exciting, and engaging, these ideas would not only make the 25th birthday party memorable, but also help everyone bond over fun, food, and celebrations.
Recommended Articles
The following two tabs change content below.