Romantic And Unique 25th Wedding Anniversary Ideas
Let there be a splendid gala, some delectable food, and lots of love to commemorate the milestone.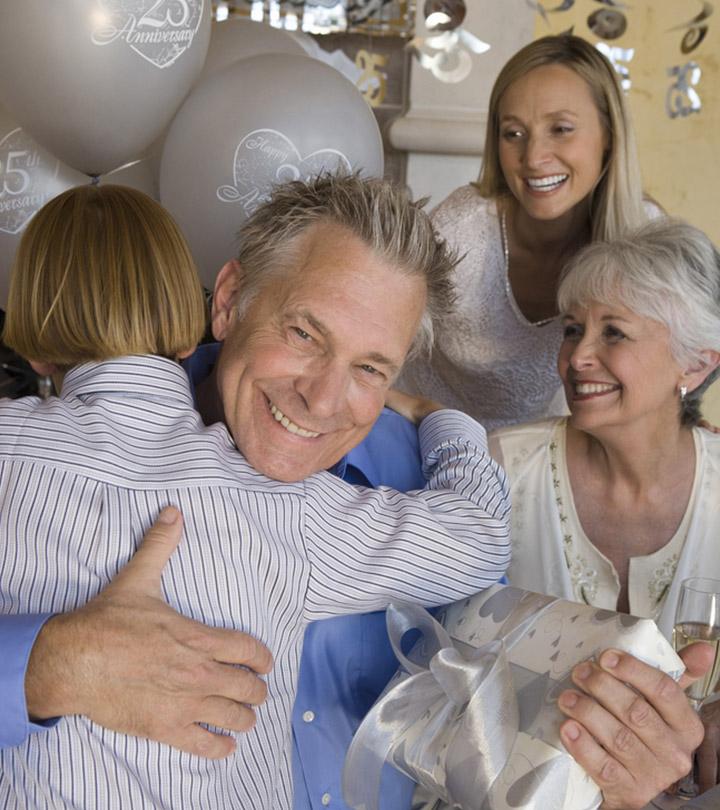 Being married to someone for 25 years is a significant accomplishment, an honor, and a beautiful feeling. So, to mark this occasion, you need some beautiful 25th wedding anniversary ideas. This celebration signifies that you love each other and want to live together for as long as possible. Also, such relationships deserve to be celebrated every day, every month, every year, and every quarter-century! The 25th marriage anniversary is also known as a silver jubilee or a silver anniversary. Most of the party and dinner themes and other gift ideas are silver or covered in silver colors. While sterling silver makes everything look gorgeous, there is a chance that you may go overboard with it. So, these fresh ideas may help you celebrate these 25 years of commitment in a unique way. Keep scrolling!
25th Wedding Anniversary Ideas
Completing 25 years of marriage is a milestone and requires a big celebration. Here are some unique ways in which you can celebrate your silver jubilee:
Plan a trip — an escapade from the routine, work, kids, parents, and everything else.
Have an extravagant party with your friends, family, colleagues, and others.
Do something adventurous, such as skydiving, water rafting, scuba diving, paragliding, etc. It will allow you both to get closer as you experience the adrenaline rush.
Have a theme-based or a fancy-dress party around a movie, historical time, or literature that interests you both.
Have a destination anniversary celebration like a destination wedding. You can also recreate the wedding day and make new memories.
Parents ensure that your birthdays are always done like a dream, and their 25th anniversary is the perfect time for you to do something for them in return. The next section lists some thoughtful ideas you can implement for their special occasion.
25th Wedding Anniversary Ideas for Parents
Bake your parents some cupcakes with flower-themed icing. You can also make an edible bouquet if your parents have a sweet tooth.
Book them a trip around the country to scenic places that they love or might like.
Make them a silver plaque for their silver jubilee.
While the idea of an old-school photo album may seem foreign to you, we feel they will love to revisit memories and reflect on their years together in a physical copy form.
If your parents don't mind indulging in spirits, getting them aged wine from the year of their wedding would be an amazing and thoughtful present.

Stylecraze Says
You may also arrange for a simple yet sophisticated romantic fine-dining experience for them. Pick out their outfits, drive them to the venue, and make a pompous deal out of it! They will love the cheeky mix of it.
Some people love grand gestures of love, but many also love celebrating with their close-knit friends and family. Who is to say that you can't enjoy dreamy and epic 25th anniversary celebrations at home?
25th Anniversary Party Ideas At Home
Decorate the house by adding a few fairy lights, candles, and flower petals. Cook your spouse's favorite meal and eat together as a soft romantic number plays in the backdrop.
Have a small party with the closest people around you, a get-together of sorts. Of course, you can make it a surprise party as well!
Have a candle-light dinner, complete with their favorite food, wine, and dessert.
Switch roles for a day to remind yourself of the important place that you hold in each other's lives. If you work a job that does not allow you to help around the house a lot, take the day off.
Commit to a new hobby together. It will allow you to learn something new and spend more time together, bringing you closer.
Start a tradition where you attempt something together that interests either of you every year. Create a memento for every year to make a montage of memories.

Stylecraze Says
You may book a romantic weekend away at a countryside resort with spa facilities – a private, quiet, and relaxing detox getaway for the couple to rekindle their romance.
Every party needs a theme, and every theme needs to hold some meaning for the guest of honor. A theme also narrows down your plans for decorations. So, look for some themes that complement the couple for their 25th anniversary celebrations.
25th Anniversary Party Themes Ideas
One where the spotlight couple wears their wedding attires, and so does the crowd
A silver-themed party for the silver anniversary
The '90s themed party to celebrate their wedding era
A beach party for all the romantic and peaceful vibes
A black-and-white party with silver highlights
Gifts bring about excitement in everyone's hearts — the curiosity of what the present could be, the happiness of receiving one, and the nervousness of how the recipient will react to your gift. So, you should get your partner something different, exciting, and unique to mark your 25th wedding anniversary.
25th Wedding Anniversary Gift Ideas
Silver jewelry to celebrate the silver jubilee
A plaque to commemorate the years you have lived with each other
An interlinked 3-ring chain or bracelet, symbolizing the past, present, and future
A pair of diamond earrings that shine through the night
A pendant with a Spotify engraving of the song that defines them or you as a couple
A single rose (or any other flower) in the color of what you want to convey. You can also add a card with the meaning written on it.
A watch to convey that you lose track of time when you are with them
An elegant set of the book of vows you read to each other
A silver frame of the moment that best reflects your love for each other
A coffee machine for the coffee lover in them
A parallelization picture from your first date and a picture from the most recent date
A matching set of phone covers, phone holders, T-shirts, etc.
A pair of silver cufflinks that are beautiful, graceful, and charming, just like them
A bottle of their favorite vintage wine
A pair of keepsake rings for the two of you
If you want to make something yourself, go for a cake, a dish of their choice, or a video montage of the best moments that you have caught on camera.
You can also give them DIY personalized gifts based on your shared memories or the things they like.
A trip can also be a great gift to your spouse and yourself to celebrate the 25th anniversary. It becomes especially memorable when you visit or revisit places and create new memories. The next section outlines different trips you plan to celebrate your 25th wedding anniversary. Scroll down.
25th Wedding Anniversary Trip Ideas
Go on a trip that reminds you of your honeymoon and brings back the nostalgic feeling of being newly-wed all over again.
A trip to a tropical beach destination is a favorite among many when it comes to a romantic getaway.
You can also travel to a destination abroad if you want to go all-out for the celebrations.
Travel to a destination that defines love for you. It can be Paris, Rome, Greece, Italy, etc.
Cruise trips are another great idea. Just get on a boat and sail away to the destination(s) of your choice!
A fun trip to Disneyland with your partner and kids can never go wrong.
A car trip in a convertible (or Mustang) will make you reminisce the days of youth.
The 25th wedding anniversary deserves to be filled with entertainment and celebration to commemorate the milestone. Head to the next section for entertainment ideas for the 25th anniversary party.
25th Anniversary Entertainment Ideas
Retro music for the retro crowd
A kids' corner with an inflatable castle, toys, and an indulgent chocolate fountain
A photobooth for the picture fanatics
A music station to play songs that hold meaning for the couple
An end-of-the-night slideshow or short movie to show the couple's growth over the 25 years
A picture gallery to display photographs from the couple's youth, childhood, and early times together
Food is an integral part of every celebration as it creates relationships and brings people closer. So, it is an important detail to focus on while preparing for the 25th anniversary party.
25th Wedding Anniversary Dinner Ideas
A Greek feast, including Greek cheese, yogurt, and wine
A Breakfast at Tiffany's themed party
A silver China dinner set, completed with silver champagne glasses, wine bottles, and jars to keep up with the silver theme
A white food theme with silver candles to highlight the occasion
Fruit cones for snacks suitable for any age crowd
You can also go for silver-colored cupcakes, macaroons, cake pops, cheesecakes, and other desserts.
Nothing can make an event as memorable as a game night. Take cues from game ideas listed in the next section for the 25th wedding anniversary party.
25th Wedding Anniversary Game Ideas
Couples Trivia: The husband and wife are asked questions about each other, and the aim is to find out who knows the other best.
Dancing Mania: It is for couples who love to dance. Playing songs that they have danced to before or are memorable to them and watching them enjoy their time busting a move can make for a blockbuster party.
Who Said It?: In this fun game, participants are given a statement, and they have to guess who said it. The person who gets the most right answers is the winner.
Ring Hunting: One partner hides a ring, and the other one searches for it. You can also play it like a treasure hunt, where all participants are given clues, and they have to look for the 'treasure' together.
Box Dancing: While this may be the most common game for couples, it is undoubtedly a fun one. The couples are asked to dance within set boundaries, marked by a paper. With each round, participants are eliminated, and the paper/boundary decreases.
Infographic: Unique Silver-Themed Ideas For Silver Jubilee Wedding Anniversary
Since the 25th anniversary is called a silver jubilee celebration, it will be fun and symbolic if you add a tinge of silver color to your celebrations. Out of all the ideas listed above, here are a few unique ideas in which you can include silver color. Check out the infographic below to learn about the unique silver-themed ideas for a silver jubilee celebration.



A silver jubilee or a silver anniversary describes a 25th wedding anniversary. Most of the party and dinner themes, gifting, and decor options are typically silver or silver-colored. This occasion calls for a celebration for how far you have come and the renewal of your vows to strengthen your commitment for the years to follow. To break the monotony, you can try some more uncommon yet wonderful 25th wedding anniversary ideas, including organizing a surprise trip with your partner, having a themed party, playing games together, or choosing from the list of ideas shared in this post to commemorate this occasion. Whether you are organizing the event for your spouse, parents, or close family members, the key to a great party is the intent to honor and celebrate the bond of 25 years.
Frequently Asked Questions
What is the symbol for 25 years of marriage?
Silver is the symbol for the 25th wedding anniversary, which is why it is also called the silver jubilee. This tradition dates back to ancient Rome, where husbands gifted their wives a silver wreath on completing 25 years of marriage.
What should I get my parents for their 25th anniversary?
Traditionally, since the 25th anniversary is symbolized by silver, gifting your parents something made of silver would be a great idea.
Who plans the 25th wedding anniversary?
Usually, the children or close relatives of the couple celebrating a 25th wedding anniversary plan and host the celebrations. However, if the couple is enthusiastic and would like to plan and host their silver jubilee themselves, they may feel free to do so.
What are the colors for the 25th anniversary?
The color for the 25th anniversary is silver, just like its symbol.
Key Takeaways
Try a new hobby with your partner to gain new insights and spend quality time together.
Indulge in a silver-themed party or dinner with silver-themed or silver-colored gift ideas.
Add a slideshow or short movie to show the couple's growth over the past 25 years.
Try dancing and ring-hunting games to make the occasion more entertaining.
Celebrate your 25th wedding anniversary with all the pomp and show! Get your inspiration from this video about some unique party ideas for a memorable celebration and gala time.