53 Romantic And Chic Hairstyles For Valentine's Day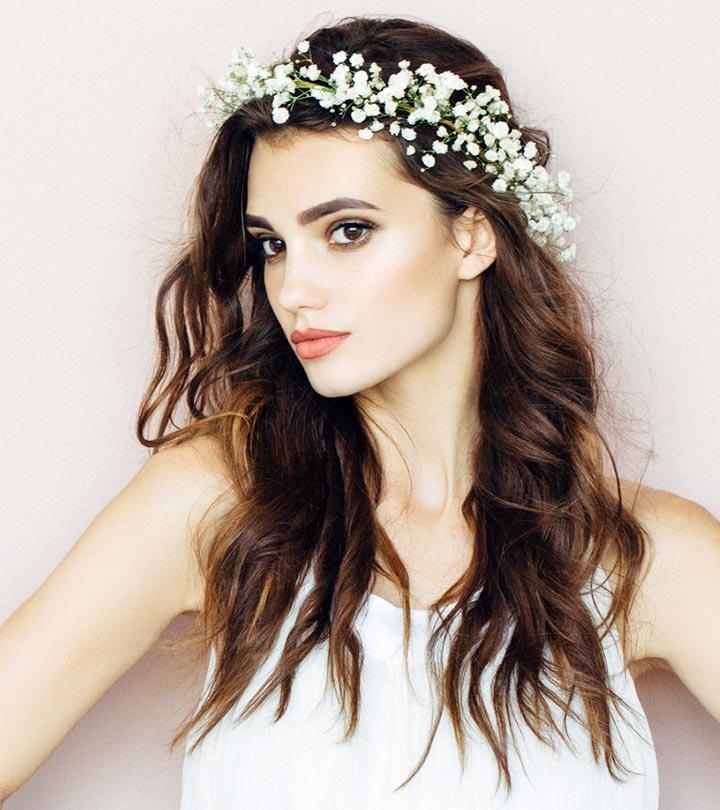 Have you started planning for this year's Valentine's Day? Are you ready with that easiest , trendiest hairdo, which will help you look your best in the eyes of your Mr. Perfect? Not yet? Just gear up girls! There is no dearth of options. If you choose to look spectacular, worry not, we have come up with a guide to help you out on the big day!
1. Romantic Side-Swept Waves
Side-swept waves are always considered as one of the most romantic ways to style our hair. Create a deep side part and let your locks flow down the other side of the shoulder.
2. Loose Straight Hair With Central Parting
This is a cute and adorable style to try on medium to long hair. Make a center part and leave the hair loose. Prevent the hair from falling off your face by using nice hair clips on both sides.
3. Messy Textured Side Braid
Looking for something dreamy yet fun to wear on this V-Day? This loose side braid can be your solution. Give it a messy finish and add texture to it by applying hairspray generously.
4. Fishtail Braid With Puff
When it comes to choosing a chic hairstyle to impress your Valentine, how can you miss the simple and sexy fishtail braid? Let's spice it up even more with a perfect puff on the top.
5. Loose High Braid With Messy Finish
A high braid can also look quite stylish, if flaunted in the right manner. Just keep it a bit loose and add a touch of mess.
6. Simple Straight Ponytail With Hair Wrap
A sleek long ponytail is always in fashion and you can certainly boost your glam quotient on such a special day by wearing it with confidence. And yes! Don't miss that hair wrap part.
7. Loose Hair With Bangs And Double-Braided Headband
Celebrate the festival of love by looking amazingly gorgeous in straight, smooth and silky hair with short side-swept bangs. The double-braided headband has complemented the look perfectly. No?
8. Wavy Side Braid With Volumized Top
Wavy hair is ideal for braids. So, turn your waves into a beautiful side braid and look stunning. A volumized and properly textured top can jazz up your style instantly.
9. Loose And Flowy Side Braid
Here is another side braided hairstyle that both you and your partner will love. Place the braid on your shoulder loosely and let a few strands of hair embrace your face carelessly. Elegantly stylish!
10. Curly High Ponytail With Hair Wrap
Want to look effortlessly trendy with your V-Day hairstyle? This high ponytail with hair wrap should be the right choice for you. Don't forget to curl up the end of your pony for an added touch of femininity.
11. Smooth Tight Braid With Hair Wraps
If you are planning to wear backless on that very special day, opt for this tight braid to enhance the beauty of your toned back. Those two hair wraps will make the style even more beautiful.
12. Double Braided Low Side Bun
A side bun, resting at the nape of your neck, itself is extremely classy. But how could you overlook those two braids ending into it and that chic hair brooch? Do give it a try.
13. Ponytail With Twisted Bows And Pink Highlights
Make a low ponytail by taking the lower section of your hair. Divide the upper hair into two sections and create two bows right above the pony. Take all three sections and wrap with a thin section of hair. A unique style with beautiful pink highlights!
14. Hide-n-Seek Loose Braided Hair
Make a thin braid at the center of the back of your head starting right from the crown. Take rest of the hair and create another loose braid so that only the upper section of the previous braid remains visible. Pretty much exceptional!
15. Curly Side Ponytail With Long Side Bang
This is another simple and easy hairstyle. All you need to do is create a deep is depart, make a side ponytail and curl it up intensely. But doesn't it look just perfect for a V-Day celebration?
16. Simple Triple Braided Bun
This braided bun is enough to give you an ultra-feminine look. You need to create three tight braids at the center and on both sides of your head and turn them into a bun by taking altogether. That's all!
17. Braided Half Updo With Loose Curls
Do I really need to explain why you should give this hairstyle a try on this Valentine's Day? Soft waves, luscious curls, braided headband and floral accessories – what else can make you look more sensual?
18. Straight High Ponytail With Puff
Straight ponytail is good for a decent V-Day look. But why don't make it better? Just puff up the hair at top of your head and position the pony right at the crown. You are done.
19. Upside Down French Braid With High Donut Bun
It is an awesome combination of a braid and a bun. Make an upside down French braid and turn its end into a simple donut bun on the top of your crown.
20. Spiral French Braid With Puff
Puff up the top and create a French braid with rest of the hair. It should have a spiral end and you need to secure it at the nape of your neck with some bobby pins. Absolutely graceful all we can say.
21. Neat And Tidy Multi-Braided Hair
If you have enough time in your hand, give this multi-braided hairdo a try for a neat and precise look. Well, it might take some time at first, but as you master it, it will be very easy for you.
22. Half-n-Half Side Hairdo With Fringes
This hairstyle would be totally appropriate for a delicate V-Day look. Start with creating a side braid, but leave it halfway so that the rest of the hair appears just like a ponytail. You should also take the straight fringes and wavy ends into account, while sporting the style.
23. Lovely Loose Curls With Teased Top
Loose flowy curls can always make you look like a princess. So, tease the hair present at the top of your head and come up with some romantic and playful curls to give the mood of the celebration a boost.
24. Messy Textured Twisted Bun
The severe twist is the secret of this eye-catching bun hairstyle. The messy look can be achieved by applying lots of hairspray. Also, consider choosing some gorgeous shades and beautiful accessories for your hair.
25. Braided Bun With Twisted Bangs

This is another chic bun hairstyle in which you need to create a bun, while wrapping a side braid around it. Twist the bangs present on the opposite side of your braid a little and secure them with bobby pins. Simple!
26. Slicked Back Hair With Teased Crown
If you are looking for a charming hairstyle that would not surpass your glowing face, pick this one. Tease your crown and apply a good serum or mousse to flaunt that great slicked-back look.
27. Side Curls With Straight Fringes
Do you think that fringes are meant only for sleek, straight hair? Well, you are wrong. Check out these pretty one-sided curls. Isn't those fringes making the style even more radiant?
28. Messy Low Side Bun With Headband
Those who want to keep it all simple on the eve of Valentine's Day may go for this messy low side bun. It looks wonderful on wavy hair and your choice of headband can make it even more appealing.
29. Luscious Curls With Beautiful Bang
If you are blessed with long thick hair, nothing can be better V-Day hairstyle for you than this one. The rich auburn shade, those intense curls and that alluring bang – everything is just perfect for the special occasion. Don't you think so?
30. Soft Curls With Fringes And Braided Headband
Redefine your sweetness with this cute hairstyle and make your V-Day the most enjoyable one. The straight fringes and the braided headband have complemented the simplicity of the soft curls.
31. Braided Bouffant Bun
A bouffant bun is known to be one of the classiest hairstyles of all time. Want to make your look more glamorous by adding a zing to your bouffant? Just wrap it around with a braid.
32. Messy Braided Flower Updo
A braided flower may sound difficult, but it actually is not. If you want to try something new on your hair on this special day, opt for this one without thinking twice. Trust me, you'll look fabulous!
33. High and Loose Fishtail Braid
How about sporting a high fishtail braid for an exquisite V-Day look? But wait. This is not a tight and stretched one. Keep it loose so that it makes your hair appear very much voluminous. Splendid!
34. Topknot With Side Bangs
Who says that a topknot can never inflict romance? You just need to wear it the right way. Brighten it up with striking side-swept bangs and see the difference!
35. Loose Twisted Side Braid
Here is another side braid for you. But instead of taking all three strands like a regular braid, you just need to take two strands and twist them up together to come up with a loose side braid. It's super easy.
36. Low Pigtails With Delicate Fringes
Look ravishingly young with these simple low pigtails and enjoy each and every moment with your partner. The fringes lying on the forehead adds greatly to its womanliness.
37. Huge Bun With Two-Section Braid
A smooth and polished bun always plays a key role in increasing the beauty of a woman. Take it to a whole new level by forming it with a two-strand braid. Grand and gorgeous!
38. Waves With Braid And Forehead Headband
Go trendy this Valentine's Day with this funky hairstyle. Create a thin braid at the center of your head and leave rest of the hair loose. Did you notice that metal forehead headband? It is what giving the style an edgy appeal.
39. Messy Twisted Updo
Bored of those regular pony, braid and bun? Switch to twist. This distinctive twisted hairdo with a messy finish is not only easy to create, but also quite fun to sport.
40. Loose Side Braid With Flower Headband
Fresh flowers or floral accessories can make your V-Day special hairstyle more meaningful. Check out this loose side braid with a wonderful flower headband. Skip the elastic band in order to keep the whole thing subtle.
41. Straight Segmented Ponytail
A segmented ponytail can keep your hairstyle neat and tidy, while giving you an exclusive look. Start with creating a regular pony and keep adding elastic bands at small distances as you go. It is highly suitable for straight and super long hair.
42. Low And Folded Side Bun With Bows
You need to make a low, side ponytail and fold it inward to create a large loop. Stretch it a little with your fingers so that a nice rounded shape is achieved. Finally, add bows on both sides for a sophisticated look.
43. Twisted Updo With Puffy Crown
Twist and play with your hair to come up with an utterly elegant updo. Divide your hair into two sections. Tease the upper section at the crown and twist the rest of the hair. Also, twist the lower section separately. Then, attach both of them together with bobby pins.
44. Gorgeous Bouffant With French Twist
French twist doesn't need any introduction, right? We have added a bouffant effect to it so that you can celebrate the festival of love in the most fashionable way.
45. Beautiful Waves With Twisted Strands

Create a magic with your natural waves on the special occasion of V-Day by letting it flow down your back loosely. Take two thin sections of hair, twist them separately and secure them together at the back of your head with a pretty hair clip. .
46. Twisted And Folded Messy Low Hairdo
Does it seem to be a tough task? Oh, not at all! Divide your hair into multiple sections and twists them separately. Fold the lower sections in such a manner that they create an illusion of an elongated bun altogether. Secure the twists from the upper section into it and apply hairspray.
47. Wavy Ponytail With Hair Wrap And Puffy Crown
After straight and curvy ones, here is a wavy ponytail that can help you win the heart of your partner on the V-Day. Puff up the crown and wrap a section of hair around the base of the ponytail to glam it up.
48. Low Bun With Turns And Wraps
Here is another new and hassle-free hairstyle that you can try out for the V-Day eve. You have to create a low bun and wrap it with two different sections of hair both halfway. Isn't it interesting?
49. Voluminous Twisted Braid With Braided Wrap

This is basically a two-strand braid, which necessarily needs to be made from a high ponytail. This will create high volume at the base. Complete the look by wrapping a braid around it carefully. A chic and lovable look for sure!
50. Long Half Braided Ponytail
Start making a regular braid at the center of the back of your head. As soon as you reach the nape of the neck, put n elastic band around it and let the rest of the hair be loose like a ponytail. Your romantic half-braided ponytail is ready.
51. Loose, Romantic Curls
Luscious curls look hot and romantic anytime. Try out this cute and sassy loose curls romantic hairstyle this Valentine's day. The hairstyle possesses a particular flirty-chic flare and oozes femininity. Hence, a must try look for Valentines Day. The smooth glamorous yet sexy and bouncy curls look outstanding, especially with smooth texture.
Use a large tong and make loose curls by taking random sections of your hair. If you are aiming for a retro look, then brush out the waves and smear on some shimmering serum to your tresses.
52. Half Up/Half Down
Finding the perfect hairstyle for valentines day dinner can be a daunting task at times. Never opt for super-polished and severe updos, instead choose something chic and petty. Such hairstyles don't need too much effort, just create a sultry half up and half down hairstyle. It is a perfect and easy romantic hairstyle which will guarantee head turns.
53. Soft Updo
Updos are life-savers on a bad hair day and on days when you are running late. With just a few minutes left, you can achieve a soft Valentine's Day updo. Opt for slightly messy buns that adds a soft chic look to your overall attire.
So those were the 53 hairstyle ideas to floor your date on the Valentine's day! Make sure you try them out. They're definitely going to make heads turn your way and make all the girls green with envy! Go ahead, pick your Valentines' hairdo and flaunt it. And be sure to let us know how you enjoyed, in the comments section below!
The following two tabs change content below.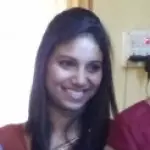 Latest posts by Akshata Shetty (see all)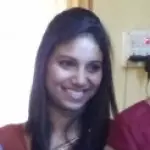 Akshata Shetty
I am Akshata, a Simple and talkative Cancerian, with obviously prominent qualities of the sun sign. I am shy at times and bold most of the times. I believe in enjoying life to the fullest. Having pursed a Degree in journalism, I work as a writer. Well, writing is something I really love apart from my other passions, such as travelling, reading novels, listening to music, photography, and lots more.