15 Long Hair Indian Braids That You Can Try In 2023
Protect and flaunt the length of your hair with these inspiring braiding styles.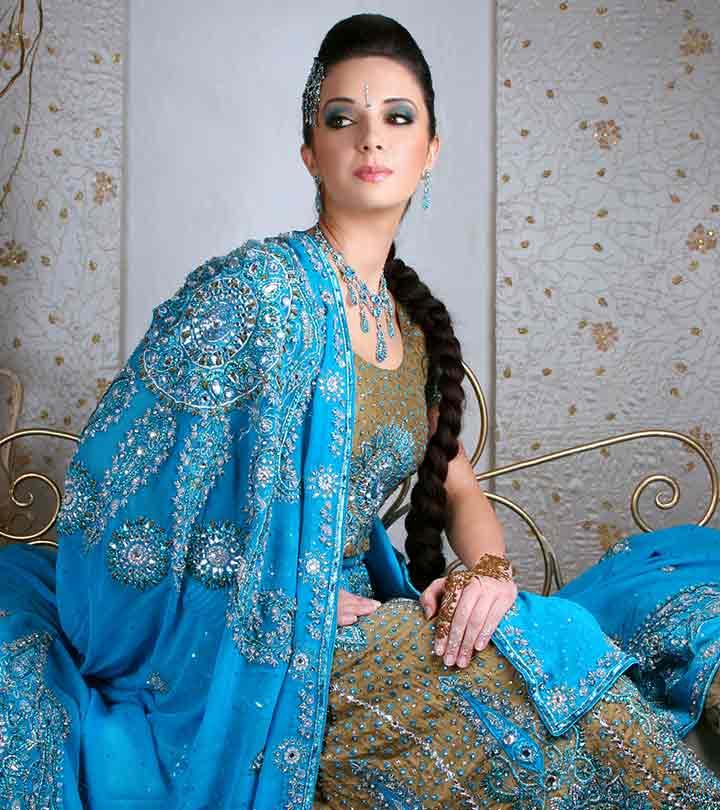 Indian braid hairstyles are something we all have tried and flaunted at some point in our lives. No one wears braids as beautifully as Indians, and from formal wear to ethnic, they know how to wear braids confidently and with style. Long hair Indian braids have never gone out of fashion, and through the generations, they have only kept adding a unique style statement to any outfit. Even celebrities have worn braids on the red carpet and ramp alike, and we love how versatile the hairdo is. Furthermore, it keeps the whole length of the hair intact without having to clip it off.
In recent years, people have experimented with braids, and now there are different variations, including fishtails, maiden braid, messy braid, and the French braid. They are also called plaits and are worn by women from different cultures and ethnicities. They keep your hair neat and stop flyaways from bothering you during your work time. The manageable hairstyle also helps maintain long hair without worrying about them getting tangled or torn when caught up in something. Also, a little secret, your hair can be as greasy, lousy, and sticky; once you tie it in braids, no one will ever know!
With various models revamping the braid look, you can experiment and develop your unique braided look. It suits every kind of hair texture and color, and if you are a person with highlights, braids will only help you flaunt your color better. Previously, braids were teamed with ethnic wear and longer hair, but now even girls with short hair wear braids like a pro. Here are some chick braid styles that deserve to be sported with confidence. Keep scrolling to check them all out!
Long Hair Indian Braids
There are several hairstyles that incorporate Indian braids; some of the most popular of them are as follows:


Before You Get Started
Proper hair care and grooming go a long way. Make sure to moisturize your hair before braiding it to keep it healthy and shiny. You can also apply a few drops of oil before braiding for the extra glistening effect.
Do not braid wet hair, as it will take a long time to dry and create an unhealthy environment for your scalp and hair follicles. Let your hair air dry or use a heat protectant product before blow drying.
Always detangle your hair before braiding them to prevent hair damage.
Avoid extremely tight braids as they can strain the roots and may cause hair breakage.
1. Lace Braid
The lace braid hairstyle is one that you might have come across a million times. It is a hairstyle that is easy to do yet gives a very chic look. Weave a small Dutch braid at the front near your hairline and leave the rest of the hair loose. This lacey masterpiece will look like a headband. Style it with ethnic or Western outfits — either way, you are gonna look beautiful.

Trivia
Braiding hair is known to have started 5000 years ago. It began with the Himba community of Namibia.
2. Partial Braid
This is one of the go-to hairstyles for brides. It not only gives you fuller-looking hair but also elevates your entire look. To recreate this simple yet gorgeous look for your wedding day, simply brush your hair backward and create two to three small braids on both sides. Then, now crisscross them at the back and pin them in place. Curl the remaining hair to complete the hairdo. In addition, flowers and other adornments are often used for the purpose of ornamentation.
3. Dutch Braid
The Dutch braid is the reverse variant of the classic French braid. This style has been appearing more and more on Indian brides in recent years due to the volume it adds and its intricate appearance. To get this look, do two Dutch braids on each side of your head, and once you reach the nape of your neck, start braiding both the Dutch braids together into one regular braid. Once the whole braid is done, start loosening up the hair to make it look fuller.
4. Pull-Through Braid
This type of cascading braid has been the most popular hairstyle for brides in recent years. It is done loosely to create a pretty look. Start by picking up two sections of hair from the back of your head and tying them together in a ponytail. Flip this ponytail in and over itself once. Split the tail of this ponytail into two, add more hair to these sections, tie them in a ponytail, and repeat the flipping process. Keep repeating these steps until you are left with all your hair tied in a beautiful braid. Spread and loosen up the braid to give it a fuller look. Finally, to finish off the look, accessorize with flowers. And you are ready for your wedding reception. You can even wear it for your sangeet or haldi!
5. Side Braid
This braid may sound overly simplistic, but trust us when we say that it has an elegance all its own. The side braid is the perfect hairstyle for anyone who wants to look like they put effort into styling their hair without actually doing it. Simply part your hair down the middle and gather it all together on one side. Flip all your tresses over your shoulder and braid them into a regular 3-strand braid. That's it!
6. Bejeweled Bridal Braid
Wedding hairdos are supposed to be chic but easy to do so that you can be ready for your D-Day on time. Here's another style for your wedding day that will add grandeur to your entire look. Simply braid your hair down your back and secure it at the end with a hair elastic. Then, embellish it with a flower garland at the top of the braid and pin some bejeweled accessories down its length to finish off the look.
7. Accent Braided Flower Bun
Another way to style your hair this wedding season is to do a French braid across the top of your head to create a headband. Now, roll and pin the rest of your hair in sections to form a big bun. Flowers and accessories are a must to finish off this look with aplomb. This hairstyle may need a bit of practice to perfect, but the look at the end is worth the effort.
8. Twisted Braid
No time to get ready or do your hair? We have got you covered! This easy and beautiful hairstyle will amp up your look in no time. Part your hair any way you prefer it and split it into two equal sections. Twist both sections individually in a clockwise fashion. Then, intertwine the twisted sections with each other in an anticlockwise motion. Secure the end of the twisted braid with a hair elastic.
9. Bridal Braided Updo
This simple braided style is perfect for a bride as well as a wedding guest. First, do a French braid across the top of your head to create a headband. You can tie up the hair at the back in a ponytail to finish off the look. This gorgeous hairdo suits every face shape. It also pairs especially well with traditional dresses like a lehenga, saree, or laacha.
10. Messy Braid
This hairstyle is proof that your hair can look messy yet elegant at the same time. The key to perfecting this hairstyle is to apply lots of texturizing spray to your hair before braiding it in a loose 3-strand braid. Once you secure the end with a hair elastic, start pancaking your braid and pulling it apart to give it that messy feel. You can pull out a few pieces in the front to frame your face.
11. Braided Ponytail
This one is for all the college students out there who have a day filled with classes ahead of them. Simply tie your hair in a high ponytail before braiding it. This braided ponytail looks super sporty yet chic. You can wear it to a class or any sports practice. It is multipurpose while still looking cute!
12. Standard Braid:
Also dubbed as the English braid, standard plaits are the most common hairstyle followed by the majority of females. Starting at the nape, standard braids are made by diving hair into three equal portions. Cross the left portion over the middle one and the right portion over it. Repeat this procedure till you complete the braid.
13. French Braid:
Caption: French braid with messy fishtail braid at the end
This is the second most popular braid, which is referred to as "Sagar Choti" in Hindi. French Braid excellently keeps the entire head neatly braided into plaits. This look became popular after the Movie "Ishqzaade", where Parineeti Chopra was seen sporting French plaits. French braids are started by taking three small portions at the top of your head and then gradually coming to the nape by adding sections of hair to the plait. At the nape, you can either make a regular braid, a fishtail braid, or a bun as per your choice.


Fun Fact
Strangely, French braids' inception is not related to France. Instead, it is believed that these braids originated in North Africa.
14. Crown Braid:
Caption: crown braid with a messy bun
More or less similar to Swiss braids, the Crown braid is woven like a French braid. These braids take too much time to be woven as small sections of hair from the crown area are added as the braid advances. Crown braid works well for medium to long hair and is best for curly hair beauties as it keeps your crown neat and well maintained. You can accessorize your braids with different embellishments to make it look chic!
15. Fishtail Braid:
Fishtail braids are completely the style of the season. Young college girls, Bollywood beauties, and models on the ramp have been sporting this trend off late. It looks equally stylish on both Indian and Western wear. The one-sided fishtail braid has been very popular as well. Also referred to as the 'herringbone braid', Fishtail Braid is woven by taking small even sections of hair like a standard braid that looks like a fishtail or a herringbone. Even though the plaits are woven like an English braid, you have to take very small sections of hair each time, so it's better to use a tail comb while doing the hairstyle. Here is a detailed Fishtail braid tutorial.
Infographic: 5 Stunning Indian Braid Hairstyles For Long Hair
While Western hairstyles have their own charm and way around with short haircuts, Indian hairstyles are undisputedly winning the game when it comes to braided hairdos. If you have often considered the traditional look as monotonous and dull, check out the infographic below for 5 gorgeous revamped versions of classic Indian braids and give these looks a try.


For thousands of years, Indian braids have been a symbol of grace and beauty. It is a versatile hairstyle that goes with any style, be it formal or ethnic. Today, braids have evolved into a hairstyle you can experiment with. Apart from the standard braid, you can go for the French braid, the crown braid, or the fishtail braid. These braids are sported by celebrities globally at shows, ramps, and red-carpet events. Pick your favorite long hair Indian braid from this article and get braiding!
Frequently Asked Questions
Are braids a part of Indian culture?
Yes. Many ancient sculptures and artifacts have depicted Indian women wearing intricate braids, confirming that braids have been part of ancient Indian culture.
Are dreadlocks from India?
Dreadlocks have long been a feature of Indian culture, with sages and certain tribes wearing them. For example, the Hindu god Shiva has dreadlocks around his head, and the ancient scriptures, the Vedas, also mention this hairstyle.
Why do Indian girls wear braids?
Wearing braids is a common sight in Indian culture – it symbolizes Indian culture and history and represents their identifier.
Learn how to create a stunning Indian loose hair braid with this easy tutorial. Perfect for any occasion, this DIY hairstyle is sure to turn heads. Watch now!
The following two tabs change content below.