20 Fabulous 4-Strand Braids You Need To Check Out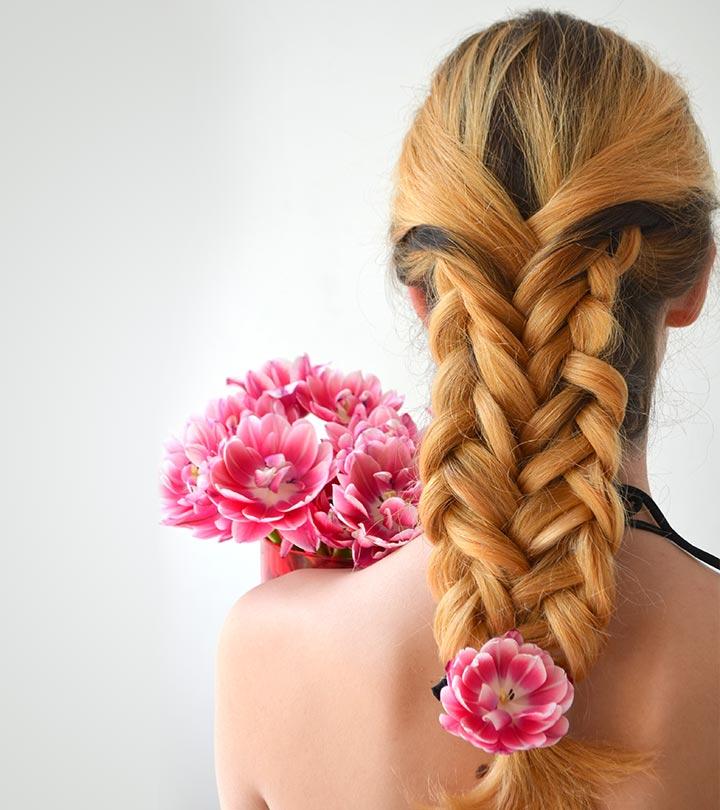 How complicated can a braid get?
Well, the 4-strand braid is here to show you that. Just kidding! The 4-strand braid is a beautifully entwined hairstyle. While most people liken it to a herculean task, it's not as difficult as it looks. Here's a DIY and a few styles to help you get better acquainted with this intricate braided style. Scroll down!
How To Weave A Four-Strand Braid
What You Need
Comb or hair brush
Elastic band
How To Do
Brush your hair thoroughly to detangle it. Sweep all your hair to one side and brush it again.
Divide your hair into four sections: 1,2,3, and 4. Name the section closest to your neck as 1 and the farthest as 4.
Take section 1, cross it over section 2 and under section 3. Now, section 1 has become section 3, section 2 has become section 1, and section 3 has become section 2. The sections will keep changing as you weave the braid.
Now, take section 4, pass it over the new section 3 and under the new section 2. This will make section 4 the new section 2.
The previous two steps form one stitch of the 4-strand braid.
Keep weaving the braid with section 1 going over and then under sections 2 and 3, while section 4 goes under and over sections 3 and 2.
Secure the ends with an elastic band and pancake the braid to add volume and dimension to it.
Now that you know how to weave a perfect 4-strand braid, let's check out some gorgeous ways to style it.
20 Best 4-Strand Braids Styles
1. 4-Strand Braid Ponytail
This four-strand braid is perfect for a simple prom look. It makes your hair look thicker, thanks to the pancaked effect. All you need to do is a Dutch 4-strand braid on one side and tie all your hair in a ponytail to achieve this look.
2. 4-Strand Stacked Fishtail Braid
This hairstyle is not as complex as it seems. Gather some hair from the sides and clip it up. Pick up some hair from the front and sides, weave a fishtail braid, and pancake it. Then, pick up some more hair from the sides and weave two individual 4-strand braids until you reach the crown. Join both the braids to form one big braid and weave the remaining hair into a 4-strand braid. Place the four-strand braid over the fishtail braid and use pins to keep it in place.
3. Rose 4-Strand Braid
Rose hairstyles are all the rage when it comes to braided hairstyles. When done with a 4-strand braid, it looks stunning. This hairstyle has three regular braids that form the three roses and a 4-strand braid.
4. 4-Strand Crown Braid
Your hair is your crown. Truer words have never been spoken! So, you style it and flaunt it like the queen you are. Show off your crown with a 4-strand braid and finish it off with a fishtail braid. Pancake the 4-strand braid to add a luxurious touch to it.
5. Rustic 4-Strand Braid
There's a reason so many women love the rustic vibe. It looks vintage and beautiful. This 4-strand braid half-up style looks like something out of an old fairytale. Stunning!
6. 4-Strand Braided Updo
Braids make for great additions to updos. Take a look at this braided style. The more you stare at it, the more beautiful it looks. I love the way it has been accessorized with a ribbon and flowers. It looks elegant and wonderful!
7. Center 4-Strand Braid
Why opt for a simple French or Dutch braid when you can go all out with this stunning central 4-strand braid. It looks GLAMOROUS! This braid is woven using the Dutch braid method, so it stands out on your head instead of blending into your hair.
8. Tucked In 4-Strand Braid
If you have short or medium hair and are looking for a hairstyle for a formal event, this will be perfect for it. Weave your hair in a central 4-strand braid and secure the end with an elastic band. Tuck the ends beneath the braid with the help of pins.
9. Viking 4-Strand Braid
Viking women were (and still are) a big symbol of strength. One of their trademarks, as seen on TV shows, is their braided style. This 4-strand braid fits well with the Viking theme. Fierce, right?
10. Multiple Braided 4-Strand Braid
Weave four sections of hair in regular braids. You'll be using these four braids to weave your 4-strand braid. The key is to keep the braid loose, so it looks soft and romantic. If you want a more polished look, join the braids at the end and secure them with a single elastic band.
11. Side 4-Strand Braid
Side braids are one of the top trending hairstyles. But with everyone sporting them, you need to stand out. You can do it up in a 4-strand braid style to add your own twist to it. It's sure to captivate all eyes!
12. Tri-Braided 4-Strand Updo
Four-strand braids add a lovely touch to updos. They make them look intricate and stunning. To achieve this hairstyle, weave and connect three braids using the waterfall braid method. The top and bottom braids need to be 3-strand waterfall braids, while the central braid should be a 4-strand braid.
13. Headband 4-Strand Braid
Ever since we were little, headbands have come to our rescue when we need to keep our hair off our face. Add a nice twist by using your hair to create a headband. How? With a 4-strand braid using the waterfall method and a ribbon.
14. Double Dutch 4-Strand Braids
Double Dutch braids look very cool. You can sport them on a casual day out, to a party, even while working out. You can take these braids up a notch by doing them up in a 4-strand Dutch braid style. It will look stunning, and you will definitely stand out!
15. Scarfed 4-Strand Side Braid
Simplicity goes a long way when it comes to hairstyling! This simple 4-strand braid that's placed at the side is proof of that. The scarf adds a chic vintage feel to the hairstyle. Use the scarf as two strands of the 4-strand braid to achieve this look.
16. 4-Strand Pull-Through Braid
Pull-through braids have been turning people's heads. So, naturally, when I saw this 4-strand pull-through braid on my feed, I had to check it out. Looks pretty cool, right? You should try it out. I'm sure it'll look great on you!
17. Threaded 4-Strand Braid
African women have used threads in their braids forever, and they look great. Why not incorporate that into your 4-strand braid? It adds a nice touch without taking attention away from the braid.
18. Curved 4-Strand Braid
This braid is off the hook! Notice how the braid curves at the corners – it looks heavenly. It will take some practice to perfect this hairstyle, but it's worth it. I mean, look at how royal it looks!
19. Curled 4-Strand Braid
Curly hair and braids go hand in hand. What do you do when you want to curl your hair naturally? You braid it overnight. And if you want to jazz up your braids, you add curls! They make for a great partnership.
20. Slanted 4-Strand Braid
Slanted braids are all the rage. There's just something about the curves and angles that make them look stunning. Also, if you have highlights, this braid is a great way to accentuate them.
You know what they say – practice makes perfect. So, brush your hair and start practicing your 4-strand braiding skills. I'm sure you'll become a pro in no time. Which 4-strand braid did you like the most? Comment below to let us know!
The following two tabs change content below.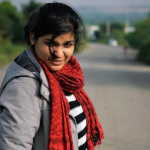 Latest posts by Anjali Sayee (see all)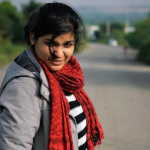 Anjali Sayee
Anjali Sayee is a writer and an introvert. From studying Aeronautical Engineering and wanting to design her own airplane to writing articles on hairstyles, she has been on quite a journey. She believes that hair is one of the key factors that define a woman's personality. To quote her, "What's the first thing they do in the movies to show a personality change? Change the hair – because it has a life of its own." She's here to help you find the hairstyle you need. This bookworm is a self-professed Wholocker, a talented drummer, and an amateur photographer.