66 Heartwarming 40th Birthday Wishes
Because making your loved one feel special is the most important thing in the world.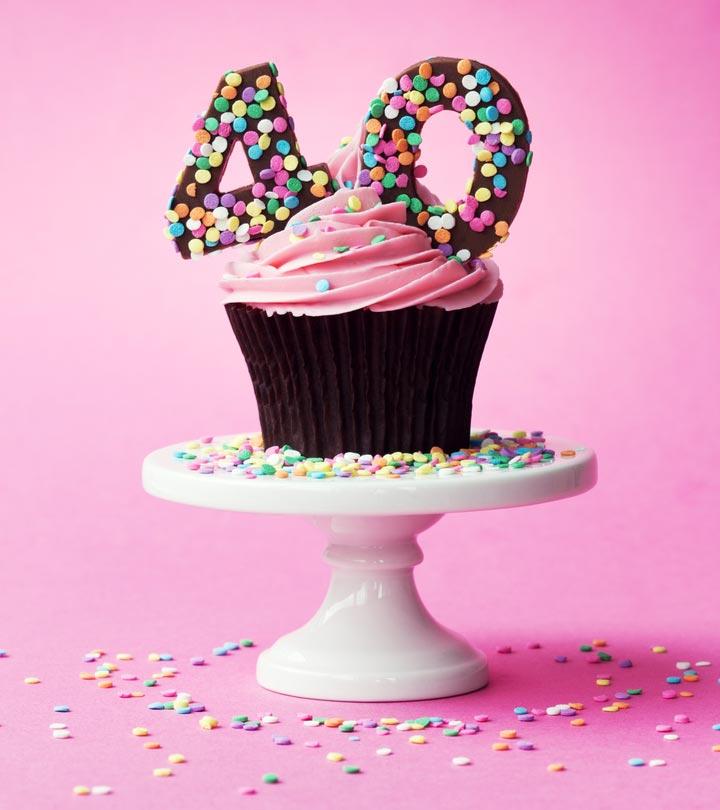 Birthdays are always special, and if your loved one is turning 40, it is definitely a moment to celebrate and offer birthday greetings. Be it your parents, siblings, or a special someone, a well-written birthday wish is the best way to express your feelings for them. And do not worry if putting together words is not your forte because we have done that task for you. So scroll down to check out these funny and sweet 40th birthday wishes that will surely put a smile on their face. Keep reading.
Best Happy 40th Birthday Wishes For A Friend
 "Four decades of awesomeness is no joke! So here's to forty more years of happiness, prosperity, and health!"
 "Life begins at 40. May you achieve everything you pursue. Happy 40th."
 "Happiest wishes for your fabulous 40. Now you are experienced enough to know what you want and young enough to achieve it all!"
 "Welcome to your four Ts – Terrific, Talented, Thoughtful, and Top-notch!"
 "In the story of your life, 40th is the chapter where it all starts to make perfect sense. Happy 40th birthday."
 "40 is the new 20, only twice as better, more confident, and fun!"
 "Heartiest wishes on your 40th birthday. You are getting better with age, just like fine wine."
 "FORTY – the perfect time to be Flirty, Optimistic, Radiant, Terrific, and Youthful."
 "40 is fabulous, fun, and absolutely fantastic. It is your time in the sun."
 "Good riddance. The 30s are over. 40 is where the real fun begins!"
If your friend, co-worker, sibling, or cousin feels particularly down about their 40s, help them laugh their pain away with these funny 40th birthday messages and wishes.
Funny 40th Birthday Wishes
 "Congratulations on your 40th. Only 87,600 hours to go until you reach up the hill."
 "Happy 40th. You are now old enough to know better and young enough to do it anyway."
 "Don't let your forties weigh you down. It will be hard to get up again. At least for your knees!"
 "Cheers to the 40 years! They say only the bests were born in 1981."
 "Happy birthday. You have finally reached the age where 'happy hour' means a nap!"
 "Congratulations on turning 40. You are still young enough to pull an all-nighter (even if it takes 3 days to recover)."
 "Don't worry about getting older. You're still gonna do dumb stuff, only slower. Happy 40th birthday."
 "The best thing about your 40s is that you have done all the stupid, cringe-worthy stuff before the internet."
 "I bet you were hoping that no one would notice you were turning 40. Well, no such luck! Happy 40th."
 "Let's raise a toast to your 40th year. Here's to prune juice!"
 "It's your 40th birthday. You don't have to drink to feel hungover anymore."
 Now you are twice as fun as your 20s. But with more back pain.
 "Forty, foxy, and only 20 years away from the senior citizen discounts."
 "You know you are 40 when someone offers you a seat on the bus, and you don't refuse."
No matter how old your daughter gets, she will always be your little princess. So, make her 40th birthday special with these sweet and sincere wishes and birthday quotes.
40th Birthday Wishes For Daughter
 "Luck and tie be yours. May happiness come knocking at your door. On a day so special, I send you wishes warm and gentle—happy 40th birthday."
 "Happy 40th birthday. I have loved you with an intensity I never thought possible from the moment you were born. Now I love you 40 gazillion times more."
 "Happy 40th birthday. Your thirties were terrific, and I cannot wait to see what you accomplice in your forties. And I know, it will be awesome!"
 "Dear daughter, you are my remarkable child. Your forties will be just as amazing as you are."
 "I may not be perfect, but I am proud and blessed with the perfect daughter. I am sending you love and best wishes on your 40th."
 "I am proud to call you my little princess because you are magnificent, and nothing compares to the brightness you bring into my world. So enjoy your special moment with ecstasy and peace in your heart!"
 "On the anniversary of your entrance into this world, may you receive all the things you pray for. May you always wake with a heart full of gratitude and a smile. Happy birthday, my angel."
Let your husband know that you cherish him every day! The following messages will help you express your love and best wishes on his 40th.
40th Birthday Wishes For Husband
 "The love and warmth I get from you are more than the world's wealth. Forty looks fourteen on you. Happy birthday."
 "A young, loving, and caring man is what I see in you every day. Happy 40th to my heartbeat."
 "On your 40th year of being a blessing to the world, I hope you know that you make me feel brand new every day. Happy birthday to the love of my life."
 "You have always been a good-looking dude. Now you are a good-looking old dude. Here's to 40 more years of melting my heart with your charm!"
 "You are 40fied into the strong wall of my heart. Happy 40th."
 "My greatest GOAT (gift of all time) is 40 today. Happy birthday!"
 "Being a positive influence on people has been your forte. May it be the same in your forties."
 "Age 40 is where all the joy and beauty in life begin. Enjoy them to the max! Happy 40th birthday."
"Congratulations, you have been updated to my favorite forty-year-old position. May success and happiness be yours."
 "Happy 40th, darling. Don't forget to take out the garbage."
Sisters are best friends, inspirations, and the most reliable confidantes in our lives. So, wish her on her 40th with these sweet messages.
40th Birthday Wishes For Sister
 "Happy 40th birthday to the one who has known me my whole life and still loves me. Best wishes to my beloved sister."
 "Happy 40th sweet sister. If anyone laughs about your age, throw your teeth at them and hit them with their cane."
 "Wishing you all the best on your 40th birthday. It's a strange time. Now that you have finally got your head together, your body will start making other plans."
 "Wishing a spectacular birthday to the unique combination of best friend and villain. That's my sister. Happy 40th!"
 "Happy birthday to you! Happy birthday to you! You look like a monkey, and you belong in a zoo! May your 40s be absolutely bananas."
 "I wanted to gift you something funny and charming on your 40th birthday. But then I remembered you already have me."
 "It's about time you start lying about your age. Happy 40th birthday, sister."
 "Happy birthday. Don't count the candles on your cake or the wrinkles on your face. Instead, be glad that you are not down for the count."
 "Dear sister, I couldn't light candles on your 40th birthday cake. It turns out it requires a permit from the fire department for the bonfires."
 "You have always found the good in people. So today, we celebrate you, sister. Happy 40th birthday."
From being the partner in crime to offering unconditional love and support – brothers make the journey of our lives a little less difficult. So celebrate them on their 40th birthday with the following cute and sincere messages.
40th Birthday Wishes For Brother
 "Happy 40th birthday to my sidekick and partner in crime. Here's to 40 more years of happiness and success."
 "Thanks for always going out of the way to ensure that I am okay. Happy 40th birthday, my dearest brother."
 "Thanks for being the perfect Ross to my Monica for 40 years. Can your knees handle the Routine for one last time?"
 "Thanks for being the perfect Robin to my Batman. Here's to 40 more years of saving this family with your love, warmth, and occasional insanity."
 "Welcome to the F-series of your life. This is where the real fun begins. Happy 40th."
 "Health, success, and prosperity – all my best wishes on your 40th, dear brother."
 "May you have a birthday fit for a King! Because a brother so charming and handsome deserves it. Happy 40th birthday."
 "No matter how hard we fight, you will always be the best brother in the world for me. Enjoy your forties. Happy birthday."
 "Congrats and good luck for the next phase of your life. Chase your dreams, and remember I will always be there for you. Happy 40th."
 "It's a joyful day, and I hope it lasts for you in the next four decades. Happy birthday."
Your wife's 40th birthday is the perfect occasion to let her know about the joy and happiness she brings to your life. So send her these wishes and make her fall in love with you again.
40th Birthday Wishes For Wife
 "My life got better ever since I got to know you. I wish you an abundance of happiness and health on your 40th. Happy birthday, sunshine!"
"You have been the best 30-year-old I knew, and you'll be the best 40-year-old I will ever know. Welcome to your forty's, darling. Happy birthday."
 "May all your wishes come true, and your makeup hides your wishes. Dear wife, happy 40th birthday."
 "40, you say? But I only see my 18-year-old girlfriend with 22 years of experience!"
 "Older than yesterday but younger than tomorrow. Congratulations, better half, on your 40th!"
We hope these sweet, humorous, and sincere 40th birthday wishes will add some unadulterated happiness to the special day of your loved ones. Turning forty is certainly a huge milestone. You can pick any of the messages from the above list and wish your loved one on their 40th birthday, accompanied by special birthday gifts. This can make their birthday party extra special. We are sure you will see a smile (or a smirk) spread across their lips!
Infographic: 16 Birthday Wishes For People Turning 40
Wishing a friend or family member on their birthday is one great way to let them know you are thinking of them. They are sure to feel loved – and especially so when they are turning 40. It's a big number that deserves to be celebrated! But then, how can you wish them so that they feel special?
In the infographic below, we have listed the 16 best birthday wishes you can send to a loved one turning 40! Check them out.


Frequently Asked Questions
What do you write on a 40th card?
You can write about their special qualities, accomplishments, how you feel about their presence in your life, and any special memories ( previous birthday memories or others too) in a 40th birthday card.
Is turning 40 a milestone?
Yes, turning 40 is a milestone in everyone's life that calls for a milestone celebration. It is when you may start feeling fully settled in your life. Thoughts of the future pop up in your head more often, and you feel more responsible in your 40s.
Is 40 over the hill?
It depends on individual perspectives and cultural norms. While some could view the 40s as a marker for middle age, others would see it as a vibrant stage of life. With improvements in healthcare facilities and lifestyles, people in their 40s are still in the prime of their lives, pursuing their careers, hobbies, and interests enthusiastically.

Celebrate the fabulous 40th milestone with heartfelt birthday wishes and quotes from this video. Inspire the birthday honoree with words that capture the joy of this special occasion. Check it out!