55 Trendy And Modern Shag Haircuts For A Round Face
This iconic and edgy haircut from the '90s has come back with some modern twists!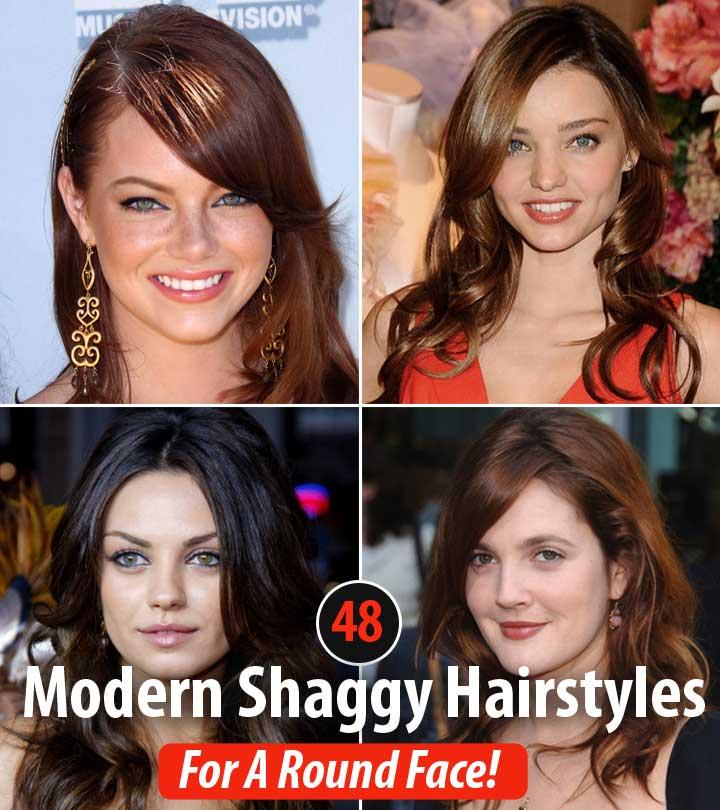 Trying different hairstyles is cool, but not all hairstyles suit every face shape. So, we are here to help you out with some trendy and modern shag haircuts for a round face. So, yes, if you have a round face and want to experiment with your hairstyles, you have reached the right place.
This shoulder-length hairstyle consists of heavy layers that suit anyone with a round face. Already made popular in the 90s by Meg Ryan and the 'Rachel look,' it is one of the most iconic looks ever. Keep reading to know more about this hairstyle, and maybe you would want to experiment with one or two!

Before You Get Started
Shag haircuts are for everyone. Alongside balancing a round face shape, a shag haircut slims your face and enhances your best facial features.
The layers of a shaggy haircut take away a lot of volume for a lighter feel. Therefore, this is one haircut that barely needs any styling.
Shag cuts naturally look good even on two-day-old hair. You can opt for a wash-and-go look or use a salt spray for added texture.
What Is the Shag Cut?
The shag cut, also referred to as the wolf cut, is a heavily layered haircut. The layers are cut all over the head and kept softer at the top and sides to form an inverted V cut. The layers make your hair look fuller around the crown, and the hair thins to fringes around the edges. Therefore, it adds lots of texture to your hair.
Thanks to the heavy layers, the shag cut is perfect for framing a round face. The layers tend to cover the cheeks and flaunt the lower half of your face.


Quick Tip
Apply a light coating of dry shampoo and gently massage it into your scalp to maintain a shag hairstyle. Dry shampoo helps keep your shag looking good, especially for short haircuts.
Check out the most popular styles of shag cut that are suitable for a round face!
55 Modern Shaggy Hairstyles For A Round Face!
1. Short Brown Shag
If your style is minimalistic yet you want to look like a million bucks, a short brown shag is for you. Color your locks a subtle brown shade and get them cut in a cute shag. Then, straighten your hair loosely because you do not want to go for that pin-straight look. You can also simply blow-dry your hair to achieve a natural look. To add a bit of fun to your look, top it off with a hat!
2. Middle-Parted Shag With Yellow Highlights
We bet you never thought about coloring your hair yellow before. Well, you would miss out on a lot if you did not try out this beautiful color on your shaggy hair. It livens up your hair without making you come across as over the top. So, what's the hold-up? Get yourself a yellow balayage, part your hair down the middle, and let your shaggy mane create magic on your look!
3. Auburn Shag
People's love for red hair has only increased with time. The gorgeous auburn hair color (whether natural or dyed) is simply enchanting and takes you to a world full of fantasy. So, frame your cute round face with this short auburn shag hairstyle and get ready to be a jaw-dropper.
4. Tightly Curled Black Shag
Shags are meant to be messy, and curls just add more spice to them. A round face with black curls in a shaggy haircut is a combination to die for. So, grab your curling wand, create some tight curls, and give your hair that gorgeous twist like never before.


Quick Tip
Make sure to cut plenty of layers to give your curls lift and movement. Use a leave-in conditioner after washing. It will stop your curls from getting too frizzy and dry.
5. Super-Short Platinum Blonde Shag
Thanks to famous celebs like Jennifer Lawrence and Kylie Jenner, platinum blonde is super trendy right now, and it is here to stay. So, bless your short shag cut with this color so you can join the platinum blonde club!
6. Side-Swept Blonde Shag
If you want to bring your inner diva to life, a side-swept blonde shag is the way to go. There is something so beautiful about this hairstyle. It looks effortlessly charming. All you need to do is add volume to your hair with some hairspray and gently sweep your hair from one side to the other – and you are all good to go!
7. Shaggy Mullet With Thick Bangs
Want to look like a beautiful mess? Dye your hair blonde and cut your hair in a shaggy mullet with bangs. Make sure you do not compromise with layering your mane because the more layers you cut, the better your chances of rocking the look. Blow-dry your hair and let the strands fall any way they want as you step out looking beyond fabulous.
8. Fine Shag
The fine shag cut is perfect for women whose hair strands are thin. The layers are feathered, which is also great for a round face as it covers wide cheeks. This haircut flaunts the fine texture of your hair while keeping it light and breezy. To give your hair a bit of volume, add a half twirl at the ends with a curling iron.
9. Face-Framing Shag
Since the shag cut is known for its heavy layers at the top and sides, it's an asset for face framing. Adding layers in the front helps make your face look slimmer. Keep the layers heavy from below the cheeks. The layers at the front of Emma Stone's face are well-defined, while the rest of the layers at the sides and back of her head are softer.
10. Curved-In Feathered Shag
The aim of the feather cut is to create volume in the lower half of your hair. This makes your face appear smaller and slimmer. Since the layers are heavy at the top and sides, it makes your face look smaller. If you have a round face with a pointed chin, having your layers curved in at the ends draws attention to your jawline.
11. A-Line Shag
A shag cut is a great way to spice up an A-line bob. An A-line bob is short at the back and longer in the front. If your bob is growing out, add in some heavy layers without decreasing the length of your hair. The layers will streamline the lower half of your face. Style it in some waves with the help of a straightening or curling iron. This adds texture to your hair while making it look light.
12. Wavy Ended Shag
The best thing about a shag cut is its layers. One great way to highlight these layers is by adding texture to them. Style your hair wavy from below the mouth with the help of a curling iron. It adds volume to your locks and makes your jawline appear streamlined. Pairing this look with a deep side parting will frame your face nicely, giving it a chiseled appearance.
13. Natural Curls
Another great way to accentuate shaggy layers is by curling your hair. The curls give your hair more volume and texture. The key to getting natural-looking curls is to use small or medium-sized rollers. Leave some space between your roots and the curls. This will make them appear more natural.
14. Lower Ended Shag
If you have a small round face, you need to focus on defining your facial features. This means making your jawline more prominent and drawing attention to the center of your face to focus on your nose, mouth, and eyes. The best way to do this is to get your layers cut from below the jawline. Add in a tapering fringe and part it down the middle to show just a bit of your forehead.
15. Dissociated Shag
The dissociated shag is a clever cut. The layers are cut with a bit of a distance between each of them to draw attention to particular facial features. Here, your attention is instantly drawn to Kaley Cuoco's eyes and mouth. This is because of the inward curve of her side bangs and her heavy layers below the jawline. The side bangs also cover her cheeks without hiding them completely.
16. Sharp Shag
The sharp shag focuses solely on framing your face. The great thing about this cut is that it makes thin and fine hair look thick since the layers are cut only at the front. By having layers cut at the front, near your face, your facial features come into focus.
17. Light Wedge Shag
This light wedge shag cut flaunts your jawline. Style it with light side-swept bangs to draw attention to your eyes. The ends of the layers are feathered to take some weight off the ends. The layers are cut soft to give it a light and breezy feel.
18. Coiled Shag
If you already have a shag cut that's growing out, curl your hair to give it some oomph. Style the coiled curls tight like a phone cord. It will draw attention to the lower half of your face. Keep the top of your hair straight and curl your hair gradually toward the ends. The coily ends will make your hair bouncy.
19. Playful Shag
The curls on this shag are weightless and fun. They aren't shaped in coils, which makes them fall lightly. It makes the roots and ends look thin, but the center is volumized. Having the hair at the center volumized makes your hair ends bouncy. Part your hair in a deep side parting to flaunt your layers.
20. Light Bangs With A Heavy Shag
Light bangs are a great way to jazz up your shag cut. Trim your layers to keep them fresh and add some light bangs at the front. This hairstyle is meant to look light, bouncy, and defined at the same time. This is because the layers are cut sharp and distinct.
21. Volume Shag
Volume, volume, volume! That's every woman's dream for her hair. Apply some mousse to your hair and curl it with a curling iron. Then, brush your hair down. This will give your hair voluminous waves while leaving the curls at the end intact.
22. Center-Parted Wavy Shag
This shag cut works wonders for a round face. The layers cut near the cheeks are curved out, while the rest of the layers are styled down. The curved-out layers make your face look thinner, while the slightly curved-in layers enhance your jawline. They cover all the wide features of a round face and bring out the well-defined features. Add a slight lift to the hair on either side of the parting by lightly teasing it with a comb.
23. Messy Layered Shag
The messy layered shag is a godsend for round-faced women. Notice that the layers near the face are curved in, while the layers at the end are cut out. This draws attention to the cheeks and jawline and balances them out by focusing on the neck. This effect is enhanced further by the layers being dissociated.
24. Light-Ended Layers
A great way to show off your hair's thickness is to make it weightless at the ends. Adding feathered layers at the ends makes it move freely, but the top remains thick and full. You can add in some highlights to enhance your layers. Style it in a messy zig-zag parting, and you're good to go!
25. Bronde Ombre Shag
Another way to spice up your shaggy layers is by highlighting them. Opt for a contrasting bronde mix. Get it done balayage style to make it look more natural. The darker top will make your face appear longer. The lighter bottom creates a contrast with the layers and brings out your jawline.
26. Dark-Rooted Shag
Dark roots give your hair a thicker appearance. They also make your face look longer. Curl the very ends of your layers with a curling iron. Spritz some hairspray over the curls and tousle them with your hands to finish off this naturally messy look.
27. Classy Shag
If you have fine hair, a shaggy feather cut might make your hair look even thinner. Instead, go the Mandy Moore way. Opt for finely cut layers that begin near your mouth. Keep most of the layers swept to one side. This not only helps in framing your face but also looks very stylish.
28. Blowdried Shag
Give your shag cut a retro by adding some lift to the hair at the crown with a round brush and a blowdryer. Keep the layers curled-in at the ends and curl your bangs outward to finish off the retro vibe.
29. Wispy-Ended Shag
Wispy ends are created by shearing the ends of your hair. It gives your hair a soft look. The ends gradually taper at the tips. This makes your hair look fuller and more voluminous. With this cut, you don't need to have heavy layers right near your cheeks to make it look thicker.
30. Light-To-Full Curls Shag
There is no one type of curl. Natural hair curl types range from 2C to 4C. This shag cut incorporates two types of curls to give you volume and thickness. Keeping some distance from the roots, curl your hair in light curls, coiling the very ends in full curls. This creates a laid-back hairstyle with springy ends.
31. Messy Curls
Curls and layers are meant to give your hair volume and texture. They also make your hair look thicker. Pairing messy curls with wispy ends gives this shag a fluffy yet smooth appearance. The streamlined jawline is brought forth with this hairstyle.
32. Subtly Curved-Out Ends
When you curve your hair out, it makes the lower half of your face look slimmer. The best thing about this shag cut is that the heavy layers also accentuate your jawline. A simple tuck behind the ears shows one side of the face, while the other side remains partially hidden.
33. Wavy Ends
The shag cut is in the shape of an inverted V. With the point of the V at the center of the head and wide part of the V at the base of the hair. If you have medium-length hair and a round face, your face can appear rounder than it is. A great way to balance this out is by adding a wave to the end of your hair.
34. Soft And Straight Shag
The layers on this shag cut look soft and smooth. This is because the layers are cut halfway down and not styled in or out, but left to fall naturally. If you have fine, straight hair, this is the hairstyle for you. Add some lift to the top and front of your hair to make your face look longer.
35. Outward Curls
Curls enhance the volume of your layers. If you have a round face, take a cue from Queen Latifah and curl your layers to lift your hair to the side. This will make the curls fall away from your face.
36. Fine "Farrah Fawcett" Shag
Farrah Fawcett made shaggy hair trendy. But, she had the face shape to handle all that layered hair. If you have a round face, take the Malin Akerman route. The front hair is heavily layered and curved out, while the rest is layered normally. This gives the appearance of fuller and heavier layers.
37. Well-Defined Straight Shag
If you have straight hair, it might look flat at times. Spice things up with some heavy layers that begin just below your cheeks. Keep them sharp and uneven. This covers wide cheeks partially while making your jawline more prominent.
38. Watered Shag
Kate Bosworth's hair looks like it's damp. To achieve this look, you'll need some hair gel. Curl your hair in light curls and allow it to cool before touching it. After a minute or two, apply the gel to your hair and pull it down.
39. Double Curl Shag
This shag cut is pretty simple. Wrap the ends of your layers in two rolls around the barrel of the curling wand to achieve that double twirl curl. Leave your ends to fall straight. It will enhance the curls. The curls make your hair look voluminous and your face appear slender.
40. Lower-Layered Shag
If you have a sharp jawline, show it off with this shag cut. What sets this shag cut apart is the flair that leads into the layers. You can achieve that flared curve by brushing the undersection of your hair with a round brush. To accentuate the lower layers, use a straightener to add a slight bend at the start of the layers. Curve the ends in with a round brush to finish off the look.
41. Double-Layered Shag
There are two main layers in this shag cut. The first one is curved in, the second is curved out. The first curve brings out the entire face shape. The second layer amps up the style factor of this hairstyle. This shag cut accentuatesMindy Kaling's blonde highlights beautifully.
42. Hollywood Glam Shag
Yes, the shag cut is classy and red carpet approved! While the classic Hollywood glam hairstyle looks slick, smooth, and silky, this one adds its own touch to it. The layers add texture to thisshaggy hairstyle. You can see the layers peeking out of the sculpted curls. This, in my opinion, gives it a modern millennial makeover.
43. Beachy Shag
This hairstyle combines two of women's favorite styles: layers and beachy waves. To achieve those perfect, lightly tousled waves, check out this article. The waves and layers come together to give your face a smaller appearance. They also make your hair look thicker and fuller.
44. Textured Shag
The textured shag is a regular shag but with some texture added to it. You can add in some light waves either with the help of a straightener or by braiding your hair when it's damp. Keep the braids on for an hour to give your hair some light waves. This will add more character to your hair.
45. Bangs-To-Layers Shag
This shag cut is all layers. I love how the bangs blend together as a layer in this haircut. This is the classic shag cut, where the layers are cut all over the head. Waves are added to bring dimension and texture to the tresses. The layers make the deeper blonde highlights pop. The slight parting in the front bangs shows off some of the forehead, which balances out the face shape.
46. Grown-Out Shag
If you got a shag cut when you had short hair, let it grow out and just trim the ends. Don't trim the layers at the top – trim the layers below the jawline. Style it in a parting that starts off at the deep side but ends at the center of the crown. Fold the layers right near your face inward and comb the rest of the layers out. Do this with a round brush and a blowdryer.
47. Highlighted Layers
Chrissy Teigen is a hair goddess! She's shown us some great hairstyles that work well with her face shape. She knows how to slay wavy hair like a pro! The waves really make her blonde highlights shine through and flaunt her thin-ended layers.
48. Crisp Wavy Shag
A shag cut is meant to be shown off – that's what the layers are for! This crisp wavy shag is perfect for flaunting your new medium shag cut. You can achieve the crisp waves with a straightener. The key is to use the straightener to straighten out the ends.
49. Heavily Curled Shag
Kelly Clarkson makes frosted tips look cool! The curls, highlights, and layers come together to form this stunning shag cut. This hairstyle hastons of texture and volume. The ends are cut choppy, which makes the layers stand out more.
50. Blunt Shag
When you get your shag cut done, get the ends cut blunt. Have your layers cut sharp and choppy from near the cheeks. The length and layers of the shag cut make your jawline appear more prominent.
51. The S Shag
This shag cut is cut in an S shape. It has volume and looks thick. The flicked-out ends draw attention to the jawline. The long wispy ends also enhance the jawline and make the rest of your hair look voluminous.
52. Silky Shag
If you have fine, straight hair, it probably looks dull and lifeless sometimes. Add in some defined layers at the ends for style and volume. Part the front of your hair in a deep side parting, then lift your hair and drop it to the sides. This gives your hair some height at the front.
53. Modern Shag
The shag cut was made popular in the '70s, and Jennifer Lawrence gave it a modern makeover here. Opt for a lob cut and add in some heavy layers. Let the layers be styled in your hair's natural texture. If you have straight hair, add some subtle waves.
54. Inverted Feathered Shag
The feather cut, like the shag cut, has many layers. This makes it easy to incorporate into a shag cut. The layers are curved in and defined at the ends. They bring the jawline into focus. Add in tapered side-swept bangs to even out your face shape.
55. Pastel Pink Lob With Light Layers
Maisie Williams looks stunning with pastel pink hair. It goes with her skin tone and draws attention away from her facial outline. The pink shade also brings out her layers. Get some blunt bangs and curl your hair to finish off this look.
Infographic: Points To Remember While Cutting A Shag
Hairstylist Paul McGregor created the shaggy hairstyle for American actress Jane Fonda in the early half of the 1970s. It is one of the most popular and widely loved unisex hairstyles popularized by celebrities like David Bowie, Joan Jett, Rod Stewart, Mick Jagger, and Florence Henderson. Jennifer Aniston played a key role in making this hairstyle famous in the 1990s.
If you want the "Rachel hairstyle," check our infographic to know everything you need to know while getting this haircut. Scroll down.


You heard that right! Shaggy hair is back in fashion and fast becoming one of the trendiest cuts. Though, the shaggy cut was sported on short hair earlier, now it is more of a medium-length hairstyle. But, before you raise your eyebrows, let us tell you one thing – once you get the medium shag cut, your morning styling routine will never be the same. That is right; the shag cut has made a comeback (some may argue it never left in the first place)! Chic, modern, and ever-so-trendy, this cut transforms medium-length hair. Layer upon layer, the shag cut is truly one hairstyle that transcends time!
Frequently Asked Questions
What is a shaggy lob haircut?
A shaggy lob is a shoulder-length haircut with heavy and dramatic layers and choppy ends.
What face shape do shags suit?
A shag is a face-framing haircut. Therefore, it suits almost every face shape except the round one, as it may make the face appear shorter.
What does a shaggy bob haircut look like?
The shaggy bob is a short haircut with heavy, choppy layers. It is also called the bedhead or the shaggy look.
What is a shaggy pixie haircut?
A shaggy pixie haircut is a short haircut with a messy, layered, and textured look. It features short layers through the crown and longer layers at the sides, which can be styled to create a tousled, bedhead look. The hair is usually cut to the nape of the neck at the back, while the front sections are left longer and can be styled in various ways, such as swept across the forehead or spiked up. It's a low-maintenance style that requires minimal styling and upkeep, making it perfect for busy women who want to look their best without spending hours in the beauty salon.

Learn how to get a beautiful shag haircut in this video. Get the perfect look with this easy-to-follow beginner-friendly tutorial.

The following two tabs change content below.