5 Chic Shoulder Length Medium Hairstyles for Round Faces
Round faces look youthful, pretty and cute. To add a dollop of sophistication to such a face shape, a suitable haircut might be just the thing. The secret to a great hairstyles for face shape is to deflect the roundness of the face. The hairstylist's primary goal should be to elongate your features to balance the look.
Shoulder-length medium hair is a great way to make round faces appear prettier. If you have a round face, it can be flattered by opting for a medium length hairstyle.
Here are some chic haircuts for medium hair length and round faces sported by celebrities that you can choose from.
Haircut for medium hair round face:
Style 1: Angled Bangs
This is among the first styles that come to our mind when we speak of medium haircuts for round face!
Here we see Nicole Richie sporting a shaggy, shoulder-length medium haircut for round face coupled with a heavy fringe that lies over her forehead, extending a little beyond the eyebrows. These angled bangs at the sides of the eyes look really flattering and fashionable on her.
Style 2: Side-Swept Bangs
Side-swept bangs tend to suit a round face shape very well and can easily add glamour to your hairstyle and look. Moreover, this fashion never seems to go out of vogue and enjoys enduring popularity.
Kirsten Dunst's chic side-swept bang partially covering one eye, together with a cool shoulder-length cut and a deep side parting actually makes her face appear slimmer and defines her cheekbones well. This hairstyle takes the attention away from the width of her face and instead elongates its appearance.
For round face shapes, it is better to part your hair from one side rather than the middle as the latter parting leads to the cheeks appearing heavier and further accentuates the fullness of a round face.
Style 3: Voluminous Lob
Singer Adele who has a naturally round face is seen sporting a stylish collarbone-grazing cut which delicately balances the roundness of her face and looks gorgeously retro.
A round face always has its fullest part around the cheeks which is why stylists recommend pushing the weight to the ends of the hair strands as this improves the angles along the jaw line. Mostly we see that it is a one length haircut for Adele but a few soft layers and subtle curls are added at the bottom to add volume.
[ Read: Indian Haircuts For Round Faces ]
Style 4: Angled Shoulder-Length Hairstyle
Selena Gomez angled shoulder-length hairstyle helps her features to pop and enhances the sweetness of her cherub-like round face. The off-center part nicely deflects the facial roundness.This is a rather simple yet glamourous choice from the different medium hairstyles for round faces.
Style 5: Easy Waves
Swedish Canadian actress Malin Akerman's subtle waves bring interest while not adding volume at the sides of her round face. This hairstyle brings the volume up to the crown instead. The bangs that sweep at an angle across the forehead nicely break up the rounded curve of her hairline, lending her face angles that weren't there before. Overall, we see a very flattering hairstyle that enhances Akerman's natural beauty.
Which of these celebs do you think looks the best?
[ Read: Simple Hairstyles For Medium Length Hair ]
Images and Sources: 1 , 2 , 3 , 4
The following two tabs change content below.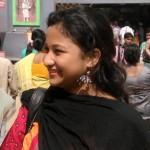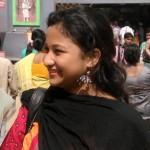 Oindrila
I am a fun-loving and vibrant person. Having a passion for writing, I choose to provide the best insights into health and beauty. I am talkative, lively, caring and an independent thinker. I am extremely compassionate about animals. I am a movie freak too!