5 Flattering Hairstyles For Long Faces
Is this what your face looks like once all the dots meet?
Then your hair is one of the biggest factor that add to your look. You may be wearing the right makeup , outfit and accessories, but a bad haircut or one that does nothing for your face type can lead to a disaster. A particular cut that looks gorgeous on your favorite actress may not necessarily look the same on you too.
Each face cut has different hairstyles to suit and you can pick any of those to get the right look. Similarly if you have a long or oblong face shape, selecting the right hairstyle is very important as the wrong one can add more length to your face and look terrible.
The main aim of the right haircut is to highlight your best features and play down the not so good ones.
There are may different hairstyles for long faces. Here are a few hairstyles that women with long faces can carry off effortlessly.
Flattering Hairstyles For Long Faces
Style 1:
If you have a long face but are blessed with straight hair, then blunt or side-swept bangs can be used to create more width and add  fun to the over all look. These haircuts will aim to create an illusion of a shorter face because they cover up large foreheads typically seen on long faces. The volume will aim to make the face look a little broader, thus offering a great look for long faces. This is one of the well known and flattering hairstyle for long face and you can try it too.. as it is easy to maintain.
Style 2:
The perfect hair length for long faces is shoulder length straight hair. It should be cut in long layers. The shortest layer should end at the chin and frame your face while highlighting the bone structure at the jaw line. It looks very formal and is ideal for the workplace. You can also carry of this look at some formal functions or get together's. This hairstyle is one of the well known long face hairstyle.
Style 3:
If you plan to keep your hair short, chin length bobs are perfect for you as they create the illusion of width and look very glamorous. You can also opt for an "A Line" long bob, keeping the back about 1 1/2 inches shorter than the front.
Style 4:
Just like bangs, fringes also help to tone down a long forehead. If you're game for it, try the thick blunt fringe. Wear it super straight upto the eyebrows and get ready to turn heads. When going for this, you can keep your hair long and straight too..
Style 5:
Although long hair is not advisable for long faces, this can be altered if you have curly or wavy hair. It helps to add volume and width to the sides of your face and looks very feminine.
No-no's for long faces:
If you have short hair, do not go for short layers that add volume on your head. It'll only add further height.
Avoid too much hair length that will only further elongate your face.
Too little hair length will also be a disaster. Find the perfect balance
Remember, just because something looks good on someone else doesn't mean it will work for you too. Understand your face type and shape to get the perfect haircut and look like a million dollars with almost no effort!!!
Hope this article on flattering hairstyles on long hair helps you get the best oblong face haircuts.

The following two tabs change content below.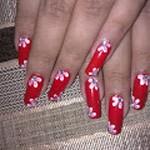 Latest posts by Neha Mane (see all)