15 Essential Skin Care Tips For Teenagers
Hacks to deal with any skin woes during those sensitive years of change and transformation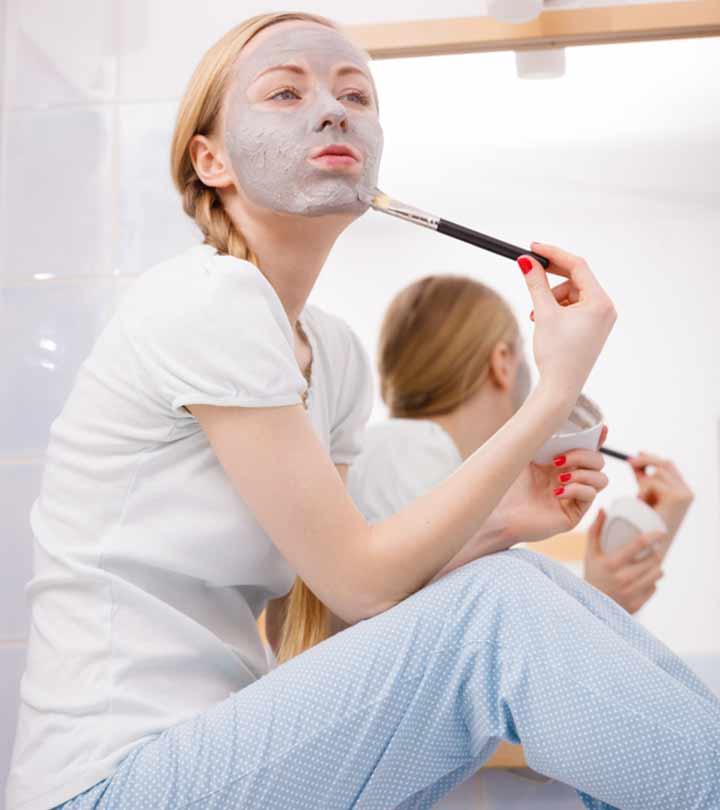 Teenage is a rollercoaster ride. It is incredibly difficult to get through adolescence without facing various skin problems. That is why you need to follow some skin care tips for teenagers. You also need to figure out what makes your skin healthy and what causes it to break out. We may not be able to help you solve all your life's problems, but we can certainly help you master your skin care routine. To learn how to do that, just keep reading!
But, before we get into the skin care recommendations, you must first determine your skin type and then create a plan based on that. Keep scrolling to learn more about your skin type.
Determine Your Skin Type
First things first – it is crucial to know your skin type. A routine that is suitable for oily skin will not work as effectively for dry skin. So, let's determine your skin type.
Normal skin usually has a soft texture and is smooth. It doesn't have any blemishes and patches. The pores are tight, and the skin surface feels neither greasy nor dry. The water content and oil production are well balanced, and blood flow to the skin is good.
If you have normal skin, use a mild and non-alcohol cleanser to prevent over-drying.
As the name suggests, oily skin looks shiny and is prone to acne, pimple, blackheads, and whiteheads. The pores are open, and the skin has an excess of sebum on it. During teenage, the hormone levels are always fluctuating, which might make things worse for oily skinned teens. Experts believe that stress (be it exam stress or the stress before a date night) can cause your skin to break out (1). So, stay calm.
If you have oily skin, use a pH-balanced BHA cleanser and water to clean your face twice a day. Carry alcohol-free cleansing pads/ skin blotting paper strips with you and use skin care products that are non-comedogenic.
Dry skin is flaky, not-so-smooth to touch, dull, and itchy. It has invisible pores, and the outer layer of the skin keeps shedding abnormally. Dry skin needs external moisturization to stay smooth.
If you have dry skin, avoid washing it with soap. Instead, use a mild pH-balanced cleanser. Also, never take hot showers. Avoid excessive washing and scrubbing.
Combination skin is a concoction of all the above skin type! You may have an extremely oily T-zone (the forehead, nose, and chin), and the other parts of the face may be dry. You may have blackheads and open pores. The cheeks may appear rough and dry while the other parts are overflowing with sebum and natural oils.
If you have combination skin, use Syndet soap and water to clean your face. Use moisturizer all over the face. Ensure you choose ceramide-based non-oily moisturizers.
Now that you know your skin type, let's move on to the skin care tips.
15 Skin Care Tips For Teenage Girls And Boys
1. Wash Your Face
That's the first thing to do when you wake up in the morning. Why? Because you need to clear your skin of the oil and sweat that have accumulated on your skin all through the night. Do not use soap; use a mild cleanser. Do not rub aggressively as it can irritate the skin and increase oil secretion.
2. Moisturize
Yes. Even the most problematic skin needs to be moisturized. Pick a light skin cream that's suitable for your skin and addresses your skin issues (like acne or spots). Do not like the glossy finish? You can use matte finish moisturizers that are easily available on the market. If you are going out, you can use a tinted moisturizer.


Trivia
Ancient Greek women used olives and olive oils to moisturize their skin. It kept their skin hydrated and healthy.
3. Powder On Your Face? (No! Please!)
If you have oily skin that gets glossy through the day, hiding the shine under layers of powder is not going to help. The powder will clog your pores and make your skin look patchy. The best way is to use a blotting paper or a tissue to absorb all the excess oil and shine.
4. Stay Away From Scrubs
Do not use harsh scrubs as they can seriously damage your skin, especially irritated or sensitive skin. Even the pore strippers. Wondering how on earth you are going to get rid of the blackheads (a type of non-inflammatory acne lesions)? The best way to get rid of them is to follow a cleansing routine religiously. Use a product that contains 2% salicylic acid (2), (3). You can talk to a dermatologist for a recommendation. In case you are under 16, always do this under adult supervision.
5. Be Thrifty With Makeup
As long as you are cleansing your skin at the end of the day, a little bit of makeup is fine. Wash the makeup brushes (if you are using any) regularly. Avoid using foundation because it is too heavy for your delicate skin. Instead, use a tinted moisturizer. Pick a shade that's closest to your skin tone. And how would you know that? Swatch it on the jawline (not the hand!) and pick the appropriate shade.
6. Don't Try To Be Dr. Pimple Popper!
It's tempting. It's irresistible. And it's so satisfying! But no. Don't try to play Dr. Pimple Popper unless you want to scar your face for the rest of your life. Instead, try applying a bit of tea tree oil (diluted with water) directly on the pimple or acne (4). This will help clear the infection and kill any remaining bacteria. You can also use a spot treatment cream to calm the skin and tackle breakouts.
7. Drink Water (Plenty Of It!)
Because water will keep your skin hydrated and glowing (5). Start your day with a cold (or warm) glass of water. Keep a water bottle with you when you are going to college. Keep sipping on it throughout the day.
If this sounds boring, here's how you can add an interesting twist to it. Add a few slices of lemon, cucumber, and grapefruit to the water. Let it stay overnight, and the next day, carry the bottle with you. Refill it whenever necessary.
8. Keep Your Hands Off Your Face
And anything else that's not clean and can transfer bacteria to your face. So, no more touching your face with your hands! Also, make sure you are using clean and dry towels to wipe your face. Wash your makeup brushes every week. Avoid sharing makeup products and accessories.
9. Check Your Diet
Acne and pimples are more hormone-related and less food or diet-related issues. But your skin needs vital nutrients to stay healthy. Stick to a healthy diet plan that is good for your skin and overall health. Also, keep track of what you eat to identify if you have intolerance to any food. Often, specific food items can cause skin issues, such as severe acne breakouts and eczema. In most of the cases, the culprits are dairy products (6), (7). However, it's good to do an allergy test to rule out other possibilities.
10. Exfoliate Once A Week
Do not use a store-bought scrub. Instead, use a homemade exfoliator or scrub to remove your dead skin cells once a week. To make a homemade scrub, simply mix sugar and honey. If your skin is sensitive, go for oatmeal mixed with honey and milk.
11. Use A Face Mask Or Face Pack Once In Every Two Weeks
Face masks have several benefits. They not only remove dirt, impurities, and toxins from your skin surface but also keep it moisturized. Though you can easily buy readymade face masks and packs from the market, it is better to stick to natural ingredients. Spread the mask on your face and wait until it's dry and then wipe it clean. Check out some natural face pack recipes that you can easily prepare at home by clicking here.
12. Take Care Of Your Lips
Just like your face, your lips too need special care. Avoid licking your lips as that will make them dry. Apply lip balm before going to bed. Your lips also need scrubbing. You can apply some cream on a baby toothbrush, wet your lips and then scrub gently with the brush for a minute. Wash it and apply lip balm.


Quick Tip
You can opt for UV filter, nourishing, moisturizing, and medicated lip balms to take care of your lips.
13. Don't Forget The Hands
Let's not forget the hands. Buy a good hand cream and massage it on your hands every morning. Just ensure that you do not use too much of the product because it will make your hands slippery.
14. Have A Proper Nighttime Skin Care Routine
Make sure to follow a proper nighttime beauty routine religiously. Remember, your skin rejuvenates itself while you are fast asleep. Cleanse your face, remove all the traces of dirt and makeup, and apply moisturizer, lip balm, and hand cream before you hit the sack.
15. Don't Forget To Apply Sun Block
You are never too young to start using a sunblock. Before you leave for school or college, apply a broad spectrum sunblock or sunscreen (at least SPF 30 and higher) to all the exposed areas (8). Keep it in your backpack so that you can reapply it when needed.
Infographic: 6 Skin Care Tips Every Teenager Should Know
Maintaining a simple yet efficient skincare routine is crucial for every teenager. It helps keep their skin in the best possible condition and prevents premature aging. We have rounded up a few self-care tips every teenager should follow to get healthy, glowing skin. Check out the infographic below to know more!


Adolescence may cause various skin issues which need to be addressed according to your skin type. Teenagers with oily skin must opt for non-comedogenic products while those with dry skin should go for a mild cleanser. Following simple skincare tips such as washing your face after you wake up, using the right moisturizer for your skin, exfoliating once a week, and drinking plenty of water will keep your skin hydrated, smooth, and glowing. A simple skincare routine and a healthy lifestyle will give you soft and naturally glowing skin.
Key Takeaways
It is important to figure out your skin type when planning the perfect skin care routine for teenagers.
A simple routine of cleansing, toning, and moisturizing works best for young skin.
Never skip sunscreen as it protects skin from sun damage. Pick a sunscreen with a spectrum level of SPF 30 or higher.
Avoid touching your face frequently to minimize the chance of acne.
Frequently Asked Questions
Is toner necessary for teenage skin?
Toner helps remove remaining makeup and oil and balances the pH level of the skin. So, it's better that you don't skip it.
Is aloe vera good for teenage skin?
Yes, aloe vera has powerful antioxidants that help slow down the aging process (9).
Can I use vitamin C as a teenager?
Yes, you can use vitamin C to boost collagen production and reduce hyperpigmentation (10).
How do teenage girls use lemon on their faces?
Teenagers can make a homemade face mask with honey and yogurt or sugar to get healthy and glowing skin.
Sources
Articles on StyleCraze are backed by verified information from peer-reviewed and academic research papers, reputed organizations, research institutions, and medical associations to ensure accuracy and relevance. Read our editorial policy to learn more.