50th Wedding Anniversary Ideas: Making The Golden Anniversary Memorable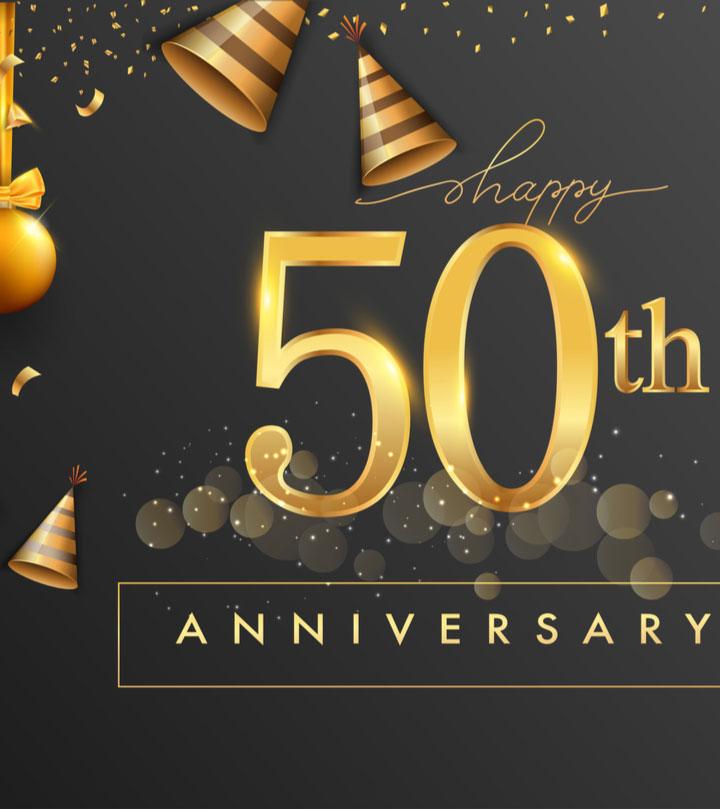 Deemed as one of the most venerable milestones, the 50th Golden Wedding Anniversary is special for any married couple. So, are you trying to host your own golden wedding anniversary? Are you assigned the responsibility to plan this wedding anniversary for your parents? We have got a wide number of 50th wedding anniversary ideas listed below to satisfy your expectations for hosting a 50th wedding anniversary. Spending 50 years together is a big deal and a good enough reason for celebrating the occasion. Any couple wedded for this long deserves to be appreciated and congratulated. If you are confused about what to present to the couple or if you are stressed over articulating a speech, we are here to rescue you. Let us guide you through some incredible 50th wedding anniversary celebration ideas to honor them and make them feel proud of maintaining this bond through thick and thin.
25 50th Wedding Anniversary Ideas
To celebrate 50 years of love and commitment, this is the best possible occasion to exhibit your endearment and gratefulness towards each other. Be it formal or informal, simple or fancy, your intent should be to organize a party that would incorporate personalized and customized interests specific to the couple. This should indeed be a day to be remembered for life; hence, focus on planning well with creativity. Let us look at some 50th wedding anniversary ideas for family as well as 50th wedding anniversary ideas on a budget.
 Plan A Camping Getaway: Go and enjoy some air in mother nature together with your partner. A nice bonfire and sky-gazing at night can turn out to be romantic.
 Book A Hotel Room And Stay Over For A Night: Book a room at your favorite hotel and instruct the management to decorate it with flowers. Order your favorite meal after a relaxing bubble bath and drink together.
 Try An Activity: If you have dreamt of riding a hot air balloon or skydiving, your 50th wedding anniversary would be the best one to go for it – obviously not on your own, but you can surprise your spouse by taking them along with you to enjoy these activities.
 Go For Wine Tasting: Contact a winery around your hometown and proceed forth together to taste a variety of wine and embrace each other's company while relishing the drinks.
 Sunset Viewing In The Afternoon: If you love sunsets and nature, this will be the best choice. Have your car packed and ask your partner to accompany you after you are done with your work. Your partner will be thrilled at the idea of going out, and you two can spend a beautiful evening together watching the sunset.
50th Wedding Anniversary Ideas For Parents
Well, if you are someone's son or daughter who is assigned to plan a 50th wedding anniversary for your parents, it is the right time to bring excitement to your parents' life. As you have known them the most, reminisce all the sweet memories you had witnessed between them and highlight them through speeches, or you can hang the duo's best photographs together on the wall.
 Plan A Surprise Trip For Your Parents: It can vary depending on your budget and their choices. A getaway trip to a nearby place or even a vacation to their dream destination seems to be a brilliant idea. Have them celebrate their day in an unusual way where there are just the two of them.
 Buy Them Concert Tickets: If they love music concerts and opera, find one nearest to the town and book the tickets. This is probably one of the best golden anniversary gifts for your parents.
 Get Them Spa Vouchers: Your parents would definitely love it if you offered them vouchers for a relaxing spa session. It is one of the best ways to pamper your parents with free massages, saunas, and other beauty treatments.
 Skincare Products: Surprise them with a customized set of skincare and beauty products. Anti-aging creams, as well as collagen-based creams, will be beneficial for them.
50th Wedding Anniversary Decoration Ideas
For those who want to throw an elegant 50th wedding anniversary party, you can order pre-made decorations or do it your own way by making preparations for homemade decorations. Upon reading this, you will acquaint yourself with some impactful 50th wedding anniversary photo ideas and 50th wedding anniversary table centerpieces ideas.
 Gold Color Decoration: As a matter of fact, the 50th Wedding Anniversary is denoted by the golden color. Your focus is to keep everything golden – tablecloths, streamers, balloons, confetti, and other decor items. Gold frosting in cake and desserts will enrich the look of the party.
 Violet Flower Decoration: In the traditional sense, violet flowers signify 50 years of marriage. Set up the decor right from the entrance with violet flowers. You can even add garlands and display centerpieces made of violet. This color would ensure a vibrant ambiance.
 Marigold Centerpieces: Marigold is known to symbolize long-lasting and passionate marriages. Don't just think of using them, but this is the most appropriate occasion to incorporate marigold flowers by arranging them on centerpieces, radiating elegance and style.
 Wedding Memorabilia Decorations: This can be done by putting the couple's wedding dress on display and placing the photographs in vibrant golden-colored frames, which you can use as centerpieces.
50th Wedding Anniversary Party Ideas: Favors
During your 50th wedding anniversary party, you can offer small party favors to your guests to let them know that you feel grateful to them for coming to your party. Thank your guests for sharing the party and making it a memorable one. Here are a few 50th wedding anniversary favor ideas.
 Mini Wine Bottles: Apparently, most of the guests arriving at your party will be adults. For this very reason, you can give them mini flavored wine bottles, which they will love.
 Mini Photo Frame: Gifting a mini golden photo frame to the guests is a sweet favor. If you are organized enough, you can put their photos from the anniversary party to remind them about the memorable day.
 Chocolates Wrapped In Golden: Order some customized chocolates, and you can place the chocolates in a golden favor box tied with a golden ribbon.
 Gold Candles: Although a basic gift, if you arrange for some customized scented candles and tie a thank you note to the candle, the guests would appreciate it.
50th Wedding Anniversary Party Food Ideas
If you are planning this wedding anniversary party, consider these 50th wedding anniversary food ideas to integrate into the menu.
 Sweet And Spicy Meatballs: A mixture of both sweet and spice while preparing meatballs will be one of the best serves in the category of appetizers.
 Themed Cuisine: If you are having a themed food party, you can rent chefs specialized in making food-related to specific regions. Chinese, Indian, Italian, Thai – any one of these can be set up in a buffet style.
 Roasted Chicken Or Turkey: This is a delicacy that is usual yet delicious. It's highly rated in sophistication and seems beneficial enough to serve it as a whole meal.
 Taco Salad: Top the salad with tomatoes, avocadoes, jalapenos, cheese, and sour cream to make it relishing.
 Desserts: A wide variety of dessert options are essential for a party or get-together. Besides the anniversary cake, other rich dessert options include cupcakes, tiramisu, lemon bars, cheesecakes, donuts, macaroons, and many more.
50th Wedding Anniversary Games Ideas
Celebrate this golden anniversary by including some fun games and activities. The activities do not need to be strenuous but make sure to keep the spirit of the party alive.
 Interviewing The Couple: Take about 10 to 15 questions from the guests and interview the couple in private for the responses. Hand over a pen and paper to each guest and let them write their answers to some basic questions like, "where did the couple meet" and "where did they go for their first vacation together". Whoever writes the correct responses could win a small prize.
 Name That Tune: Choose a setlist of some popular songs that are familiar to most people. Play the recording for upto 10 to 15 seconds and let them guess the song name. The team with the highest scores is announced as the winner.
 Trivia Quiz: Trivia Quiz is probably one of the best games to test the memories of the players. Based on categories like famous personalities, music, places, and monuments, you can hand out a printed set of questions to the guests and whoever answers the highest number of questions wins the game.
On a rare occasion like a 50th wedding anniversary, try to plan the party in a way that will remain memorable throughout life. Raise a toast for the couple to let'em know how they inspire you to believe in love and commitment.
The following two tabs change content below.