Best 50th Wedding Anniversary Wishes, Quotes, And Messages
Get inspired by eloquently crafted words and transform an insipid wish into a masterpiece.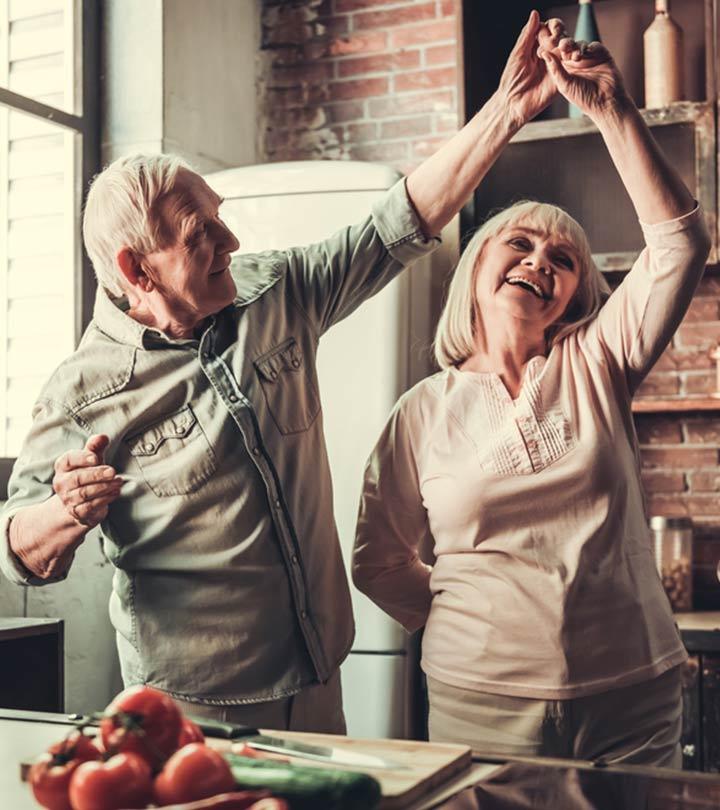 Spending 50 years with someone is a real commitment. It has to be celebrated! If you are nearing your golden jubilee date or you know a couple who is, here are some heartfelt 50th-anniversary wishes, quotes, and messages to share. Living with someone for 50 years means knowing them completely – their faults, skills, fears, dreams, hopes, weaknesses, and strengths. If you don't have the right words, scroll down and get some inspiration.
Wishes And Messages For Parents, Relatives, Friends
You two fit together like cheese and wine. Wishing you a very happy 50th anniversary.
I hope to find love so fierce and strong like you both found each other. Happy 50th anniversary!
Happy 50th to you both. May there be many more happy and prosperous years to come.
Wishing you a jolly good 50th anniversary. May you have many more happy and merry years.
Congratulations on your 50th anniversary! May your adventure continue, and may you be blessed with more happiness!
You have shown me that true happiness comes from living life with the one you love. Happy 50th mom and dad! Love you!
Watching you both grow old has taught me the importance of love, companionship, and honesty in a relationship. Happy 50th anniversary! Raising a glass to many more years of your love!
Forget Bonnie and Clyde; I want a love like you both have! Wishing you a very happy 50th anniversary!
Dear mom and dad, thank you for showing me what true love looks like! Wishing you both a happy 50 years of marriage. Here's to forever!
Seeing you both together makes me understand the beauty of love songs, the journey of love novels, and the artistry in poems. May your love only grow stronger! Happy 50th!
The world may fall apart, but you two will always be together. Happy 50 years and many, many more to come!
You have shown me that the essence of love is two people, despite their differences, liking each other every day! Wishing you a very jubilant 50th anniversary.
Wishes And Messages For Each Other
These 50 years together have been a dream. Here's to many more!
Loving you these past 50 years is the best feeling! Happy 50th anniversary, my love!
Happy 50th anniversary, Darling! We've had our agreements and arguments, but I would never trade these 50 years for anything else.
Spending these 50 years together has given me so much joy! Wishing you a happy anniversary.
God sent me an angel and it was you! Happy 50th wedding anniversary.
Living life with you for 50 years – drinking wine and dancing, and watching our children grow and start lives of their own. These 50 years have been heavenly. Here's to many more.
We've been together for 50 years, which is 600 months or 18250 days, comprising four-hundred thirty-eight thousand hours, containing twenty-six million two hundred and eighty thousand minutes. And you've made every second of that worthwhile.
They say every love story is beautiful, but ours is my favorite! Happy 50th, love!
You've been with me in sickness and health, through the good, the bad, and the ugly. You have strengthened, comforted, and loved me. Happy 50th! 50 years will never be enough. Here's to spending eternity with you!
50 years ago our adventure began, and there has never been a dull moment with you. You have made the start, the journey, and the destination so beautiful! Here's to our coming adventures!
One universe, 9 planets, 204 countries, 809 islands, 7 seas, and many timestamps – and it all worked so that I could meet you. I love you more than words can say and actions can express. Happy 50th, raising a glass to forever with you!
Thinking of more creative ways to express your congratulations? Read these quotes to get some inspiration.
Quotes On Love For 50th Anniversary Wishes.
I swear I couldn't love you more than I do right now, and yet I know I will tomorrow. – Leo Christopher
With each day, our love only grows stronger. Thank you for coming with me on the ride of a lifetime. Happy golden jubilee, my love.
The only thing we never get enough of is love; the only thing we never give enough of is love. – Henry Miller
Wishing you an extraordinary 50th anniversary. You have taught me that marriage works when we are open to giving and receiving exceeding love, not by limiting the love we give. Thank you for loving me immeasurably!
It is a curious thought, but it is only when you see people looking ridiculous that you realize just how much you love them. – Agatha Christie
I love that being with you allows me to be my ridiculous self! These 50 years together have meant the world to me. Looking forward to another 50 years together!
To love and be loved is to feel the sun from both sides. – David Viscott
You are the sun my world revolves around, and your gravity keeps me grounded. Happy 50th anniversary!
Life is the flower for which love is the honey. – Victor Hugo
Without your love, my life would wither away. Your love sustains me in more ways than I can express. Here's to 50 years spent together, and another 100 more to come!
Being deeply loved by someone gives you strength, while loving someone deeply gives you courage. – Lao Tzu
You have given me love, courage, and strength, not just to succeed through the good, but to strive through the worst and come out on top. Happy golden jubilee!
I love her, and that's the beginning and end of everything. – F. Scott Fitzgerald ​​
You are the beginning and end of my life. I never knew what living was until you arrived. Thank you for taking me on the ride of my life these past 50 years. Every second was bliss!
We are most alive when we're in love. – John Updike
Being with you makes me feel awake, alive, and free. Every moment we spend together I treasure! Happy 50th Anniversary, Love!
Love is friendship that has caught fire. – Ann Landers
You were my best friend before we got married, and still remain the same even after. I love that our marriage is only strengthened by our friendship. Here's to an amazing 50 years of love and friendship, and another 50 to come.
If you find someone you love in your life, then hang on to that love. – Princess Diana
Thank you for hanging on to me, and in turn giving me yourself to hold on to. I would be lost without you. Happy 50th!
I fell in love the way you fall asleep: slowly, and then all at once. – John Green, "The Fault in Our Stars"
These past 50 years together with you have taught me the importance of the little things. Watching you fall asleep, sitting with you while you read, strolling in the park hand in hand, still going out on dates, bringing you flowers, and going out dancing are the best memories I wake up to.
Oh, how a quiet love can drown out every fear. – Jessica Katoff
The way you have loved me so fiercely for the past 50 years makes me stronger. You uphold me, making me believe that I can overcome anything – even my darkest fears, if I have you by my side.
A simple "I love you" means more than money. – Frank Sinatra
Money could never buy what these 50 years have given me – a lifetime of an adventure with you! I love every moment with you! Happy Golden Anniversary!
To be brave is to love someone unconditionally, without expecting anything in return. – Madonna
You have loved me through the good and the bad, without demanding or expecting anything in return. I cannot put into words how you have encouraged me with your unconditional love. Happy golden anniversary, raising a glass to many more blissful years!
You know you're in love when you can't fall asleep because the reality is finally better than your dreams. – Dr. Seuss
While falling asleep with you is one of the best moments of my day, living life day in and day out with you makes my heart tick. Here's to 50 incredible years together, and another thousand more to come!
Love is the flower; you've got to let it grow. – John Lennon
Happy 50th anniversary, Darling. Your love and friendship have constantly improved me in every way. I learn new things from you each day! Life would never be the same without you.
Love was made for me and you. – Nat King Cole
Not many people get to meet their soulmates, I'm glad to say that, in you, I have met mine! Here's to 50 years of love, madness, and adventure!
In all the world, there is no love for you like mine. – Maya Angelou
I could search the earth a million times over and still never find love like ours. You were made for me, and I for you! These 50 years have only proved that! Happy anniversary!
When we love, we always strive to become better than we are. When we strive to become better than we are, everything around us becomes better too. – Paulo Coelho, "The Alchemist"
Loving you has made me a better person in every way. Thank you for these 50 years, here's to many more years to grow old together!
When I saw you I fell in love, and you smiled because you knew. – Arrigo Boito
Before I say anything, you already know! You know me inside and out, and somehow instead of running the other direction, you stuck around! I am ever grateful for you.
You are my sun, my moon, and all my stars. – E. E. Cummings
My world revolves around you! You are my day and my night. I wake up in the morning to have an adventure with you, and at night I dream about you! You have given the best 50 years a partner could ask for!
Whatever our souls are made of, his and mine are the same. – Emily Brontë
People say opposites attract, but you and I are one of a kind. And I couldn't have spent these last 50 years happy without you! You make me smile every single day. Happy 50th anniversary, you're stuck with me forever!
Here are some quotes on marriage you can add to a 50th anniversary card.
Quotes On Marriage
A successful marriage requires falling in love many times, always with the same person – Mignon Mclaughlin
Each day I wake up I fall more in love with you. 50 years just doesn't seem enough, here's to an eternity together!
A happy marriage is a long conversation that always seems too short. – André Maurois
While talking to most people seems difficult for me, talking to you is like breathing. It comes naturally, and I need it to exist. Thank you for listening to me for 50 years!
It's all about the one who calms the storm. It's your dancing partner, drinking buddy, lover, adventure buddy, stare at the stars and talk about life, and best friend in one. – Unknown
You are my everything! Here's to 50 years and counting!
What greater thing is there for two human souls, than to feel that they are joined for life — to strengthen each other in all labor, to rest on each other in all sorrow, to minister to each other in all pain, to be one with each other in silent unspeakable memories at the moment of the last parting? – George Eliot
In these past 50 years, you have been my equal partner in every sense of the word. You have strengthened me when I have fallen short and lifted me up to reach the impossible and dare to hope for more!
A strong marriage requires two people who choose to love each other even when they struggle to like each other. – Unknown
I know that there have been many days when I have not been lovable, yet you said you loved me every single day. You have taught me that love knows no bounds. Happy 50th, I will love you forever!
Happy is the man who finds a true friend, and far happier is he who finds that true friend in his wife. – Franz Schuber
You have always been a true best friend to me these 50 years. You are dependable, strong, encouraging, trustworthy, and remarkable. You have never given up on me or taken the easy way out. I love our 50 year journey, because it's been with you!
To get the full value of joy you must have someone to divide it with. – Mark Twain
Sharing the joy of these 50 years with you has been my favorite accomplishment. Our great-grand-children will tell stories of our life together!
The secret of a happy marriage is finding the right person. You know they're right if you love to be with them all the time. – Julia Child
There has never been a moment in these past 50 years that I have never wanted to share or spend with you. You were, are, and will always be my perfect match, my right fit!
In every disagreement in marriage, remember this one important truth: My spouse is my partner, not my enemy. We will either win together or we'll lose together. – Unknown
You've taught me the importance of letting some arguments go, and allowing me to celebrate your victories as though they were ours. More importantly, you've taught me to never go to bed at war with you, but in perfect happiness. Happy 50 years of marriage, I wouldn't trade it for the world!
A great marriage is not when the 'perfect couple' comes together. It is when an imperfect couple learns to enjoy their differences. – Dave Meurer
Happy 50th anniversary! You have taught me that our differences increase and strengthen our love.
There is nothing nobler or more admirable than when two people who see eye-to-eye keep the house as man and wife, confounding their enemies and delighting their friends. – Homer
I love the honesty we have with each other. I love how it grows each day, making us stronger. Happy 50 years together, hoping we have another 50 long wonderful years to come.
Marriage is like watching the color of leaves in the fall; ever-changing and more stunningly beautiful with each passing day. – Fawn Weaver
Our marriage grows more beautiful each day! And the past 50 years are a testament to that!
What counts in making a happy marriage is not so much how compatible you are but how you deal with incompatibility. – Leo Tolstoy
There were many who told us we would not work out but even when I gave up, you never did. Your unwavering faith in our love has sustained me! 50 beautiful years have passed, here's to many more to come!
I promise to love you, respect you, support you, and above all else, make sure I'm not just yelling at you because I'm hungry. – Unknown
Our 50 years of marriage have been filled with love, respect, support, and of course hangry cravings. You make me better every day!
Love isn't a state of perfect caring. It is an active noun like struggle. To love someone is to strive to accept that person exactly the way he or she is, right here and now. – Fred Rogers
You have always accepted me with open arms, even when we disagreed. You have taught me that our strength comes from being different. You build me up each day with your love. 50 years have passed together, I need a hundred more!
If you love 'em in the morning with their eyes full of crust; if you love 'em at night with their hair full of rollers, chances are, you're in love. – Miles Davis
Waking up to your beautiful smile and falling asleep together making plans for the next day – these are the highlights of my life. 50 years of loving you have made me a better person.
A good marriage is that in which each appoints the other the guardian of his solitude, and shows him this confidence, the greatest in his power to bestow. – Rainer Maria Rilke
Even when I didn't have confidence in myself, you had enough for both of us. You always encouraged me, never letting me give up on myself. I cannot thank you enough for the love and courage you have bestowed on me in these past 50 years.
To be fully seen by somebody, then, and be loved anyhow — this is a human offering that can border on miraculous. – Elizabeth Gilbert
You see me through and through. You know all my faults, and yet you find new reasons to love me every day. You are kind, and filled with courage and hope. And you never give up on me or our love. 50 years you have stood by my side, and I thank the Heavens for making you for me!
Ever thine, ever mine, ever ours. – Ludvig van Beethoven
There are a million love stories – some famous, some historic, yet some unknown. But ours will always be my favorite. These 50 years I cherish with all my heart and breath.
You put your arms around me and I am home. – Unknown
In a world where chaos and change are definite, you are my only constant. There is no home like the one you give me. Over 50 years we have moved states, time zones, and jobs – but when I look at you I find love, security, and happiness.
Infographic: Unique 50th Wedding Anniversary Wishes, Quotes, And Messages
If you are lost in this extensive list of 50th wedding anniversary wishes, quotes, and messages above, we can help. We have picked some unique and beautiful ones, so that you do not have to do the hard work. Check them out in the infographic below and make the milestone memorable.


The fast-paced world that we are familiar with today is growing increasingly impatient. No one has time for anyone. In such an era, marriages lasting 50 years are rare and magical. Such long-lasting bonds must be celebrated by appreciating the efforts of the individuals who held fast and never gave up. A simple but heartfelt way of doing it would be by being sincere in your anniversary wishes for the couple or your partner. Make your 50th wedding anniversary wishes special by adding personal anecdotes and special memories to them. It will be worth it!
Frequently Asked Questions
What is the symbol for 50 years of marriage?
Gold is the symbol for 50 years of marriage. This precious metal is associated with wealth and optimism, and is used as the symbol for the 50th wedding anniversary. Also, its solid and corrosion-resistant properties represent the strong bond between couples.
What flower represents the 50th anniversary?
Yellow roses and violets represent the 50th anniversary.