6 Most Beautiful Asian Bridal Hairstyles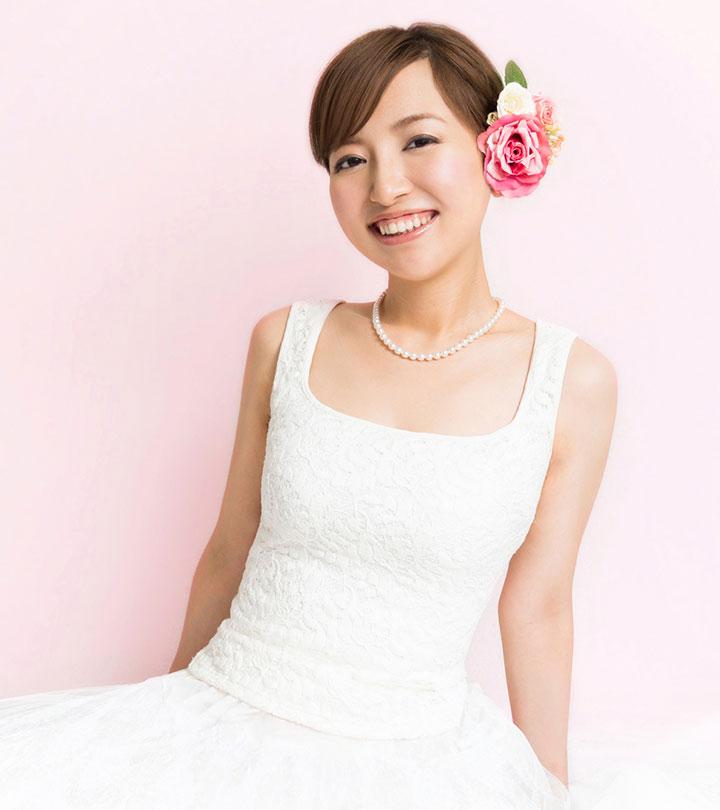 Wedding day happens to be the happiest day in a girl's life and she definitely wants to look flawless and fabulous that day. As the wedding day approaches, the exhilaration and the desire to have everything greatly intensifies. Picking the right hairstyle is one of the most important and challenging tasks for a bride-to-be. Listed below are some best Asian Bridal Hairstyles to choose from. Check out our list and let us know which your favorite is!
6 Beautiful Asian Bridal Hairstyles
1. Long And Simple
The first and foremost, of the simple yet sleek Asian bridal hairstyle options  is "Long and simple hairstyles." Such style works best with lush, long, healthy locks. Simple pinned side-fringe and an offset-part work well with this bridal hairstyle. If you've love the look but your hair is too short to rock it, the hair-extension option is always there for you. Avail it!!!! You can also use fancy bridal hair accessories to enhance your hairstyle.
2. Loose Updo
When it comes to Asian wedding hairstyles, Updo hairstyles don't manage to lose popularity among the brides. Asian brides love up-dos owing to the amazing elegance and versatility they provide. Loose up-dos are chic alternatives to traditional intricate up-dos, delivering a more contemporary and youthful look. Depending on the effects a bride wants to create, an updo hairstyle can be classical and refined, romantic and girlish or messy and playful etc.
3. Wavy Updo
Wavy up-dos are a common choice for weddings as they offer the perfect equilibrium between the elegance, the romantic look and the versatility of loose up-dos. The way you create a wavy updo hairstyle is your choice. Depending on the length of the tresses you might prefer a piled-up updo and if you're manes are not cooperative enough to let you get this style, you can go for low bun hairstyle that looks simple yet glamorous.
4. Perfectly Imperfect Updo
If you want to get updo hairstyles for your nuptials, but not the usual run-of-the-mill stuff, "Perfectly imperfect updo" might be just the thing you need. This playful hair look enhances your feminine appeal and can be a perfect option if you're going to have a garden wedding. While you can create this hairstyle yourself, since it's a bit tricky to create it, it is a wiser decision to seek a professional's help so that you can flaunt it perfectly on your big day. One thing you must keep in mind while getting this is. a traditional veil can make your look a bit cluttered so you've to make sure that you pick a pretty birdcage veil, or go natural with a gorgeous flower.
5. Hairstyle With Veil And Tiara
For a complete Asian bridal look, Asian brides may choose to style their hair off their face to put a veil or tiara on display. A balanced part and low bun elegantly allows the bridal veil and tiara to take the centre stage. Some brides may also want to add some loose tendrils or curls for a subtle look. Up-dos are a great option for this, creating thick waves on the top of the head for extra volume with the ends tucked underneath the tiara.
6. Hairstyle With Flowers
Asian brides may want to acknowledge their cultural heritage by adding fresh Asian flowers or bridal floral accent pieces to their hair. Floral accessories can be pinned into the curls or tucked behind the ear.
Asymmetrical or traditional bob, classic chignon, half up hairstyle and bunchy braid are some other fascinating hairstyles for the Asian brides to give them a romantic and ethereal look on their big day. How to do Asian bridal hairstyles is no longer a mystery!
The following two tabs change content below.


Shaista
I have a great passion to write on health, beauty and hair care. I believe that combination of these three will make anyone's life happy. My other areas of interests are cooking, gardening and travelling. I always strive for new things and try to live my life to the fullest.