60th Birthday Party Ideas: Games And Original Entertainment For 60th Birthday Party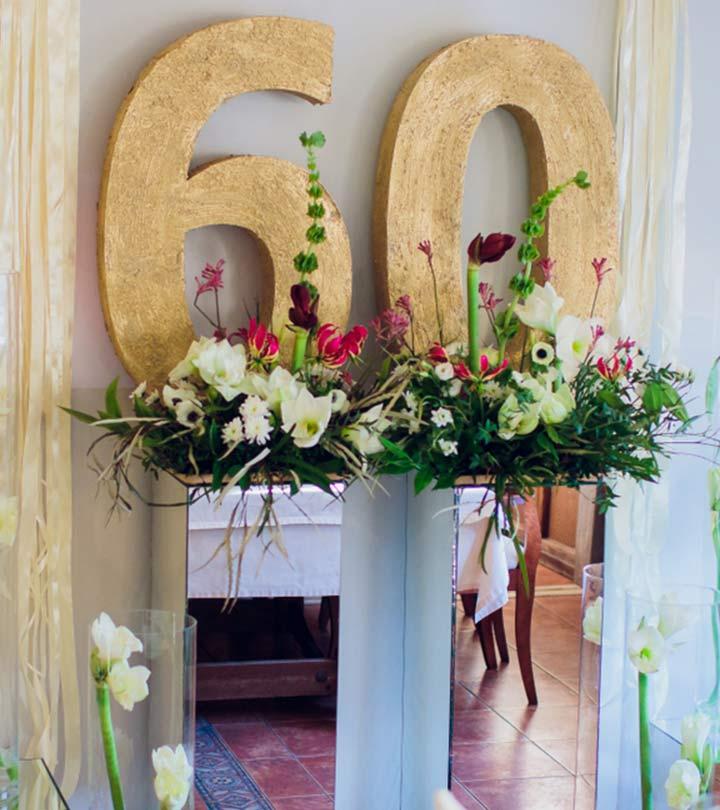 Indeed the years go by so fast that we can't stop them, but at least we can CELEBRATE them BIG!!! Especially those birthdays such as the 60th one that can pull you down to the memory lanes definitely need excellent planning given their unimaginable significance. Well, don't panic, though. True that the pressure's already begun mounting, but we are here to rescue you. In this article, we shall give you the best 60th Birthday party ideas to organize the party and help you make the event stand out. This birthday should be all about yum cakes and the many joyful candles and decorations that cheer up young and old alike. Whether or not it is a surprise party, the person who organizes the birthday can count on some real fun goodies like glasses, hats, wigs, boas, headbands, and the like too.
Ideas To Celebrate 60th Birthday Party
As we have already established, this birthday, obviously just like all the other birthdays, demands special attention. So we believe you when you express how jumbled up you are while preparing for this party, which is why, before it's too late, let's get started and explore all the very many ideas that we've listed for ya below! C'mon!
Male 60th Birthday Party Ideas
Who wouldn't love the idea of a barbecue? In the menu for ideas for planning a 60th birthday party for a man at home who loves everything related to meat, a good barbecue will be by far one of the best options. At a 60th birthday party, bringing everyone together to an event planned at your garden, in addition to giving them one of the best banquets, will make the party even more spectacular. Also, an evening with all their loved ones and a feast in full sunlight sounds like a great idea, beyond the shadow of a doubt.
You can also plan a creative outdoor party and allow the guests to enjoy the pleasant temperatures in the open air. You will only need the ideal party supplies to decorate the garden. Outdoor activities such as a standup-comedy show or an activity that requires mental effort such as metal detecting and even switch-it-up will work wonders to add to the charm!
Female 60th Birthday Party Ideas
Surprise her with a joyful get-together at a restaurant or a good banquet in your home. If you choose to organize these surprises for quiet birthdays in a restaurant, one of the first advantages you will be provided with is comfort.
Also, how about having her favorite music band perform? Try that. The band will def take the birthday lady back to her youth with her favorite songs.
And oh, those backyard birthday bashes will never go wrong because this woman has celebrated many birthdays already and basic ideas like the backyard ones never fail is what they know.
60th Birthday Party Ideas For Mom
Appreciate this beautiful, strong mom as much as you can for standing so strong all these 60 long years. Collect all those old photographs or videos of her that shed light on her hard work, success, and accomplishments and display them to the guests. You can use a projector for the same.
You can also have a mom-themed cake and or a super old-school one that has her favorite flavor. Take her to those youthful days or her childhood through old age party decorations, and you'll undoubtedly see her shed happy tears.
You can also try DIYs to surprise her. A DIY neckpiece, a shawl, or a pair of socks. These will never go wrong. Not even thousands of party items bought at a high price will be able to match these ideal party supplies made by yourself for your mother. Besides, you can even dress up in the clothes that were in the trend of her times. From afar, you will create the most incredible way to enter old age!
60th Birthday Party Ideas For Dad
You can include your dad's favorite type of food and music. A fancy cocktail with hors d'oeuvres may be appropriate for some people, while others may enjoy a more casual barbecue or a meal. This party can also have entertainment and activities like slideshows or a DJ. Slide shows can focus on comparisons between the past and the present or aspirations for the future. If you hire a DJ, it's worth learning the guest of honor's favorite songs and customizing the perfect party playlist. Hosting a barbecue at the party is another good way to pay tribute to life in an entertaining way. Guests can bring their anecdotes to share, or a few can collect stories to tell.
Ideas For A 60th Birthday Party For A Friend
Surely your best friends' birthdays are a very important date on your calendar. And while you can always opt for a house party with friends and close family members, we encourage you to look for more options if you want your good friend to remember their birthdays as truly important and fun events in their lives. Go for something original and creative that will let your friends have a great time. Take some inspo from the ones mentioned below:
Outdoor park party: A park with scenic beauty can be the perfect spot. Ideally, you should decorate the area and buy disposable glasses, plates, and plaid tablecloths. In addition, you can order cute cakes and bento lunch boxes for everyone.
Creative activities: Look for a space in which, in addition to being able to organize a snack, you are also offered the option of conducting an art, cooking, or painting workshop. To us, it seems like a super fun proposal.
Sports activities: Sports activities such as playing badminton or football, just like the youth days, will take you all to your childhood! So this idea looks terrific too.
Beach party: And when it comes to a beach party, we doubt anybody would say "no". A trip to the beach will also work as a relaxation gift. It's totally a win-win situation, ain't it?
60th Birthday Party Decoration Ideas
Not sure how to organize the adult birthday party? Here you will find everything you need to know for surprise 60th birthday party decoration ideas. Below are the items you can add to light up the birthday celebration.
60-year-old candles
60-year-old garlands or balloon garlands
Pom-poms
60-year-old balloons
Confetti Balloons
Backdrops
Photo Booth
Pinata
A stage
DIY tissue paper lantern decor
Now, while decorating, let the room scream the personality of the birthday soul. Are they into paintings, dancing and singing, and sports? The birthday supplies listed above can be utilized to reflect those interests. A photobooth can have a concert hall theme; the pom-poms can give you those football field feels used alongside a football-themed cake. Make sure that the party and its decoration go well with the birthday person's interests, that they make them feel comfy and most-importantly happy!
60th Birthday Party Theme Ideas
Celebrating an adult's birthday doesn't seem like throwing a birthday party for a child. It requires some real serious planning, especially when it comes to deciding a theme. A themed party needs to be exclusively nostalgic. If the birthday person is a movie freak, try grabbing their favorite movie posters and decorating the party room with them. We cannot deny that movies play an important role in bringing back memories too! The same applies to music. Is the person a The Beatles fan or an ardent follower of Pink Floyd? If they are, then curating a playlist according to the music tastes of the one who's turning 60 will help. A Vegas night, the glamourous casino theme, dressing up as their favorite actors, vintage vehicles are some ideas that can be incorporated wisely while planning this event.
60th Birthday Party Entertainment Ideas
Birthday party guests can feel uncomfortable in a room full of people they don't know. You can ask the guest of honor to entertain them as they would know their guest better than anyone. Icebreaker games can lighten the mood and encourage party guests to open up with each other. Need more? Look below.
Riddles about the guest of honor
Story games
Guessing games
So kids, teens, or grownups, whoever just read this piece now, you are all set to get set and go plan this amazing birthday party. And while infusing these ideas into the party, do not ever forget to add your personal touches. Moreover, always know that the birthday person would want genuine love, care, support, and appreciation at the end of the day. Do give them all that because these affections will make their day!
The following two tabs change content below.